After her other co-star, Ashley Tisdale is another 'High School Musical' alum whose style lots of people love to document and follow. But I think this hardworking girl deserves more credit than she's being given because not only has she started her own production company, sold a movie AND created a new reality TV show, but she also does quirky things with fashion that are just so funky, cute and comfy at the same time.
Case in point: this outfit she wore to the same Lakers game Megan Fox (in Alexander Wang Dakota booties) attended last Sunday. Take note of Ashley Tisdale's wide, boxy, frayed and holey denim shirt, white skinny jeans and of course, those chunky clogs with bullet-like metal studs that all somehow look impeccably styled and perfectly put together despite their randomness:
Ashley Tisdale and Scott Speer arriving at the Staples Center for the Los Angeles Lakers against Denver Nuggets NBA basketball game, April 3, 2011

Oh and don't forget to note her other accessories! That's a deep red velvet shoulder bag, an ikat-print belt, purple heart-shaped glasses and piled on rings and necklaces to finish off her outfit.
I can hear Tim Gunn saying that this is "a lot of look". But Ashley is making it work here in these pictures without making it look like it's all too overstyled.
How are you liking Ashley Tisdale's Lakers game + Casino Night outfit?
Here's a closer look at Ashley's clogs: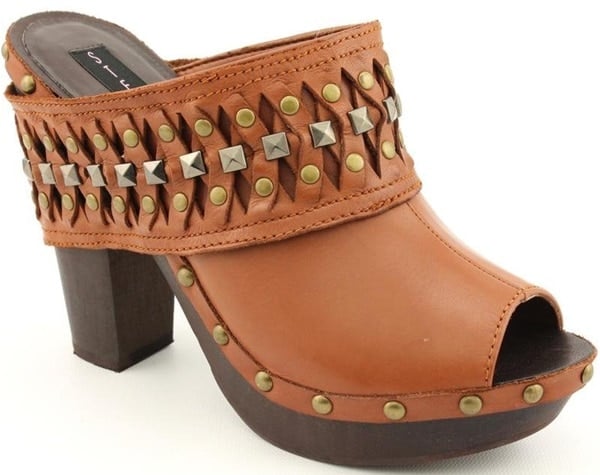 Steven by Steve Madden 'Durann' Cognac Clogs, $55.99
The studs clearly aren't bullet-like but they sure do look like it in the pictures!
Credit: The Machine/WENN