Cara Delevingne didn't waste time in topping the shocked reaction she got from the crazy banana teeth headpiece she wore to the 2019 Met Gala. The model turned actress caused jaws to drop once again when she and her GF Ashley Benson were papped carrying a $390 sex bench into their house.
Cara Delevingne wearing a crazy banana teeth headpiece with candy-wrapped eyeballs, glitter-nailed fingers, and fried eggs custom-made by Machine Dazzle
Cara and Ashley were seen hauling the kinky BDSM furniture from the boot of their car into their West Hollywood home on Tuesday afternoon. They now claim that the purchase was not for themselves but for a friend as a gag gift.
Though nothing has been confirmed, Cara and Ashley are speculated to have met on the set of their movie Her Smell. The 26-year-old British model and the 29-year-old Pretty Little Liars star have been dating for about a year.
View this post on Instagram
Cara Delevingne and GF Ashley Benson carrying a sex bench into their house in West Hollywood, California, on May 28, 2019
Cara's insane hat—that now seems tame compared to a sex bench—is a custom commissioned piece by costume artist Machine Dazzle.
The Suicide Squad star nailed the rest of the 2019 Met Gala's "camp" theme in a Dior Haute Couture rainbow-striped romper and rainbow-striped legs. Underneath, she wore bedazzled nipple pasties and crystal-studded nude underwear.
Cara Delevingne wearing a Dior Haute Couture rainbow-striped romper, a custom Machine Dazzle headpiece, and rainbow-striped legs at the 2019 Met Gala held at the Metropolitan Museum of Art in New York City on May 6, 2019
Cara finished with clear stripper shoes studded with rainbow crystals on the sky-high platforms. She carried a matching rainbow crystal cane custom-bedazzled by luxury embellished eyewear label A-Morir.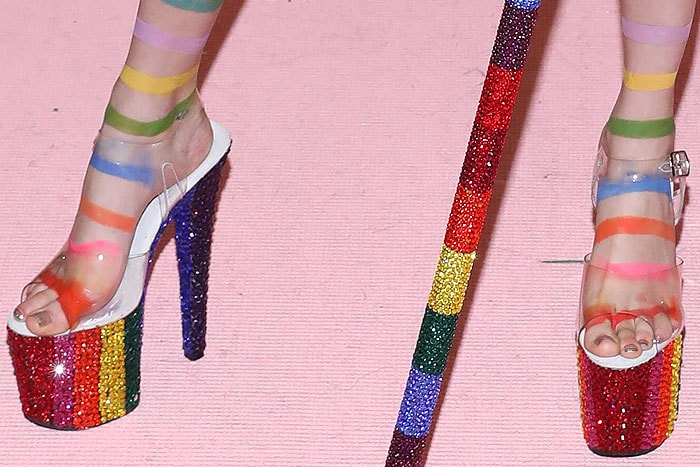 Details of Cara Delevingne's crystal rainbow platform sandals and crystal rainbow cane custom-bedazzled by A-Morir
Credit: Andres Otero / WENN