Uh-oh. We spotted Bella Thorne making out with a hot guy by the beach — and he was not her hunky English boyfriend, Gregg Sulkin.
Bella Thorne wears her hair down on a Santa Monica beach for the filming of "You Get Me" on April 19, 2016 (Credit: Cousart / JFXimages / WENN)
But no worries devoted Bella-Gregg fanatics — it's all for work.
Bella Thorne as Holly Viola in the 2017 American thriller film You Get Me (Credit: Awesomeness Films)
Bella was spotted lip-locked with actor Nash Grier for their upcoming film, "You Get Me" at a beach in Santa Monica.
The Shake It Up star flaunted her legs in a plunging one-piece tropical swimsuit.
Bella Thorne wears a denim jacket and black shorts over a plunging swimsuit while filming on the beach (Credit: Cousart / JFXimages / WENN)
She layered a pair of black shorts and a denim jacket over the swimsuit and finished off her outfit with a $42.99 pair of "Robyyn" ankle strap flat sandals by Steve Madden.
Bella Thorne's feet in black Steve Madden sandals
To further prove that it was only a requirement of the job, Bella hilariously tweeted back at a possessive Nash Grier fan who called her out for her kissing scene with the actor.
Bella Thorne explains on Twitter that making out with Nash Grier was part of her job
And, to appease the Bella-Gregg fans, the actress uploaded snaps of her dinner with Gregg and his parents.
Bella Thorne kisses her costar, Nash Grier, on a Santa Monica beach during the filming of "You Get Me" (Credit: Cousart / JFXimages / WENN)
She even showed a photo of the two hugging with the caption, "So happy back with bub."
Check out all her snaps from the day below:
You can order Bella's affordable beach day "Robyyn" sandals by Steve Madden on Nordstrom and Zappos.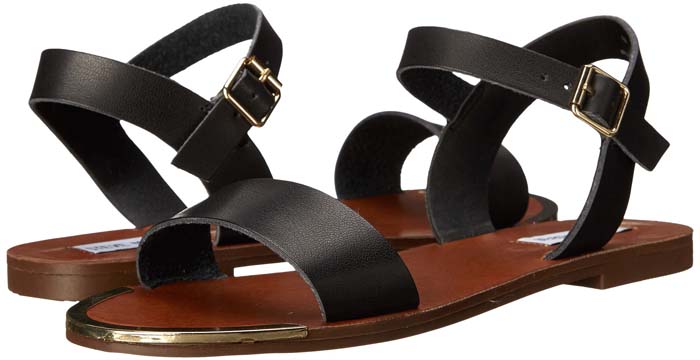 Black Steve Madden "Robyyn" Sandals, $42.99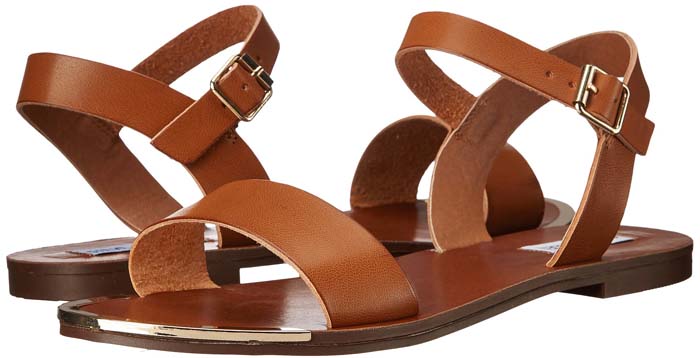 Brown Steve Madden "Robyyn" Sandals, $42.99