She has established herself as a global household name in the entertainment and fashion industries. But on Saturday, Heidi Klum proved herself to be her husband Tom Kaulitz's number one fan.
The fifth-richest supermodel of all time proudly watched as the Tokio Hotel guitarist took the stage during his band's performance at the 45th Christopher Street Day at the Brandenburger Tor in Berlin, Germany.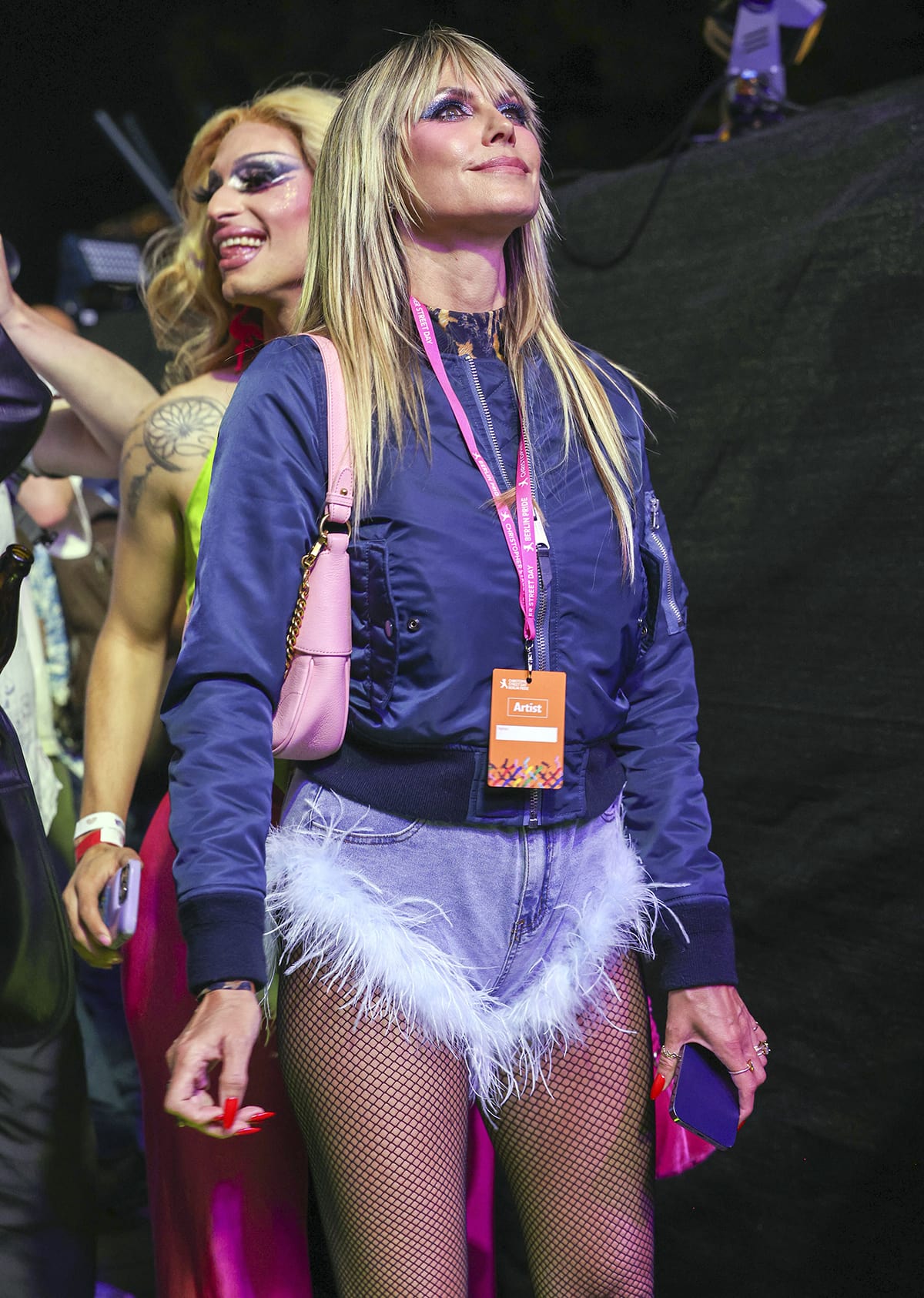 Heidi Klum proudly watches her husband Tom Kaulitz during his band Tokio Hotel's performance at the 45th Christopher Street Day at the Brandenburger Tor in Berlin, Germany on July 22, 2023 (Credit: Geisler / Brigitte Dummer / DDP / INSTARimages)
Putting her $2.2 million insured legs on display, Heidi stole the spotlight at the Berlin Pride celebration when she showed up in a pair of $595 skimpy denim shorts with feather trims by New York label Area.
A brown leather belt with a large buckle added a touch of Western flair to her concert outfit, while a pair of black fishnet tights and black peep-toe heels gave her look a flirty finish.
As for her top, the Spin City actress wrapped up in a leopard-print turtleneck top, which she layered underneath a silky blue cropped bomber jacket.
Heidi Klum parades her insured legs in feather-trimmed denim shorts by Area teamed with black fishnets and a blue bomber jacket (Credit: Geisler / Brigitte Dummer / DDP / INSTARimages)
The America's Got Talent longtime judge added further color to her already eye-catching outfit by slinging a bubblegum pink leather handbag over her right shoulder and wearing a set of diamond post earrings in her ears.
Her sleek straight blonde hair flowed around her shoulders, while her striking features were enhanced with glittering blue eyeshadow, heavy pink blush, and matching lipstick.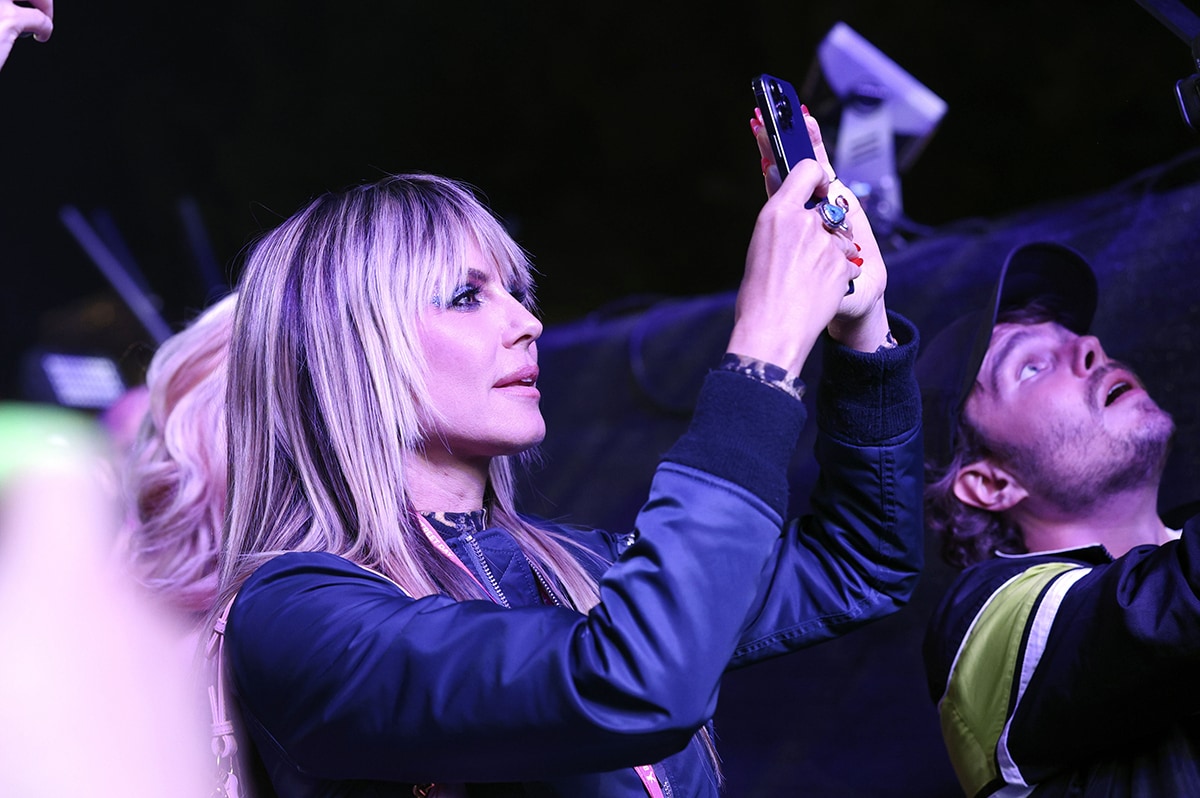 Heidi Klum wears her blonde hair straight and enhances her features with glittering blue eyeshadow and pink lipstick (Credit: Geisler / Brigitte Dummer / DDP / INSTARimages)
Ahead of the Tokio Hotel show, Klum took to social media to tease her outfit. She wore the same feathered denim shorts and brown leather belt but swapped the black fishnets and heels for nude Christian Louboutin "Loubi Queen Alta" platform sandals with 6-inch heels.
She also opted to show off her cleavage and flat abs in a white lace-trimmed bustier rather than her leopard turtleneck and blue jacket for her random hotel photo shoot.
View this post on Instagram
How Heidi Klum Met Her Husband Tom Kaulitz
Heidi secretly married Tom Kaulitz in February 2019 after a 2-month engagement. They reportedly met while Klum was hosting Germany's Next Top Model.
"I didn't [know them] then. I didn't. I was living in America, and you know, they were really, really famous in Germany," the supermodel reporters at the 2020 amFAR gala in New York City.
"Actually, his brother a few years ago participated on my show, because we always have different kind of stars on the show and then do something with my models again for Germany's Next Top Model."
Tom Kaulitz and Heidi Klum at the 76th Cannes Film Festival amfAR Gala on May 25, 2023 (Credit: PA Images / INSTARimages)
She added: "Bill [Kaulitz], his twin brother, did a stage dive, and all my models had to pretend to be rock stars and then do the stage dive into the crowd. So, I had met him many, many years ago, but I didn't know he had a twin brother that I was going to be married to one day."
The couple was first linked together in March 2018 after they were seen holding hands while leaving a Lorraine Schwartz party.
A week later, they were pictured locking lips in Pasadena, California, while taking a break from filming America's Got Talent auditions round.