Sometimes, a girl just wants to be Michael Jackson. And in this case, that girl seemed to be Beyonce, who hit up the LA Clippers game at the Staples Center on Saturday.
The "Formation" singer was dressed in an unmistakably MJ–inspired getup in a black leather jacket, white tank top, and blue-and-black leggings with tuxedo-like color-blocking. Fully committed to the look, she finished her ensemble with a black fedora, mirror aviator sunglasses, and wispy curls at the sides of her face. The only deviations to the MJ style were her dark purple lips, pink Loewe "Puzzle" handbag, and matching pink Givenchy platform sandals.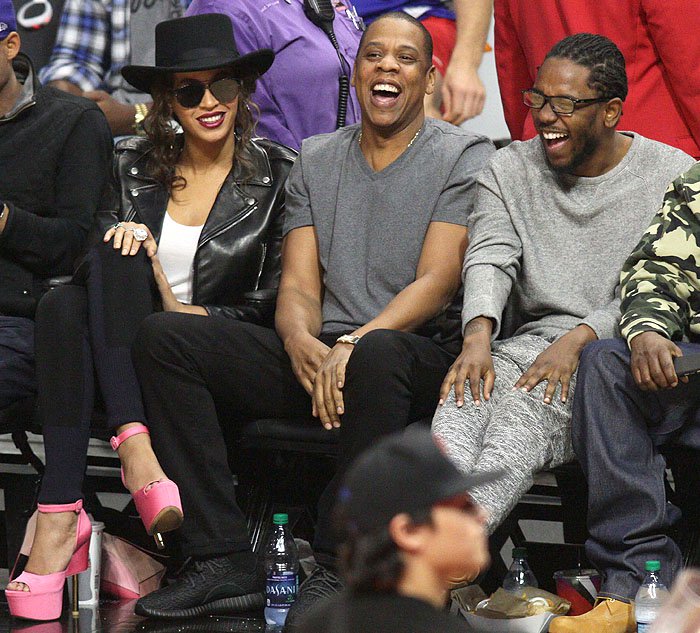 Beyonce, Jay-Z, and Kendrick Lamar sharing a laugh at an LA Clippers game at Staples Center in Los Angeles, California, on February 20, 2016
Beyonce and Jay-Z sitting courtside at Saturday's LA Clippers game
Beyonce rocking serious bling on her hands while sipping on a Coke Zero and munching on some Lays chips
Beyonce, Jay-Z, Kendrick Lamar enjoying the game even though The Golden State Warriors beat their home team, the LA Clippers, 115-112
Beyonce and Jay-Z glancing up at the giant TV screens to keep track of the score
Beyonce heading to her courtside VIP seat at the Staple Center
We're all for paying tribute to the late, great Michael Jackson, but Beyonce's mess of an outfit doesn't really do a good job of it. The pieces are OK on their own, but they just don't all go together. What do you think of her Michael Jackson–esque look?
Beyonce's sandals are derived from the Givenchy "Matilda" sandals with added taller platforms and thicker cylindrical metal heels. Here they are up close: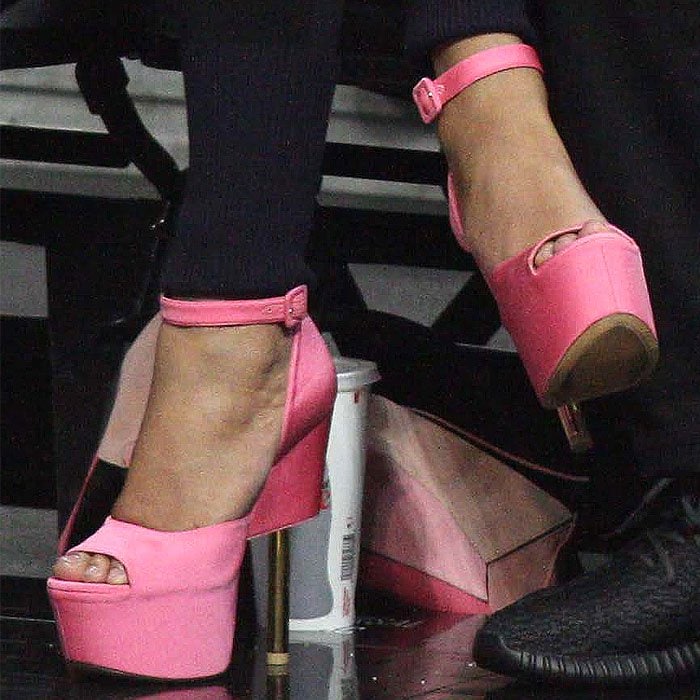 Closeups of Beyonce's custom pink Givenchy sandals with thick platforms and cylindrical metal heels
Below is our style-for-less alternative with similar unique platforms and heels. Check them out at Amazon:
C-Label "Dolce-4" Cutout Platform Sandals, $13.99 (before $59.95) at Amazon
Credit: WENN.com