Just when I thought we were over studs on shoes, Brian Atwood and 'Gossip Girl' rekindle our love for the ubiquitous and overused embellishment once more.
Blake Lively as Serena van der Woodsen was seen sporting the studded shoe trend re-starter while filming scenes for 'Gossip Girl' last Thursday.
Blake Lively wearing a geometric print white tank top, a slightly wrinkled lavender pleated skirt, and a champagne-colored sequin vest with feather trim
Blake Lively wore this outfit with flip-flops while off-cam, but she changed into a pair of purple suede pumps to film the scene.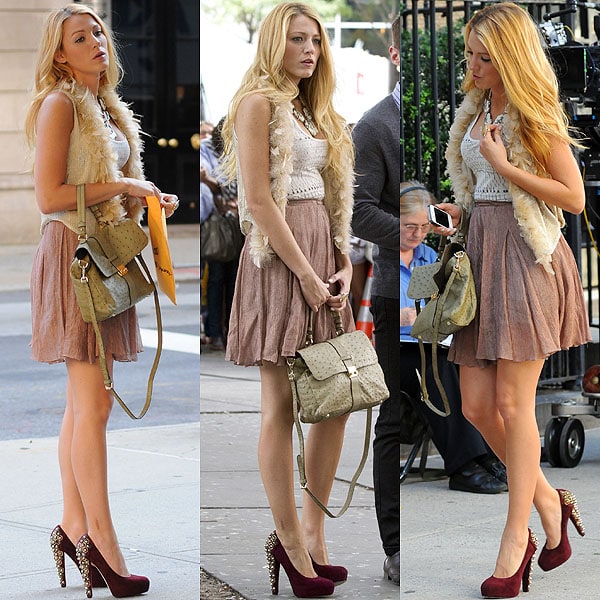 Blake Lively films Gossip Girl in NYC's Upper East Side on September 1, 2011
Even from afar, you can already tell that these shoes are going to be STUNNING.
Hold on to your seats everyone and get ready to be blown away by these beguiling burgundy beauties:
Blake Lively wearing 'Power Studs' suede platform pumps from Brian Atwood
Websites dedicated to Gossip Girl fashion were able to quickly identify Blake Lively's shoes as these aptly named 'Power Studs' suede platform pumps from Brian Atwood.
Brian Atwood Power Studs suede platform pumps, $1,900.00 at Amazon
That studding detail is something else, isn't it? I daresay it makes that thick 5 1/2″ heel look as sexy and as attractive as a pin-thin stiletto. Of course, that's without the pin-thinness and ankle-breaking unbalanced feeling.
Blake Lively's pretty feathery vest is the following piece from Haute Hippie. I love how this vest makes you look like you're wearing a feather boa from the front. A feather boa isn't really something you can get away with wearing on a regular day, but as a trim on a vest? Totally works.
Haute Hippie Feather Sequin Vest at Shopbop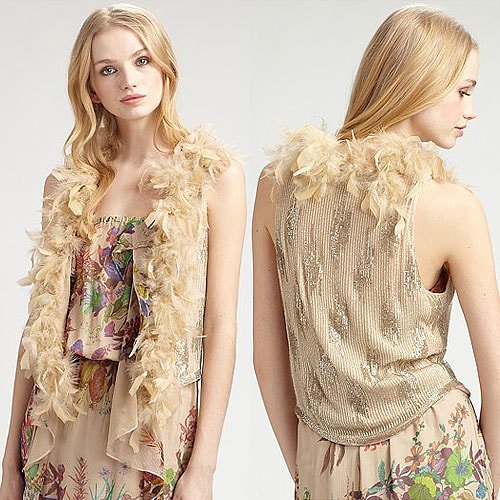 Credit: A. Miller / Ivan Nikolov / David Bodrick / DMBJ / WENN