Blake Shelton fans weren't prepared for the tear-jerking moment when he brought a young fan to perform on stage with him.
It was January 30th, and The Voice coach was performing in Oklahoma to promote his 12th studio album Body Language.
Blake Shelton invited Wyatt McKee up on stage to sing "God's Country" during his concert (Credit: Twitter)
Whilst on stage, he noticed Wyatt McKee, a young boy holding a sign that read: "Your smallest, biggest fan from Lake Texoma. 6 years old waiting on a heart transplant." Blake addressed the crowd, saying "Think y'all are having a bad day? Put that in perspective right there, man."
The sign also requested that Wyatt help him sing God's Country, so Shelton brought him on stage and asked, "you want to sing the verse or the chorus?". He crouched down and put his arm around Wyatt and began singing the song.
I'm not crying, you are ! @blakeshelton singing #GodsCountry with Wyatt earlier at @ChoctawCasinos

Wyatt is Blake's biggest fan & waiting for a heart transplant. He always carries his backpack for his meds

The hug at the end 🥺❤️

🎥 : Pam Rodgers Manning @gwenstefani pic.twitter.com/eWghzFyzFD

— Kate🇵🇭✨💓Gwen&BlakeShelton (@forgwenandblake) January 30, 2022
After singing the first few lines solo, Blake offered the mic and Wyatt quietly sang alongside Blake, looking out at the crowds of fans.
The audience cheered loudly as the song ended and the two shared a hug before Wyatt left the stage. It was a heart-warming experience for everyone.
The following day, Shelton retweeted a video of the duet, captioning it: "This little buddy made my night. Thank you for singing "God's Country" with me, Wyatt!"
Twitter users praised the country singer for his goodwill. One commented: "So very kind @blakeshelton Wyatt will remember this for the rest of his life. God bless him and your big heart."
Wyatt's mother, Harley McKee did an interview with Fox and Friends and explained that sadly Wyatt suffers from hypoplastic left heart syndrome. She said that Wyatt has already undergone two open-heart surgeries and has been on a waiting list for a new heart for "a little over a year now".
Wyatt's mother Harley McKee told Fox and Friends that her son suffers from hypoplastic left heart syndrome, a condition in which part of the heart is underdeveloped (Credit: Fox News)
When asked about the duet, she commented "I don't think [Wyatt] quite grasped how big it was. He just had a blast, and that's what he wanted to do."
In early 2017, Gwen Stefani was having fun with new beau Blake Shelton, but she hadn't forgotten about her other relationships.
The "No Doubt" frontwoman made sure that her children, Kingston and Zuma, spent a proper weekend with their adoring granddad.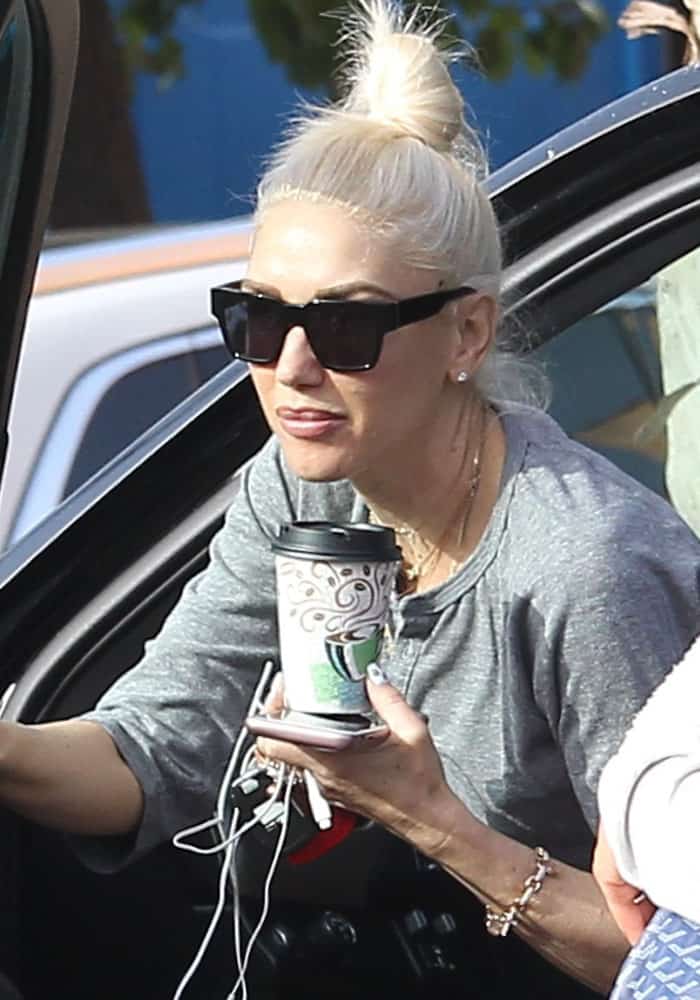 Gwen Stefani wears sunglasses and a three-quarter sleeved gray top (Credit: WENN)
Blake Shelton and Gwen Stefani started dating in 2015, one year after meeting as co-judges on NBC's The Voice in 2014.
The then 47-year-old was photographed arriving at her dad's house with her two boys in tow. As usual, the singer was dressed in her unique Gwen Stefani style.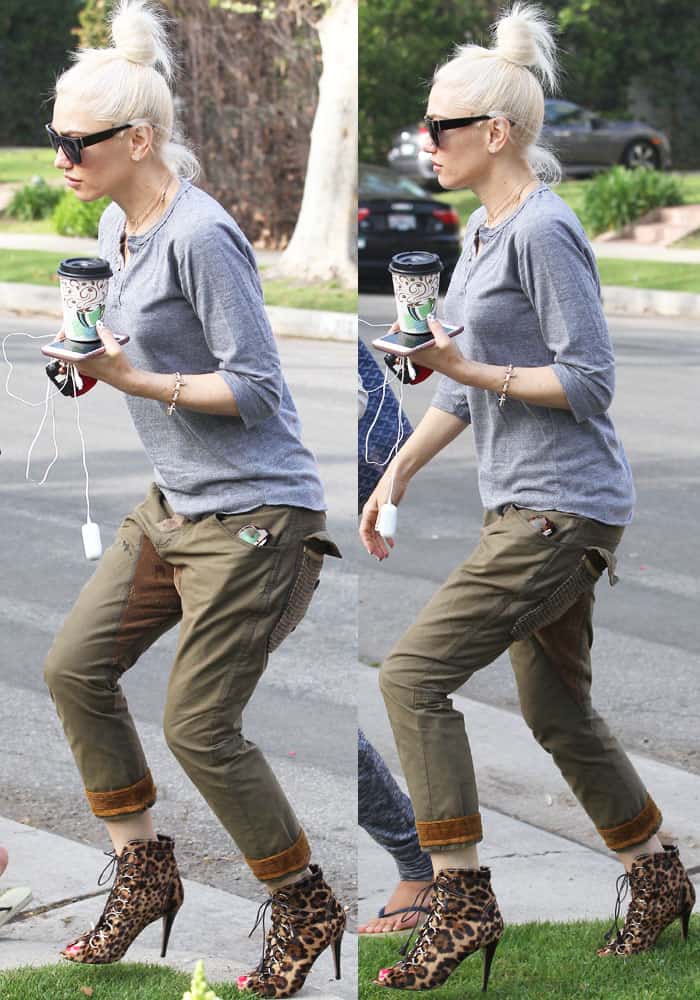 Gwen Stefani in olive green baggy pants takes her kids to her father's house in Los Angeles on March 19, 2017 (Credit: WENN)
While we think that Gwen would look good in a brown paper bag, she always goes above and beyond to inject her own personal style into whatever she wears.
Gwen added fierceness to her casual look with a pair of leopard booties (Credit: WENN)
She can come up with the most bizarre clothing combinations and fans would say it's artistic. Even on a casual day, a three-quarter-sleeved gray top paired with olive green baggy pants seemed to make sense on her.
The singer added a bit of pattern to her look with a pair of leopard booties. Gwen shunned her usual red lip, opting for a nude one instead.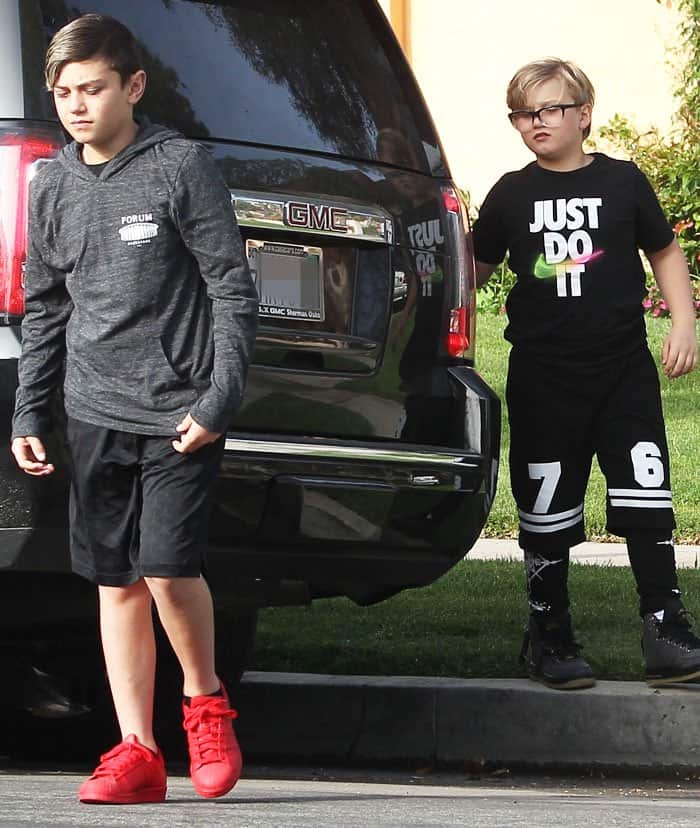 Gwen's sons Kingston, 10, and Zuma, 8, were seen trailing behind their mother (Credit: WENN)
Gwen's go-to leopard booties are no longer available online. You can check out a similar pair from Tabitha Simmons at Amazon.
Tabitha Simmons 'Reed' Leopard Print Ponyskin Boots, $1,031