We usually try our hardest to find at least one redeemable quality about any outfit, no matter how questionable.
However, we just can't with Boom Clap singer Charli XCX's outfit at the 2016 Elle Style Awards — and by "we can't," we mean we actually can't bear to look at her hideous outfit.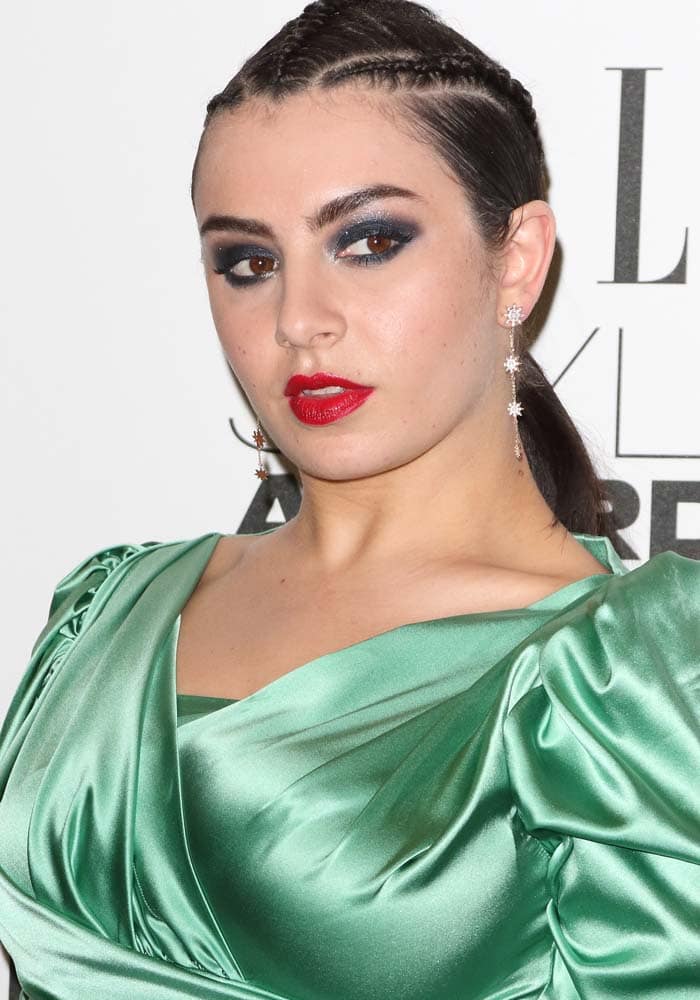 Charli XCX wears her hair back in braids at the 2016 Elle Style Awards held on February 23, 2016, in London, England (Credit: WENN)
Charli XCX apparently did not get the memo that Elle was holding a Style Awards in London — because seriously, there's nothing stylish about this look.
2 years earlier, she released "Boom Clap," the first single from the soundtrack album of the 2014 American coming-of-age romance film The Fault in Our Stars.
Wearing a sexy tiger print Moschino jumpsuit, Nicholas Kirkwood shoes, and a Vivienne Westwood clutch, she hit the red carpet at the 2014 MTV Video Music Awards and later performed "Boom Clap" on stage.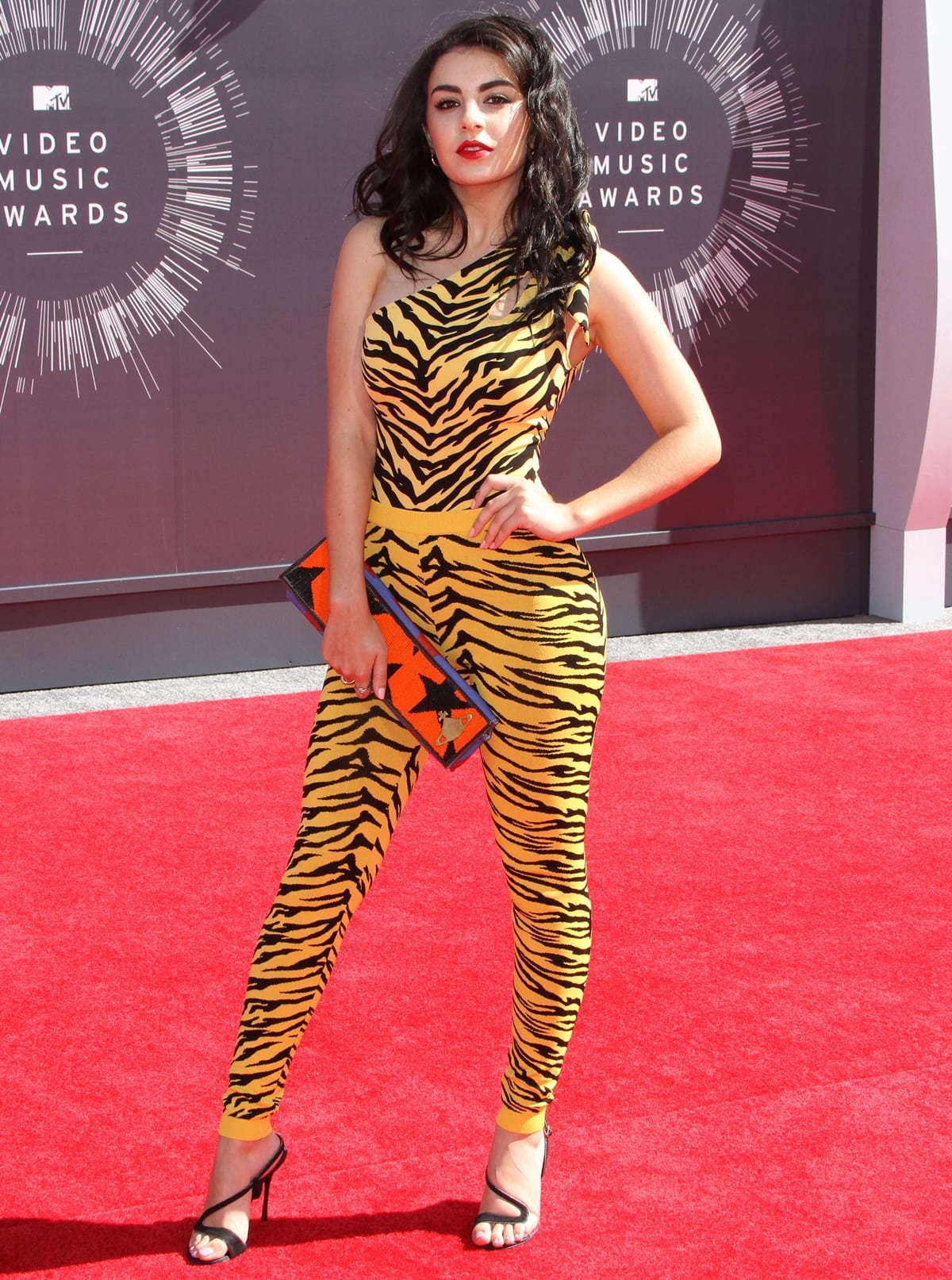 Charli XCX wears an animal print jumpsuit on the red carpet at the 2014 MTV Video Music Awards held at The Forum on August 24, 2014, in Inglewood, California (Credit: Adriana M. Barraza / WENN)
In October 2015, during the 1989 World Tour concert at Rogers Center in Toronto, Canada, Taylor Swift and Charli XCX performed "Boom Clap" on stage.
Initially written during writing sessions for XCX's debut studio album, True Romance, Charli XCX got the song after Hilary Duff refused to include it on her new album.
"I've had that song for about a year," Charli told MTV UK of the song co-written by Fredrik Berger, Patrik Berger, and Stefan Gräslund.
"My number one project as a songwriter is to write for Hilary Duff, so when I heard about this, I was like, 'F*ck! Are you serious?! This is my 'in!' I'm going to make a Hilary Duff album!' So we sent over 'Boom Clap", but they came back and were like, 'This isn"t cool enough for Hilary."
"I thought I was a cool writer, but maybe I"m not. Hilary didn"t want my song. What a life-ruiner."
British singer and songwriter Charli XCX performs Boom Clap at G-A-Y Club Heaven in London on August 26, 2017, in London (Credit: Chris Jepson / WENN)
An international success due to its exposure in the box office success, the song peaked at number six on the UK Singles Chart and number eight on the US Billboard Hot 100.
Born on August 2, 1992, in Cambridge, United Kingdom, she was 21 years old when Boom Clap was released on June 15, 2014. The English songrwiter celebrated her 22nd birthday on August 2, 2014.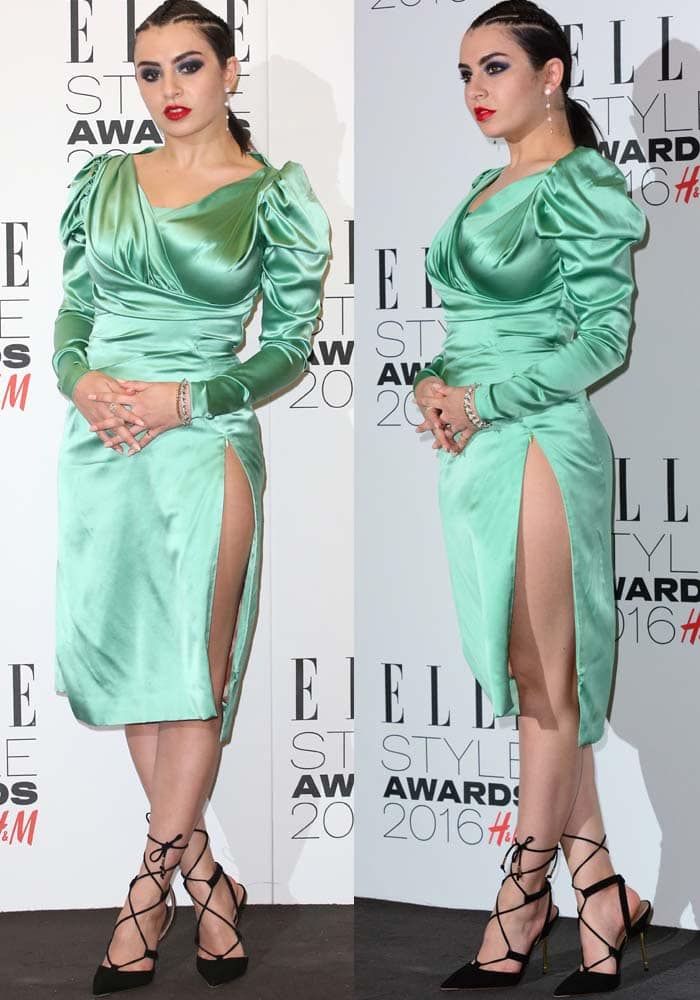 Charli XCX wears an unflattering green Vivienne Westwood dress to the Elle Style Awards (Credit: Joe Alvarez / WENN)
There are so many fashion faux pas happening in this look that we don't even know where to begin.
Charli XCX showed at the Elle Style Awards up in a green mess by British designer Vivienne Westwood, which did nothing but accentuate the wrong areas of her body.
The ill-fitting dress bunched up in strange areas and made her neck look shorter, her arms and mid-section look bigger, and her legs stumpy. The cornrows, red lips, and smoky eyes did absolutely nothing to help the look.
Charli XCX's feet in black lace-up Kurt Geiger pumps (Credit: Joe Alvarez / WENN)

But, again, you know us — we're always able to find that one redeeming quality in any look.
If we zoom in on her gorgeous Kurt Geiger "Barnes" heels and forget that the rest of her exists, we're able to find our smile again.
Charli XCX uploaded a photo from that night captioned, "feeling juicy tonight." We're not sure what exactly that means, but if her outfit is any indicator, we don't think we want to know.
You can order the silver lining in Charli XCX's hurricane catastrophe from Kurt Geiger by hopping over to Nordstrom or Zappos.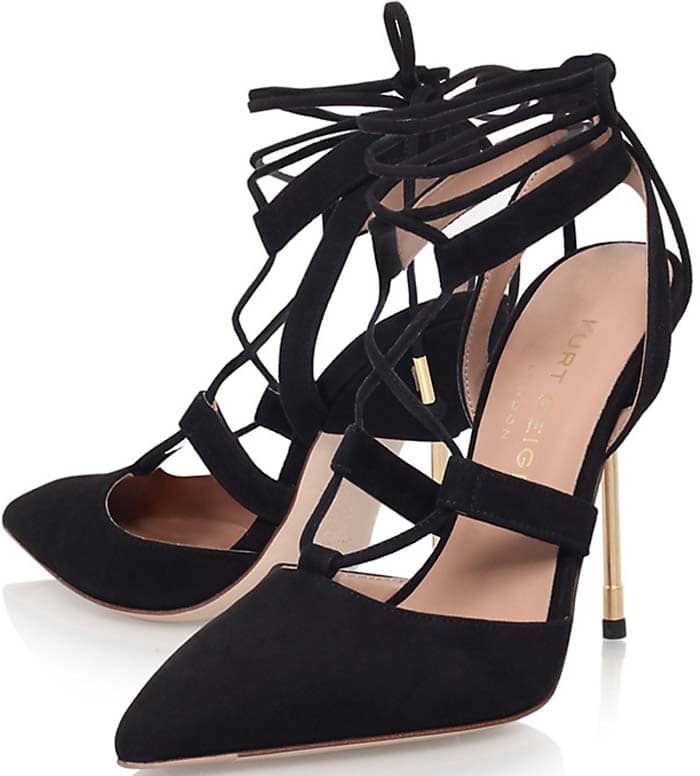 Kurt Geiger 'Barnes' Lace Up Stiletto Court Shoes in Black Suede, $265 – $324