If you register a genuine handbag purchased from Brahmin, a family-owned handbag company started in 1982 by Joan and Bill Martin, you get a warranty against workmanship and structural defects for two full years from the date of purchase.
On the other hand, when you invest in a knockoff or fake bag, you have no guarantee that the bag will last.
Luckily, when shopping online, it's quite easy to tell whether a bag is real. Check out the following points to learn how to spot fake Brahmin handbags and purses:
1. Buy from authorized retailers
In addition to Brahmin's official website, authentic products are exclusively sold through a network of directly operated Brahmin boutiques, a small number of authorized franchisees, and department and specialty stores like Zappos, Macy's, and Nordstrom.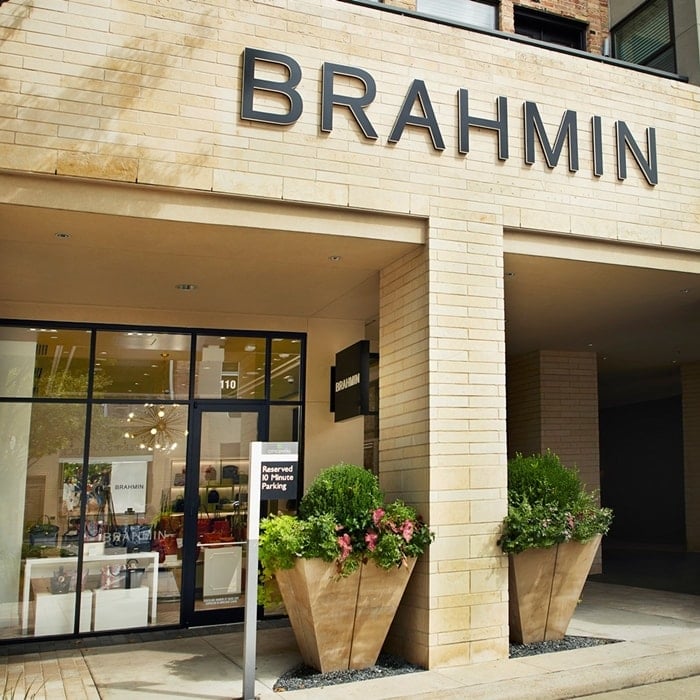 The best way to avoid buying a fake Brahmin bag is to buy it from a reputable retailer (Credit: Brahmin)
The American luxury handbag brand has stores in Atlanta (Georgia), Birmingham (Alabama), Charlotte (North Carolina), Dallas (Texas), Houston (Texas), Memphis (Tennessee), and Newport (Rhode Island).
2. Inspect the registration card
All genuine handbags come with a registration card that you can use to register your bag on Brahmin's website. The company offers a one-year warranty extended to two years if you self-register online.
Make sure the Brahmin registration card isn't missing
3. Inspect the leather
Designed in Fairhaven, Massachusetts, and manufactured in factories worldwide, each Brahmin handbag is made from some of the finest leathers from Italy and all around the world.
The intricate design process takes more than 24 artisans over 100 steps to handcraft each stylish bag.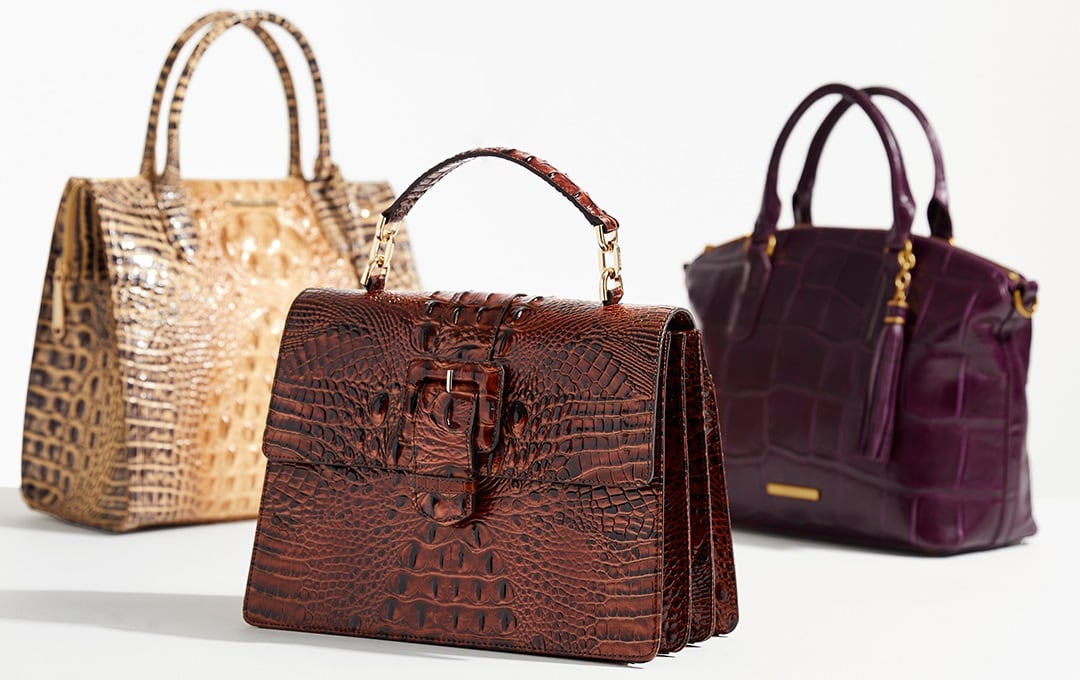 Brahmin leather handbags are made with high-quality leathers from Italy and around the world (Credit: Brahmin)
Counterfeiters have gotten really good at mimicking the outside of the bag, but real leather has an inconsistent pattern with minor imperfections. Fake leather is typically uniform with evenly spread pores.
4. Study the hardware
Genuine hardware should be sturdy and secure with the engraved logo or Brahmin name. However, fake hardware made from cheaper material is usually flimsy with too yellow or shiny plating.
The hardware on Brahmin bags is made of high-quality metal and should be shiny and free of any blemishes
5. Examine the stitching
Genuine Brahmin bags have tight, even stitches. Counterfeiters look for quick and cheaper ways to make replica bags. Uneven or slanted stitching is a sign of a poorly made bag.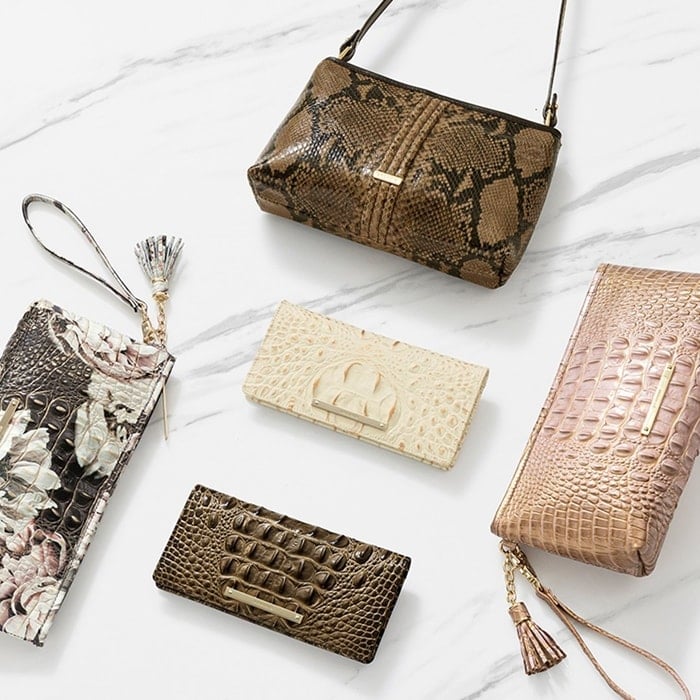 Brahmin's sophisticated clutch bags and handbags
6. Check the price
Clutches start from $95, and small shoulder bags from $145. The most expensive handbags cost around $600.
Brahmin bags are not cheap. If you see a Brahmin bag for a price that is too good to be true, it probably is. Don't miss our guide showing how to identify fake websites.
While Brahmin bags are not discounted online, the company has a loyalty program. By joining the Brahmin Rewards Program, you earn one point for every dollar you spend. The points can be redeemed for exclusive products.
Brahmin Questions and Answers
What does Brahmin mean?
While originally a Sanskrit word for one of the four Hindu castes, in the 1880s, the name Brahmin was used in Boston to describe a cultured person from an established upper-class family.
When establishing the company in 1982, the name was chosen by the Martin family because they aspired to create a handbag to meet the discerning taste of a Brahmin.
In 2021, Rajan Zed, a Hindu cleric and leader in Interfaith Relations from the Indian Association of Northern Nevada based in Reno, requested the luxury handbag brand Brahmin to change its name. He argued that using the word "Brahmin" on a bag made of cow leather is offensive to Hindus, who consider the cow a sacred animal.
"Brahmin Handbags, which claims 'integrity is at the heart of everything that we do,' should not be in the business of religious appropriation, sacrilege, mocking serious spiritual practices and ridiculing entire communities," Zed said in the press release.
Is Brahmin made in China?
All Brahmin products are designed in Fairhaven, Massachusetts, and made using luxury leathers from Italy and around the globe.
While some handbags used to be produced in the United States, the company says, "Due to the size of our facility and the excessive demand for our products, we have employed additional manufacturing overseas."
Since 1982, Brahmin has crafted quality leather handbags in Fairhaven, Massachusetts
"We do maintain all of our design, development, and operations in-house in Fairhaven, MA. Please rest assured that all of our products are manufactured with the same quality and care wherever they are produced," the company adds.
Nowadays, most authentic Brahmin bags and purses are made in China and other countries outside the United States. Unfortunately, the company does not make it easy to see where its products are being manufactured.
Does Brahmin have an outlet store?
Yes, there are outlet stores located in San Marcos (Texas), Orlando (Florida), West Palm Beach (Florida), and Fairhaven (Massachusetts). In addition to purses on sale and clearance, they sell discontinued handbags.
Is Brahmin a luxury brand?
Yes, Brahmin is considered a luxury brand. It is known for its high-quality leather handbags made with care and attention to detail. Brahmin bags are also known for their timeless design and classic style.
Brahmin bags are priced from mid-range to high-end, similar to other luxury handbag brands such as Coach, Kate Spade, and Michael Kors.
Brahmin is a luxury brand known for its high-quality leather handbags that are made with care and attention to detail (Credit: JHVEPhoto / Shutterstock)
Do Brahmin bags have a lifetime warranty?
No, Brahmin bags do not have a lifetime warranty. However, Brahmin offers a one-year warranty against workmanship and structural defects for all handbags. If you self-register your bag online, you can extend the warranty to two years.
To claim a warranty, you need to provide a valid sales receipt. Brahmin will repair or replace your bag if it's found to have a manufacturer's defect. However, they don't cover damage caused by negligence or normal wear and tear. They also don't cover bags that were purchased from unauthorized dealers.
After the warranty period, Brahmin will still repair or replace your bag for a fee. The cost of repairs will vary depending on the extent of the damage.
Do Brahmin bags come with dust bag?
Yes, Brahmin bags come with a dust bag. The dust bag is made of the same high-quality materials as the bag itself and helps to protect it from dust and dirt.
The dust bag also has the Brahmin logo printed on it, which adds to the bag's overall look and feel. Store your Brahmin handbags in good condition in a dry and cool place away from direct sunlight. Use the dust bag that comes with your bag to protect it from dust and dirt.
How long have Brahmin handbags been around?
Brahmin handbags have been around since 1982. Joan and Bill Martin in Hingham, Massachusetts, founded the brand.
The Martins were inspired to start Brahmin after seeing a need for high-quality, handcrafted leather handbags that were made to last.