Brandy Norwood stands tall at 5 feet 7 inches, equivalent to 170.2 centimeters. Her shoe size is 9 in the United States, 7 in the United Kingdom, 40 in Europe, 26.5 in Japan, and 8 in Australia.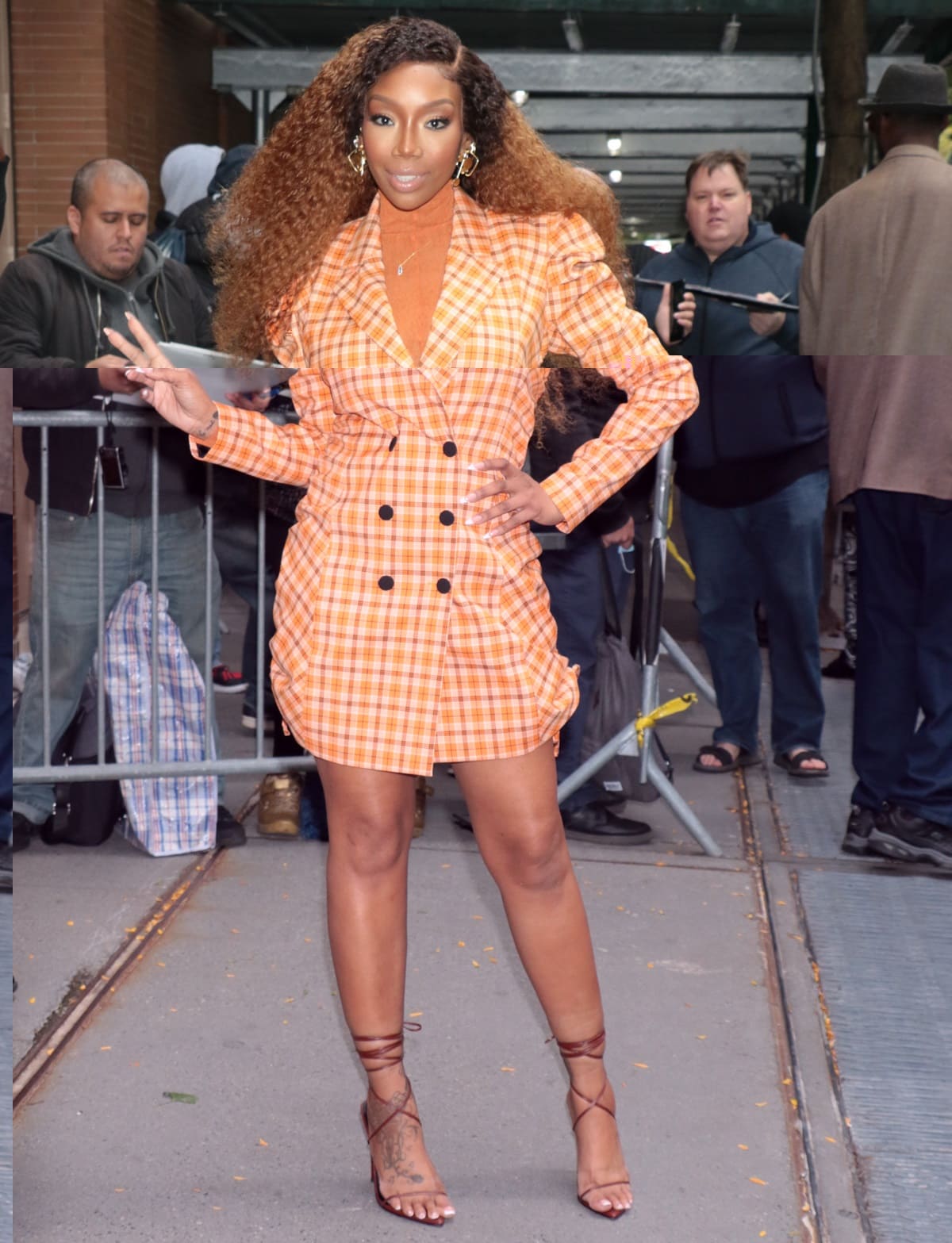 On October 18, 2021, Brandy Norwood, with a height of 5 feet 7 inches (170.2 cm) and wearing a US shoe size of 9, was spotted in New York City (Credit: INSTARimages / Roger Wong)
Her height and shoe size are above the average for women, as the typical height for women in the United States is around 5 feet 4 inches (162.6 cm), with a shoe size often ranging between 7 and 8.
Brandy Norwood has a tattoo on the top of her right foot. It depicts a vintage microphone in front of a rose, surrounded by music notes, symbolizing her music career.
Brandy Norwood's foot tattoo is a meaningful and beautiful design that represents her love and respect for music (Credit: Kathy Hutchins / Shutterstock)
She also has a set of Chinese characters tattooed on her left ankle, surrounded by two outlines. Brandy's stature and footwear preference set her apart with a touch of added stature and style.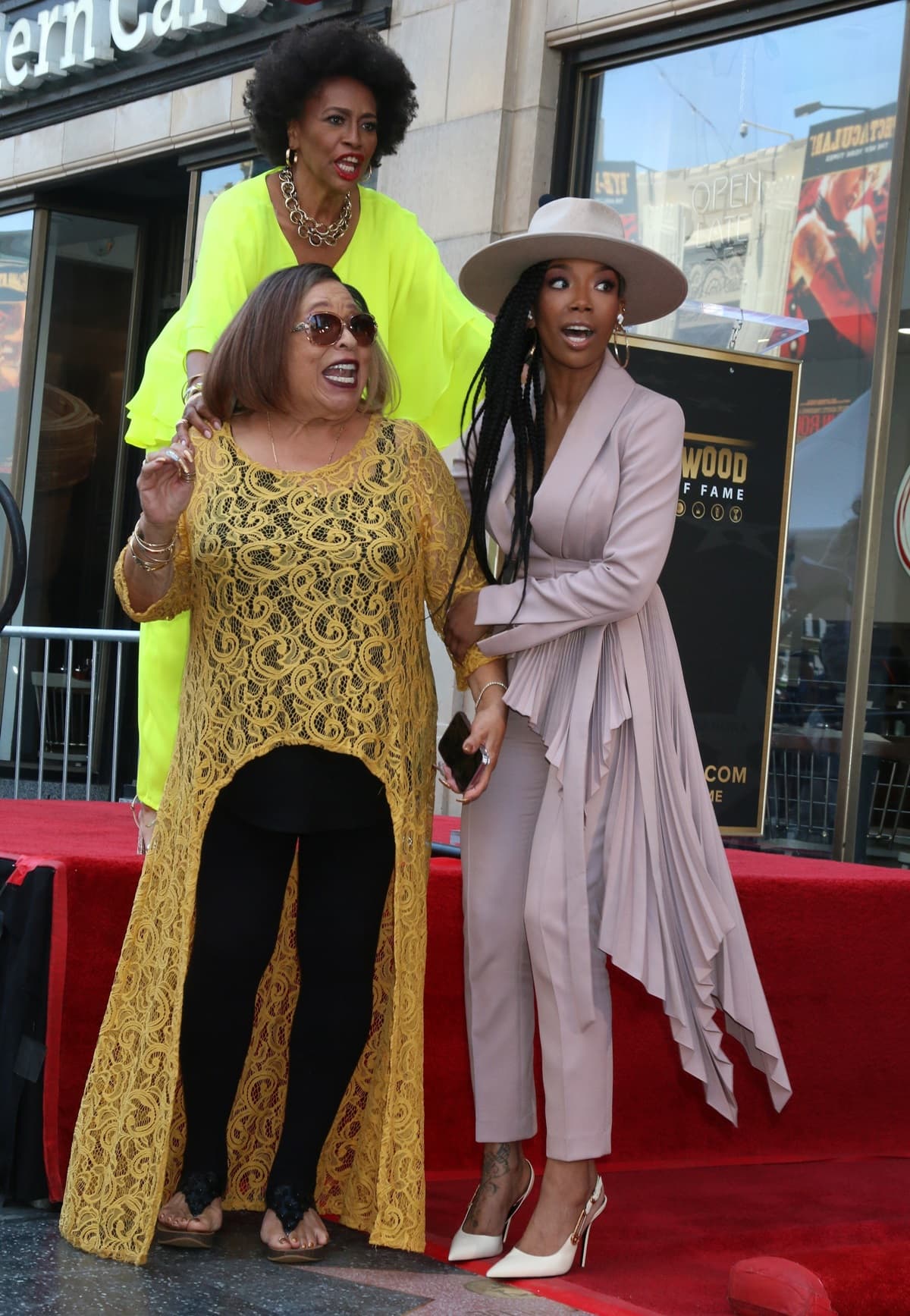 Brandy Norwood, Jenifer Lewis, and Roz Ryan attend the Hollywood Walk of Fame Star Ceremony for Jenifer Lewis at Hollywood Walk of Fame on July 15, 2022, in Los Angeles, California (Credit: Kathy Hutchins / Shutterstock)
Known professionally by her mononym Brandy, she is best known for her work on the slasher film I Still Know What You Did Last Summer (1998), Moesha (TV Series 1996–2001), and the live-action/animated action-comedy film Osmosis Jones (2001).
Brandy's music career began in the early 1990s and has since released seven studio albums, one compilation album, one extended play, 42 singles, 46 album appearances, and 25 soundtrack appearances.
American singer, songwriter, actress, and model Brandy Rayana Norwood, better known mononymously as Brandy, attends the 29th Annual DIVAS Simply Singing On World AIDS Day at Taglyan Cultural Complex on December 1, 2019 in Hollywood, California (Credit: Faye's Vision / Cover Images)
Her debut album, Brandy, was a huge success, selling over six million copies worldwide. She has also won numerous awards for her music, including a Grammy Award and an American Music Award.
How much is Brandy's net worth?
The American R&B singer and actress has a net worth of $12 million as of 2023.
In November 2009, it was reported that she had settled with Marouane Hdidou, the last of multiple lawsuits filed against Norwood following a fatal automobile collision on Los Angeles' San Diego (405) Freeway on December 30, 2006.
Who is the father of Brandy's baby?
Her daughter, Sy'rai Iman Smith, was born on June 16, 2002. Sy'rai's father is Robert Anthony Smith, professionally known as Big Bert or Robert Anthony, who became romantically involved with Brandy while producing her album Full Moon in mid-2001. They never married and broke up a year later.
Brandy Norwood: Facts, Rumors, and Everything in Between
Net Worth:
Brandy Norwood is an American actress, R&B singer, songwriter, and record producer who has a net worth of $12 million.
Full Name:
Brandy Rayana Norwood
Born:
Brandy Norwood was born as Brandy Rayana Norwood on February 11, 1979, in McComb, Mississippi, USA.
Dating/Husband:
Brandy Norwood's romantic history includes engagements with Ryan Press from 2012 to 2014 and Quentin Richardson in 2004 - 2005.

She has also been involved in relationships with various individuals, including Sir the Baptist in 2017, Terrence Jenkins from 2010 to 2011, Flo Rida in 2009 - 2010, Mychael Knight in 2006, Nick Cannon, Tyrese Gibson from 2001 to 2009, Punch (Dancer), Allen Payne, Mase in 1998 - 1999, Usher in 1997 - 1998, Wanya Morris in 1996 - 1997, Kobe Bryant in 1996, Fredro Starr from 1995 to 1996, Blake C (Trife) in 1995, and R.L. and Robert Smith.
Kids:
Brandy Norwood has one child, a daughter named Sy'Rai Iman Smith. Sy'Rai was born in 2002, during Brandy's relationship with record producer Robert "Big Bert" Smith.
Weight:
Brandy Norwood's rumored weight is 125 pounds, which is approximately 56.7 kilograms.
Shoe Size:
Brandy Norwood's shoe size, which is 9 US, is not particularly large for her height of 5 feet 7 inches (170.2 cm). It's within the range of typical shoe sizes for someone of her stature and does not indicate unusually large feet in proportion to her height.
Is Brandy Norwood short or tall?
Brandy Norwood is 5 feet 7 inches tall (170.2 cm), which is above average for women in the United States. The average height for women in the US is 5 feet 4 inches, so Brandy is considered to be tall.
What nationality is Brandy?
Brandy Norwood is American. She was born in McComb, Mississippi, and raised in Carson, California.
Source of Wealth:
Brandy Norwood has achieved success in all areas of her career, and she is one of the most popular and respected entertainers of her generation.
Ethnicity/Race:
Brandy Norwood identifies as African-American.
Brandy Norwood Steps Out in Style After "The Wendy Williams Show"
In January 2012, fans and photographers caught up with Brandy Norwood after she taped her interview on "The Wendy Williams Show."
Brandy Norwood looked stunning in a matching boucle jacket and shorts ensemble layered over a white t-shirt (Credit: Patricia Schlein / WENN)
Brandy wore an Isabel Marant fringe-front white long-sleeve mini dress and nude Cristian Louboutin 'Daffodil' pumps for the interview.
She later changed into this matching boucle jacket and shorts set worn over a white t-shirt, which she then paired with red and black platform pumps.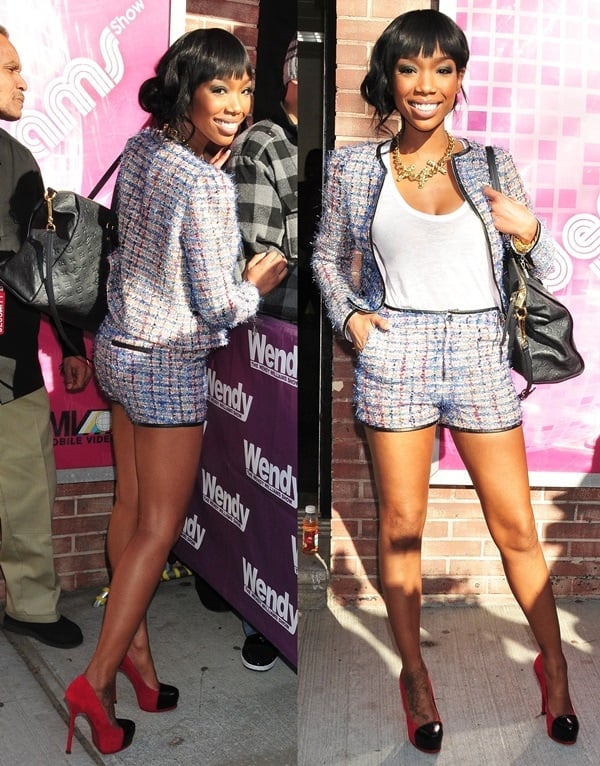 Brandy Norwood signs autographs and poses for pictures after taping an interview for "The Wendy Williams Show" in New York City on January 9, 2012 (Credit: Patricia Schlein / WENN)
Brandy's after-interview outfit here reminds me of this jacket+white tee+shorts outfit we spotted on Zoe Saldana. Zoe also wore "look-at-me" shoes with her outfit but at least in the same tone as her jacket and shorts.
Brandy's red and black pumps look really jarring with her predominantly blue outfit, but on the positive side, they make her legs look fabulous, and their color sets off her flawless skin tone.
Check out Brandy's red and black pumps up close:
Brandy Norwood rocks red and black Yves Saint Laurent platform pumps (Credit: Patricia Schlein / WENN)
Brandy's shoes are these cap-toe platform pumps from who else but Yves Saint Laurent:
Yves Saint Laurent 'Tribtoo' Cap Toe Pumps, $795.00