Brendan Fraser has had a career full of memorable performances, but his portrayal of a reclusive man struggling with his weight in the film The Whale may have been his most powerful yet.
The 54-year-old star was filled with emotion as his remarkable performance as Charlie was acknowledged with the Outstanding Performance by a Male Actor in a Leading Role award at the recent Screen Actors Guild Awards.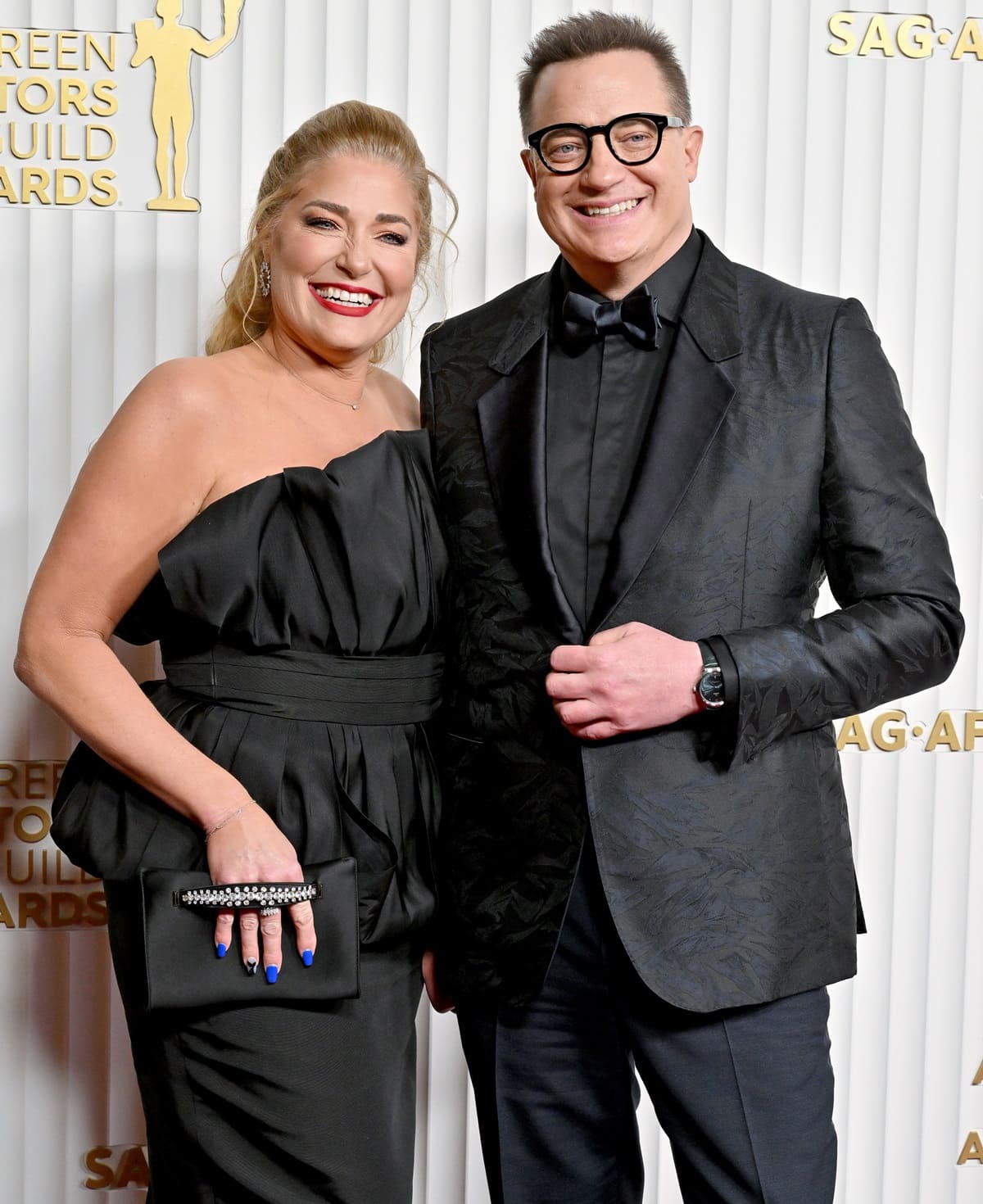 Brendan Fraser experienced a remarkable resurgence in 2022 with his latest film, The Whale, and his girlfriend, Jeanne Moore, has been a constant support throughout (Credit: BauerGriffin / INSTARimages)
In a field that included heavyweights like Colin Farrell, Adam Sandler, Austin Butler, and Bill Nighy, Fraser's victory was a testament to his incredible talent and dedication to his craft.
The Bedazzled star joked with the audience, "I'm smiling and breathing. That's half the job!" as he inhaled deeply.
Fraser shared, "I will treasure this, but never more than what I treasured that I used to keep in my wallet, which was my SAG card that I earned in 1991. It made me feel like I belonged. We're actors, we all want to belong to a tribe, and that's when I found where I belong."
He continued, "If you told that guy back then that I'd be standing right here right now, I would not have believed you."
Brendan Fraser won Outstanding Performance by a Male Actor in a Leading Role for his exceptional portrayal of his character in The Whale at the 2023 Screen Actors Guild Awards held on February 26, 2023, at the Fairmont Century Plaza in Los Angeles (Credit: BauerGriffin / INSTARimages)
The first-time SAG Award winner thanked The Whale director Darren Aronofsky and writer Samuel D. Hunter for providing him with "the role of my life." He expressed gratitude to his co-stars on the gripping drama, including Ty Simpkins, Samantha Morton, Hong Chau, and Sadie Sink.
The George of the Jungle actor continued, "I wouldn't believe that I had a chance to work with world-class filmmakers like Darren Aronofsky and speak the words of empathy fountain that is Samuel D. Hunter and incredible castmates. … I never believed that I would have been offered the role of my life in this character — Charlie in The Whale."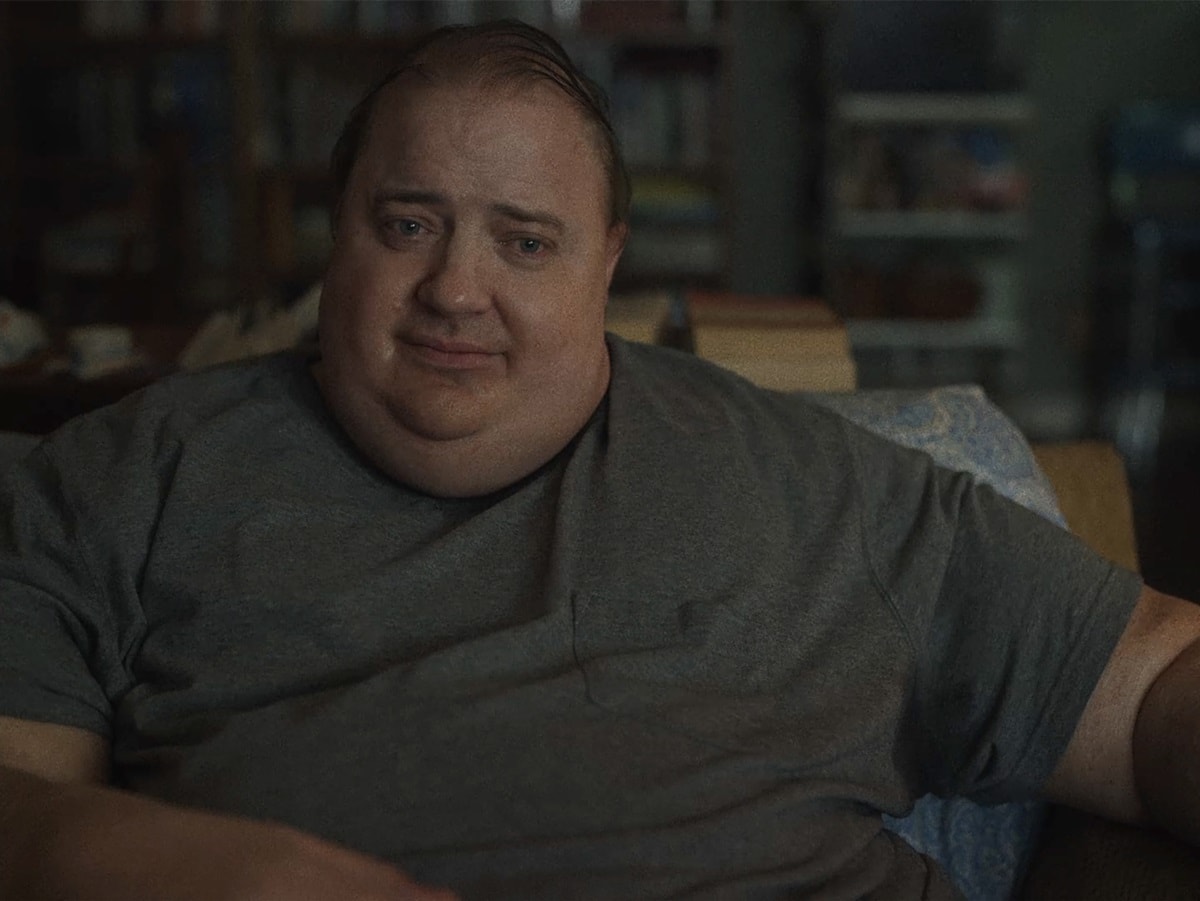 Brendan Fraser had to wear a heavy prosthetic suit for his role in The Whale because of his character's severe weight (Credit: A24)
He continued by sharing his lessons from playing the part and some motivational advice for professional actors. "He's [Charlie] someone who is on a raft of regrets, but he's in a sea of hope. And I've been at that sea, and I rode that wave lately, and it's been powerful and good, and I've also had that wave smash me down to the ocean floor and dragged my face along there and wind up on some strange beach in a different world and wondering, where am I now?"
"And I just want you to know … all the actors out there who have gone through that or are going through that, I know how you feel," the actor said as he offered a promise before concluding his statement. "Believe me, if you just stay in there, and you put one foot in front of the other, you'll get to where you need to go. Have courage."
At the end of his acceptance speech, he expressed gratitude to his children, their mother, and his agent, noting, "I wouldn't be able to do any of this [without you]. Thank you so very much."
The trophy is the actor's first individual SAG Award, but he had won before for Crash (2006), which took home the award for Outstanding Performance by a Cast in a Motion Picture.
His triumph caps up an already hectic award season for Fraser, who garnered his first Oscar nomination for his role in The Whale and won the Best Actor award at the 2023 Critics Choice Awards and the Spotlight Award at the Palm Springs International Film Festival.
The film chronicles Charlie (Fraser), a solitary, severely obese English teacher, as he attempts to reach out to his distant teenage daughter, Ellie (Sink), for one final shot at reconciliation.