With the Mary Jane shoe movement still going strong, no doubt you can't wait to get your hands on a pair or two. So, where to purchase the best Mary Janes?
There are so many different styles available. Just check out the following Mary Janes from Shopbop.
Four different types of Mary Jane shoes, including a black pair of Proenza Schouler flats worn with white socks
Here are 12 retail stores, both physical and online, where you can find these iconic shoes:
Walmart has nearly 5,000 stores all across the United States, and they sell almost anything, from a teepee to women's shoes— which include an extensive collection of Mary Jane shoes for both little girls and adults.
Brinley Co. Medium and Wide Width Mary Jane Patent Leather Pumps, $49.99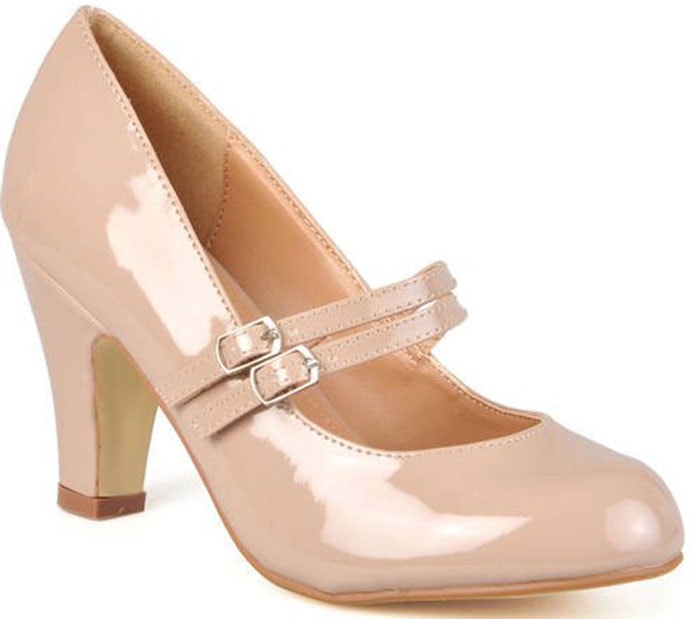 The Brinley Co. Mary Janes feature a faux leather upper with classic round toes, chunky heels, and chic double thin straps
You can find a China-made cotton doll pair for only $12.99 and a pair of striking ankle-strap Mary Jane dress shoes at $29.95 that are perfect for a night of dancing!
Headquartered in Colorado, Crocs may be known for their foam clogs, which were originally designed as boat shoes. However, they have since expanded to selling other types of footwear, including Mary Janes!
Crocs 'Alice' Mary Jane Work Flats, $39.99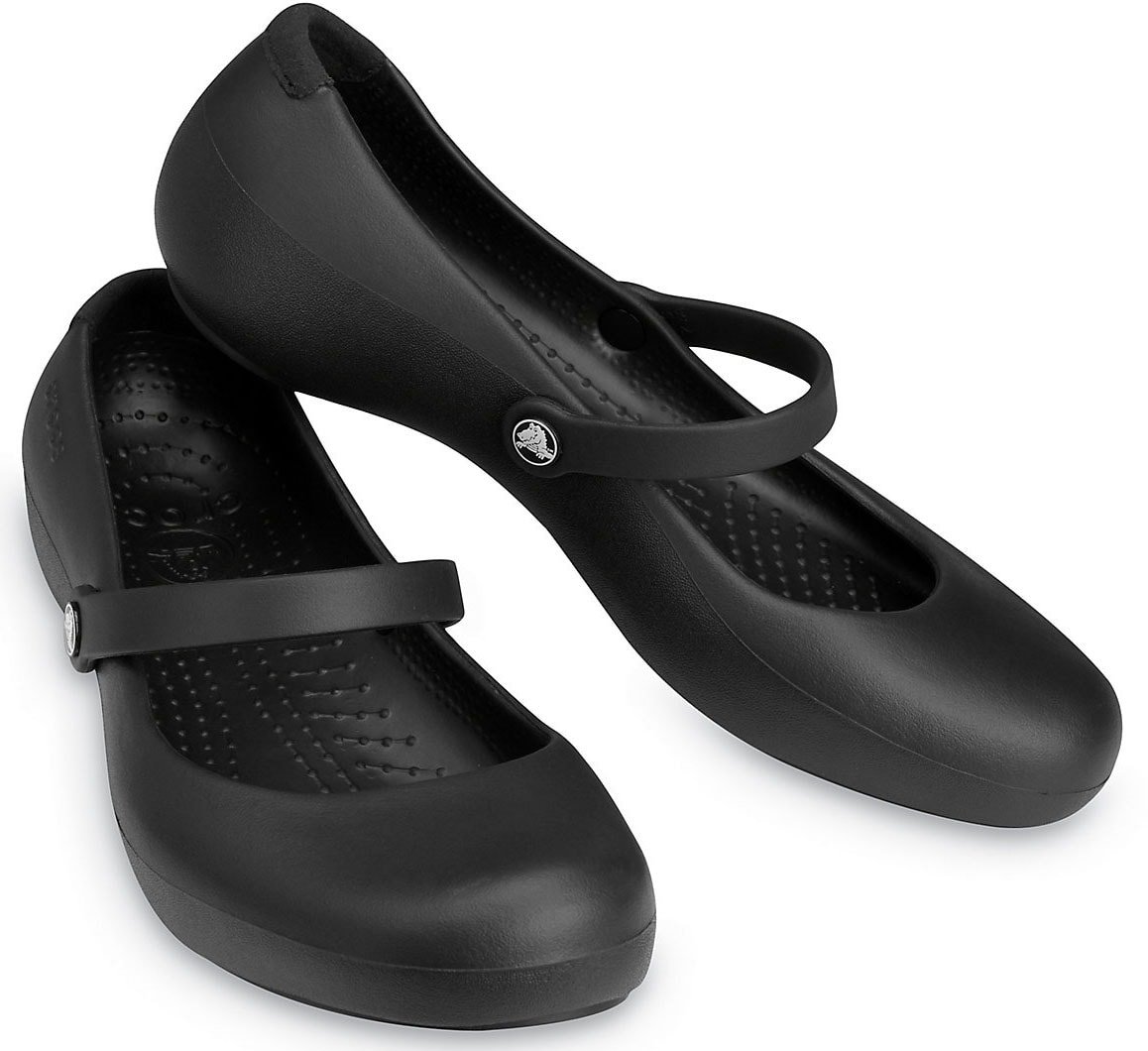 A classic and comfy pair of Crocs Mary Jane shoes for on-the-go women
They have the cute classic Mary Jane crocs from $17.49 to $24.99 in a slip-on style, to the classic closed and black ones for women, priced at $39.99.
The largest department store chain in the United States, Kohl's is operating in over 1,000 places. You can find Kohl's in every state— except in Hawaii.
Headquartered in Wisconsin, it sells a huge variety of footwear, including a staggering collection of Mary Jane shoes!
Journee Collection 'Elodie' High Heel Mary Jane Shoes, $74.99
The elegant Elodie Mary Jane heels from Journee Collection feature a glittery heel panel and a sexy strappy silhouette
They have the ultra-sexy Mary Jane line from the Journee Collection, all high-heeled with a variety of delicious colors and styles, as well as adorable ones for infants and toddlers, and just about any Mary Jane shoes, you can think of!
Operating in over 500 stores across the United States, DSW also has an e-commerce site, where they also sell their private-label brands, like Audrey Brooke, Lulu Townsend, and Poppie Jones.
Clarks 'Alayna' Shine Pump, $69.99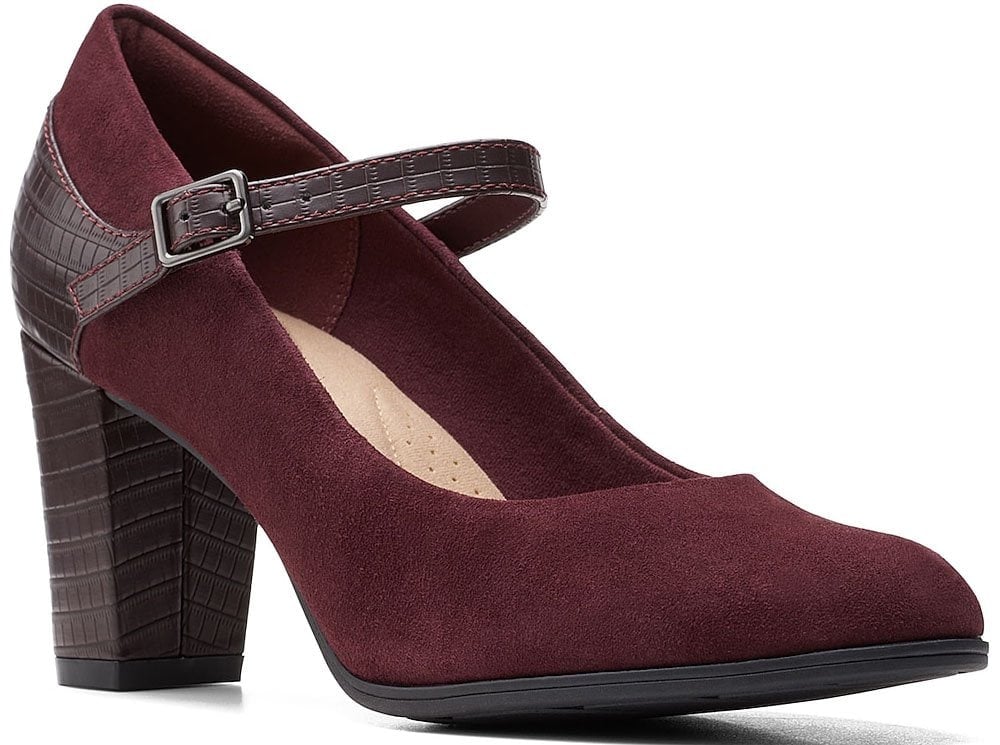 Dress up with the Clarks Alayna Mary Jane pumps, featuring comfy Ortholite footbed and block heels
Revel in their super cute Mary Janes! They have styles suited for every kind of lady, from pumps to wedges, to chic animal-print styles, to slip-on and kitten heels.
With nearly 700 retail stores all across the United States, particularly located inside shopping malls, JCPenney is one of the most popular American department stores.
Like all department stores. JCPenney has Mary Janes that you will love, and the selection is exciting; from girl's shoes with glittery gold uppers to sophisticated red ones from Hush Puppies, you will no doubt find the style you're looking for.
The online shoe and clothing store is headquartered in Las Vegas, Nevada. The word Zappos was named after "Zapatos," which means "shoes" in Spanish. And wherever there are shoes, there will be Mary Janes!
LifeStride 'Sandrine' Mary Jane Pumps, $59.94
Elevate your look with lasting comfort with the LifeStride Sandrine Mary Janes
Browse through hundreds of brands that have both the classic and modern Mary Janes. From cute ones for infants and toddlers to schoolchildren to women with diverse tastes in footwear.
Owned by Zappos, 6pm is an e-commerce site peddling affordable shoes and accessories.
The great thing about this legit store is they also sell clearance products, obsolete styles, and discontinued products so that you will thrill in the vintage or cheap selections of Mary Janes!
Nine West 'Aimee' Mary Jane Ballet Flats, $89
Give your look a sleek and classy finish with Nine West's Aimee Mary Jane ballet flats
Carrying bands with Mary Janes's shoes from Skechers to Michael Kors, 6pm is one of your best bets in finding the pair you will fall in love with. From dazzling silver ones to velvet ones, get your Mary Janes here.
American fashion house Kenneth Cole was founded in 1982 and is headquartered in New York. From watches to bags and, of course, shoes. The brand suits all sorts of budgets, as Kenneth Cole has both a luxury and a casual line.
Kenneth Cole 'Card' T-strap Espadrille Wedge Sandals, $89
Wear the Kenneth Cole Card espadrilles to finish off a chic summer outfit
From strappy black heels to gold leather flats, patent leather, and T-straps, Kenneth Cole has a wonderful collection of Mary Janes for casual daytime wear to power-shoes style for corporate events to dancing, or to simply look great.
Headquartered in Midtown Manhattan, New York, Calvin Klein is famous for ready-to-wear items to haute couture clothing. If they have perfumery, they also have a collection of beautiful Mary Jane shoes.
Calvin Klein 'Gella' Snake Heels, $118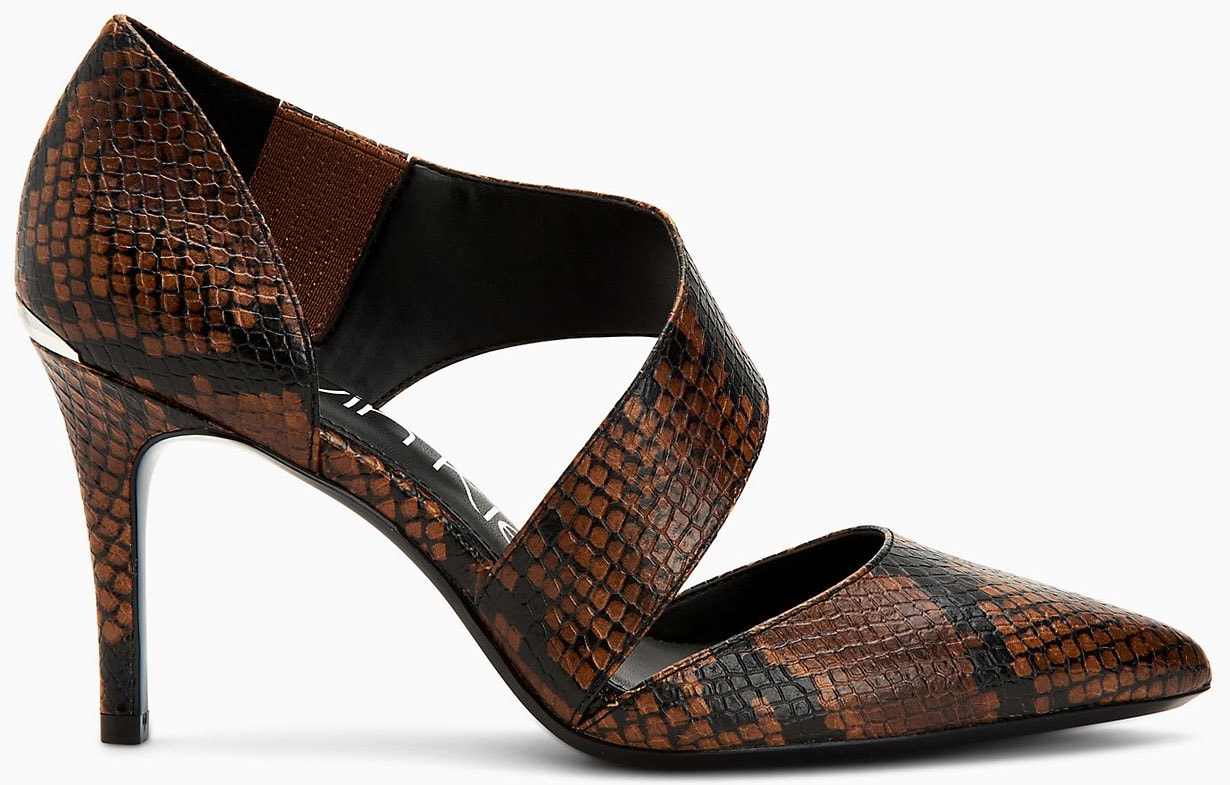 Add a sultry finish to your outfit with Calvin Klein's Gella snake heels with asymmetrical Mary Jane straps
Calvin Klein sells lovely pairs of Mary Janes for all sorts of shoppers, from those simply looking for comfortable footwear to those who desire style and sophistication.
Headquartered in San Francisco, California, Gap is a well-known American brand and is the biggest specialty retailer in the United States. Chiefly known for clothing items, Gap also ventured into selling shoes.
Gap Toddler Scalloped Ballet Flats, $34.95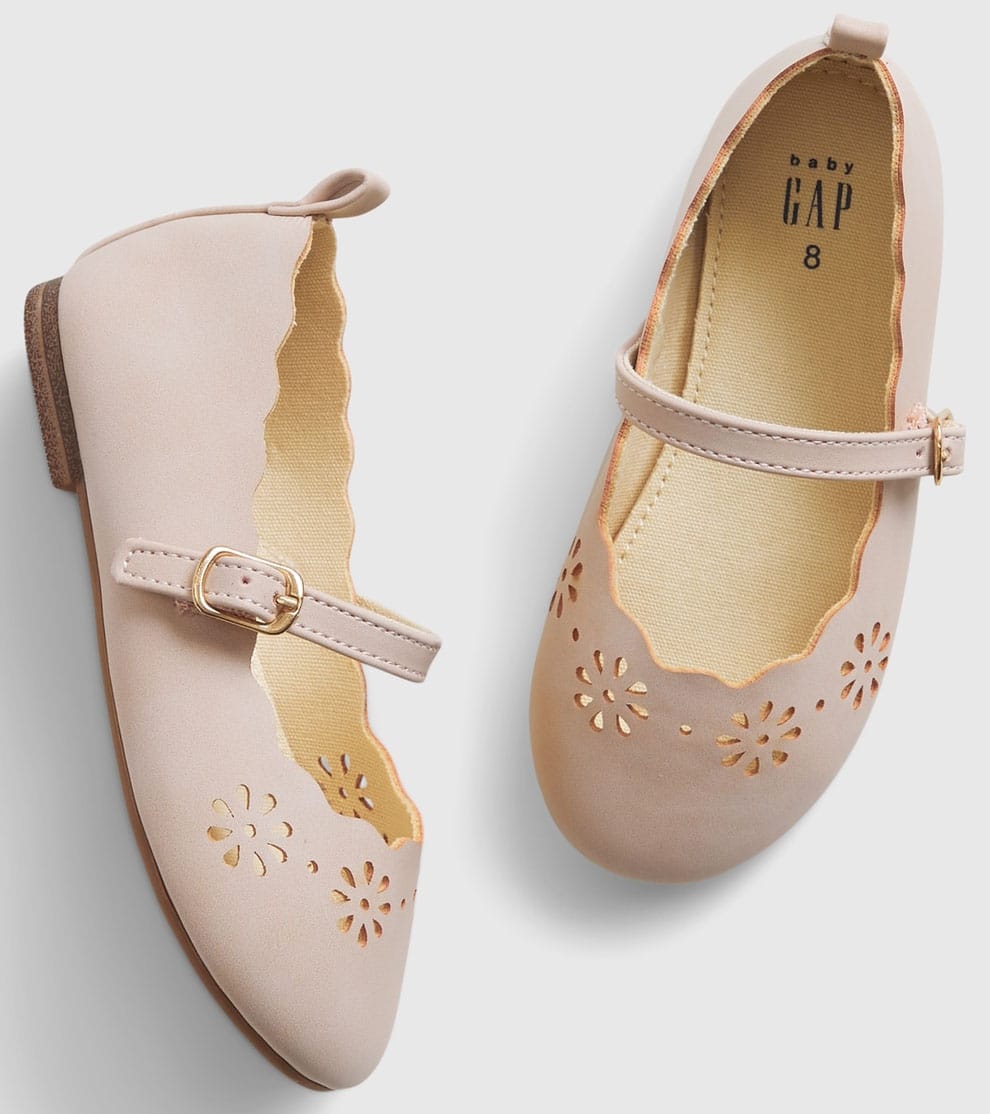 A cute pair of smooth leather Mary Janes with scalloped trims for toddlers
If you are looking for Mary Jane shoes for your kids, Gap has super cute styles for your infant, toddler, or preschool child. From black leather to denim to ivory faux fur-lined pairs, their Mary Janes are too irresistible.
The giant e-commerce site is usually the go-to for everything you need, and that, of course, includes Mary Jane shoes. If you are scouring for your favorite shoe brand, Amazon mostly has got it.
Rockport Total Motion Pointy Toe Mary Jane Pumps, $45.45
Rockport's Total Motion pumps allow you to look stylish without sacrificing comfort
Nifty Mary Janes available on Amazon are reliable brands from Clarks, Skechers, Keen, Crocs, Rockport, Alegria, and a thousand others.
The Mary Jane shoe selection is astounding that you might find yourself buying a dozen pairs of different styles.
Based in Long Island, New York, Steve Madden is known for quality shoes and accessories— not to mention stylish. So if you love this brand, no doubt you are already aware of their collection of stunning Mary Jane shoes.
Steve Madden 'Twice' Bone Patent Mary Jane Pumps, $99.95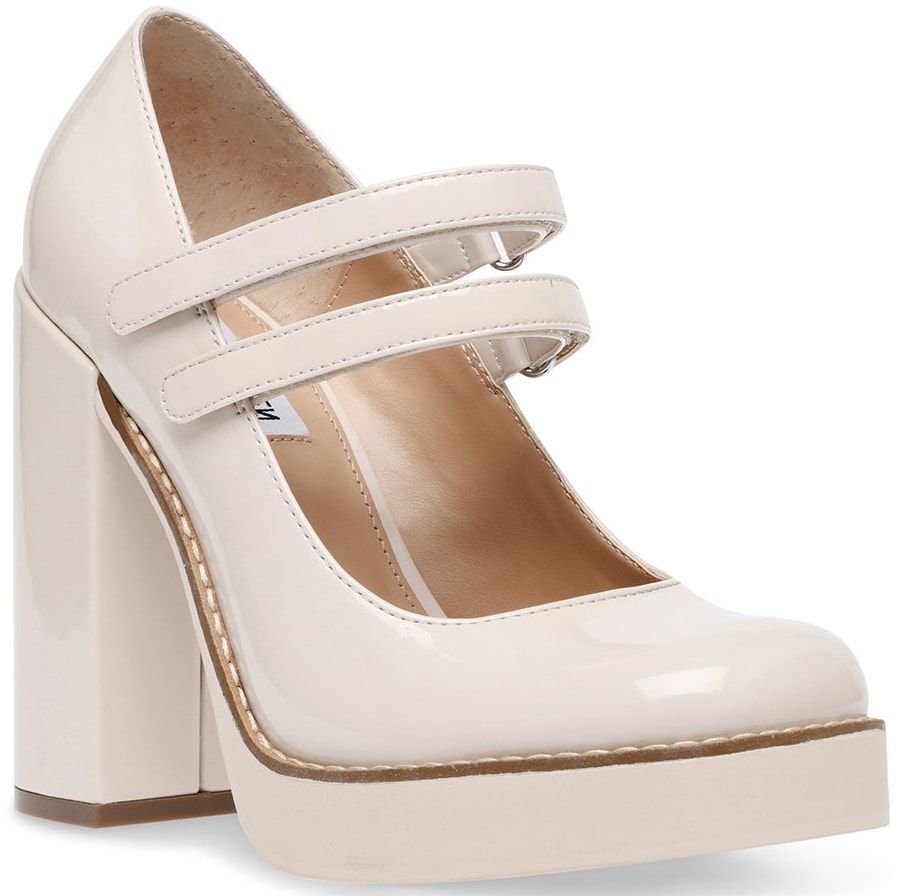 Channel '90s valley girl in Steve Madden's Twice Mary Jane pumps
They have a pair with gorgeous flower details, retro suede Mary Jane block heels, tan leather, ruffled ones to peep-toe, to a leopard with buckles!
It is the place to go if you want your Mary Janes to be extraordinary— either grungy, rockstar, ultra-fashionable, or simply attention-grabbing.