Canada Goose is one of the most notorious winter jacket and parka brands in the world. In fact, it's arguably the number 1 brand!
The Canadian luxury apparel label is known worldwide for its superior quality, distinct arctic logo badge, down insulation, and luxurious coyote fur hood.
These parkas are hot, and I mean that both figuratively and literally. They are the warmest coats on the market, so warm that you may break a sweat in below-freezing temperatures, which is an incredible accomplishment for a winter jacket.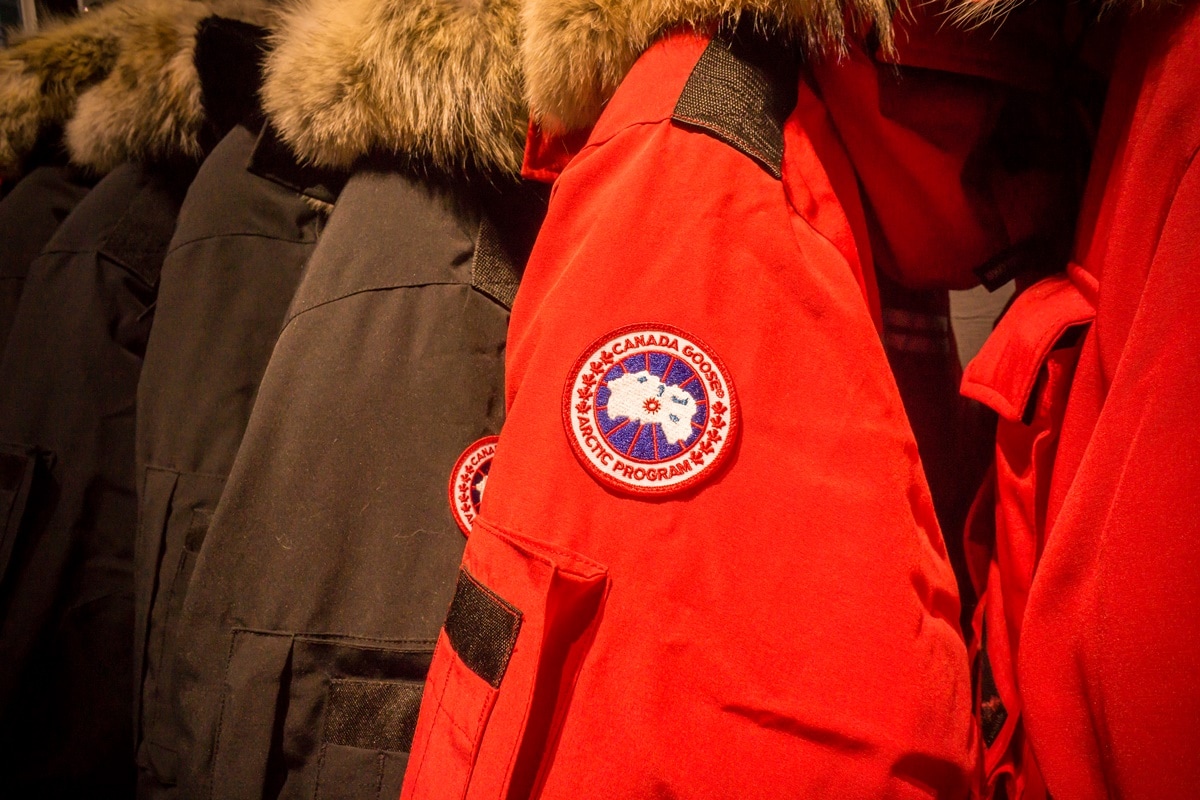 Canada Goose is famous for its best-selling parkas and jackets for men and women (Credit: Rblfmr / Shutterstock)
It's a bit of an investment for an authentic Canada Goose jacket, as they don't run cheap. Many of their jackets are over $1,000 at Nordstrom and Backcountry. As I said, they are an investment, but they will last you a long time!
When buying from Canada Goose, you don't need to worry about quality. The only thing you need to concern yourself with is what style to choose!
We've compiled a list of the most popular Canada Goose jackets and parkas for men and women to help you along.
Canada Goose Jackets and Parkas for Women
Canada Goose is known for their parkas, so of course, you will see a lot of parkas on this list.
As the company has grown, so has its product line, and they also have a stylish selection of lightweight jackets. Here are the best jackets and parkas for women:
1. The Standard Expedition Parka, $1,850 at Canada Goose
There's no better jacket to start this list off. This parka is like the Expedition parka in terms of design and technology but redeveloped with sustainable practices and materials. This coat is a key part of Canada Goose's sustainable impact strategy.
The Standard Expedition Parka sets the standard for the future of sustainable outerwear at Canada Goose
To keep you warm in temperatures -30 degrees Celsius and below, this parka features 750 power white duck down fill, reclaimed coyote fur trim hood, interior backpack straps that allow the jacket to be carried hands-free, side seam zippers for increased ventilation, and 6 exterior pockets.
This is one of Canada Goose's more exclusive jackets and not one you will see many people wearing.
There is a limited supply, and this parka is only available in the color 'greige', making it truly distinct. This stunning and extra-warm parka costs $1,850.
2. Chelsea Parka, $950 at Canada Goose
For those who love the style and quality of Canada Goose jackets but want a parka that is lighter for everyday wear – this is a great option!
It falls just below the waist and is available in an incredible 11 different colors!
The temperature rating on this one is -10 to -20 Celsius, and it is insulated with 625 fill power white duck down. It has a more minimalist aesthetic with just two exterior pockets, a classic arctic badge, and various interchangeable hood trim accessories.
3. Chilliwack Bomber, $875 at Canada Goose
This bomber jacket has a lot of style and is great for cold city streets and outdoor activities. This jacket's design was inspired by post-war bush pilots in Northern Canada who worked the Arctic runways.
These pilots needed both warmth and functionality, which is exactly what you get with this jacket.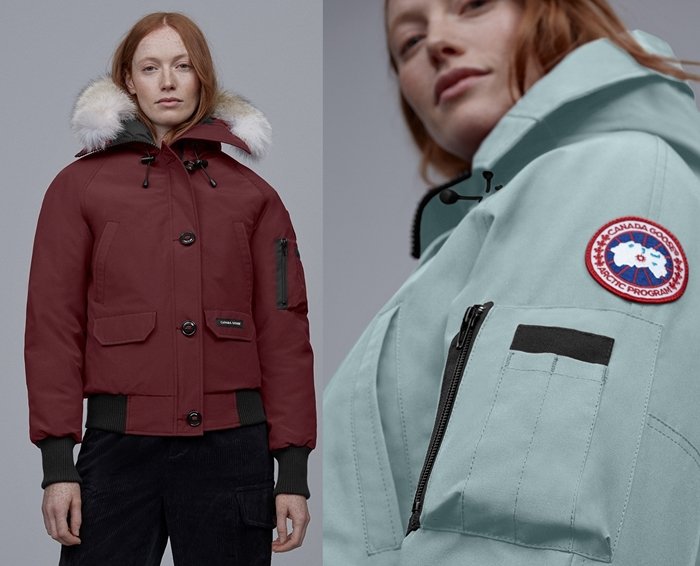 The iconic Chilliwack Bomber jacket provides the durability, warmth, and mobility that these pilots needed when working on Arctic runways
It doesn't provide as much warmth as the Expedition parkas do, but unless you are in Alaska or the Canadian arctic, you likely won't be spending much time in temperatures lower than -20 C, which is the temp rating on this coat.
The hood is awesome, in true bomber style, with bracing wire and tunnel to protect against wind. In 2013, Kate Upton wore this coat on the cover of the Sports Illustrated Swimsuit edition, and it's been a best seller ever since! The Chilliwack Bomber jacket retails for $875.
4. Shelburne Parka, $995 at Canada Goose
You can customize this Shelburne parka with different interchangeable hood trim accessories. It has a quilt-through design that is sleeker than the Expedition parker.
To prevent you from overheating, it features a back vent with snap closures for ventilation. It's thigh-length for maximum protection and also insulated with 625 fill power white duck down.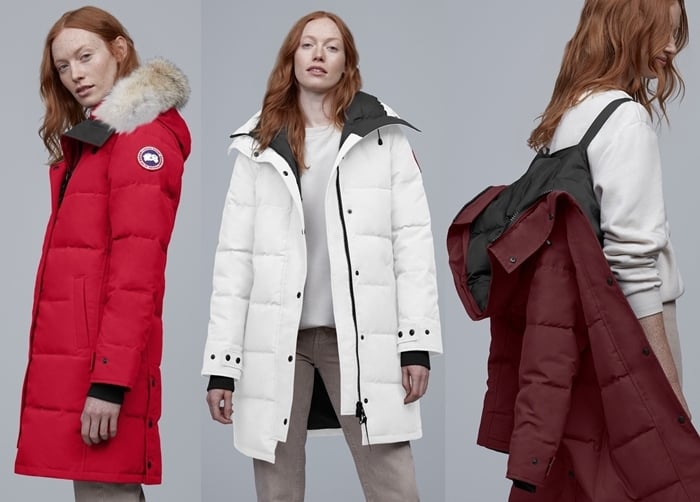 This thigh-length Shelburne Parka is the perfect jacket for those frigid days when you require maximum protection
The two exterior pockets are fleece-lined to keep hands warm on the coldest dates. This jacket will keep you toasty warm without sacrificing style. It is available in 10 different colors, including their signature red, white, and black, and retails for $995.
5. Expedition Parka, $1,295 at Canada Goose
This is the warmest of all the Canada Goose jackets, with the exception of the Standard Expedition. It has an incredible temperature rating of -30 C and below, thanks to the 625 fill power white duck down.
Even the hood is down-filled, adding extra protection and warmth. It's the OG Canada Goose extreme weather parka. It has a relaxed fit with 6 exterior pockets.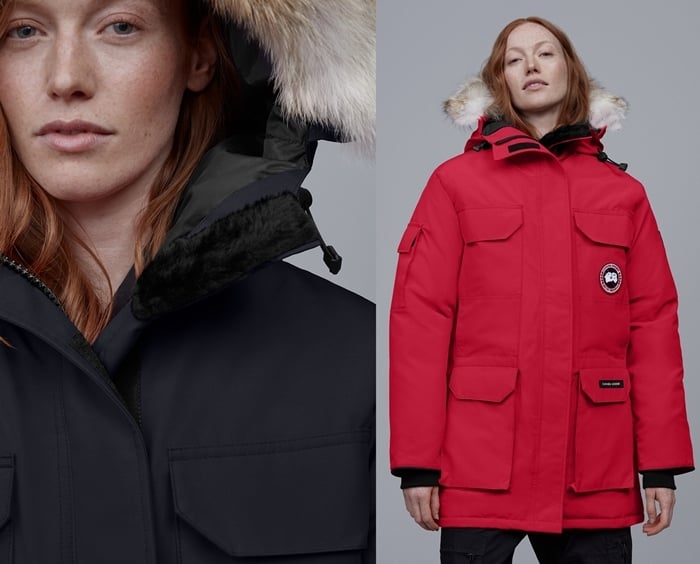 The Expedition is the original extreme weather parka, developed for scientists working in McMurdo Station, Antarctica
The coat's functionality was created for scientists working in McMurdo Station, Antarctica, although it looks and feels great in a frigid concrete jungle as well.
Just like the other parkas on this list, it has a removable fur ruff. The Expedition parka is available in 6 different colors and costs $1,295.
6. Cinematographer Jacket Black Label, $750 at Canada Goose
Inspired by the world's most famous female cinematographers, this jacket is equipped with many pockets so you can keep everything you made need while filming or just look incredibly fashionable while running errands.
Created in close collaboration with some of the film world's brightest female cinematographers, this exceptional piece has everything you might need in the field while shooting a film, translated into a versatile, distinctive jacket that transitions effortlessly from field shoots to urban pursuits
This jacket will keep you warm (-5 C) but is not meant for arctic winters. It's ideal for spring, fall, or mild winters. It has an all-black Canada Goose emblem patch, storm flap, and adjustable hood.
If you want a Canada Goose jacket without fur or down filling, this is a great option. This jacket is windproof, water-resistant, and very versatile! If you want to add this stunner to your wardrobe, it will cost you $750.
Canada Goose Jackets and Parkas for Men
Many of the men's Canada Goose jackets share the same name as the women's; however, there are some differences.
The men's and women's jackets are cut differently, and of course, sizing is different. The following jackets and parkas are the most popular for men.
7. Langford Parka, $1,050 at Canada Goose
For a more slim-fit parka, the Langford parka does a great job of combining style, function, and technology! If you are familiar with the Chateau or Banff style parka, this is similar but with added length.
The coat is thigh-length for added protection. It will keep you very warm, with a temperature rating of -15 C to -25 C, thanks to the 625 fill power white duck down.
This stylish urban piece is similar to the Chateau and Banff parkas but is slightly longer for greater leg protection
It has all the features of a Canada Goose jacket, including the standard arctic patch and fur trim hood. The Langford Parka is available in 10 different colors, including military green, red and arctic white. This parka retails for $1,050.
8. Expedition Parka, $1,295 at Canada Goose
For extreme weather, you need an extreme parka, and the Expedition is it! Used by Polar researchers at the South Pole, this is a performance-focused jacket with superior Canada Goose technology.
Whether your next journey is through a frozen urban jungle or across uncharted ice fields, with the Canada Goose Expedition Parka, you get the performance that is proven at the South Pole each year by the National Science Foundation division of Polar Research
It has an adjustable down-filled hood, removable fur ruff, and fleece-lined chin guard to protect your face from icy winter wind and snow. It has 8 pockets in total, offering plenty of storage space, including 6 exterior and 2 interior pockets.
Although it costs a fair bit, retailing at $1,295, this parka is water-resistant, durable, and guaranteed to keep you warm and dry and the roughest winter days.
9. Wyndham Parka, $995 at Canada Goose
The unique feature of the Wyndham parka is the slim fit and quilted design. If you want a Canada Goose jacket that is a little less bulky and lighter for everyday wear, the Wyndham parka is a great option. It falls just to the waist and has 4 sleek pockets.
This slim-fitting style maximizes warmth with a heavy-duty two-way zipper and soft ribbed knit cuffs to block cold air out
The pockets are double-stacked fleece-lined to keep your hands warm. The hood is removable, just as the fur ruff is, and it is insulated with 625 fill power white duck down. This jacket is designed to stay dry in extreme conditions and cold climates.
Although durable and long-lasting, the jacket's color will naturally change over time, giving it more character. This jacket retails for $995.
10. Sherridon Parka Black Label, $1,250 at Canada Goose
The Sherridon Parka Black Label is made for daily wear in cold temperatures. It has a temperature rating of -15 C to -25 C thanks to the 625 fill down and water-resistant outer shell.
Both the hood and collar are down-filled for additional insulation and to keep out the cold!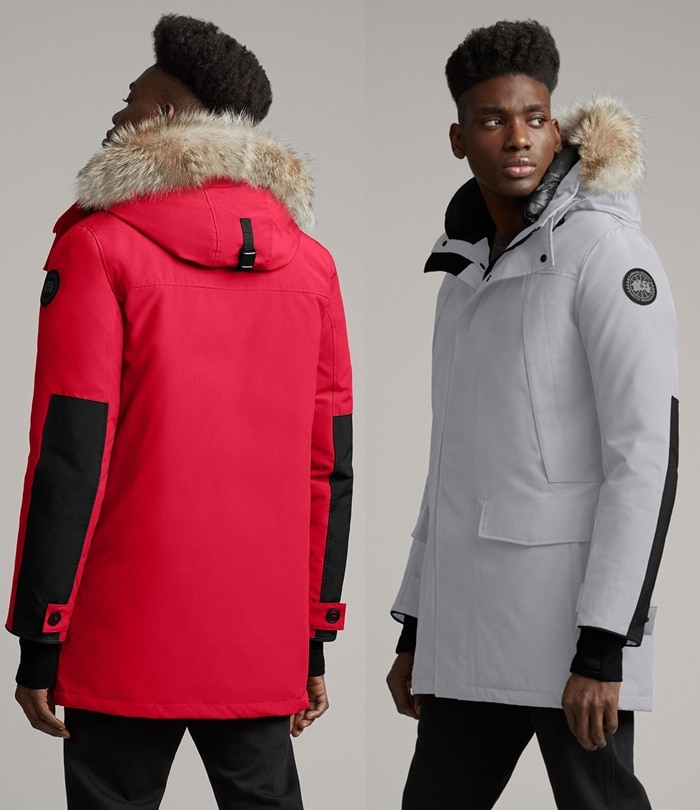 With a warm down-filled collar and a TEI 4 rating, the Sherridon Parka is built for daily wear in cold temperatures
The hood is removable and adjustable in 2 ways. Cordura fabric has also been added to the elbows for durability. There is plenty of storage for your winter excursions, with 9 pockets in total.
This label has a slim fit and is available in 5 different colors, retailing for $1,250.
11. Expedition Parka X Juun. J, $1,595 at Canada Goose
Take the classic Canada Goose Expedition parka and make it high fashion. This unique design was a collaboration with designer Juun. J.
When designing this parka, the signature Expedition was deconstructed and reworked. It has exaggerated proportions for an extra baggy look and fit.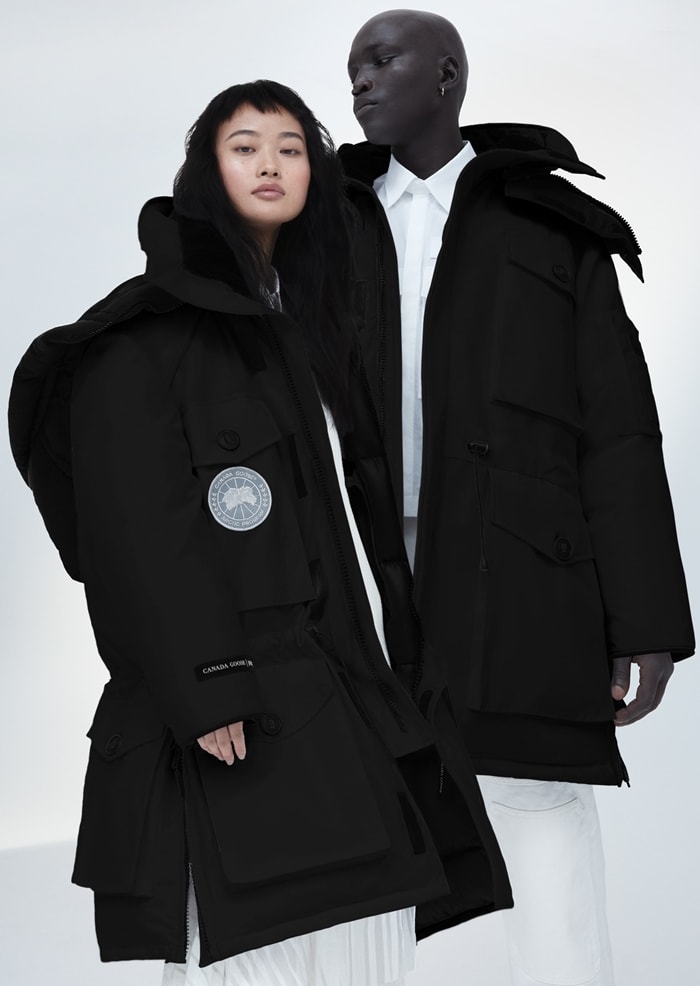 With exaggerated proportions and two oversized silver discs, our signature Expedition Parka is deconstructed and reworked for our collaboration with Korean designer Juun.J
It also has two overside silver discs. Despite appearing as it came directly off the runway, it is also extremely functional.
It has two hoods, one lined with Sherpa wool and an outer hood that is down-filled with fur trim. Although it is on the men's list, this jacket is unisex.
There is an oversized webbing grab strap at the upper back with Juunj. J and Canada Goose co-branded emblem patch. To have this truly unique jacket, you will have to fork out $1,595.