There are few nations that know how to survive freezing temperatures better than Canada. Many parts of the country are subject to temperatures as low as -40°F during the winter months, which means Canadian outerwear brands take their craft seriously.
They use the best materials and have developed supreme warmth-trapping techniques to ensure that wearers can withstand the extreme weather conditions they're so often faced with in the Great White North.
Canada Goose is known for its high-quality outerwear, combining high-performance technical features with sleek designs (Credit: zhangjin_net / Shutterstock)
Of course, no Canadian outerwear labels are as iconic as Canada Goose. Their outerwear is world-famous for its unparalleled warmth, quality, and comfort. Canada Goose is also loved for their ability to combine high-performance technical features with sleek designs.
If you're looking for a winter coat that will keep you cozy and stylish in even the coldest temperatures, you should definitely invest in a Canada Goose jacket.
Why Are Canada Goose Jackets The Best Winter Coats?
Down is the main insulator of Canada Goose jackets. It's a natural material that protects wild animals from the elements and also does an excellent job when placed inside a winter parka.
The brand uses a water-repellent finish to protect the down lining while keeping the wearer dry from snow or showers. It's important to note that water repellent does not necessarily mean waterproof. If you live in a wet and cold climate, you'll want to look for a jacket that has additional waterproofing properties.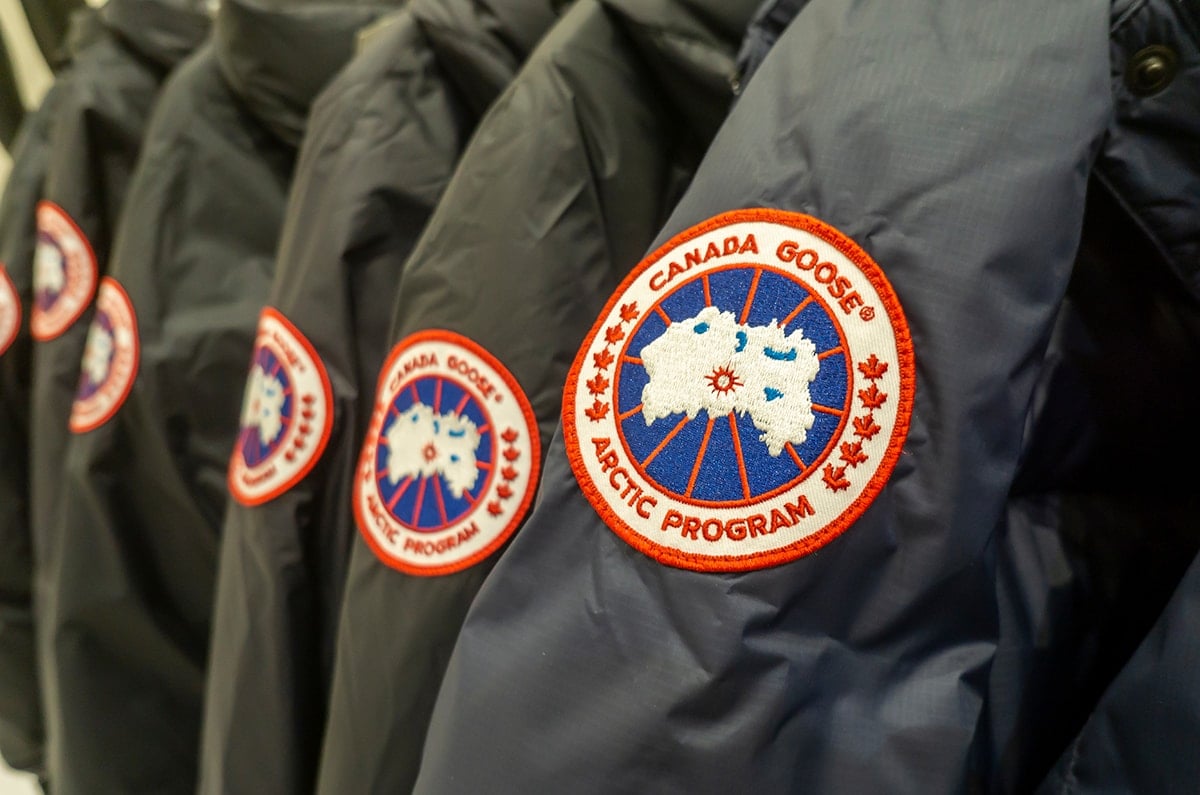 Canada Goose jackets have water-repellent finish to protect the down lining and come with temperature rating, allowing consumers to choose the right style for their climate (Credit: rblfmr / Shutterstock)
Each Canada Goose jacket comes with a temperature rating so that you can choose an appropriate style for your climate. The higher the grade, the warmer the coat will be.
Those that live in areas with freezing temperatures that rival Canada's northern, central, and eastern regions will want to choose styles with a TEI5 (-22°F and below), TEI4 (5°F to -13°F), or TEI3 (14°F to -4°F) rating. Those in more moderate climates that still get cold spells, such as the Pacific Northwest, can shop the lightweight range with TEI2 (32°F to 5°F) or TEI1 (41°F to 23°F) temperature ratings.
Of course, the temperature ratings are subjective. People that are more sensitive to cold may want to choose a higher temperature rating for their own comfort.
Aside from the down insulator, Canada Goose jackets are also packed with other cozy features, including fleece-lined pockets and soft chin guards (Credit: Canada Goose)
The jackets are also filled with cozy extras, such as fleece-lined pockets and soft chin guards for enhanced comfort. Many styles also come with internal backpack straps so that jackets can be carried hands-free when they're not being worn.
Ready to transform your winter coat game? Here are the warmest Canada Goose styles for both men and women looking to beat the winter chills.
The 4 Warmest Canada Goose Jackets For Men
1. The Mountaineer Jacket, $950 at Canada Goose
Temperature Rating: TEI5 (-22°F and below)
This parka is perfect for those seeking warmth without excess bulk. The Mountaineer Jacket features a clean, hip-length silhouette with subtle stripe accents at the chest.
Whether on or off the mountain, the Mountaineer Parka will suit all your needs with its 2-way adjustable down-filled hood, Tricot fabric-lined chin guard, and fully seam-sealed construction
The back hem is slightly longer than the front for additional warmth and protection. It lets you control exactly how much air exposure you want with its hem drawstrings and has cool hidden features like a mesh water bottle pocket so that you can keep your essentials close by.
Whether you're at the top of a mountain or in the center of a city, the Mountaineer Jacket will protect you from any element.
2. The Skreslet Parka, $1,095 – $1,229 at Canada Goose and Farfetch
Temperature Rating: TEI5 (-22°F and below)
You know this parka will have you covered for the most extreme weather situations when it's been co-designed by a mountaineer who has scaled Mt. Everest!
Named after the climber Laurie Skreslet, the first Canadian to scale the world's highest peak, this parka is specially made for surviving the world's highest altitudes and coldest conditions.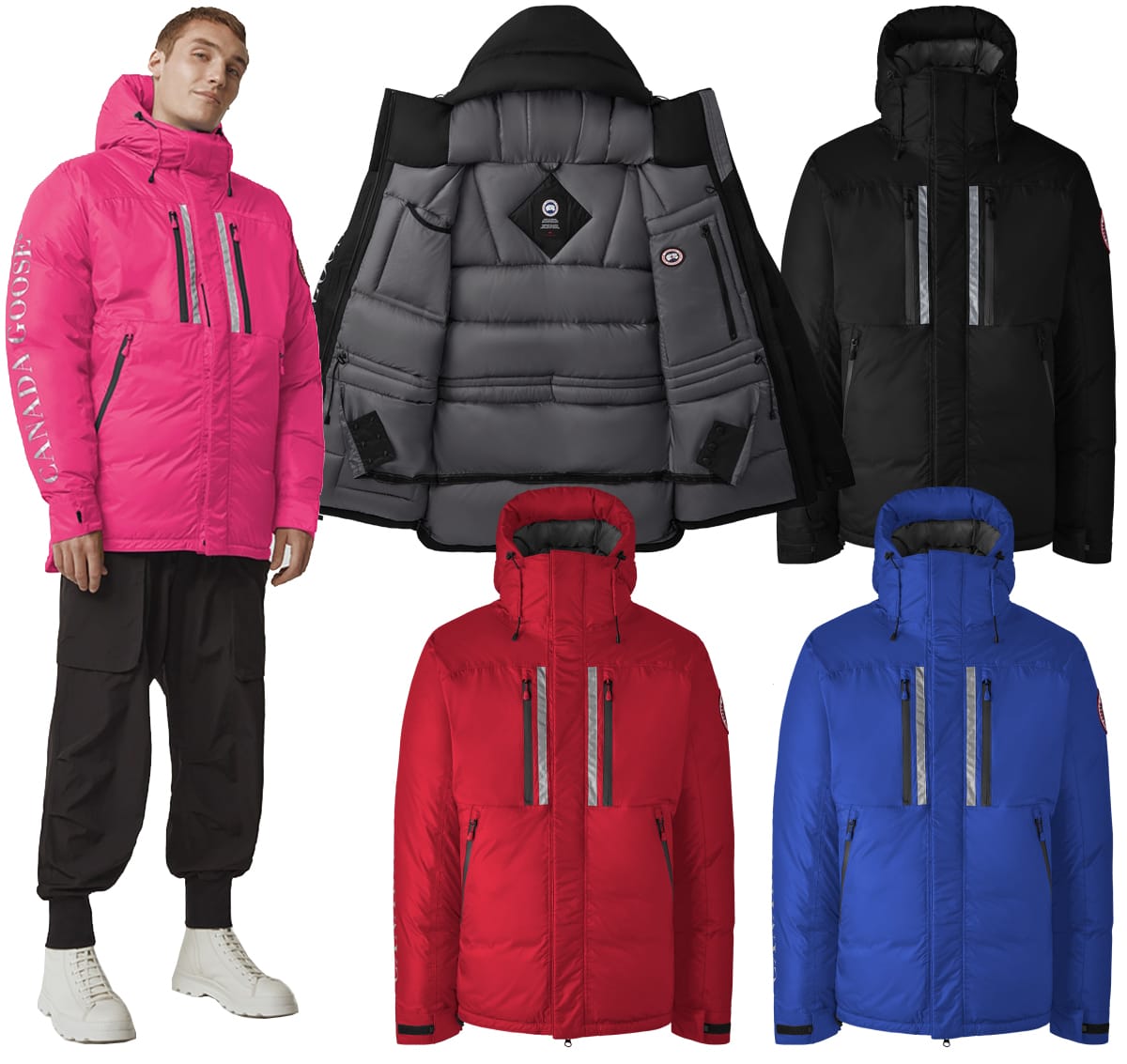 Designed for reaching the highest altitudes, the Skreslet Parka is fully seam-sealed for wind and wet weather protection and has extra-long sleeves with wide-sleeve cuffs, adjustable oversized down hood, and a fleece-lined chin guard
The Skreslet parka has technical features crucial for exploration, such as strategically placed reflective strips for enhanced visibility and sealed seams for wind and wetness protection.
Although this parka was designed with mountaineering in mind, its classic puffer shape also works for cities.
3. PBI Expedition Parka, $1,745 at Canada Goose
Temperature Rating: TEI5 (-22°F and below)<
Those that prefer a streamlined design to a puffer jacket will love the Expedition Parka. The smooth exterior features an adjustable hood with four chest pockets, creating a contemporary and sporty feel.
The Expedition Parka will keep you seriously cozy; it was developed for scientists working in Antarctica and is dubbed the 'original extreme weather parka' by Canada Goose.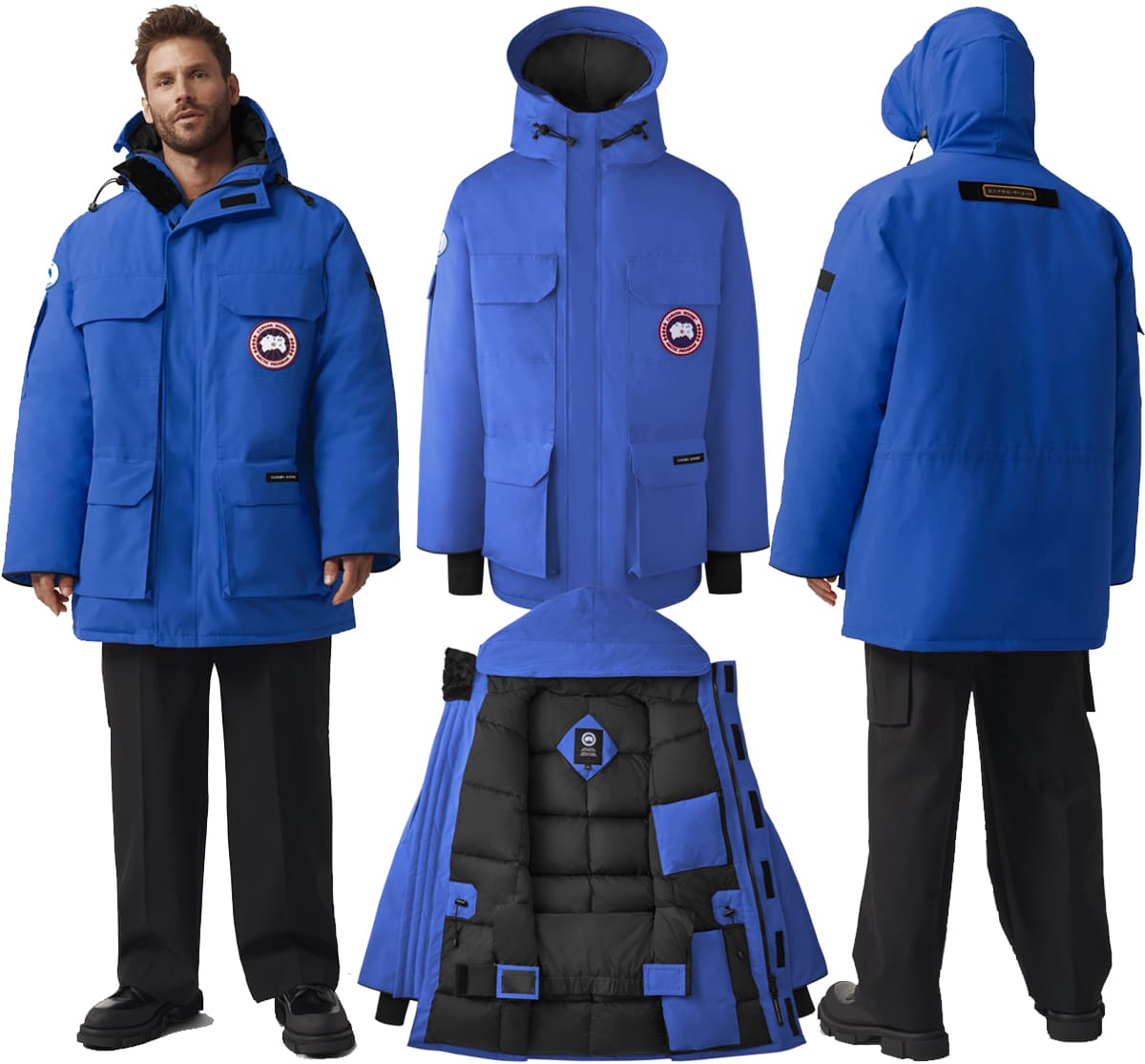 The original extreme weather parka, the PBI Expedition, was developed for scientists working in McMurdo Station, Antarctica
Plus, this is a design that helps you give back. It was made in collaboration with Polar Bears International (PBI), a non-profit organization that aids with global polar bear conservation. A portion of every Expedition Parka sale supports research by PBI so that you can feel warm and fuzzy inside and out.
4. Langford Parka Wool, $1,550 at Canada Goose
Temperature Rating: TEI4 (5°F to -13°F)
This is the perfect city-approved parka for those seeking a more refined style. The Langford Parka is made with elegant DynaLuxe windproof Italian wool, making the design an innovative wool coat-parka hybrid.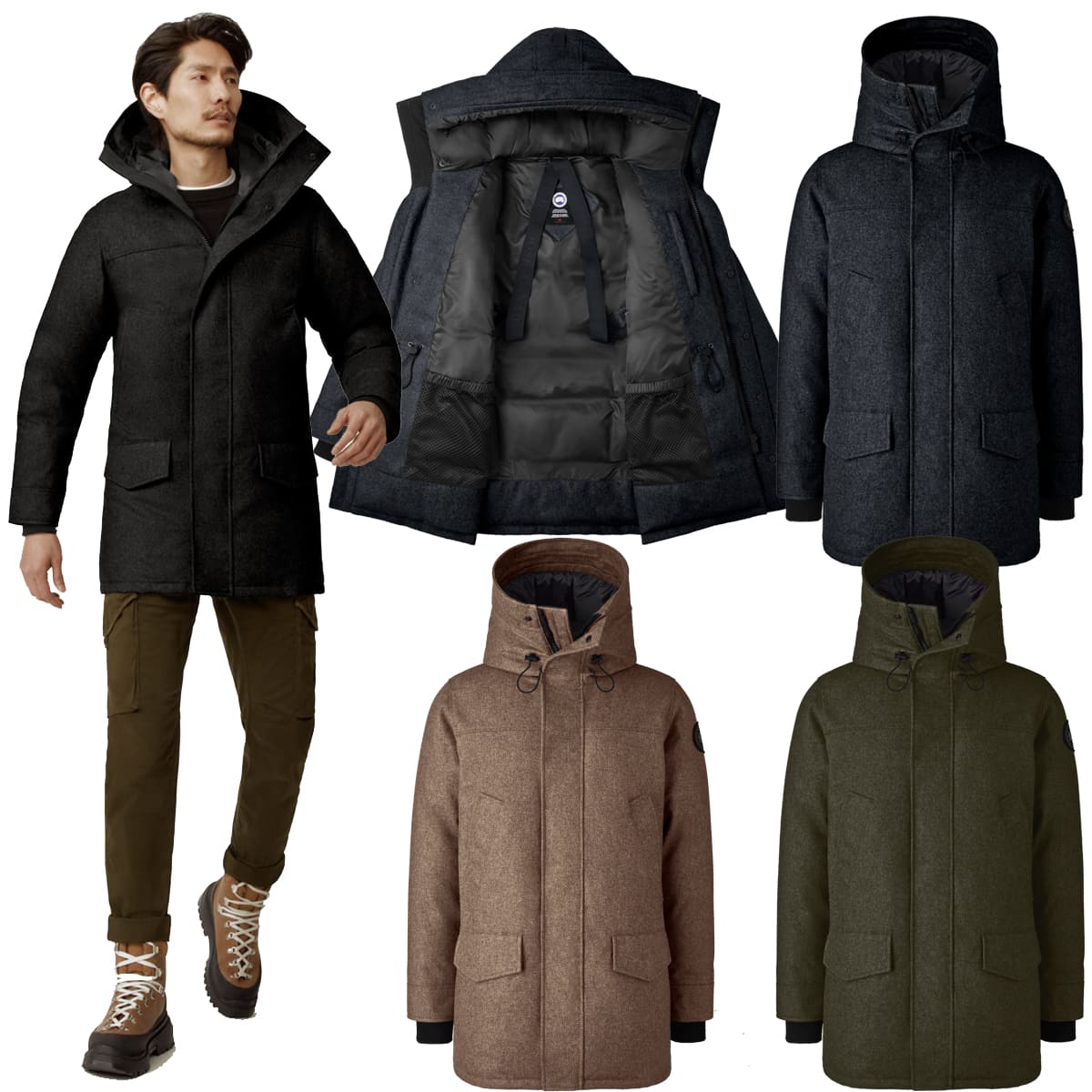 A sleek parka, the Langford is made from a 2-layer, windproof DynaLuxe wool and features a 2-way adjustable down-filled hood for added warmth and element protection
The clean exterior features a straight silhouette with two hidden pockets and two subtle flap pockets. It still features the label's signature down filling for optimal warmth and protection.
The 4 Warmest Canada Goose Jackets For Women
1. Mystique Parka, $1,250 at Canada Goose
Temperature Rating: TEI5 (-22°F and below)
This calf-length puffer coat is the closest thing you can get to head-to-toe warmth. It features a quilted design for even heat distribution and even tapers in at the waist to help you maintain a feminine silhouette.
The Mystique Parka has a streamlined hood and a modern feminine silhouette with an elaborate quilt-through design that promotes even heat distribution
The Mystique Parka is the ultimate cozy winter jacket and even features a removable fur ruff when you want to add a touch of glamour while bringing even more warmth and protection.
2. Resolute Parka, $1,350 at Canada Goose
Temperature Rating: TEI5 (-22°F and below)
Create a sportier feel with this industrial-esque parka. The Resolute Parka is part of the label's Arctic Program, meaning that it's been approved by both explorers and workers in the world's most northern regions.
It has a smooth exterior with four cargo-like pockets and grab straps for hanging essentials or for simply adding a cool touch of hardware.
Featuring double reinforced elbows and a longer thigh length, the Resolute parka is worn by explorers on trans-Antarctic expeditions and workers at high-Arctic observatories
The Resolute Parka also has plenty of technical features, such as double reinforced elbows and a 3-way adjustable tunnel hood with a removable fur ruff. The mid-thigh length will ensure your torso is well-protected in even the harshest climates.
3. Marlow Parka, $1,350 at Canada Goose
Temperature Rating: TEI5 (-22°F and below)
Who says Arctic-approved parkas can't be pretty? The Marlow Parka is an elegant take on the full-length puffer coat with its chevron quilting, wrap hood, and belted waist.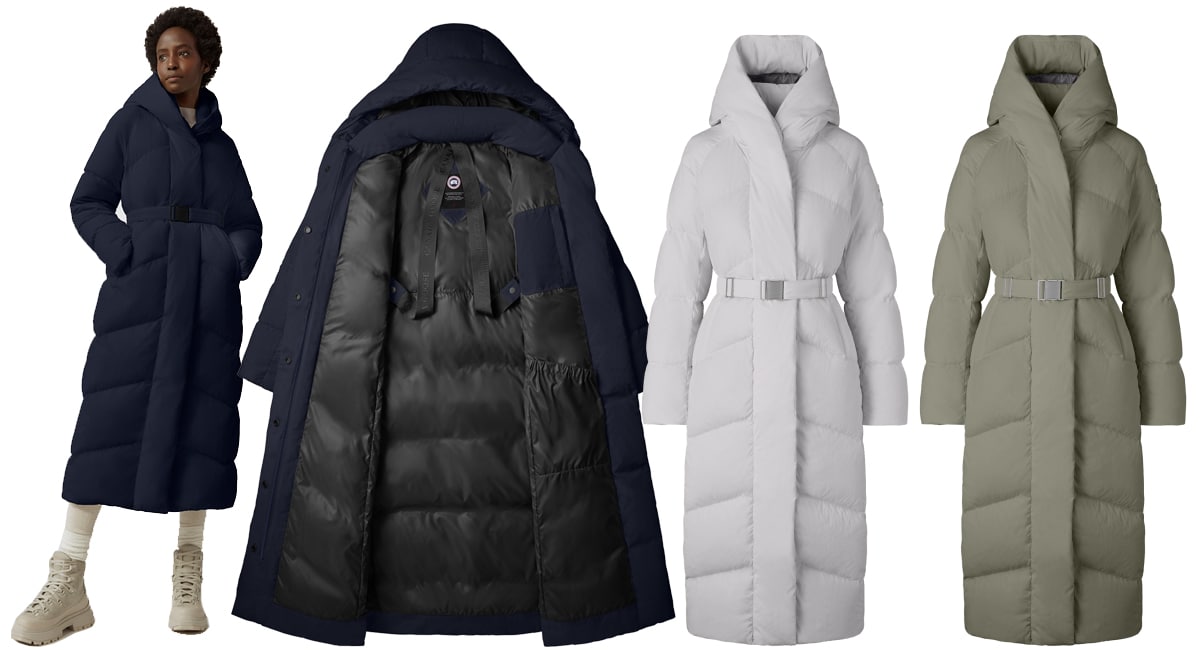 The Marlow is a chic yet functional parka crafted from a luxurious, water-repellent fabric with a soft-to-the-touch finish
It's made with the label's sleek, soft, and water-repellent Ventera fabric, making this jacket a perfect choice for the city or an apres-ski chalet.
Temperature Rating: TEI4 (5°F to -13°F)
You can't go wrong with a classic puffer jacket for the winter! The Cypress Puffer has a city or mountain-approved quilted design that locks in warmth while creating urban style points.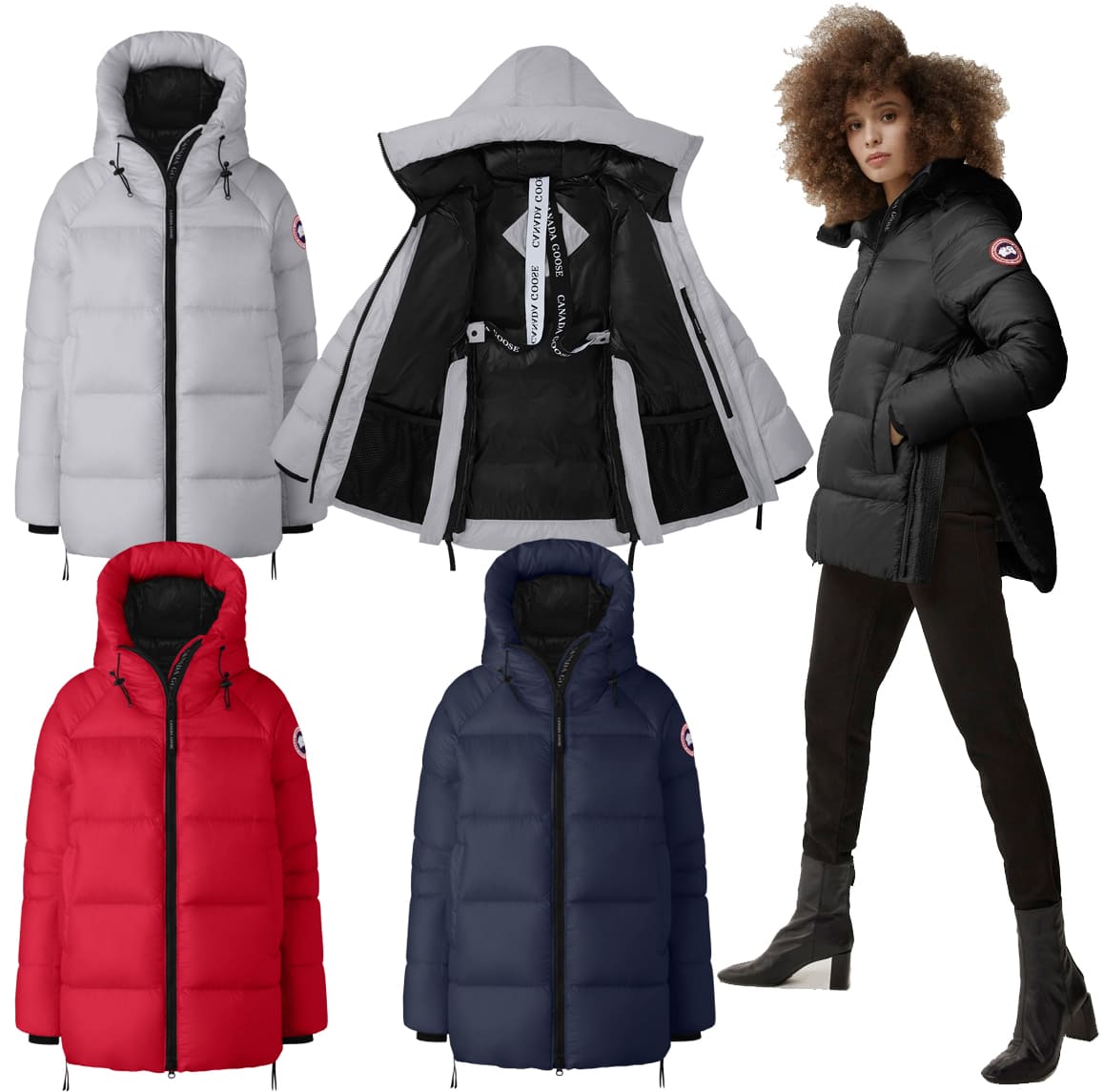 Providing weightless warmth and effortless movement, the Cypress Puffer features ultra-lightweight channel fill construction paired with lightweight fabrics and trims
This innovative design is made with recycled down and lightweight/water-repellent Ripstop fabric. The Cypress also features side zips, which adds contemporary coolness and temperature regulation on the off chance you actually feel too warm!