Shoes can make or break an outfit. You can spend hundreds of dollars on a pair of designer boots or sneakers, but if they are scuffed up and stained, they won't look good. Unfortunately, getting your shoes dirty from time to time is inevitable.
No one wants to have to throw their favorite shoes out early because they've let them reach the point of no return, so we've scoured the internet to find the best shoe cleaning products to help you keep your shoes looking fresh and new, whether they're white canvas sneakers, suede Mary Janes or leather stiletto boots.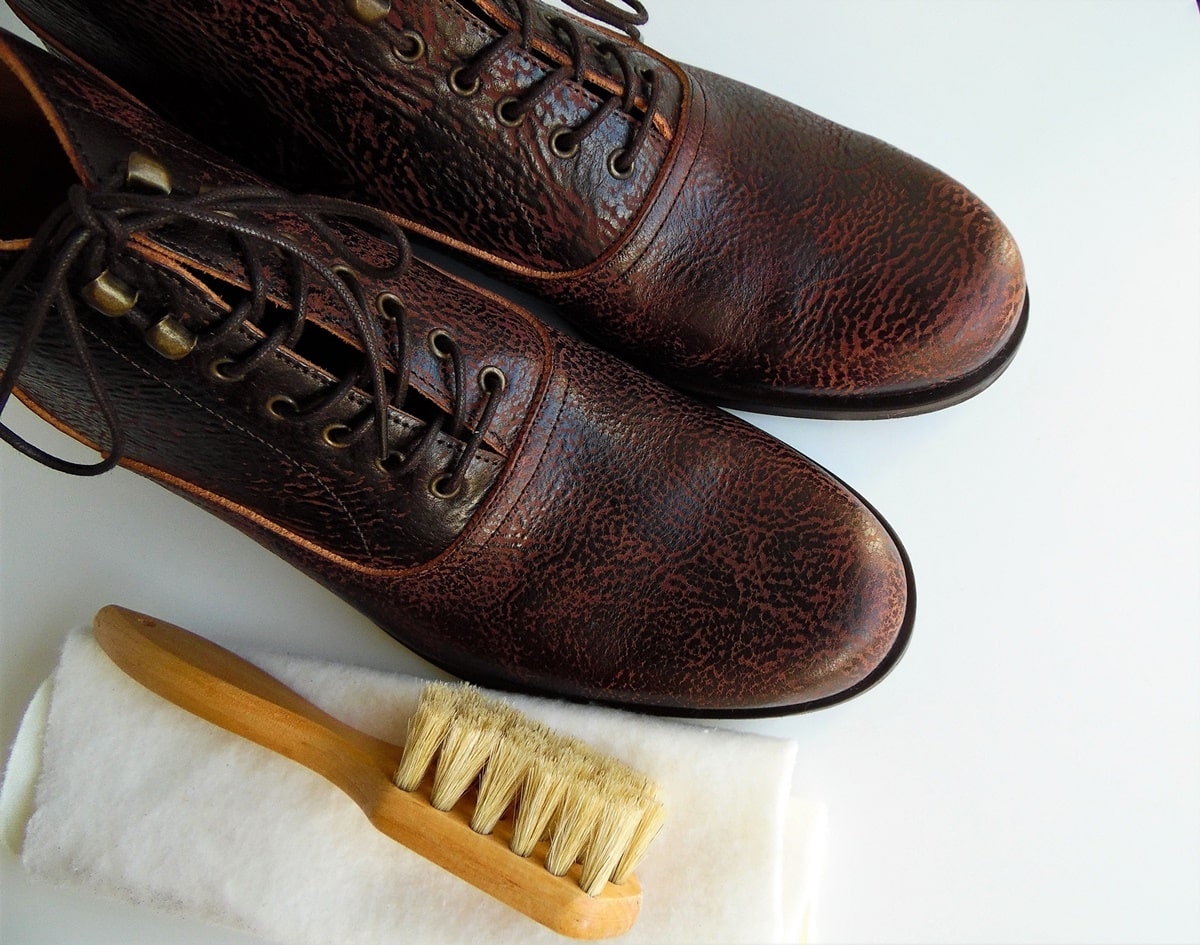 The best way to clean shoes depends on the shoe material (Credit: Dzuba Pavel / Shutterstock)
These shoe cleaners will take care of the dirtiest shoes and most delicate materials, leaving your boots and sneakers looking new!
The list has been split into the best versatile shoe cleaners that you can use on a variety of different materials and the best portable shoe cleaners for products that you can use on the go.
So whether you are looking for one cleaner to do it all or something to keep in your purse and use on the fly – we've got you covered!
The Best Versatile Shoe Cleaners
1. Jason Markk Premium Shoe Cleaner, $17.00 on Amazon
This is one of the most popular brands on this list. Jason Markk is a company that has established itself and grown a loyal customer base which is seen with the thousands of glowing reviews that attest to its powerful performance.
Jason Markk Premium Shoe Cleaner effectively cleans and conditions and does not contain any harsh chemicals and abrasives
The shoe cleaner is 98.3% natural, completely biodegradable, and environmentally friendly. Many shoe cleaners have a chemical smell to them which isn't very pleasant.
This is one of the best-smelling shoe cleaners out there, so if you're conscious about scent, this one has a clean and pleasant aroma.
The price point for Jason Markk Premium Shoe Cleaner is on the higher end, but you get a lot of bang for your buck. You only need to use a minimal amount, so it will last you a long time.
Cleaning tools are also included to make your shoes and boots sparkle! This kit comes with a bristle brush, but it's recommended that you only use the brush on more durable materials like leather or rubber. The brush the kit comes with isn't suitable for more delicate materials.
2. Reshoevn8r Shoe & Sneaker Cleaner, $22.99 on Amazon
Many shoe cleaning experts cite Reshoevn8r as their go-to shoe cleaner. It's a staple for self-proclaimed sneakerheads and shoe collectors. Not only is it highly effective, but it's eco-friendly as well.
This shoe and sneaker cleaner features a completely natural and gentle formula, packaged with 100% recyclable packaging.
The Reshoevn8r is a 100% all-natural shoe cleaning formula made with coconut, jojoba, and other natural oils
For an ultra-effective deep clean, use the cleaner with a bristle brush. This will work on almost all materials. The reviews show there are some diehard Reshoevn8r fans out there! Some customers humorously exclaim that they feel like their shoes are cleaner after using this product than when they first got them.
This shoe cleaning product is also budget-friendly. The product's 8 OZ. formula can last you up to a whopping 60 to 100 uses. It's also super easy to use. All you need to do is dilute the cleaner with water, soak your bristled brush in it and get scrubbing!
3. ShoeAnew Shoe Cleaner Kit, $14.99 on Amazon
ShoeAnew's Shoe Cleaner Kit is one of the best multi-faceted budget shoe cleaners that will keep your shoes looking brand new.
If your sneakers have been looking dull and the original color has faded, this kit will restore them to their original hue while using ingredients that will also prevent future discoloration.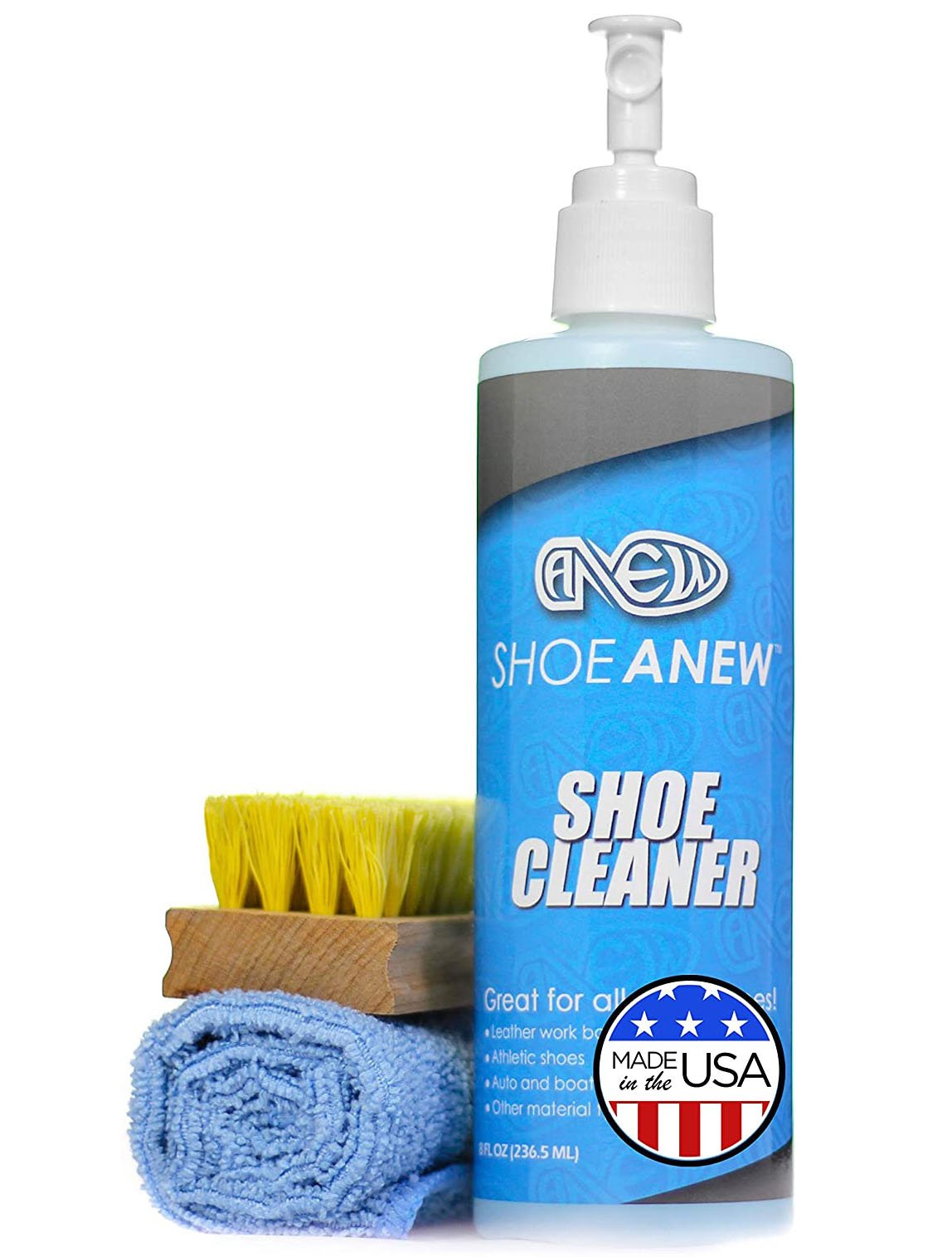 ShoeAnew's shoe cleaner kit is easy-to-use, environment-friendly, and perfect for all types of shoe materials
It doesn't matter if your shoes are made of leather, canvas, vinyl, knit, mesh, cotton, plastic, nylon, or rubber – this environmentally friendly product works wonders on the majority of fabrics.
To use it, apply a small amount of concentrated liquid on the accompanying microfiber cloth and clean your shoes using the nylon brush that comes with it.
Many customers have commented on how amazed they were at its effectiveness, but if you don't agree with them, ShoeAnew offers a 30-day money-back guarantee.
4. KIWI Sneaker Cleaner, $13.70 on Amazon
KIWI's Sneaker Cleaner brings new meaning to the word affordable with its unbeatable price.
It's also incredibly versatile, as you can use it on faux leathers, canvas, suede, nylon nubuck, mesh, and many more materials. You'll be able to clean off your shoes with just one cleaner.
Extend the life of your shoes with KIWI's Sneaker Cleaner, which is perfect for removing marks, dirt, salt and stains
To use this product, all you need to do is press the sponge down to release the product and spread the liquid in a circular motion. After a good scrub, wipe the residue on the surface with a wet cloth and allow the shoe to dry for 30 minutes.
This product is useful for mild stains and isn't designed for tougher stains. It's a gentler product which is why you can use it on so many materials. That said, there are many happy customers and reviews online that praise the effectiveness of this cleaner.
5. Angelus Foam Tex Sneaker Cleaning Kit, $19.79 on Amazon
If you're afraid of damaging your more delicate shoes and boots with harsh solutions, then the Angelus Foam Tex sneaker cleaning kit is the product for you.
Angelus is your go-to retailer for fixing up your favorite shoes, offering everything from shoe paint to cleaning kits.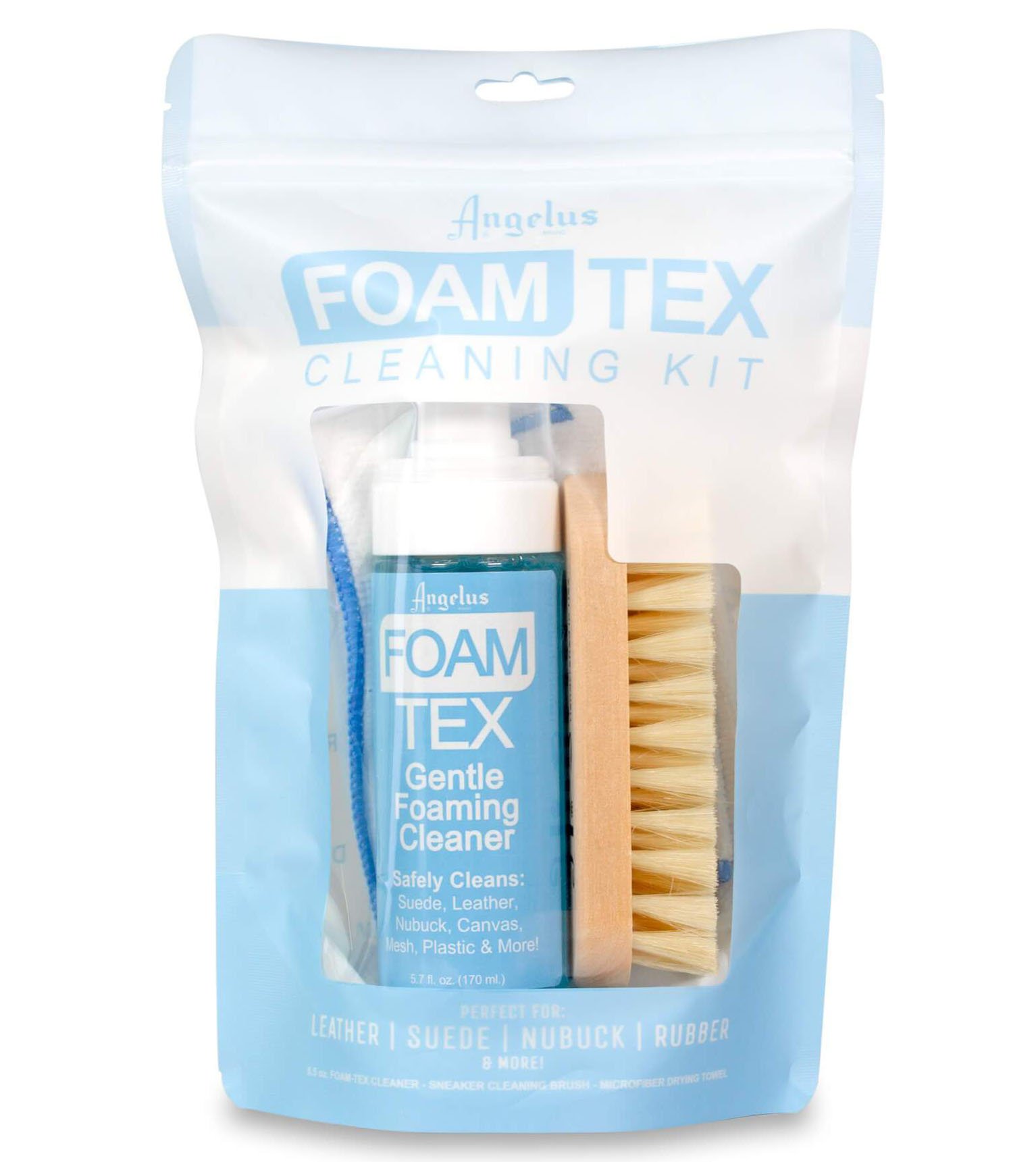 The Angelus Foam Tex allows you to pump foam directly onto your shoe for easy cleaning
This product will make your shoes pristine while ensuring they don't become soaked in the cleaning solution. It comes with a premium hog hair cleaning brush and a microfiber towel.
To use it, simply pump the product out, scrub your sneaker or boot, dry it and then admire the flawless finish it leaves.
6. Pink Miracle Shoe Cleaner, $29.97 on Amazon
Pink Miracle is another shoe cleaning brand that is a favorite amongst shoe experts, collectors, and enthusiasts and has cultivated a loyal following since 1985.
When you are cleaning a pair of fine boots that cost hundreds or thousands of dollars, you don't want to risk using a lousy cleaning product that could ruin them. Many customers say this is the only shoe cleaner they trust with their most expensive shoes.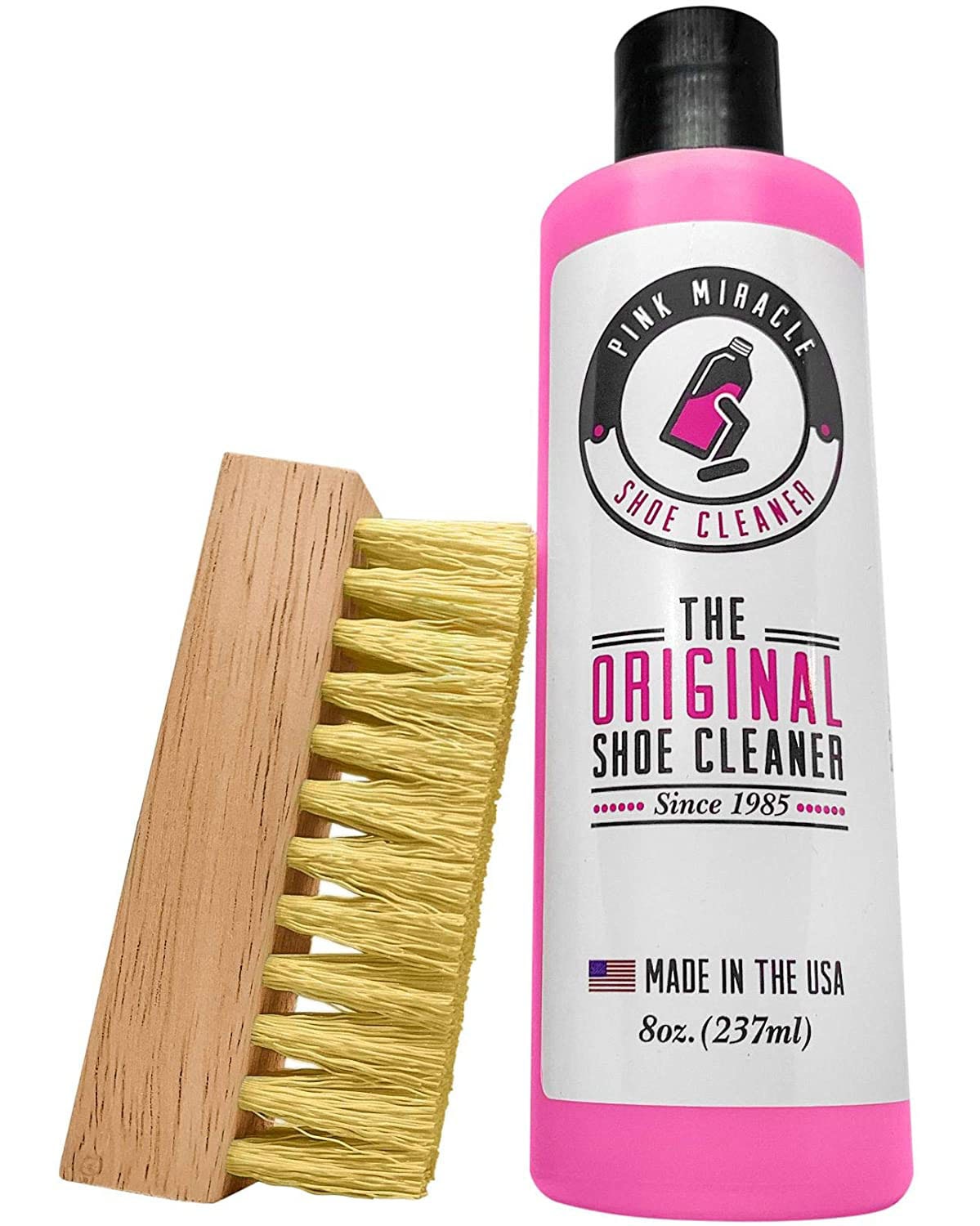 The Pink Miracle shoe cleaner is a safe concentrate all-in-one shoe cleaner and conditioner that contains saddle soap, gentle oils, and conditioners
You might worry that the pink product will stain your shoes, but that's not the case at all. It's entirely safe for use, even on your whitest shoes. To use Pink Miracle's product, wet the brush that it comes with and apply a bit of the product to it.
Then scrub your sneakers or boots, and once you're done, you can wipe off any residual water or soap. You'll be amazed at how effective it is!
You can use the product on any washable materials, making it truly one of the best all-around products that you can get on the market.
The Best Portable Shoe Cleaners
7. Crep Protect Wipes, $10.00 on Amazon
Crep Protect Wipes are one of the most effective and portable shoe cleaners around. They are super compact so that you can tackle any scuffs on the fly.
While traveling, if you get any unexpected stains on your shoes, you can just pop one of these out of your bag, purse, or pocket and wipe it off. With each wipe being individually sealed, you can easily carry these around anywhere.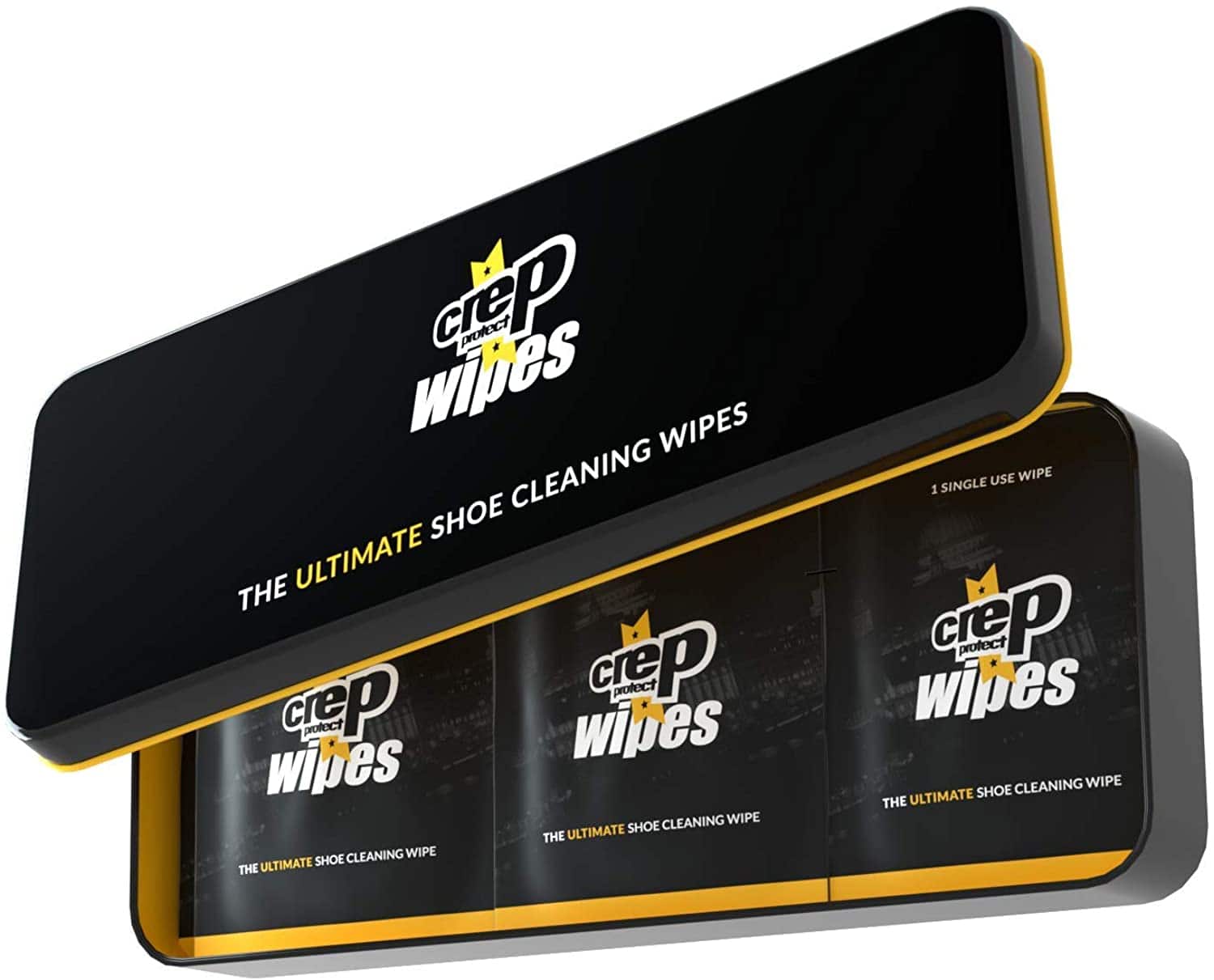 Perfect for unexpected stains, splashes, or marks, the Crep Protect Wipes have a rough side for tough stains and a soft side for general cleaning
These aren't your average cleaning wipes – they're double-sided. One side is smooth while the other is textured, which means you can use the first side for general cleaning and the other side for more stubborn stains. These wipes also smell great, leaving you looking and smelling fresh and clean.
You can use these wipes on a multitude of different materials from leather, canvas, nylon, vinyl, and more, making them a useful shoe cleaner to keep around.
8. Sneaker Lab Leather Shoe Wipes, $11.99 on Amazon
Sneaker Lab's Shoe Wipes are another excellent shoe wipe that you can use to make your boots and sneaker look new.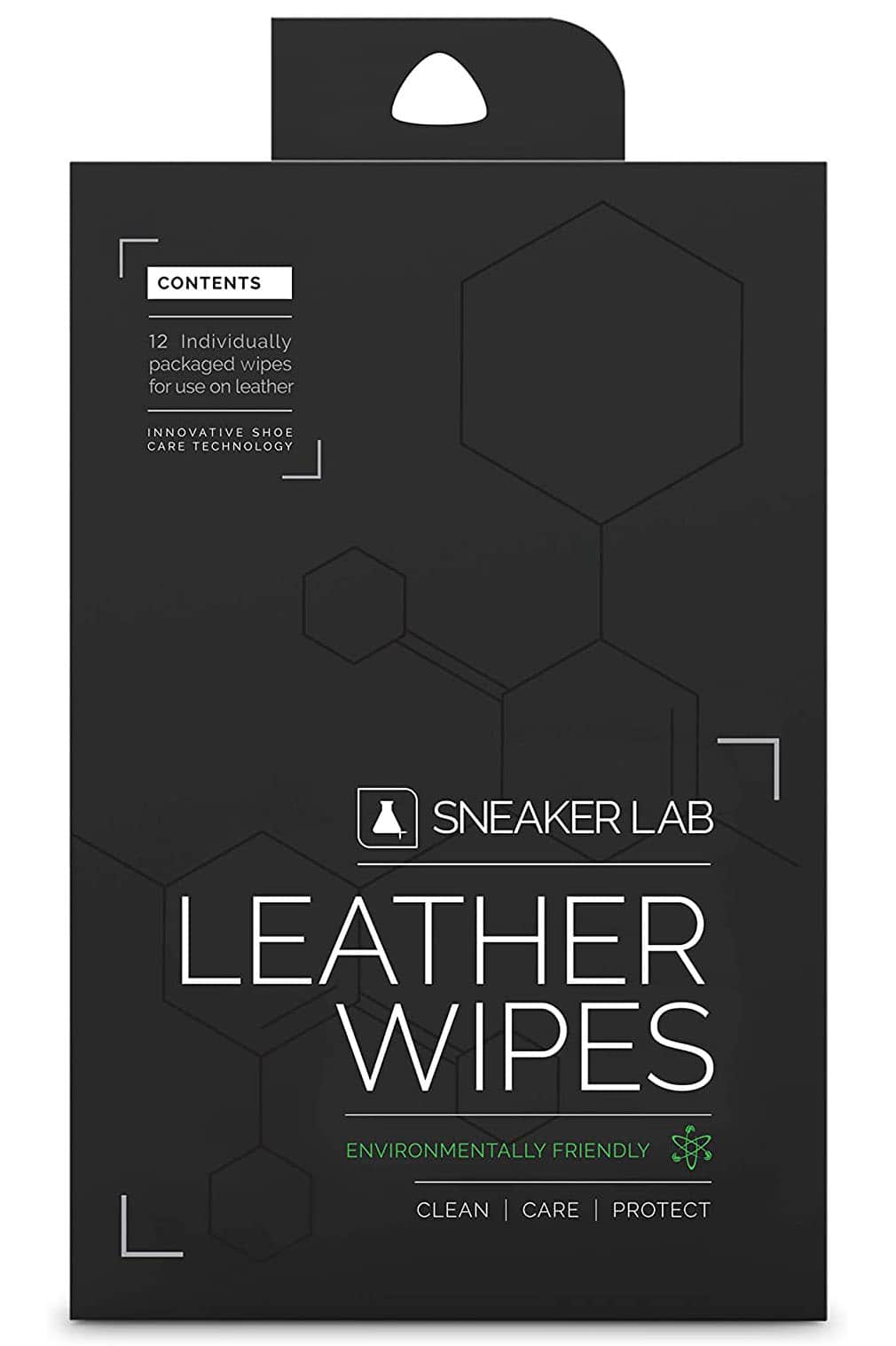 Protect and nourish your leather sneakers or boots with Sneaker Lab's water-based cream shoe wipes
In addition to being incredibly convenient for when you're out and about, Sneaker Lab's shoe wipes are environmentally friendly, biodegradable, and feature recyclable packaging.
These individually packaged wipes can be used on various other materials, in addition to leather. They will not only clean your boots or sneakers but will also nourish the leather, giving them the extra TLC they deserve.
When using this shoe cleaner, the bioengineered bacteria will break down the dirt to remove it – a very innovative and gentle option!
9. Tide To Go Instant Stain Remover Liquid Pen, $8.19 on Amazon
Liquid pen cleaning shoe products are a fantastic alternative to keep at hand when traveling if you don't have much space for carrying things.
A scuff can quickly take boots and sneakers from chic to shabby. This is when the Tide To Go Instant Stain Remover comes in handy!
Portable and easy-to-use, the Tide To Go Instant Stain Remover Liquid Pen contains a powerful solution that breaks down stains and has a microfiber pad that lifts and absorbs the stains
This small pen features a solution that gets rid of pesky stains, scuffs, and dirt and has an absorbent microfiber pad. You can use it to clean blemishes that are more difficult to target parts of your shoes, such as stitching.
It's also best used on more colorful shoes and is a very gentle option to keep in your bag. With three pens in a pack, this is also a very affordable option!