The 2023 Vanity Fair Oscars after-party was a night to remember, with Hollywood's biggest stars stepping out in their finest attire.
Among the crowd was supermodel and actress Cara Delevingne, who turned heads in a stunning white gown that showcased her ample assets.
Cara's sheer Del Core dress was a sight to behold, with its intricate details and flowing train. The off-the-shoulder gown featured see-through sections above her bust, revealing a gorgeous bare corset underneath.
Cara Delevingne flaunts her boobs in a white Del Core Spring 2023 dress at the 2023 Vanity Fair Oscar Party hosted by Radhika Jones at Wallis Annenberg Center for the Performing Arts on March 12, 2023, in Beverly Hills, California (Credit: PA Images / INSTARimages)
The 30-year-old model's makeup was kept glossy and simple, allowing her natural beauty to shine through. Cara opted for a sleek honey-colored hairstyle, tied back into braids with lovely fringes framing her face.
Her complex arm tattoos were also on full display, adding an edgy touch to the overall look.
Cara Delevinge graced the red carpet wearing a delicate off-the-shoulder dress from Del Core featuring a corset-style bodice with sheer panels (Credit: PA Images / INSTARimages)
It isn't the first time Cara has wowed us with her fashion choices. Last month, she turned heads at the SAG Awards, where she was nominated for Best Ensemble in a Comedy Series as part of the cast of Hulu's highly acclaimed Only Murders in the Building.
For her red carpet debut, she donned a stunning long-sleeve Carolina Herrera jumpsuit with a plunging neckline adorned with giant rosette appliqués. The outfit was taken from the label's Fall/Winter 2023 collection and featured a stunning overskirt.
To complete her ensemble, Cara added a touch of glam with a pair of platform black satin Casadei sandals and some breathtaking De Beers diamonds.
Cara Delevingne in a stunning Carolina Herrera jumpsuit featuring long sleeves and a plunging neckline adorned with oversized rosette appliqués at the 29th Annual Screen Actors Guild Awards at Fairmont Century Plaza on February 26, 2023, in Los Angeles, California (Credit: BauerGriffin / INSTARimages)
A few weeks ago, in a recent interview with Vogue, Cara Delevingne spoke candidly about her addiction and her journey to recovery.
She had her first experience with alcohol at the young age of 7. Additionally, by the time she turned 10, she was prescribed sleeping pills to combat her insomnia and was also diagnosed with dyspraxia, a movement disorder. At 15, she experienced a breakdown and was subsequently prescribed anti-depressants.
Last September, she raised a lot of concern after being photographed by paparazzi at a private airport in Los Angeles. Upon her return from Burning Man, she was pictured in September acting strangely and looking disorganized.
The model said she is glad for the pictures since they led her to rehab. She shared, "I hadn't slept. I was not OK. It's heartbreaking because I thought I was having fun, but at some point, it was like, OK, I don't look well. You know, sometimes you need a reality check, so in a way, those pictures were something to be grateful for."
Cara admitted during the interview, which was held in late January, that she had been clean for four months after spending time in rehab at the end of last year.
She confessed, "I've had interventions of a sort, but I wasn't ready. That's the problem. If you're not face-first on the floor and ready to get up again, you won't."
Cara Delevingne showcased her ample assets in a sheer white off-the-shoulder gown with an elegant sweeping design, frilly train (Credit: PA Images / INSTARimages)
The model continued, "I hadn't seen a therapist in three years. I just kind of pushed everyone away, which made me realize how much I was in a bad place. I always thought that the work needs to be done when the times are bad, but actually, the work needs to be done when they're good. The work needs to be done consistently. It's never going to be fixed or fully healed, but I'm OK with that, and that's the difference."
During her time at Burning Man, Cara admitted to "feeling invincible when I'm on drugs." She said that her wild moments "put myself in danger in those moments because I don't care about my life. I would climb anything and jump off stuff … It felt feral. It's a scary thing to the people around you who love you."
Cara acknowledged her sobriety to the 12-step program, the importance of community, and a healthy lifestyle that includes yoga, meditation, additional exercises, three meals per day, and a treatment schedule incorporating psychodrama.
The model said, "Before, I was always into the quick fix of healing, going to a weeklong retreat or to a course for trauma, say, and that helped for a minute, but it didn't ever really get to the nitty-gritty, the deeper stuff. This time I realized that 12-step treatment was the best thing, and it was about not being ashamed of that. The community made a huge difference. The opposite of addiction is connection, and I really found that in 12-step."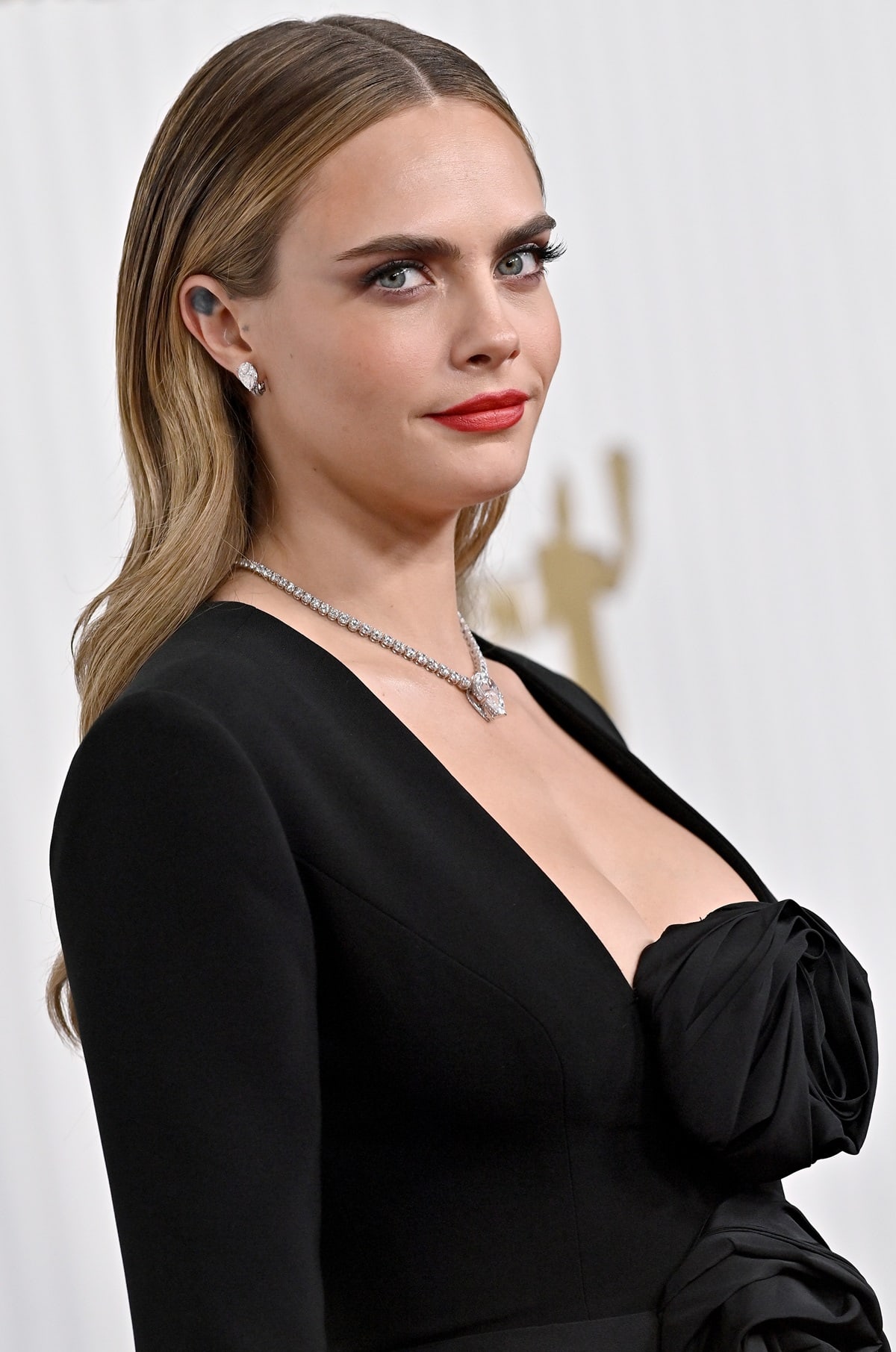 Cara Delevingne got drunk at just 7 years old, was put on sleeping pills to help insomnia when she was 10, then had a breakdown at 15 and was put on anti-depressants (Credit: BauerGriffin / INSTARimages)
Cara highlighted the importance of honest and supportive relationships, saying she "wasn't able to be honest about the things I was going through."
She mentioned Selena Gomez, Phoebe Waller-Bridge, and Margot Robbie as friends who have been supportive and loyal to her throughout her recovery.
Cara's journey to recovery has not been easy, but she is committed to the process and the work that comes with it. As she continues prioritizing her health and well-being, we hope she finds joy and fulfillment in her life and career.