Season two of the mystery-comedy series Only Murders in the Building finally premiered on Hulu last week.
And in the second episode, stars Selena Gomez and Cara Delevingne made headlines for their steamy kissing scene that has the internet divided.
While in an art studio, Selena's character Mabel Mora appears frustrated, and her new love interest Alice Banks, played by Cara, tells her to smash a sculpture to release her emotions.
After destroying the artwork, Mabel walks over to Alice and kisses her, saying, "I feel better." "I feel better, too," says Alice after sharing a passionate kiss.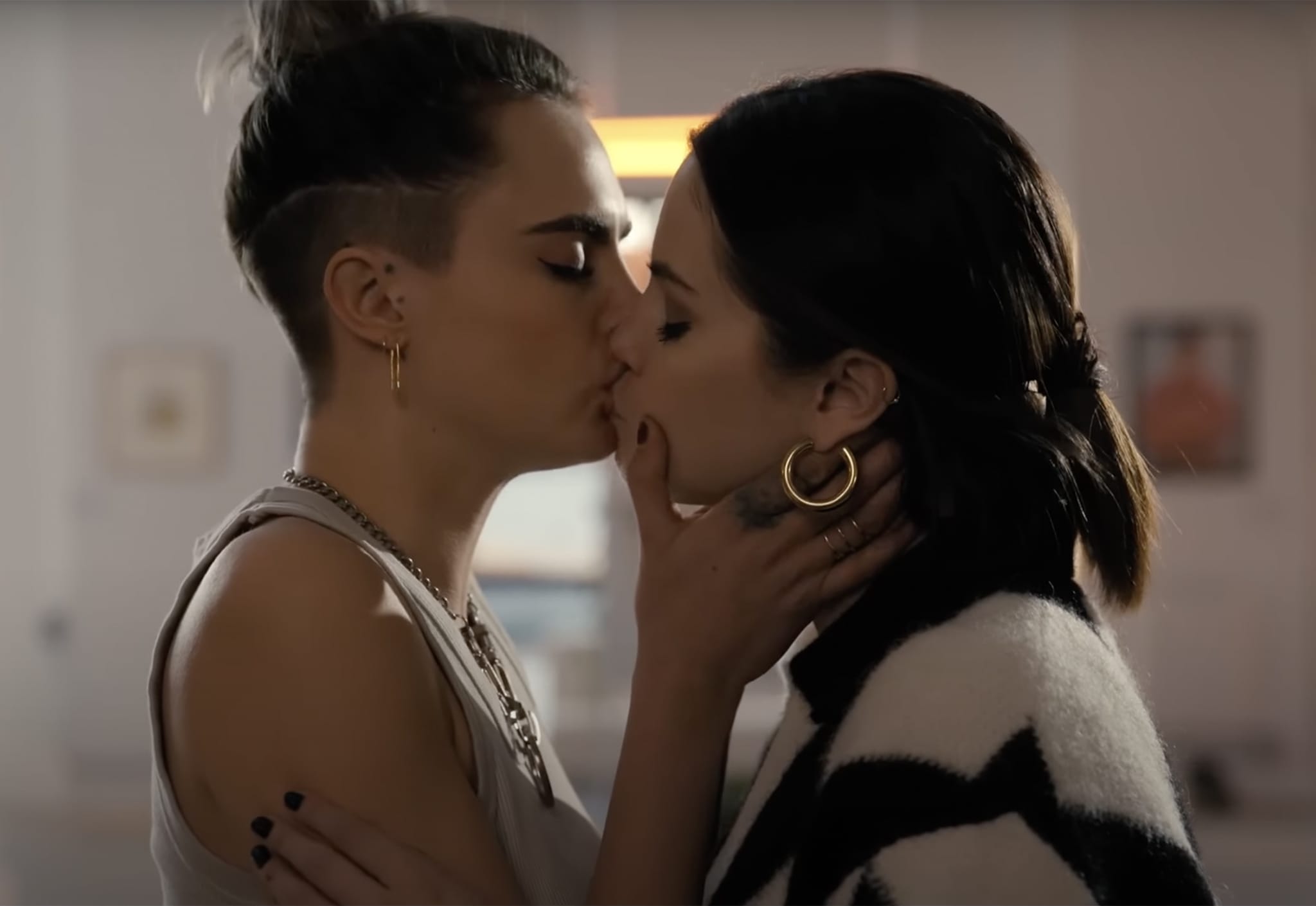 Cara Devingne and Selena Gomez share a passionate kiss in episode two of Only Murders in the Building Season 2 (Credit: Hot Hunter / YouTube)
Fans, however, were divided in their opinions about the scene. One user tweeted, "just watched selena/cara kiss and lol that looked awkward."
Another said, "Why was that kiss between Selena and Cara so awkward? Was it intentional?"
Some did commend the scene, saying, "Cara Delevingne and Selena Gomez kissing on Only Murders in the Building was not what I expected but something that was definitely needed, they're both so hot wtf."
Another explained, "To be clear about all the comments about Mabel (Selena) and Alice (Cara) kissing in Only Murders in the Building: the kiss WAS supposed to be the way it was, it wasn't supposed to be a kiss that made Mabel comfortable easily."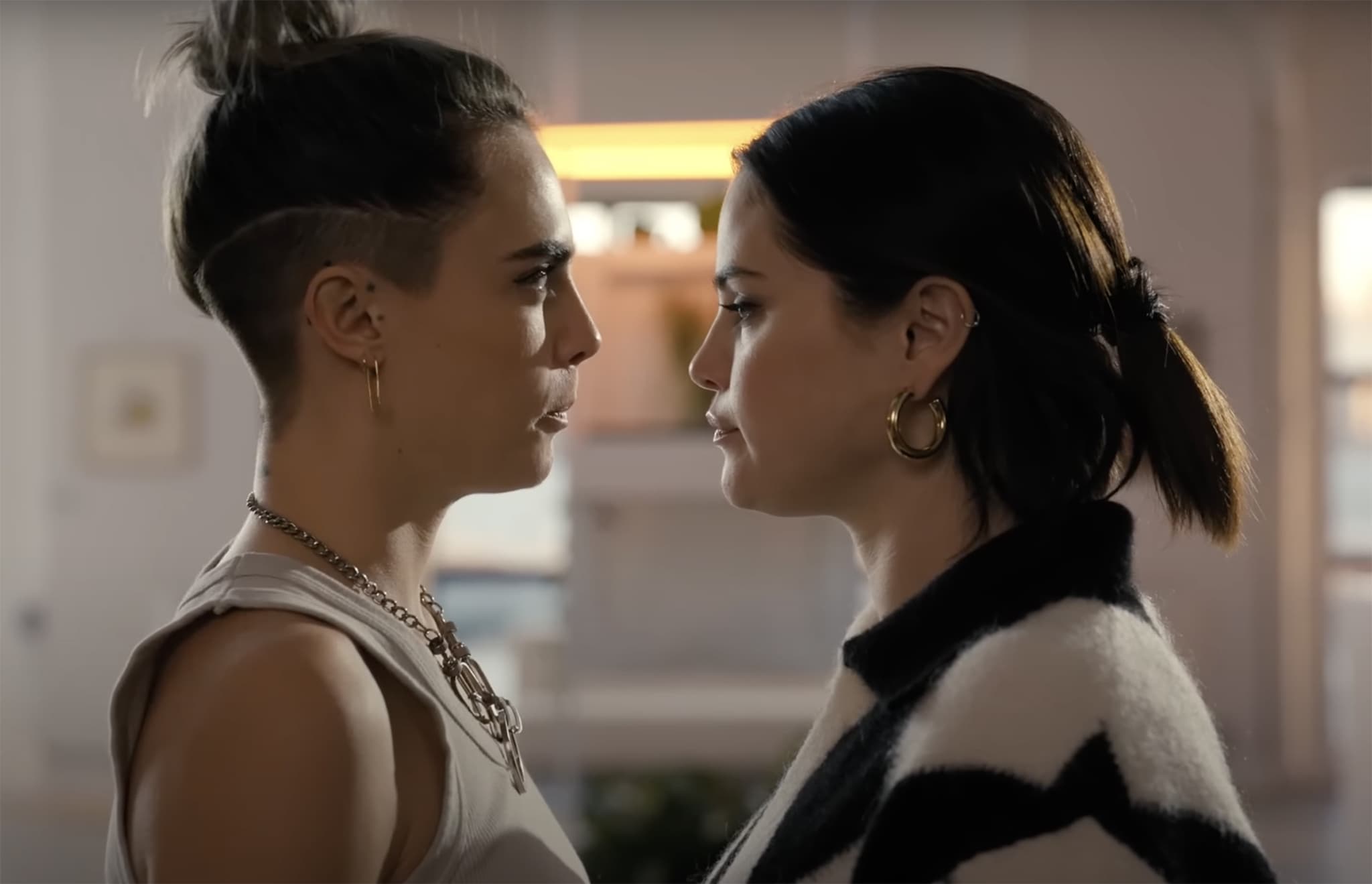 Cara Delevingne and Selena Gomez's "awkward" kiss divided the internet (Credit: Hot Hunter / YouTube)
The 29-year-old model recently opened up about her kissing scene with her longtime friend Selena.
"It was just fun," she told E!'s While You Were Streaming web series. "Would anyone in the world not like to kiss Selena? It was just hysterical. It's just one of those things, especially when you know someone so well, so it's the comfortability and you kind of have fun with it."
Cara, who identifies as pansexual, added, "For me to be able to get to play a queer role meant so much to me, and [Selena] knew that. To represent that was really exciting."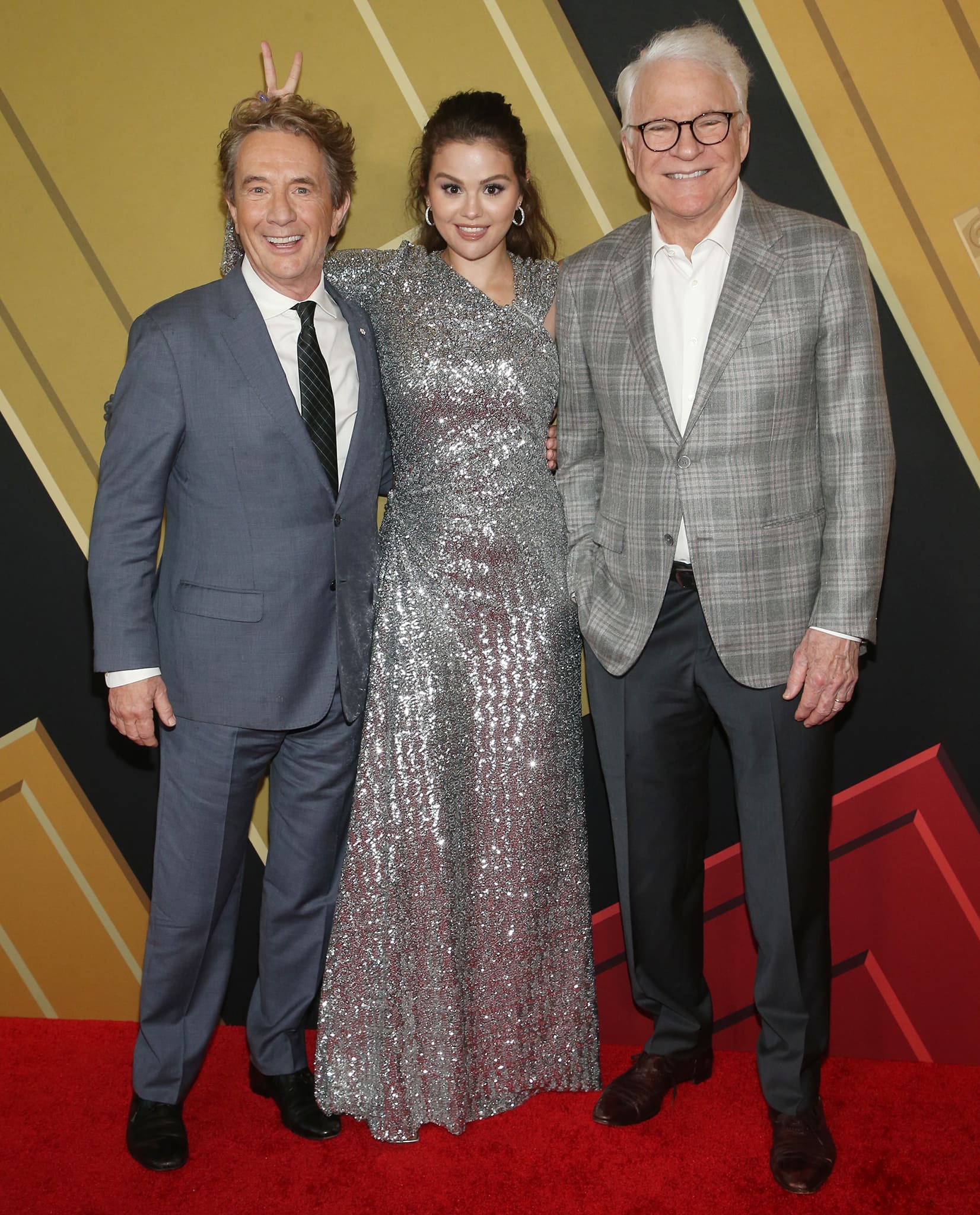 Martin Short, Selena Gomez, and Steve Martin at the Los Angeles premiere of Only Murders in the Building Season 2 (Credit: Faye's Vision / Cover Images)
Last week, Selena Gomez attended the season two premiere of Only Murders in the Building, and all eyes were on her as she put on a leggy display in a shimmering silver gown from Michael Kors' Fall/Winter 2022 collection.
Highlighting the hot actress' curves, the $6,990 dress features a slim-fit design that clung perfectly to Sel's body.
It's decked out in glittery silver sequins and boasts an asymmetric neckline, asymmetric sleeves, cutout details, and a risqué hip-high slit.
Selena Gomez flashes her legs in a sparkly silver Michael Kors Fall/Winter 2022 gown with a risque hip-high slit (Credit: Faye's Vision / Cover Images)
She kept the look sparkly by teaming her floor-length dress with Jimmy Choo "Metz" sandals in matching metallic silver color.
This minimalist pair from the luxury footwear label features open square toes, ankle straps, crisscross front straps, and 3.9-inch heels.
Selena Gomez shows off her foot tattoo in metallic silver Jimmy Choo Metz sandals (Credit: Faye's Vision / Cover Images)
Adding more sparkles to her outfit, Justin Bieber's ex accessorized with multiple tiny stud earrings and a pair of Effy Diamond Hoop earrings.
She then pulled her curly brunette tresses back into a ponytail and kept the look radiant with shimmering blush, glittery smokey eyeshadow, mascara, and a swipe of lip gloss.
Selena Gomez styles her curly tresses in a ponytail and wears subtle smokey eyeshadow, mascara, and lip gloss (Credit: Faye's Vision / Cover Images)