With American-made Danner boots, you must ensure you take good care and follow the care recommendations as outlined. Taking good care of your boots and following the instructions will prolong the life of your boots.
They should be cleaned using a conditioner that's water or silicone-based. Using anything outside of these guidelines can clog the pores of the leather and will result in cracking and damage.
Occasional cleaning and conditioning can help to prolong the life of your Danner boots
Danner recommends keeping your boots out of direct sunlight and using Peet's electric boot dryers (available on Amazon) for safe drying after a long hike out in the elements.
Peet 2-Shoe Electric Shoe and Boot Dryer and Warmer, $44.99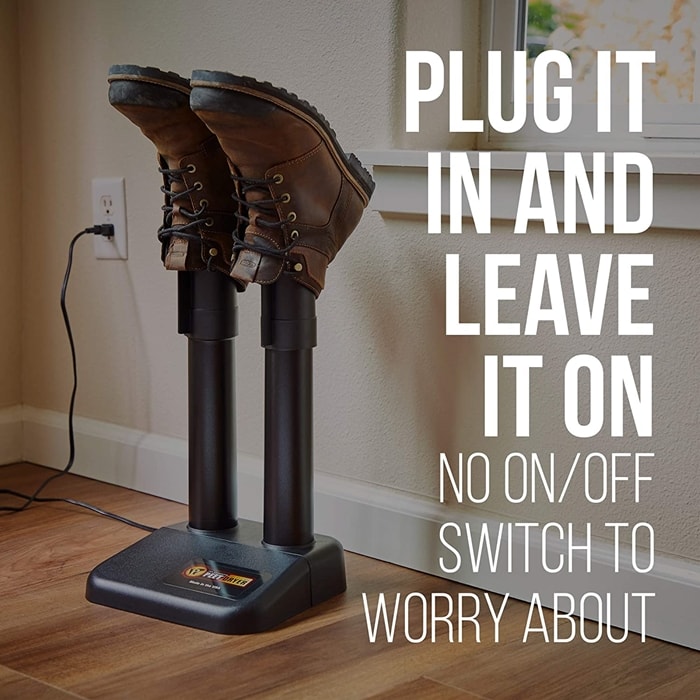 Removes wet, sweat, and odor from your boots, keeping your feet comfortable, healthy, and dry
The American footwear company offers a complete line of boot care products specifically developed to help you get the most life out of your favorite boots.
How To Keep Danner Boots Waterproof
One of the key components of Danner boots is their waterproof guarantee. The new technology available has significantly improved the quality of waterproofing, and wearing Danner boots you will have dry feet no matter what terrain you're hiking through.
Keeping your Danner boots waterproof is fairly easy. Boots with a Gore-Tex or Danner Dry liner are already guaranteed by Danner to be 100% waterproof, but there are still things you can to do get the most out of them and prolong their lifetime.
PrimaLoft insulation and Danner Dry waterproofing will protect your feet against plummeting temps, while the Vibram outsole with Megagrip will provide solid footing all season long
Treating your boots with a water-resistant product is advised after wear. As you wear your boots and take them in and out of water or snow, the factory-treatment will begin to wear off.
By treating them regularly, you will prolong their durability for years to come and ensure they stay waterproof year-round.
Danner makes a waterproofing gel specifically designed for their smooth leather boots, and they also offer a waterproofing spray for materials like nubuck, suede, and rough-out.
Danner Waterproofing Gel, $14.49 at Amazon
Danner's waterproofing gel blocks water from the outside without compromising breathability