Singer-songwriter and former American Idol winner, Carrie Underwood, absolutely lit up the red carpet in a shining mini dress at the 2022 ACM Awards held in Las Vegas, Nevada on March 7th.
This Dolce & Gabbana masterpiece is entirely crusted in decadent gemstones that perfectly catch the bright lights of the red carpet, allowing Underwood to shine like the true star she is.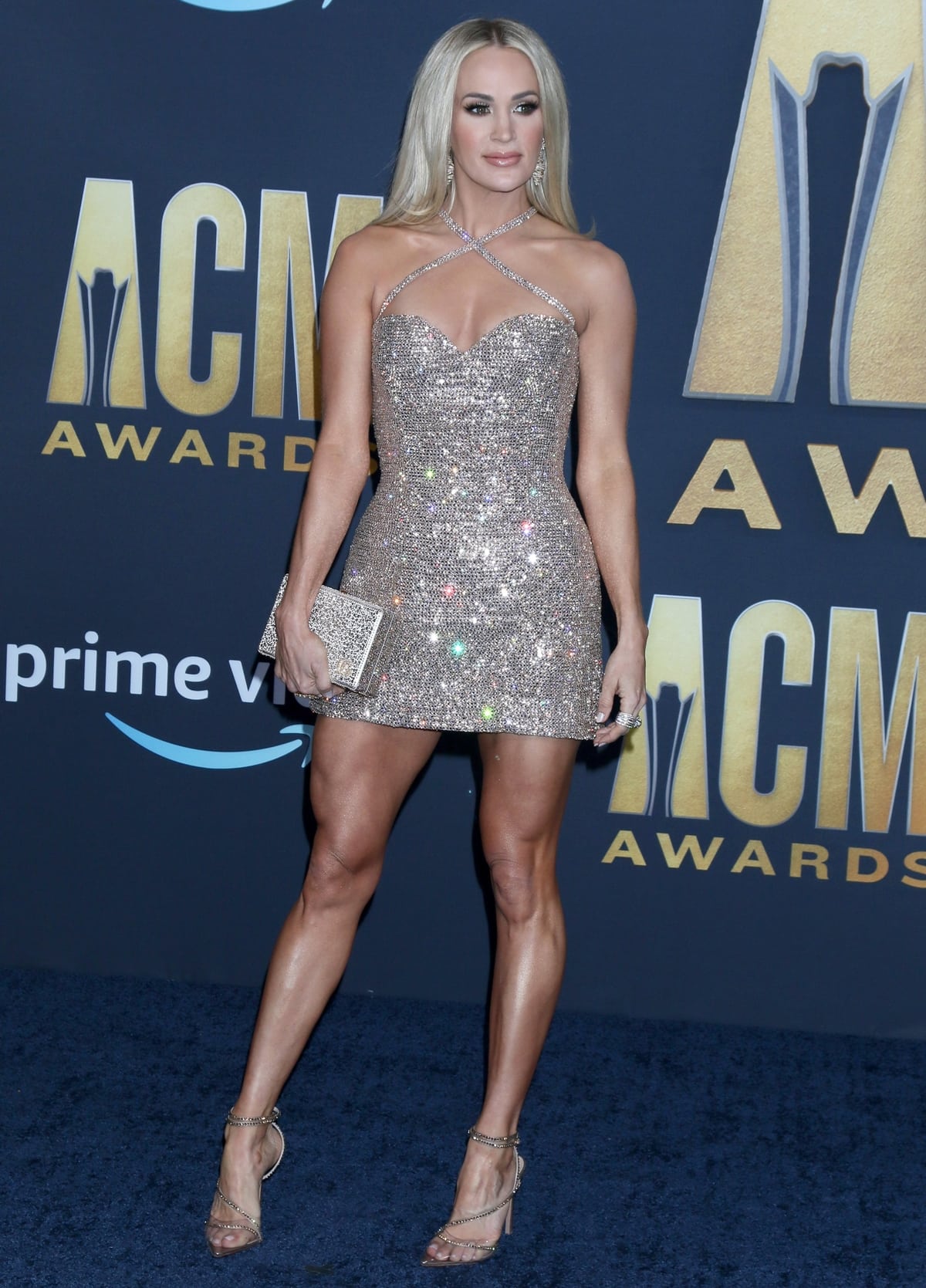 Carrie Underwood flaunts her long legs at the 57th Academy of Country Music Awards on March 7, 2022, in Las Vegas, Nevada (Credit: Kathy Hutchins / Shutterstock)
The country music celebrity chose to pair the figure-hugging mini dress with a matching silver bedazzled Dolce & Gabbana Dolce clutch and strappy Andrea Wazen heels, completing the look perfectly, in our humble opinion.
The wealthy country singer coordinated with jewelry from Le Vian, Yessayan, and Emily P. Wheeler.
The glistening gems and strappy bust detail on the dress turned the classic sultry silhouette into a total knockout and conveniently allowed Underwood to show off her impressively chiseled legs, which no one can be mad about.
Carrie Underwood dazzled in a crystal-embellished Dolce & Gabbana strappy mini dress (Credit: Kathy Hutchins / Shutterstock)
Carrie Underwood received four nominations at the ACM awards this year including Single of the Year, Video of the Year, Entertainer of the Year, and Music Event of the Year.
She chose to celebrate her win of Single of the Year for "If I Didn't Love You", her hit duet with Jason Aldean, with a festive costume change.
The star accepted her award in a new, still sparkling, Rami Kadi rainbow mini dress with a playful skirt reminiscent of confetti. What better way to rejoice in the amazing moment!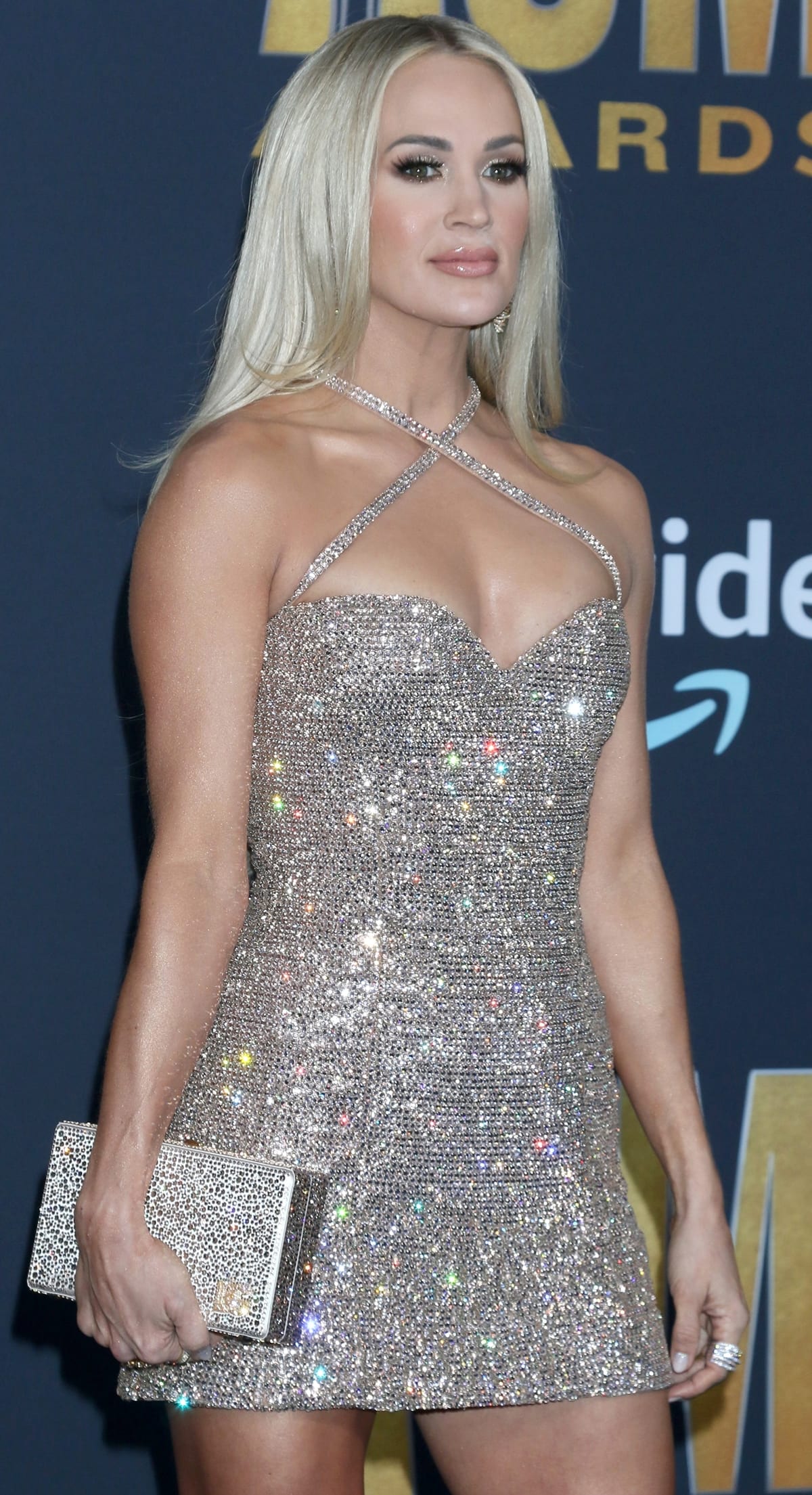 Carrie Underwood toted a crystal Dolce & Gabbana Dolce box clutch (Credit: Kathy Hutchins / Shutterstock)
Throughout the night, Underwood paired the bold looks with a more classic take on hair & makeup. Her stunning golden locks looked sleek and bouncy and she once again proved that you can never go wrong with a sensual smokey eye and nude lip.
Underwood managed to display two equally alluring looks while still staying true to her effervescent character. We're so impressed that we think her "Single of the Year" award should be accompanied by a "Best Dressed" accolade!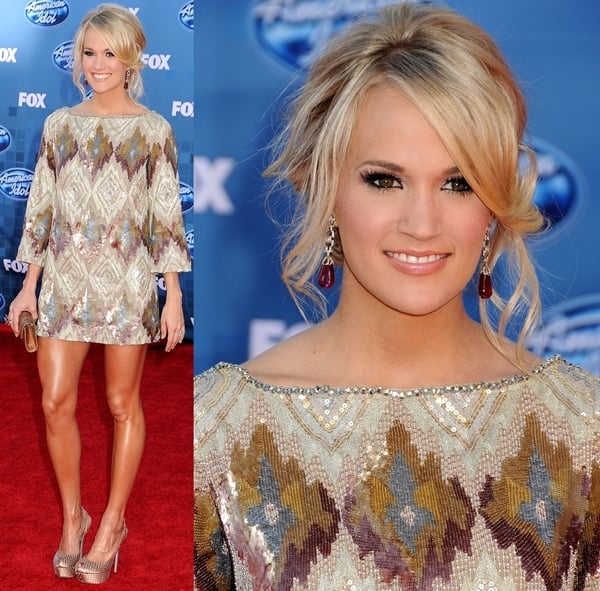 Carrie Underwood in a Lorena Sarbu Pre-Fall 2011 mini dress at Fox's American Idol season 10 finale results show held at Nokia Theatre LA Live in Los Angeles, California on May 25, 2011 (Credit: WENN / AdMedia)
In May 2011, season 10 of American Idol came to a close with then 17-year-old country singer Scotty McCreery ending up winning the whole thing.
But of course, not before we took note of the footwear choices of all the divas in the house (Jennifer Lopez, Beyonce, Lady Gaga –how DID they manage to fit all of them inside the Nokia Theatre?) and ultimately choosing Carrie Underwood's shoes as the most eye-catching of the night.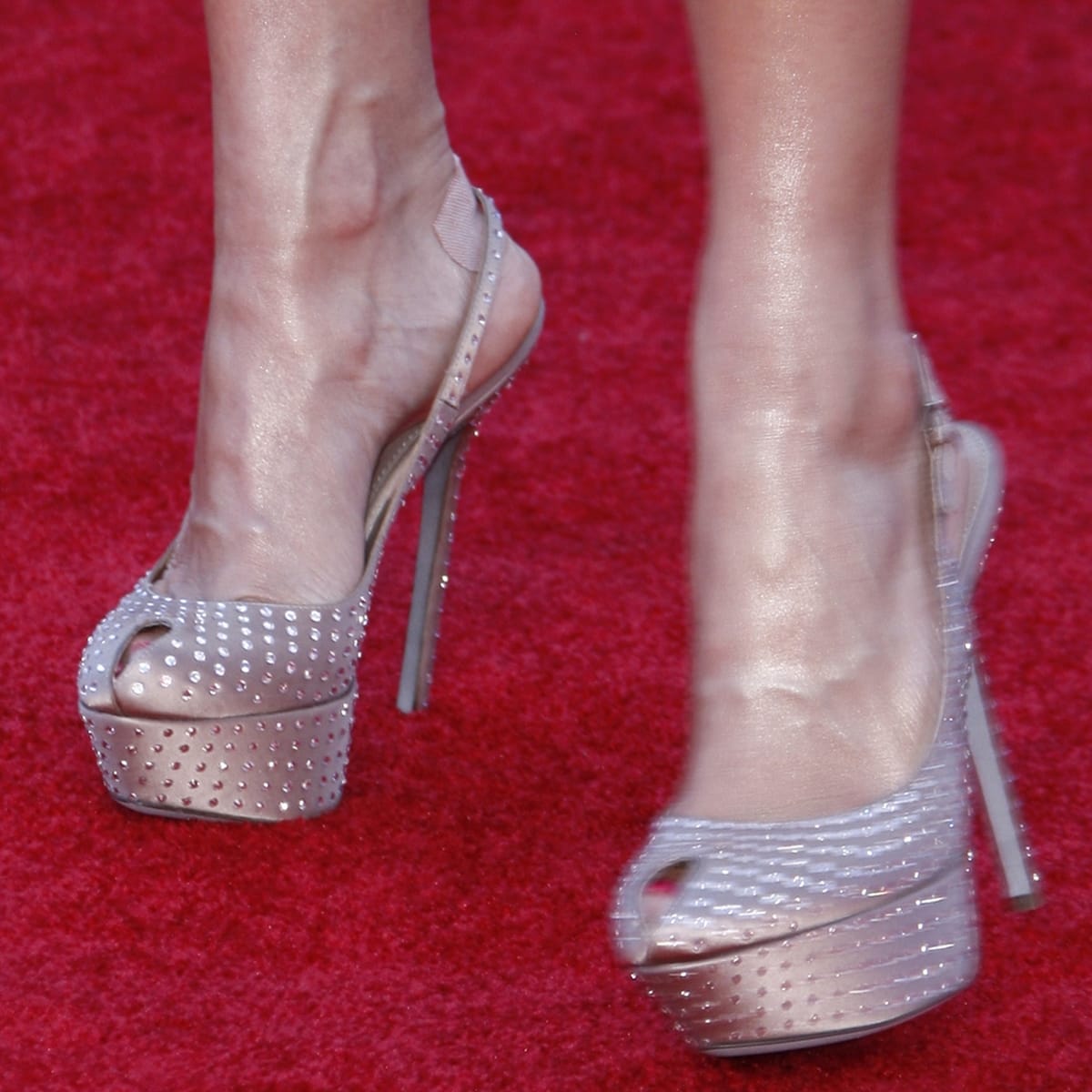 Carrie Underwood rocks crystal-studded slingback pumps by Sergio Rossi (Credit: Kathy Hutchins / Shutterstock)
Carrie Underwood wore these Sergio Rossi crystal-studded satin slingbacks which matched the sparkly bead embellishment on her Lorena Sarbu Pre-Fall 2011 bell-sleeved tunic mini dress.
Carrie Underwood flaunted her legs in a beaded dress by Romanian-born couturier Lorena Sarbu (Credit: Kathy Hutchins / Shutterstock)
Yes, the shoes were shiny and sparkly but we also have to note that Carrie Underwood's tanned and well-toned legs played a big part in drawing our attention to the Sergio Rossis.
Carrie Underwood shows off her feet in Sergio Rossi 'Cachet' crystal-studded satin slingbacks (Credit: Kathy Hutchins / Shutterstock)
Carrie Underwood also wore these shoes to perform with American Idol top 2 finalist Lauren Alaina and paired them with a glittery silver top and white short shorts that showed off her enviable legs.
Sergio Rossi 'Cachet' Crystallized Satin Slingbacks in Silk, $995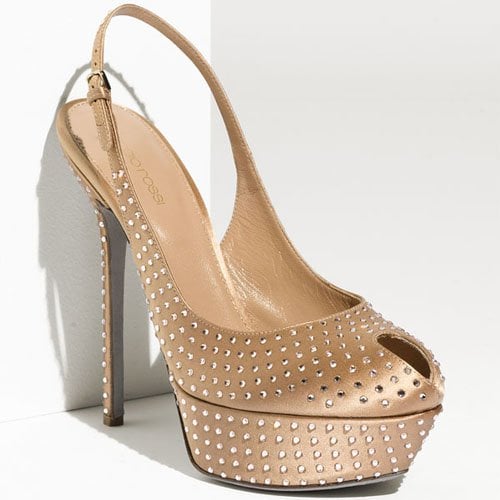 Sparkling Swarovski crystals dot a high-sheen satin slingback with a beguiling peep toe.
For a look-for-less alternative, may we recommend these slingback pumps from Martinez Valero:
Martinez Valero 'Ocean Studs' Slingback Pumps in Nude Nubuck, $159