If you're anything like us, you are already absolutely pumped to see Zoë Kravitz (as Catwoman) and Robert Pattinson star as the titular masked vigilante in The Batman, which arrives in theaters on March 4.
Just a few days ago, the pair hit the red carpet in London for the movie's press tour, and wow!
Zoë Kravitz in a Saint Laurent by Anthony Vaccarello dress with underboob cutouts a special screening of The Batman at BFI IMAX Waterloo on February 23, 2022, in London, England (Credit: Matt Crossick / PA Images / INSTARimages)
Zoë Kravitz did not disappoint. The 33-year-old actress wore a gorgeous custom Saint Laurent by Anthony Vaccarello gown to the event.
The curve-hugging black dress evokes images of what Kravitz may be wearing on screen, as Catwoman is best known for her super tight black getups.
However, the gown in question is a bit more elegant than what the sometimes-villain, sometimes-hero is typically seen wearing.
Zoë Kravitz styled her custom Saint Laurent by Anthony Vaccarello column dress with Jessica McCormack jewelry (Credit: Matt Crossick / PA Images / INSTARimages)
Kravitz' dress was a black, floor-length halter dress that hugs every curve before blooming out into a subtle mermaid skirt. We love the scalloped edges on the halter top, which gave the dress a soft, dainty feel that juxtaposed the rest of the gown's edgy features.
As the icing on the cake, the dress also had super-sexy cutouts, showing the most tasteful amount of underboob. Strangely enough, the shape of the cutouts was also reminiscent of the Bat-Signal, the image used to call Batman whenever Gotham is in need.
Zoë Kravitz channeled her Catwoman character and displayed her body tattoos on the red carpet (Credit: Matt Crossick / PA Images / INSTARimages)
We're not sure if this was on purpose or not, but either way, it is still a cool homage to the film.
Kravitz paired the gown with understated jewelry: black gemstone and pearl drop earrings and dark rings. The short actress wore her hair slicked back with minimal, cat-eye eyeliner, evoking her on-screen character's look, and finished off the outfit with black, peep-toe stilettos.
This classy yet edgy look is stunning on the actress, and we love the way that many of her tattoos were on display.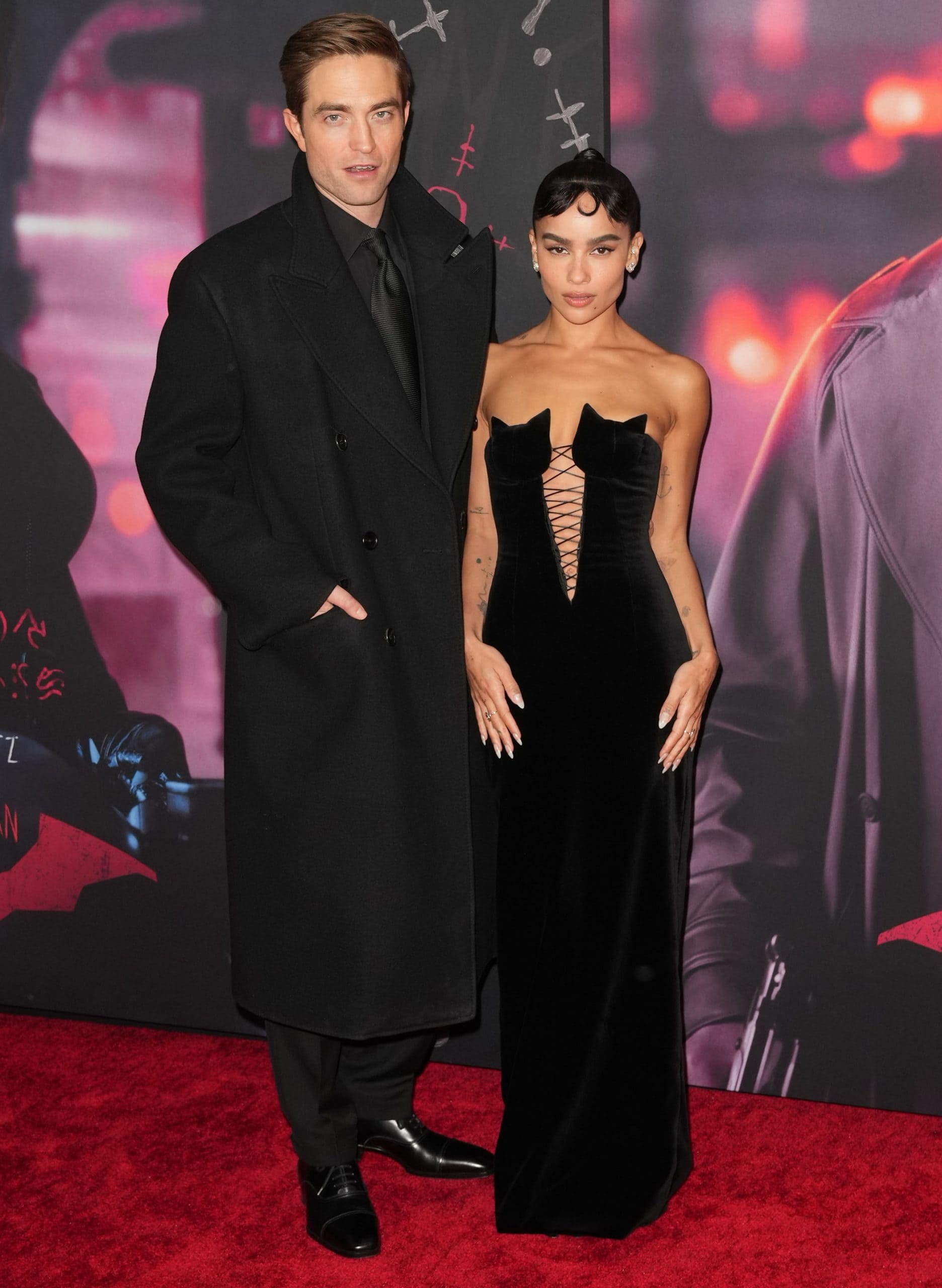 Zoë Kravitz in a Catwoman-inspired dress with Robert Pattinson at "The Batman" premiere on March 1, 2022, in New York City (Credit: John Nacion / Startraksphoto)
A few days later, she wore another Catwoman-inspired look to the premiere of the movie in New York.
The daughter of Lenny Kravitz and Lisa Bonet donned a black velvet Oscar de la Renta laced corset column gown featuring a neckline with the silhouettes of two cats.
(L-R) John Turturro, Colin Farrell, Peter Sarsgaard, Jeffrey Wright, Paul Dano, Robert Pattinson, Zoe Kravitz, Andy Serkis, Jayme Lawson, and Dylan Clark attend "The Batman" world premiere on March 1, 2022, in New York City (Credit: John Nacion / Startraksphoto)
"That's definitely the way I interpreted that, that they had some kind of romantic relationship," Zoe said about her character's sexuality in an interview with Pedestrian TV. Her casting was announced in October 2019.
In the film, Zoe's character, Selina Kyle (Catwoman), is believed to be in a romantic relationship with her friend and roommate Anika.
Zoe Kravitz claims her character Selina Kyle (Catwoman) in Batman is bisexual (Credit: DC Films / Warner Bros. Pictures)
"[The film is] very true to the character of Selina Kyle. She's not yet Catwoman, but all the elements of how she's going to become Catwoman are there," the film's director Matt Reeves said.
"And in terms of her relationship with Anika, I spoke to Zoë very early on and one of the things she said which I loved was that: 'She's drawn to strays because she was a stray and so she really wants to care for these strays because she doesn't want to be that way anymore and Anika is like a stray and she loves her. She actually represents this connection that she has to her mother who she lost, who was a stray anymore'."
Robert Pattinson as Bruce Wayne / Batman and Zoë Kravitz as Selina Kyle / Catwoman in the 2022 American superhero film The Batman (Credit: DC Films / Warner Bros. Pictures)
"So I don't think we meant to go directly in that way, but you can interpret it that way for sure. She has an intimacy with that character and it's a tremendous and deep caring for that character, more so than a sexual thing, but there was meant to be quite an intimate relationship between them," he added.
The Batman will hit theaters on March 4, and critics are already praising the stellar onscreen chemistry between Zoë Kravitz and Robert Pattinson.
Zoë Kravitz portrays Blair in the 2017 American black comedy film Rough Night (Credit: WENN)
In June 2017, Zoe Kravitz was captivating in an alluring head-to-toe Oscar de la Renta look at the premiere of "Rough Night" in New York City.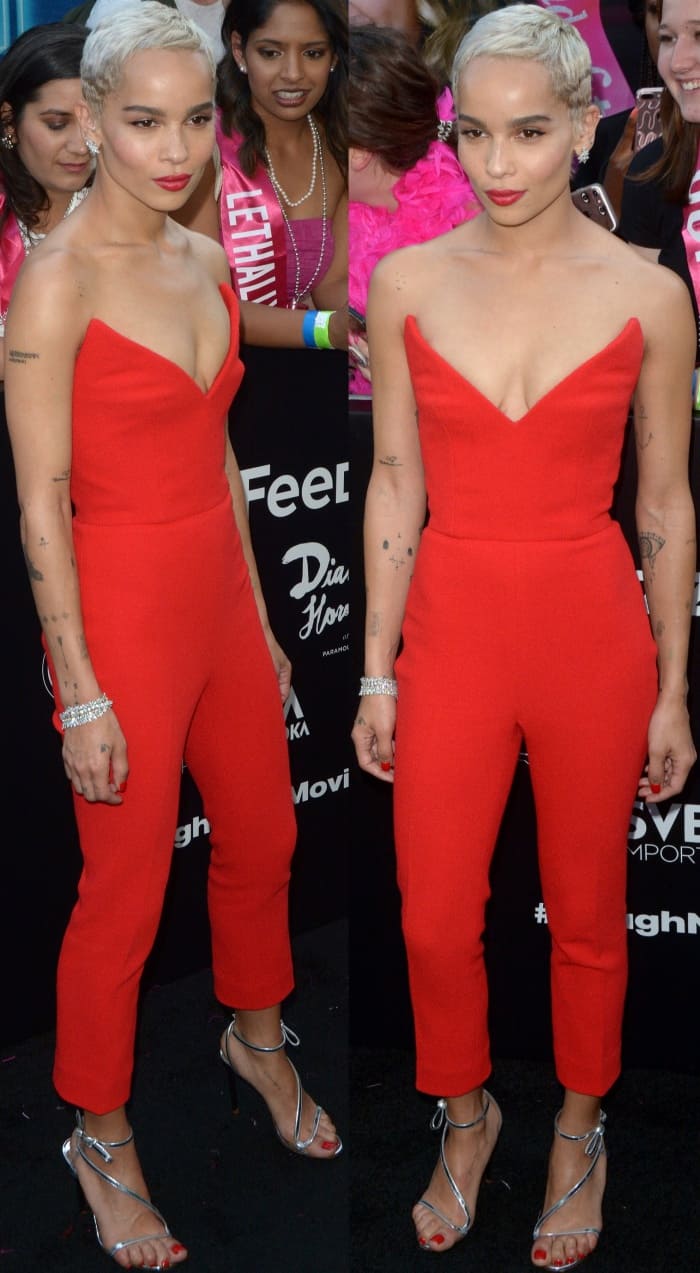 Zoe Kravitz styled her custom jumpsuit with silver metallic Oscar de la Renta 'Romy' sandals (Credit: WENN)
She stood out on the black carpet in a custom red jumpsuit, which featured a strapless V-shaped neckline.
You may remember Emma Watson wearing a similar look in black at the "Beauty and the Beast" Hollywood premiere.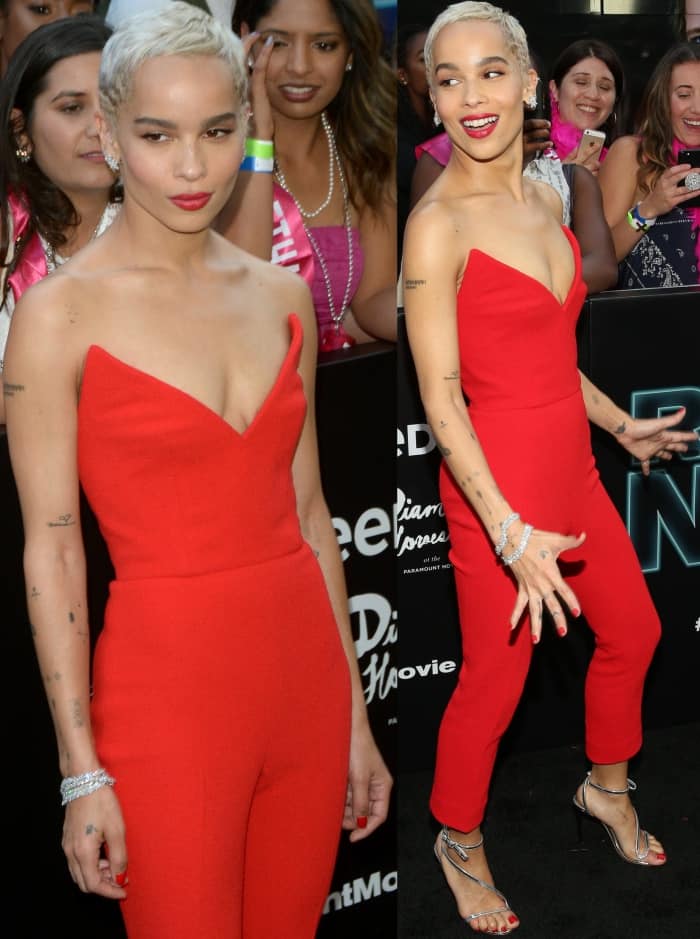 Zoe Kravitz flaunts her tattooed arms in a red strapless Oscar de la Renta jumpsuit featuring a V-neckline (Credit: WENN)
The then 28-year-old actress and singer continued the spicy red motif with a matching scarlet pout and red nails.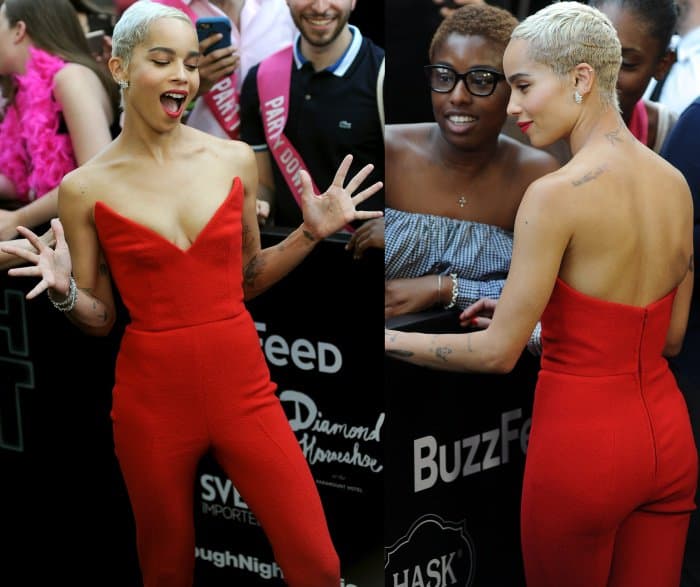 Zoe Kravitz in a red jumpsuit at the "Rough Night" premiere held at the AMC Lincoln Square Theater in New York City on June 12, 2017 (Credit: WENN / Andres Otero / Ivan Nikolov / Dan Jackman)
She completed her effortlessly-chic look with her newly-cropped platinum blonde hair, Tiffany & Co. diamonds, and silver heels.
A fan of American singer-songwriter Nina Simone, Zoë Isabella Kravitz has a tattoo that pays tribute to the 1964 Nina Simone song "Mississippi Goddam" on her arm.
Zoe Kravitz shows off her Tiffany & Co. diamond cluster earrings and "MISSISSIPPI *@!!?*@!" tattoo that's a tribute to Nina Simone's song "Mississippi Goddamn" (Credit: WENN)
The "Romy" sandals from Oscar de la Renta have slender toe bands, wraparound ankle straps with buckle closures, and slim stiletto heels.
Zoe Kravitz displays her feet in strappy Oscar de la Renta 'Romy' sandals (Credit: WENN)
These shoes also feature a bow detail, an asymmetric design, and shiny metallic silver leather.
Zoe Kravitz has arrows tattoed on both her feet (one facing north and one facing south) that are meant to guide in her the right direction (Credit: WENN)
What do you think of Zoe Kravitz's head-to-toe Oscar de la Renta look?
Oscar de la Renta "Romy" Metallic Leather Sandals, $1,190