In October 2019, Julianne Hough was mourning the loss of her beloved dogs Lexi and Harley. They tragically passed away on the same day!
She posted a touching tribute on her Instagram account about her two Cavalier King Charles Spaniel dogs who passed away on September 28, 2019.
"Pure love is real, it existed through us. My heart expanded and felt the truth of what is possible. I am forever grateful," Marriann Hough's daughter wrote in her message. "Thank you for your love."
"Thank you for being my babies, my daughters," she continued. "Thank you for choosing me. Thank you for teaching me how to be your mother. Thank you for allowing me to give and receive love. Thank you for your kisses. Thank you for your blessings every single minute of every single day. Thank you for your souls. Thank you for protecting me. Thank you for letting me protect you. Thank you for protecting each other. Thank you for the timeless memories. Thank you for your magic. Thank you for being the most consistent and constant beings in my life. Thank you for being you. Thank you for being my guardians on this earth and even more so now."
"I've never experienced a love like ours. I miss you. I love you forever. Now You Are Free," she concluded, hinting that her dogs may have been euthanized.
View this post on Instagram
Lexi was 11 and Harley was 8 when they passed away. Her husband Brooks Laich also paid tribute to the dogs in a post on his Instagram.
"It is with the heaviest heart that I share with you the passing of our beloved dogs Lexi and Harley. Their tragic passing has left my wife and I heartbroken. Lexi and Harley were not just pets to us, they were our children, and we loved them as such," he wrote.
"They were the purest example to love that I have ever seen. They showed me that true love did exist in the world. The way they loved their mom @juleshough and the way she loved them back was the first time I knew that there was hope for me to have love in my life. And they accepted me into their little family, and helped me become a dad for the first time," he continued.
"The past 2 weeks have been filled with tears of sorrow, and tears of joy. The immense pain we feel by their loss is due to the overwhelming love we had for them. Every single beautiful part of them will be missed, but we trust that they are in a better place now, and can still feel their presence in our hearts."
"I want to thank the many people who have helped see us through the past 2 weeks. The outpouring of love and support we have received from our family and friends has helped heal our hearts. I am eternally grateful for everyone who has held space for my wife and I to grieve and mourn. There are too many names to list, but you all know who you are, and know that we couldn't have made it through this without each and everyone of you. In the most sincere way possible, thank you very much," Brooks said.
"Thank you to @kristysowin, @derekhough, and @camilaforeroo for going above and beyond what we could ever imagine asking of you. There simply are no words to express our gratitude, we love you deeply and are so grateful for you."
"Thank you to my wife for allowing me to share in their world, and trusting me to be their dad. I wasn't perfect, but I loved them with every ounce of my heart. And thank you Lexi and Harley, for teaching me grace, softening my heart, and showing me love. You are perfect, and may you Rest In Peace. ❤️🐶🐼🐺💑❤️," he concluded.
View this post on Instagram
The cause of death of her two dogs is unclear, though the fact that they died on the same day makes it likely they were put to sleep. Dog euthanasia is often the kindest option for pets suffering severe, chronic pain that can't be relieved.
Ranked as the 19th most popular pure-breed in the United States, the life expectancy of a Cavalier King Charles Spaniel is anything from 9-14 years.
Julianne Hough arrives at Los Angeles International (LAX) airport with one of her Cavalier King Charles Spaniel dogs in October 2014
6 months later, in April 2020, Brooks Laich once again mourned his late dogs, Lexi and Harley. The cause of death has not been made public.
He shared a photo of himself with Koda, the rescue husky he and his wife Julianne Hough adopted in November 2018.
"A couple of days ago it was #nationalpetday, and it came and went with a happy but heavy heart," wrote Laich.
"On the one hand, I am so grateful that this boy found me. He is a soul companion, he lives for adventure and every second of the day is playtime. He is also incredibly loving and compassionate; just the sweetest boy on earth."
"On the other hand, it's just over 6 months ago that we lost our girls Lexi and Harley," he added. "Words cannot describe the gifts that they gave, and I still feel their presence to this day."
"Our pets always see the best in us, even when we don't. They give love, unconditionally, and effortlessly. My hope is that we do the same to them," he added. "Our job as parents is to give them the best life imaginable. So let's take them on adventures, give them all belly rubs they can handle, and let them eat all the treats. They will never possibly be here long enough, so make every single day count!"
View this post on Instagram
In January 2016, Julianne Hough showed off her styling prowess at the Fox Winter TCA 2016 All-Star Party at the Langham Huntington Hotel in Pasadena.
Earlier in the day, the "Safe Haven" star spoke on stage during the "Grease: Live" panel about her musical special.
Julianne Hough clips her blonde hair back at the FOX Winter TCA 2016 All-Star Party held on January 15, 2016, at the Langham Huntington Hotel in California
Julianne, who plays Sandy Olsson in the musical production, revealed that Olivia Newton-John — the original Sandy — gave her blessing when she was a guest judge on "Dancing with the Stars."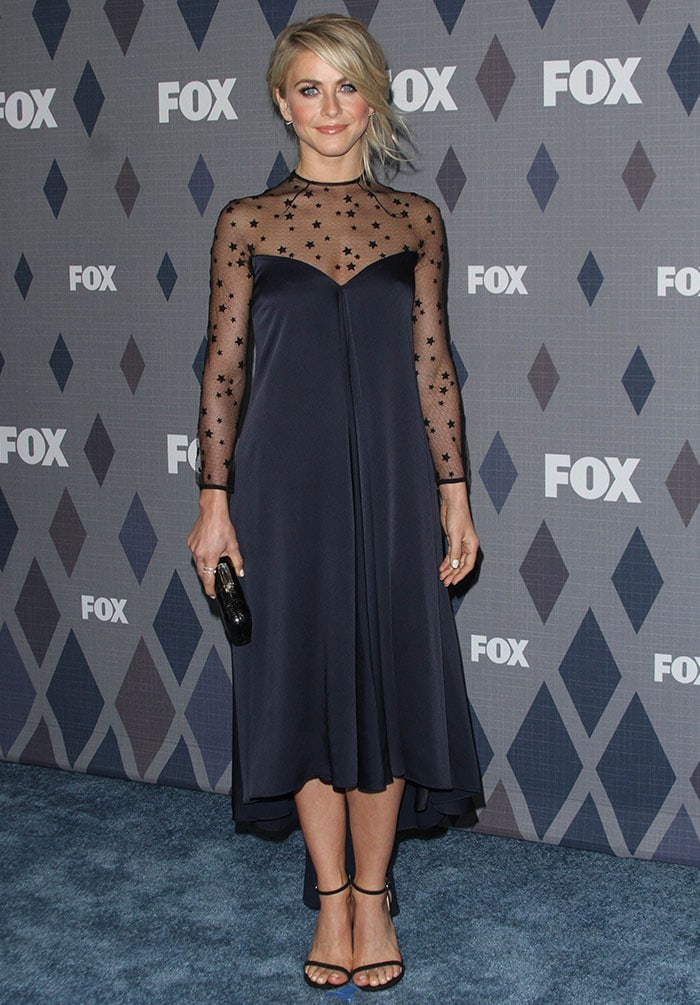 Julianne Hough wears a star-printed Monique Lhuillier dress
"When I met her, I didn't even say anything to her at first," Julianne revealed.
"She just said, 'I hear you're playing Sandy. Oh, my goodness, Congratulations. You're just perfect for it,' and I was just like, almost started crying."
"This is my hero, this is my five-year-old dream, so for her to give me that blessing… I hope I make her proud."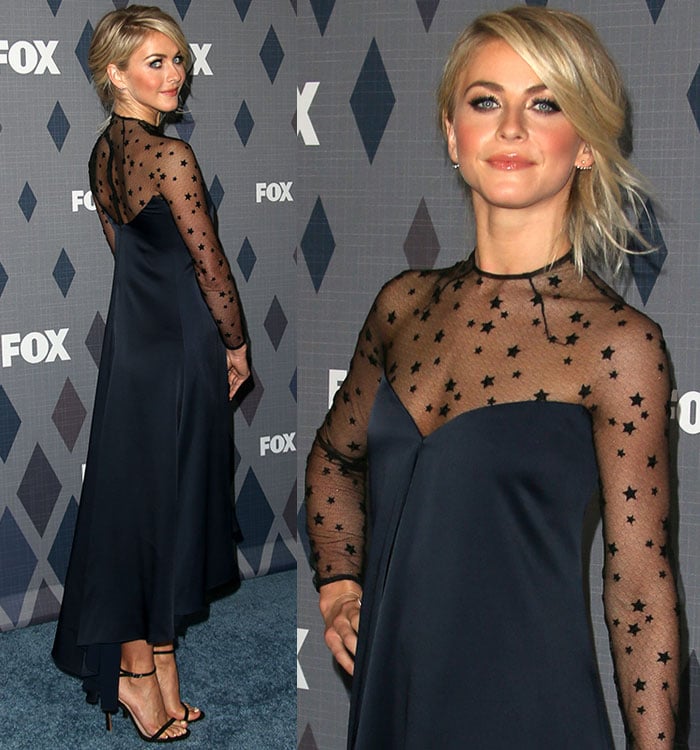 Julianne Hough shows off the high-low hem of her navy Monique Lhuillier dress
The then 27-year-old actress flashed a little flesh in a dreamy dress from Monique Lhuillier's collection.
Her elegant navy satin gown flowed loosely around her body and featured a star-embroidered sheer mesh yoke, long sleeves, and a high-low hem.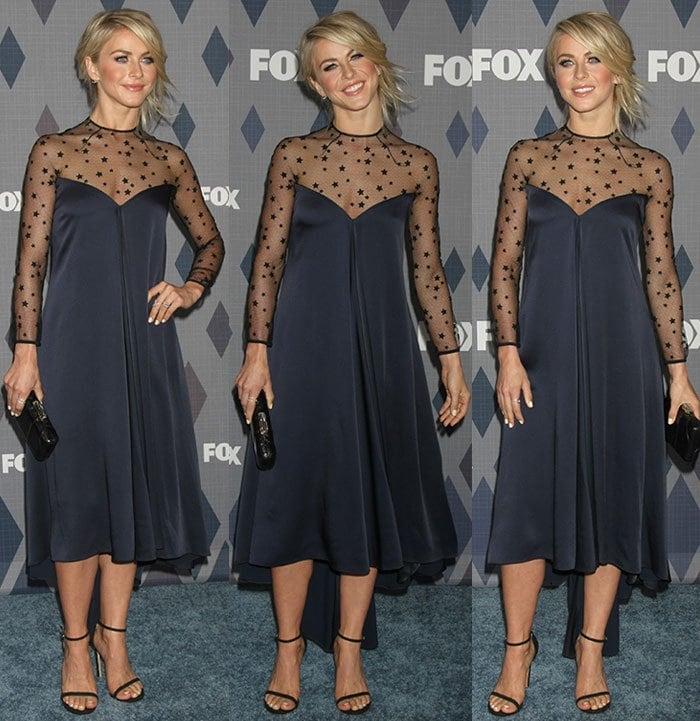 Julianne Hough accessorizes her Monique Lhuillier gown with EF Collection rings and a black Kotur clutch
Julianne kept her accessories to a minimum with EF Collection rings, a black Kotur clutch and a pair of minimalist black Stuart Weitzman sandals.
She added a hint of edge to the look by wearing her blonde locks in a messy side-swept updo. To round out her look she chose a peachy lip gloss, blush, and dark mascara.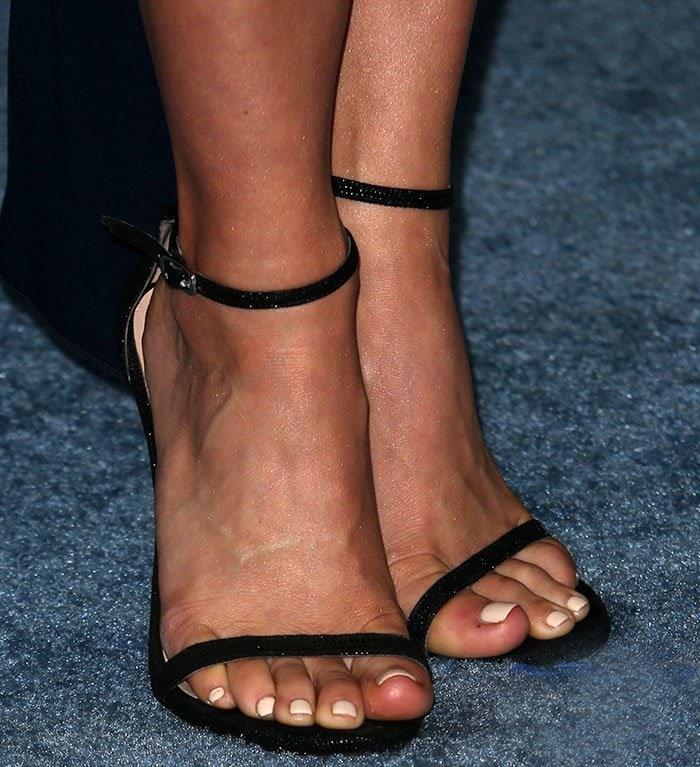 Julianne Hough's feet in minimalist Stuart Weitzman sandals
Julianne's heels are the classic favorite Stuart Weitzman "Nudist" sandals in black goosebump leather. You can get them in different versions at Nordstrom and Zappos.
Stuart Weitzman Nudist Ankle-Strap Sandals, $179-$425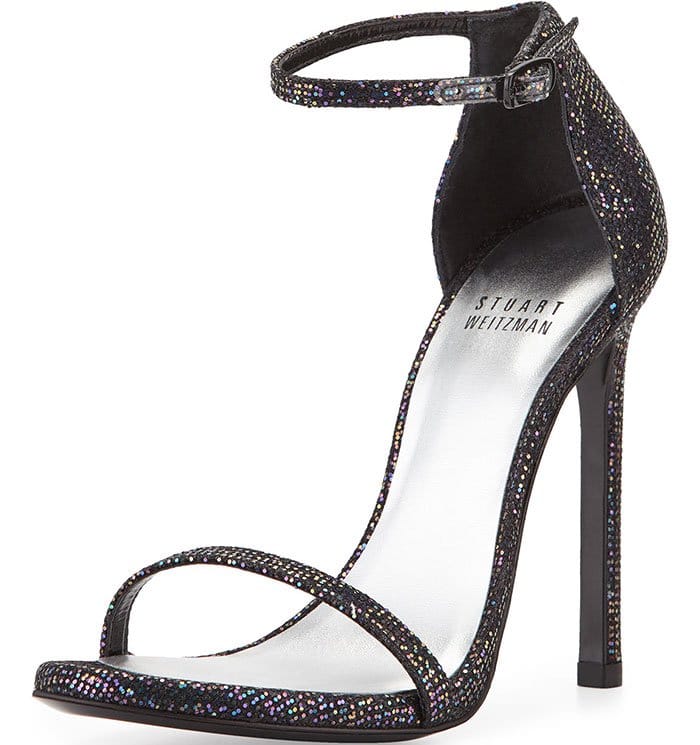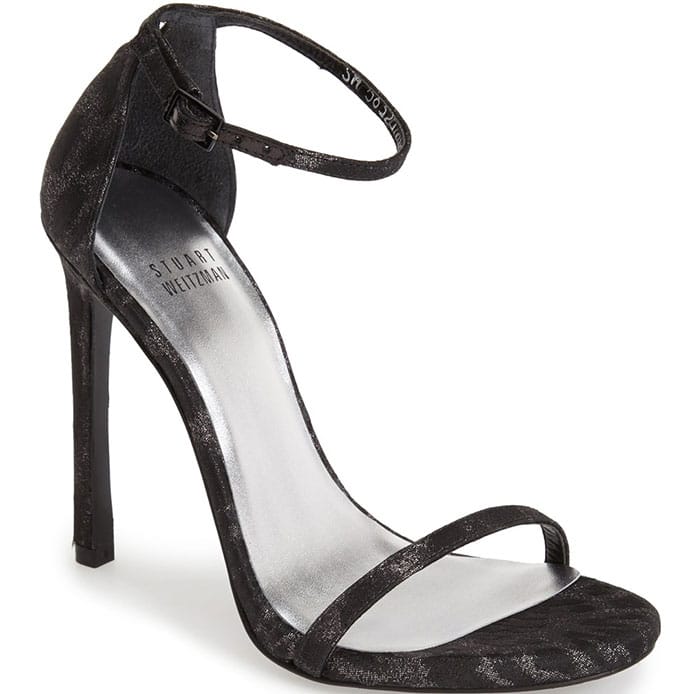 Credit: FayesVision / Adriana M. Barraza / Nicky Nelson / WENN