What Does B in Cardi B Stand For? How Much Money Does She Have?
Please subscribe to
our newsletter
to receive updates from Your Next Shoes. This post may contain affiliate links. Please see our
disclosure
for more details.
Cardi B, whose real name is Belcalis Marlenis Almánzar, is an American rapper, social media personality, songwriter, and stripper.
Cardi B attends Universal Pictures Presents The Road To F9 Concert and Trailer Drop on January 31, 2020, in Miami, Florida (Credit: Avalon / WENN)
Born and raised in The Bronx, New York City, she became an Internet celebrity after discussing her former career as a stripper on Vine and Instagram.
From 2015 to 2017, she appeared as a regular cast member on the VH1 reality television series Love & Hip Hop: New York to follow her music aspirations and released two mixtapes—Gangsta Bitch Music, Vol. 1 and Vol. 2.
Cardi B's sexy feet are shoe size 6 (US) (Credit: Avalon / WENN)
In 2018, she made a small fortune working on sold-out collections with Tom Ford for lipstick and Fashion Nova for a clothing line.
Where did the name Cardi B come from?
Cardi B is short for Bacardi, a family-owned spirits company originally known for its eponymous Bacardi white rum.
My sister's name is Hennessy, so everybody used to be, like, 'Bacardi' to me. Then I shortened it to Cardi B. The 'B' stands for whatever, depending on the day… beautiful or bully.
She took home the award for the Best Rap Album of the year at the 2019 Grammy Award ceremony, becoming the first solo female artist to ever win in the category.
What is Cardi B's net worth?
Working her way out of poverty and nearly being homeless through her first career of stripping, she now has a net worth estimated at $8 million.
In 2017, Cardi B began publicly dating fellow American rapper Offset, of the southern hip hop group Migos, who has a net worth of $16 million. They married in September 2017 and Cardi B gave birth to her first child, a daughter named Kulture Kiari Cephus, in July 2018.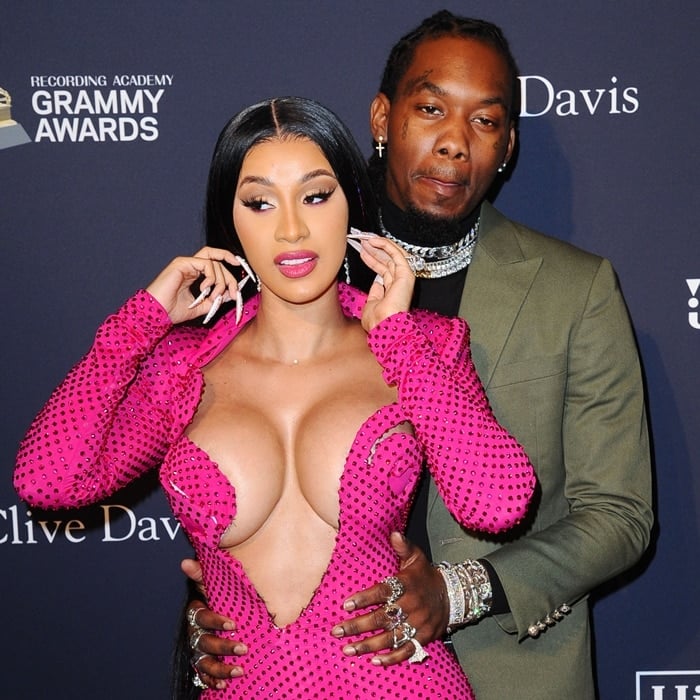 Cardi B and Offset attend the Pre-GRAMMY Gala and GRAMMY Salute to Industry Icons Honoring Sean "Diddy" Combs at The Beverly Hilton Hotel on January 25, 2020, in Beverly Hills, California (Credit: Instar / WENN)
Often criticized for being flashy, Cardi B loves spending her hard-earned dollars on luxury cars, jewelry, and designer clothes.
"I hate when celebrities do something very extravagant or buy something very luxurious and there are people in the comments like, 'You could have donated that,'" she said in a comment. "It's like, who are you to tell people what to do with their hard working ass money?"
Cardi B Facts
Net Worth:
$8 million
Full Name:
Belcalis Marlenis Almánzar
Born:
October 11, 1992, in New York City
Dating:
She married American rapper Offset, who has a net worth of $16 million, in July 2018.

In September 2020, it was reported that she had filed for divorce.
Kids:
Her daughter, Kulture Kiari Cephus, was born on July 10, 2018.
Weight:
60 kg (132 lb)
Shoe Size:
6 (US) / 36.5 (EU)
Height:
5 ft 1 (154.9 cm)
Nationality:
American
Source of Wealth:
Fashion, Television, and Music
Ethnicity/Race:
Her father is from the Dominican Republic and her mother is Trinidadian
Cardi B's Best Quotes
I feel beautiful without makeup on, but when I do put makeup on, it just gives me this extra pop.

I'm an emotional gangster. I cry once every month.

To me, music is art and fashion is art, but fame? Fame isn't art, but the person you become when you're famous – your alter ego – that's art.

I used to tell myself that I will always be myself.

A lot of people always question, 'What else can she do, what else can she do?' And I'm going to show you.

People are afraid to be themselves because people are afraid to be recorded. Everything is being recorded, and everyone is so sensitive. You say something; a section of people will be offended. It's so annoying; you got to be completely censored.

When you hear my lyrics, you hear the shots that I throw at people. I throw shots because I always been the underdog. I got rejected so many times, and I say it in my lyrics constantly.

I'm so free-spirited. Everyone has a me inside them: that loud girl that just wanna go, 'Ayyyy!' No matter if you a doctor, a lawyer, a teacher, it comes out.

If you want it, and the more you keep hearing you can't have it, you just go and get it.

I was always scared to follow my dreams because if I follow my dreams and I fail, I can't dream about it anymore. It's easier to settle for less.

I cannot turn my life back around. I'm already a public figure, I'm famous… It's like, I might as well keep it going, might as well make the money.

I do feel kind of guilty sometimes 'cause, like, I could buy myself a $5,000 dress or a $3,000 dress, and I'm buying these things, but I'm knowing that my cousin need money for the rent. And then I gotta tell myself, 'Stop feeling guilty. You worked for this.'

I really don't look up to anybody that is doing that great in life, because I don't know their story.

I'm not as open as I used to be. I'm a little bit more filtered, and it kind of sucks, but it's the price you pay to get paid.

I was a little hesitant to do 'Love & Hip-Hop' because sometimes reality TV can be good for your music career and sometimes bad.

I have real good parents. They poor. They have regular, poor jobs and what not. They real good people and what not; I was just raised in a bad society.

This is my work ethic: I do not want to raise my future kids where I was raised, and I know the only way to do it is working, working, working, working, working.

No man wants to accept they could be getting used for money. But it's OK for them to let us know that they use us?

I used to worry a lot. I still worry a lot, but not about the things that I used to worry about because my younger self, I didn't regret anything that I ever did… I was happy, and I was free, and I was living it up.

The first splurge that I did, I bought, like, an $80,000 watch, but that's because I'm a rapper. I need jewelry.

People want me to be so full of shame that I used to dance. I would never be ashamed of it. I made a lot of money. I had a good time, and it showed me a lot.

A lot of females, they want to do the things that I do. Some females are so closed, but they want to be open. Some girls, they want to feel that power that I tell them that I have. I tell women that I have power over these men, that I use these men.

That was an organic relationship. He reached out to me, and I was like, 'Oh my God, I cannot believe somebody like Laquan Smith wants to put his clothes on me.' He comes from a small place, and he has big dreams, and what I like about him the most is that his clothes curve with your body.

Whatever hair color I have on my head, that's what decides what type of outfit I'm going to wear, because not everything goes with your hair color. That's why I switch it up.

I could really make a song of hurt, because I've been hurt by a lot of men. I'm talking about, like, how sad I be when a dude curves me. And I never talk about that because I refuse to let people know that I get sad because when a man don't answer my calls.

Me and my mom are pretty cool. My mother's Caribbean, and she gets a little spicy, and I get a little spicy back.

When I do music, I don't feel like it's competition. Then again, it kinda is, but I don't like thinking like that. And I don't understand why they do that to women and, especially, women in hip-hop.

The faster I make a lot of money, the faster I can have these kids I want.

I don't want to live in a small Bronx apartment. I don't want to have three kids that got to share one room.
Cardi B's Hot Feet and Naked Legs
She unveiled her first-ever footwear collection with Reebok in November 2020, followed by a Summertime Fine apparel collection in April…
As the saying goes, beauty lies in the eye of the beholder. What one person finds attractive may not appeal…
Most celebrities have dabbled in plastic surgery, although many aren't as open about it as Cardi B. The rapper, born…
Over the last years, Cardi B has become one of the most successful and influential artists in the music industry…
The "millionaire playboy" known for his extravagant luxury lifestyle, Dan Bilzerian, is a bit of a mystery to many. He's…
Chrissy Teigen and Cardi B have both showed off their pretty feet in Gianvito Rossi's G String sandals (available at Farfetch,…
Rihanna arrived on the red carpet in a black Givenchy Fall 2019 Haute Couture gown at the 2019 Diamond Ball…
Placed on one of the most visible parts of your body, neck tattoos stand out almost regardless of what you're…
Joined by Christina Milian in neon orange, Cardi B increased her net worth by launching her new Fashion Nova line…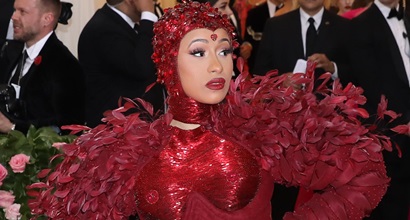 Cardi B defined camp with custom ruby nipples from Stefere at the 2019 Met Gala held at the Metropolitan Museum…
Rita Ora showed off some major leg in a green Versace gown with Swarovski crystal embellishments at the 2018 Echo…
Cardi B nailed it with her fetishistic and theatrical pearl-embellished clam-oyster dress from Mugler's Fall 1995 Couture Collection at the…
Cardi B was all smile as she flaunted her sexy legs on the red carpet at her Fashion Nova x…