Keri Russell's Husband, Matthew Rhys, Feet, Legs and Net Worth
Please subscribe to
our newsletter
to receive updates from Your Next Shoes. This post may contain affiliate links. Please see our
disclosure
for more details.
Scroll down to see pictures of Keri Russell showing off her nude feet and bare legs in sexy high heels, boots, sandals, pumps, and hot shoes.
Is Matthew Rhys married to Keri Russell?
No, they are not yet married. She has been in a relationship with Matthew Rhys Evans, a Welsh actor known for playing Philip Jennings in the acclaimed television series The Americans (2013–2018), since 2014.
Playing a married couple on The Americans, they also started dating in real life and had their first child, a son named Sam Evans, in 2016.
Keri Russell and her boyfriend Matthew Rhys at the premiere of Star Wars: The Rise of Skywalker in Hollywood on December 16, 2019 (Credit: Instar / WENN)
On an episode of Bravo's "Watch What Happens", Rhys revealed that he met Russell at a kickball game a decade before they started dating. He felt an instant attraction to the Felicity star.
"I very drunkenly asked her for her number when she was a young, single, slip of a thing, so I sort of knew then when I was 26," he recalled.
Who was Keri Russell married to?
Keri married Shane Deary, a Brooklyn-based contractor, in a small ceremony while she was expecting their first child in New York on February 14, 2007.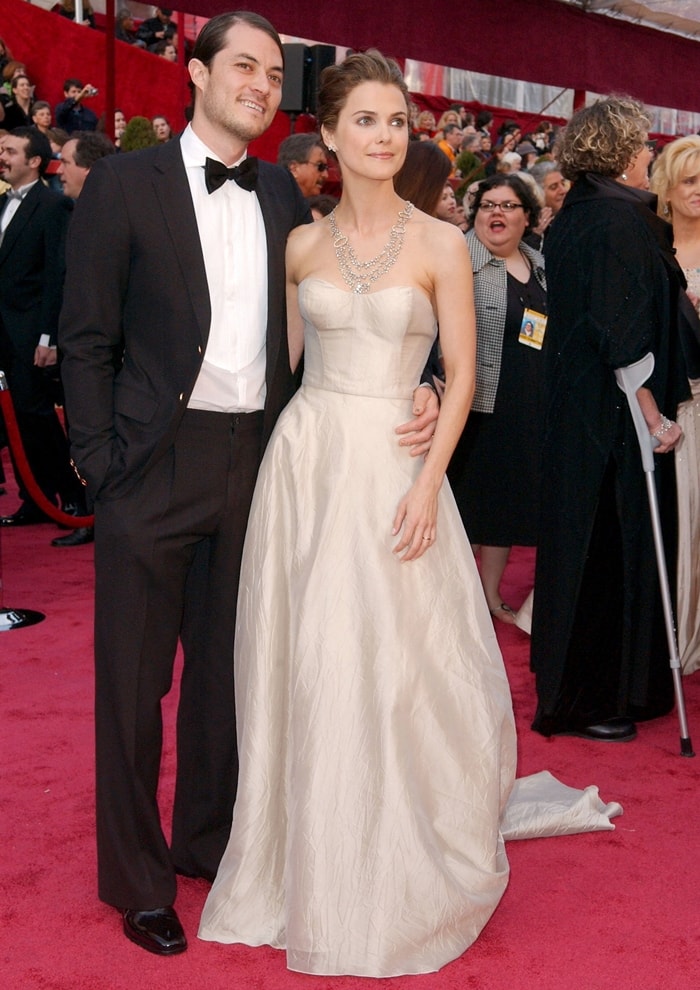 Keri Russell and her husband Shane Deary at the 80th Annual Academy Awards held at The Highlands on February 24, 2008, in Hollywood, California (Credit: Apega / WENN)
They have two children together: a son named River Russell Deary born in 2007 and a daughter named Willa Lou Deary born in 2011.
Keri Russell and Shane Deary announced on December 5, 2013, that they had been separated since that summer.
What is Keri Russell's net worth?
The American actress/dancer has a net worth in excess of $8 million. According to E! News, she made $1.3 million per year (100,000 per episode) for her role as Elizabeth Jennings (Nadezhda) in The Americans, an American period spy thriller television series created by Joe Weisberg for the FX television network.
Rising to fame on Disney's The All-New Mickey Mouse Club with Justin Timberlake, Ryan Gosling, Britney Spears, and Christina Aguilera, Keri reportedly earned $30,000 per episode on J.J. Abrams's WB drama series Felicity (1998–2002), for which she won a Golden Globe Award.
Keri Russell Facts
| Net Worth: | $8 million |
| --- | --- |
| Full Name: | Keri Lynn Russell |
| Born: | March 23, 1976, in Fountain Valley, CA |
| Dating/Husband: | She is a relationship with Matthew Rhys, a Welsh actor who has a net worth of $2 million dollars. |
| Kids: | Two sons and a daughter named Willa Lou Deary, River Russell Deary, and Sam Evans. |
| Weight: | 115 pounds (52 kg) |
| Shoe Size: | 6 (US) |
| Height: | 5′ 4'' (163 cm) |
| Nationality: | American |
| Source of Wealth: | Film and Television |
| Ethnicity/Race: | English, German, Swiss-German, Scots-Irish/Northern Irish, Manx/Isle of Man, Dutch, and Danish |
Keri Russell's Sexy Feet and Hot Legs
Breaking onto the scene with a lead role in a major television series, Keri Russell has since consistently wowed audiences…
In November 2014, "The Americans" actress Keri Russell joined Lupita Nyong'o and Mindy Kaling on the red carpet for the…
Keri Russell and Emmy-award winning actor Jon Hamm did their best not to laugh while participating in a hilarious round…
Styled by Frank Fleming, Keri Russell tortured her feet in metallic Lucre heels from British luxury footwear designer Katie Biltoft…
After "Felicity" and "Mission Impossible III," it looks like Keri Russell has moved back to the small screen and lucked…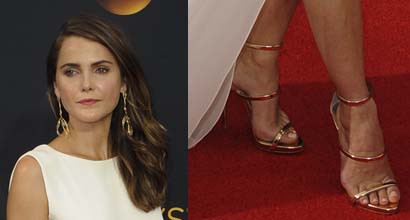 Keri Russell opted to keep the Emmys red carpet simple, despite the fact that several of her fellow a-listers brought…
It's only been two weeks since Keri Russell gave birth, but the actress is already back to work on the red…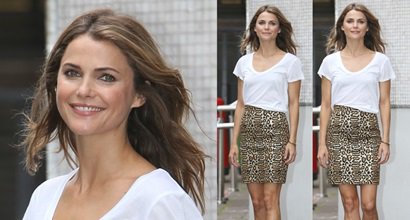 Sometime between her 'Felicity' days and now, Keri Russell's style skyrocketed to super-chic heights. Even the actress' more laid-back looks…
Showing how to look stylish in black, Keri Russell incorporated her chic yet laid-back style into this season's menswear trend…
Keri Russell has noticeably stepped up her style game lately. She's presented us with a couple of fierce looks these…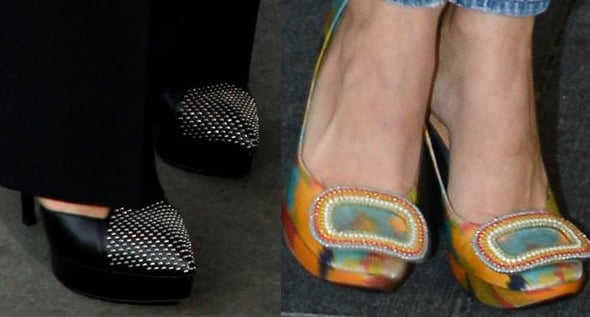 Prior to the release of her new romantic-comedy movie, 'Austenland', Keri Russell was seen taking care of some promotional duties…
Our dear Keri Russell, who became famous portraying the title role of Felicity Porter on the series 'Felicity', is back…