Breaking onto the scene with a lead role in a major television series, Keri Russell has since consistently wowed audiences with her legitimate acting skills and stunning beauty (complete with her trademark curly hair).
In order to be cast in a series that has hosted such talented actors as Harrison Ford, Alec Guinness, and Ewan McGregor, you definitely need to be able to stand toe to toe with some of the best thespians in the business.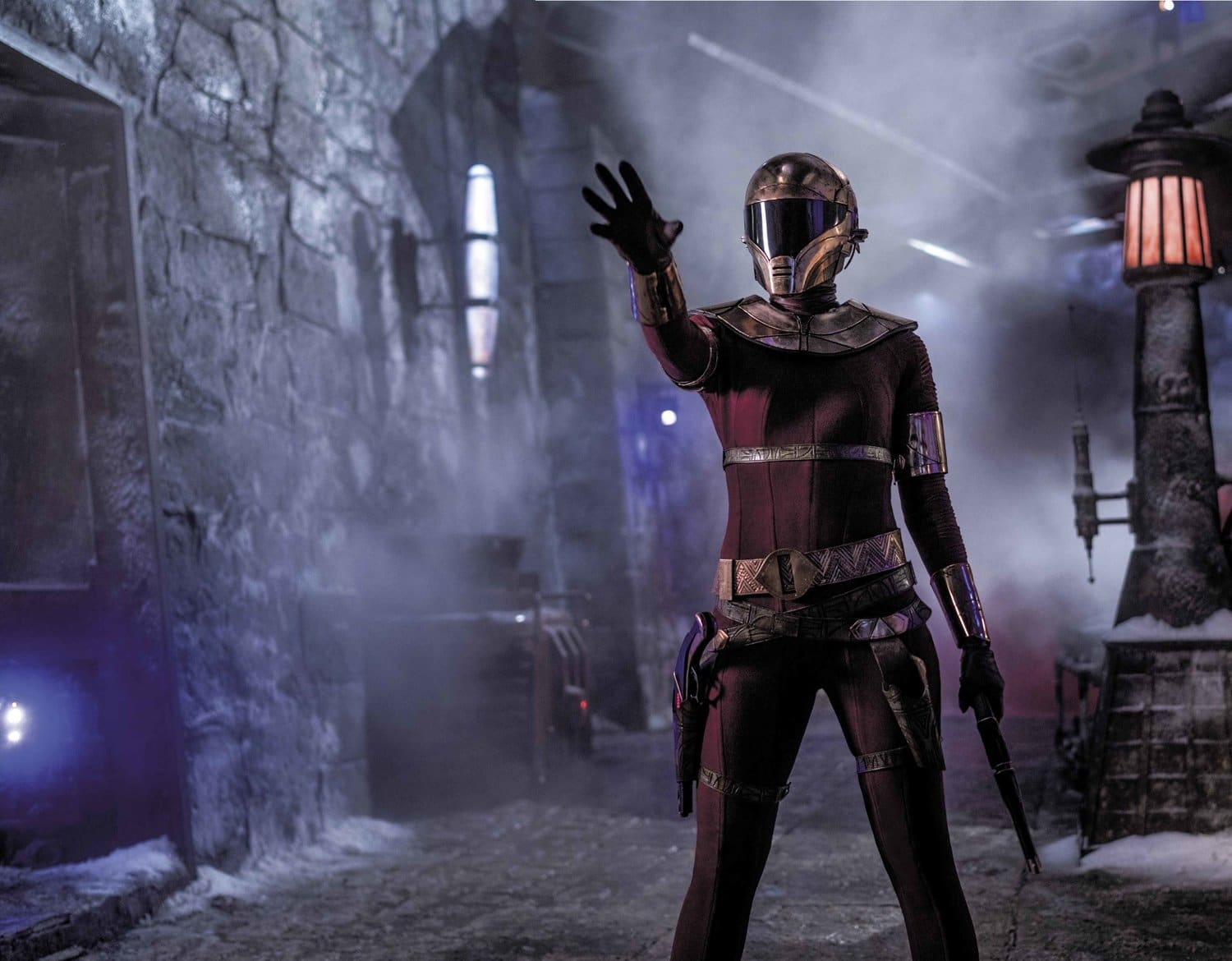 Keri Russell as mysterious female helmeted Zorii Bliss in the 2019 American epic space opera film Star Wars: The Rise of Skywalker (Credit: Walt Disney Studios Motion Pictures)
In this article, we'll be going through the career of Keri Russell, how it all began, and what led to her being cast in the massively popular science fiction film series.
The Beginning of Keri Russell's Career
Keri Russell was born in the small suburb of Fountain Valley, California, in 1976 – just south of the heart of the American film industry in Los Angeles.
Despite her proximity to the film industry, Russell's parents came from rather mundane backgrounds; her mother was a homemaker and her father an executive for Nissan Motors.
Dating briefly in the early 2000s, Keri Russell and Scott Speedman promoted their show Felicity in New York City on January 24, 1999 (Credit: Startraksphoto)
Although she originally hailed from California, her family tended to move around frequently. She grew up in the states of Texas, Colorado, and Arizona.
Despite this frequent relocation, Keri did begin her acting career at a fairly young age – her first role was in the Disney Channel show All-New Mickey Mouse Club at the age of 15, a role she continued to hold from 1991 to 1994.
During this time, she was also cast as Many in Honey I Blew Up the Kid (1992).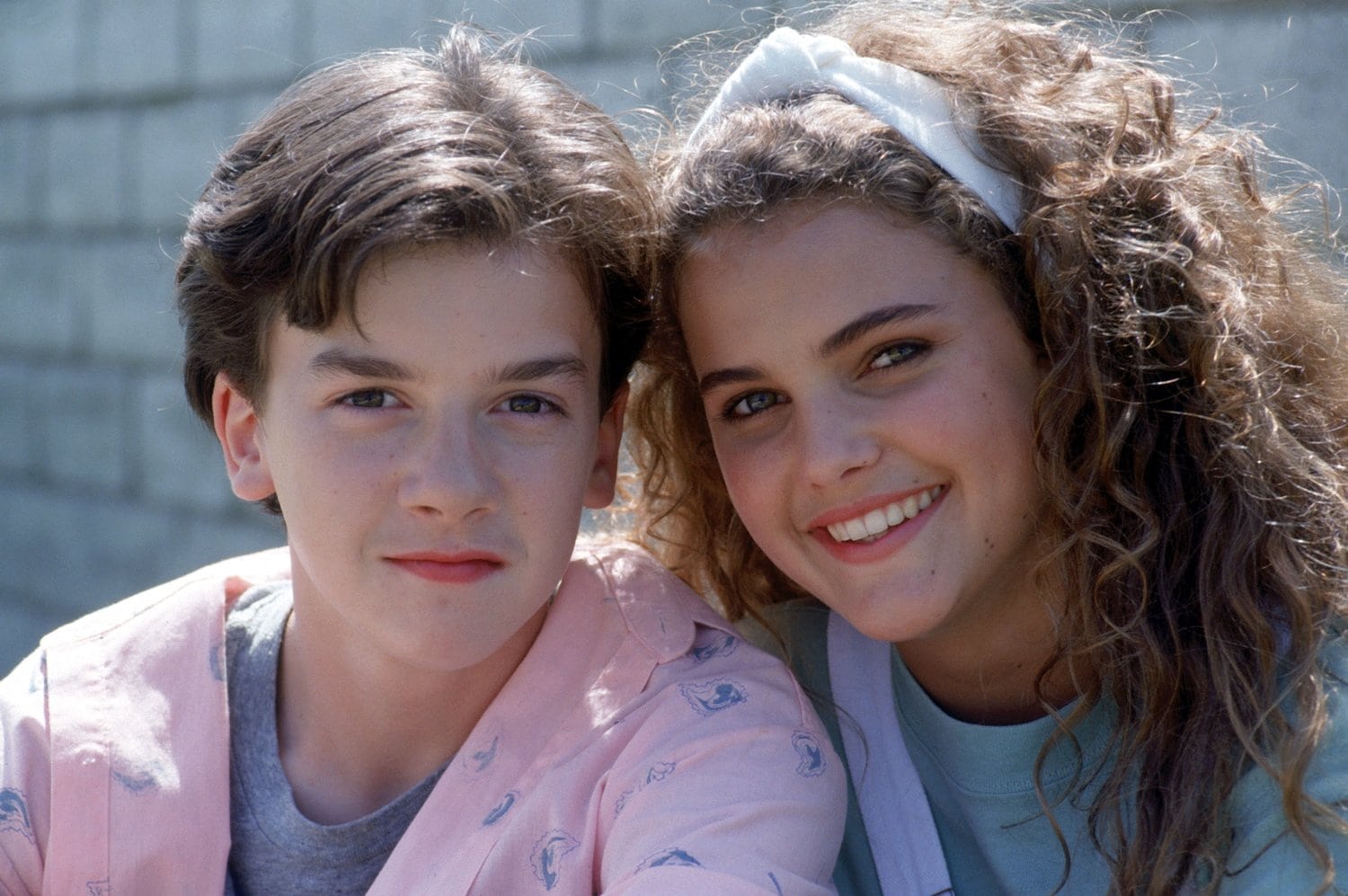 Keri Russell as Mandy Park and Robert Oliveri as Nick Szalinski in the 1992 American science fiction comedy family film Honey, I Blew Up the Kid (Credit: Walt Disney Pictures)
Following these roles, she would continue to gain small parts in various television shows, including Boy Meets World and Married with Children.
These roles would act as steppingstones to her breakout role, one which would define her career forever.
Keri Russell's Breakthrough: Felicity
When most people think of Keri Russell as an actress, they undoubtedly think of her role as Felicity Porter in Felicity – a popular television series created by J.J. Abrams and Matt Reeves.
Keri Russell was 22-years-old when the American drama television series Felicity premiered on September 29, 1998 (Credit: Buena Vista Television)
Felicity was a slice-of-life romance show that had Keri in the lead role.
During the casting process, Russell actually tried to make herself look uglier by wearing baggy sweaters and trying her hair up in a messy bun – this was done deliberately so that Russell could avoid being cast as Felicity's beautiful friend Maya (a smaller role).
While J.J. Abram saw through these efforts, he still decided to cast Russell anyways due to the humor she brought to the role. She was 22-years-old when the first episode aired on September 29, 1998.
Keri Russell on the set of "Felicity" filming in New York's Soho on January 24, 1999 (Credit: Startraksphoto)
Rusell would play the role of Felicity for the show's entire 4-season run from 1998 to 2002.
The show was popular during its initial run and only became more popular since its conclusion, finding somewhat of a cult following even in the present day. The final episode of Felicity aired on May 22, 2002, when Keri Russell was 26-years-old.
Russell's Post-Felicity Career
Keri Russell appeared in multiple films while Felicity was airing. Unfortunately, none of them enjoyed widespread releases.
After Felicity concluded, Russell decided to move to New York City, leaving tv and the silver screen behind for the Broadway stage.
In 2005 she would return to this line of work, however, with roles in Hallmark television and theatrical films The Magic of Ordinary Days and The Upside of Anger, respectively.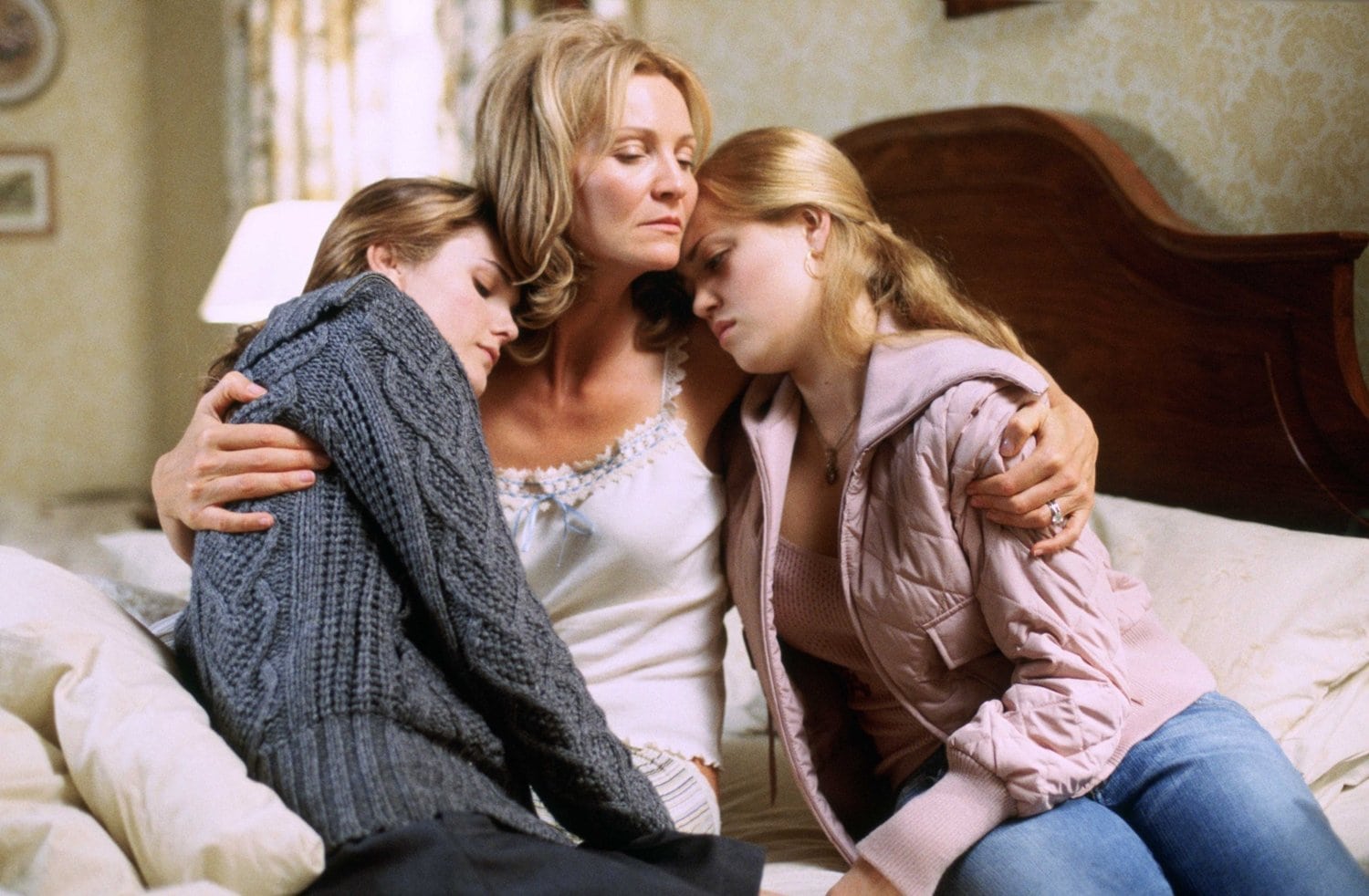 Keri Russell as Emily Wolfmeyer, Joan Allen as Terry Wolfmeyer, and Erika Christensen as Andy Wolfmeyer in the American romantic comedy-drama film The Upside of Anger (Credit: New Line Cinema)
She wouldn't appear in a large-budget Hollywood film until late 2005 when she was asked by director J.J. Abrams to appear in Mission Impossible III.
Cast in the small role of Lindsey Farris, Russell would find some more high-profile work in modeling via a deal to become a spokesperson for CoverGirl cosmetics.
She would also begin to work in indie cinema, with leading roles in films like Waitress (2007) and August Rush (2007), two films in which her roles were well-received by film critics. However, both films were only moderately successful financially.
Keri Russell as Jenna Hunterson, Cheryl Hines as Becky, and Lew Temple as Cal in the 2007 American comedy-drama film Waitress (Credit: Fox Searchlight Pictures)
She would find more success with films like Extraordinary Measures (2010), Dawn of the Planet of the Apes (2014), and the Free State of Jones (2016) – all of which would receive positive critical reception.
In 2013, she was also cast in the FX drama television show The Americans, which lasted for six seasons, ending in 2018.
Keri Russell: A New Hope
This string of successful work lead Russell to receive an email from an old friend: J.J. Abrams, who she worked with on Felicity and Mission Impossible III. According to the story, the email simply stated: "Would you like to join Star Wars?".
The offer to join the wildly successful science-fiction franchise proved to be tantalizing, and Keri Russell signed on to the role of Zorii Bliss in Star Wars: The Rise of Skywalker, which was released in 2018.
Keri Russell steps out in a golden Kwaidan Editions floral dress and a black pumps for an appearance on Good Morning America on October 25, 2021, in New York City (Credit: Roger Wong / INSTARimages)
Russell was reportedly attracted to the role because she would be wearing a helmet the entire time. In an interview with The Washington Post, Russell said about the role: "I can see everyone, but no one can see me…there's a real power play to that."
"You're really not thinking about specific actors," Abrams said in the same interview. "We started to cast the picture and suddenly there was an opportunity to work with Keri again, which is something that one takes advantage of if possible.
"So she was the first person I reached out to" about Zorii, "just to say: Listen, there's this pretty fun character," he added.
"Kerri loved the mask so much, that the first two days she worked on set, I never saw her face," Abrams told IGN about Russell's helmet.
"She walked on set with her mask on, and wouldn't take it off. I got to work with her for a few days and never saw her," he added.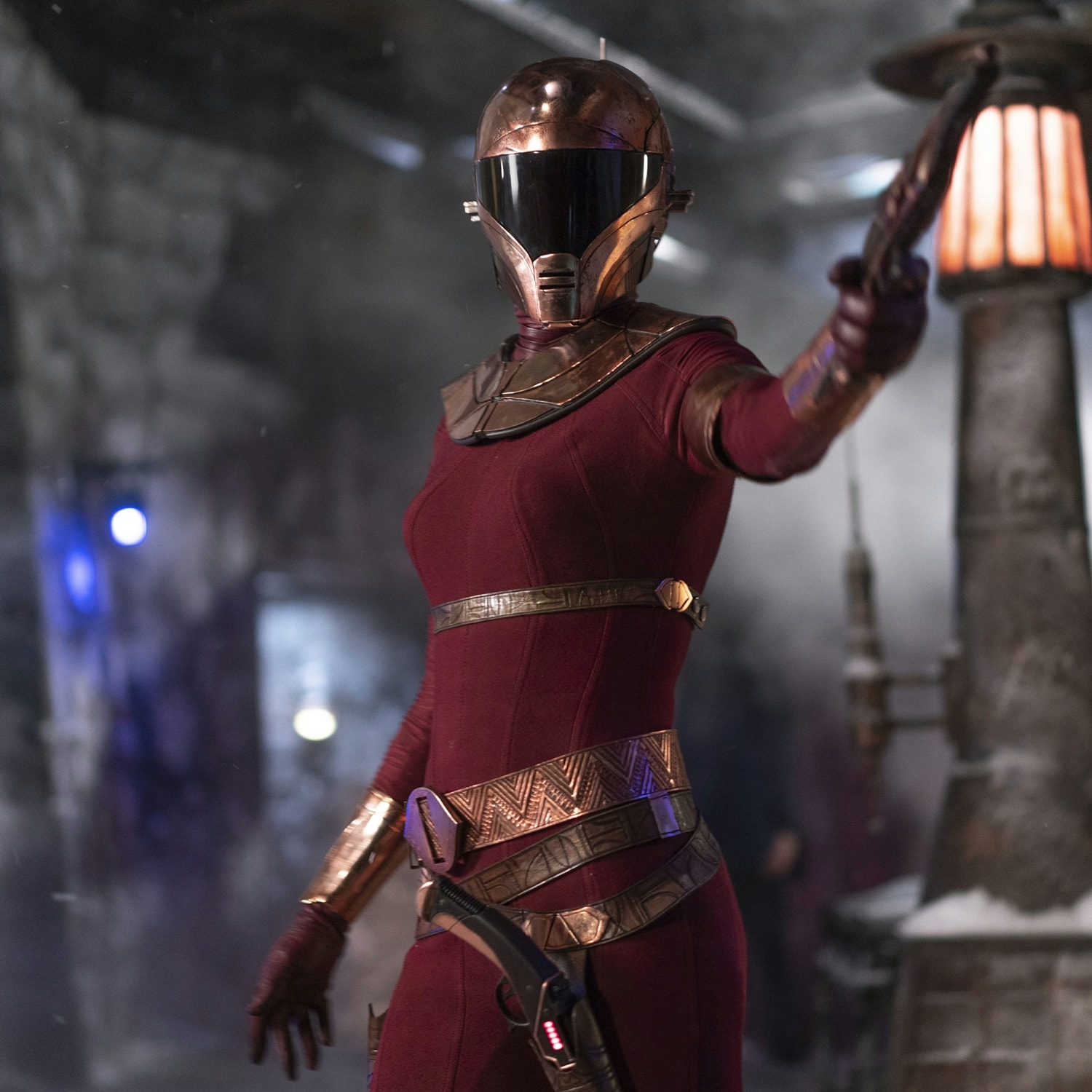 Keri Russell loved her Zorii Bliss costume and refused to take it off during breaks (Credit: Walt Disney Studios Motion Pictures)
"I do have the coolest costume. I will say that," she told Stephen Colbert in March 2019. The actress also revealed how much she loved her helmet in an interview with USA Today.
"J.J. kept just trying to hang out and talk to me and he's like, 'Seriously, are you not going to take that off?' And I'm like, 'No, I love it.' He's like, 'But I can't see your eyes and it's freaking me out.'"
In the film, Zorii Bliss is a former associate of Poe Dameron (played by Oscar Isaac), whom she meets again on the frigid mountainous planet of Kijimi.
Keri Russell in a Proenza Schouler dress and Manolo Blahnik 'Chaos' sandals at the "Antlers" Special Screening at Regal Essex Crossing on October 25, 2021, in New York City (Credit: Avalon / WENN)
She works as a spice runner, and J.J. Abrams cast Russell in the role because he knew that Russell's experience in dance would work well for the agile, deadly character.
While Bliss is initially introduced as somewhat of an adversary for Poe, they quickly reconcile, with Bliss playing a key role in helping the protagonists in their mission to destroy The Final Order.
Keri Russell was asked by her longtime friend and colleague J.J. Abrams to portray Zorii Bliss in Star Wars: The Rise of Skywalker (Credit: Sara De Boer / Startraksphoto)
The film was (as of the publishing of this article) the final send-off for plenty of fan-favorite characters, and the 36-year gap of time between Lando Calrissian's (played by Billy Dee Williams) first appearance and this film marks the longest length of time for any original actor to reprise their role.
Star Wars: The Rise of Skywalker, or The Fall?
Star Wars: The Rise of Skywalker was finally released on December 20, 2019. During its theatrical run, it managed to gross a whopping $1.074 billion against its budget of $275 million.
Actress Keri Russell flaunts her legs in a Celine Spring 2019 dress at the premiere of Disney's "Star Wars: The Rise of Skywalker" on December 16, 2019, in Hollywood, California (Credit: Sara De Boer / startraksphoto)
Needless to say, the film was a financial success, but was it a critical success as well?
It's tough to say. While some fans were satisfied with the sequel trilogy's conclusion, other critics also had more scathing reactions to it.
Film critic Mick LaSalle of the San Francisco Chronicle called the film "a disappointment," while Owen Gleiberman of the publication Variety declared the film as "the most elegant, emotionally rounded, and gratifying Star Wars adventure since the glory days of Star Wars…" – a testament to the divisive reactions the film drew from audiences and critics alike.
Currently, the film has a 52% critic score on the aggregate site Rotten Tomatoes, which puts it in the category of "rotten." Conversely, the film also features an 86% audience score, perhaps displaying the gap in perception of the film between critics and fans of the series.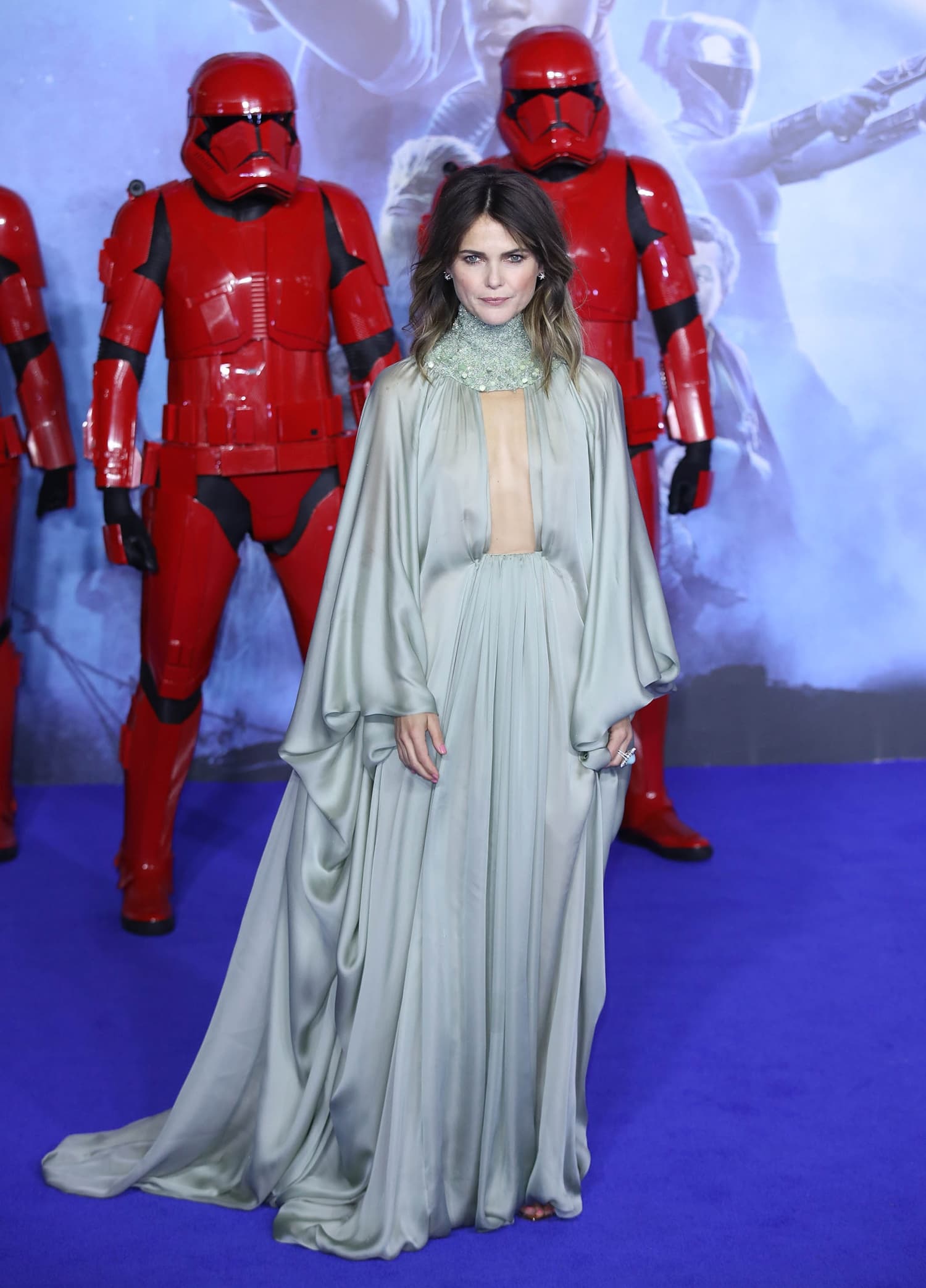 Keri Russell in a beautiful Stéphane Rolland's Fall 2019 Couture gown at the "Star Wars: The Rise of Skywalker" European Premiere at Cineworld Leicester Square on December 18, 2019, in London (Credit: INSTARimages)
Some audiences were disappointed with the sequel series as a whole but found some enjoyment in the final film, which helped to tie up some loose ends left hanging in the previous film, Star Wars: The Last Jedi.
When it's all said and done, Star Wars still manages to attract millions of fans around the world, for better or for worse.
Whether it's in cinemas or streaming services, Disney is constantly looking for new ways to create engaging Star Wars content to serve up to the hungry fans of the storied franchise.
Keri Russell wears her hair down as she at the Los Angeles International Airport on January 13, 2014 (Credit: FayesVision / WENN)
In true jet-setter fashion, in early January 2014, Keri Russell managed to look stylish despite her hectic schedule. She successfully turned her chic day look into a more dressy night look, all in the same day.
The then-37-year-old actress arrived at LAX wearing a smart-casual ensemble.
She paired her blue jeans with a simple white tee, covered with a structured blazer, and finished with white-hot pointed-toe pumps.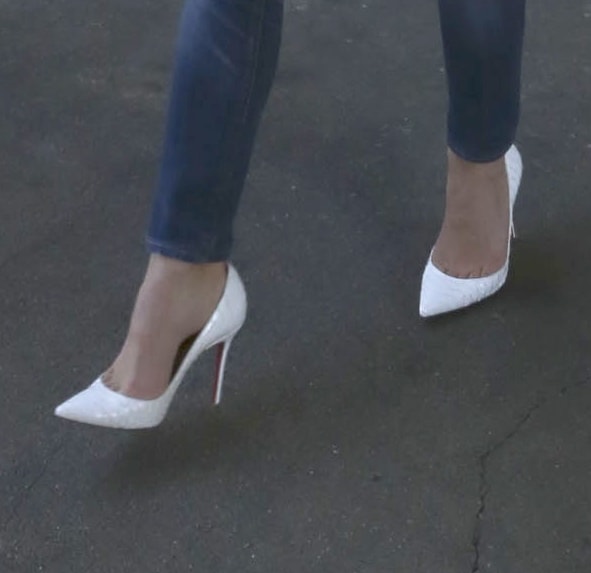 Keri Russell's feet in white pointed-toe pumps (Credit: FayesVision / WENN)
A few hours later, Keri attended the FOX All-Star Party at The Langham Huntington Hotel and Spa, looking gorgeous in an edgy but dressy ensemble.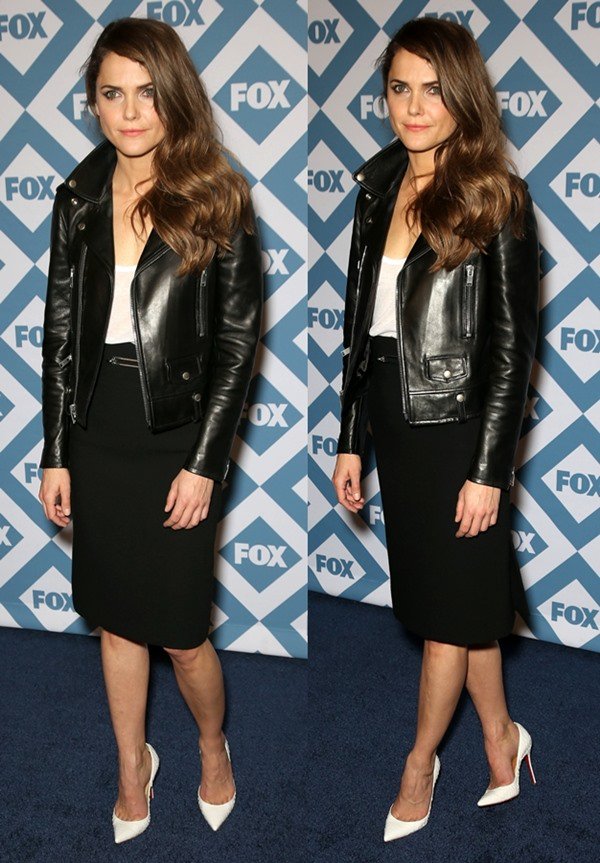 Keri Russell attends the TCA Winter Press Tour FOX All-Star Party held on January 13, 2014, at The Langham Huntington Hotel and Spa in Pasadena, California (Credit: FayesVision / WENN)
She showed off her feet in the same white shirt and python-print Christian Louboutin "Batignolles" pumps that she wore at the airport.
Keri Wilson's feet in white python-print Christian Louboutin pumps (Credit: FayesVision / WENN)
This is a perfect example of a fabulous day-to-night transformation. Keri utilized some key pieces of her day look and threw in a cool leather jacket and a pencil skirt to turn it into a red-carpet-worthy look.
These white Louboutins are a popular red carpet choice for many celebrities. We spotted them a couple of times last year, and we completely understand the obsession. This style is definitely drool-worthy!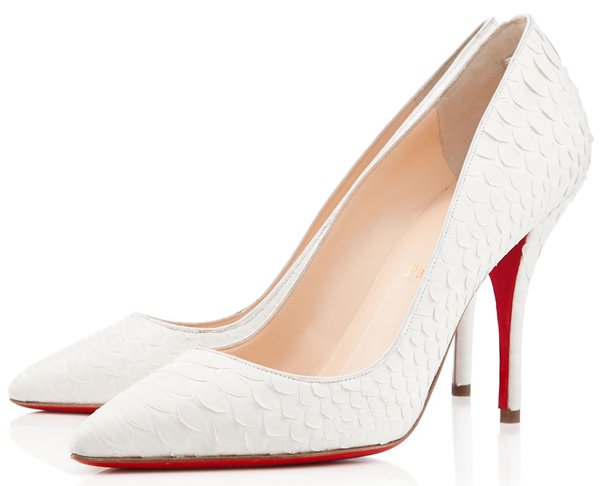 Christian Louboutin "Batignolles" Pumps, £695
We found a great alternative for you at Zappos if you're looking for a similar pair of pumps: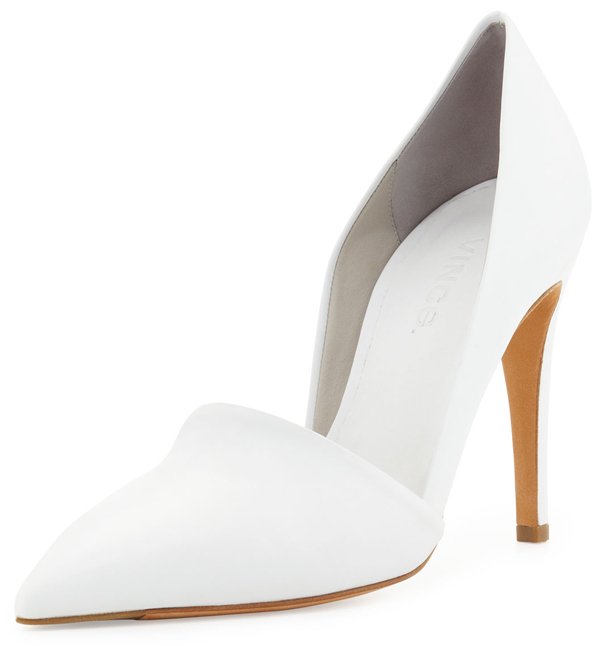 Vince 'Anya' Pointed-Toe Pumps in White, $375