Jessica Biel looked absolutely fabulous as she attended Hulu's new series 'Candy' premiere, held at the El Capitan Theatre in Los Angeles, California earlier this month.
There have been mixed reviews around her look, but we are sticking with absolutely fabulous; we love the relaxed look!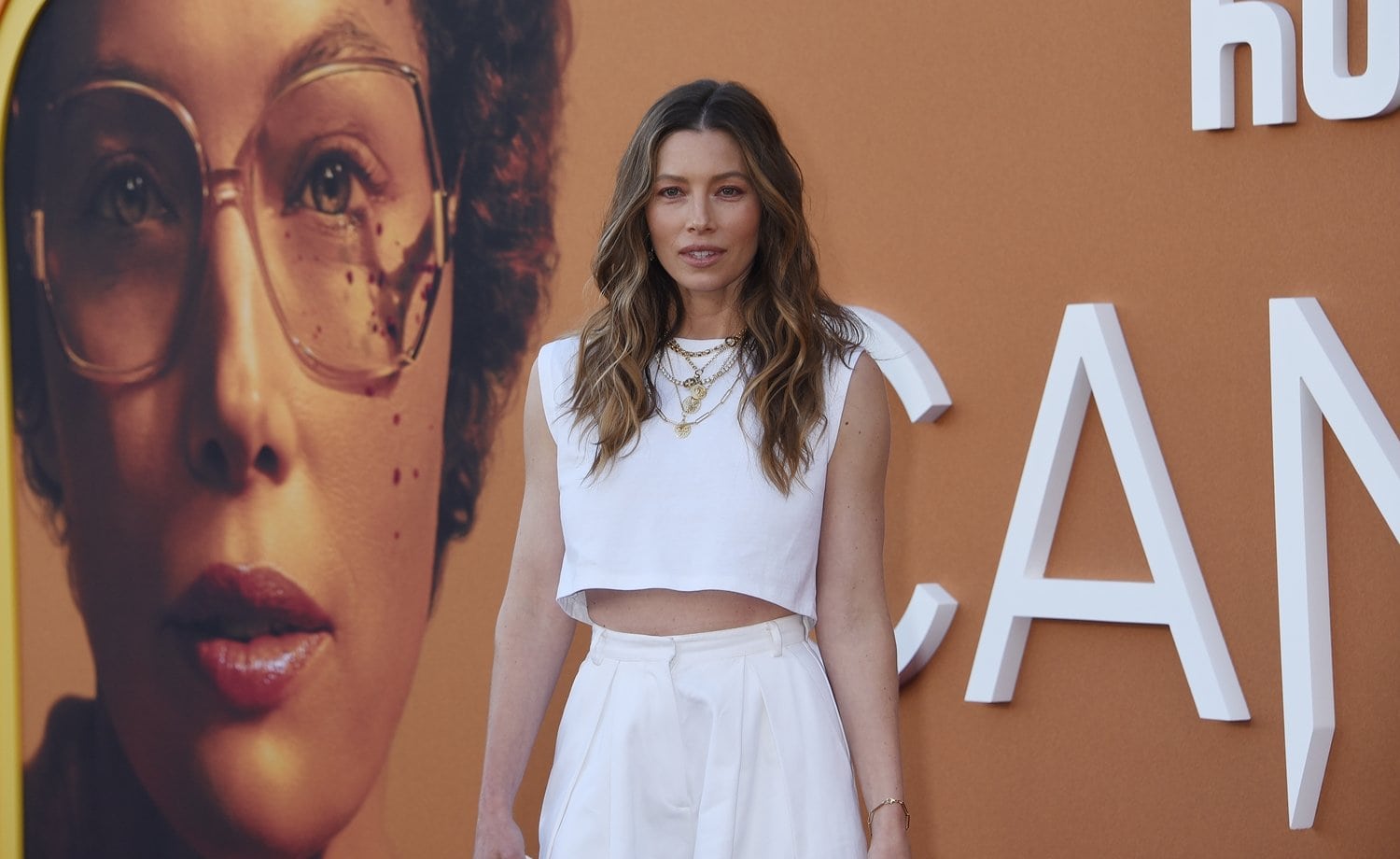 Jessica Biel accessorized with a cluster of gold FoundRae necklaces at the Los Angeles Premiere FYC Event for Hulu's "Candy" at El Capitan Theatre on May 9, 2022, in Los Angeles, California (Credit: MEGA / WENN)
In total contrast to her character, Jessica somehow manages to combine cool, casual, and sophistication all into one.
She chose a pair of white, taffeta wide-legged trousers from the Giambattista Valli Spring 2022 collection. Not that you could see them, but hiding under those trousers were reportedly a pair of shoes by Stuart Weitzman.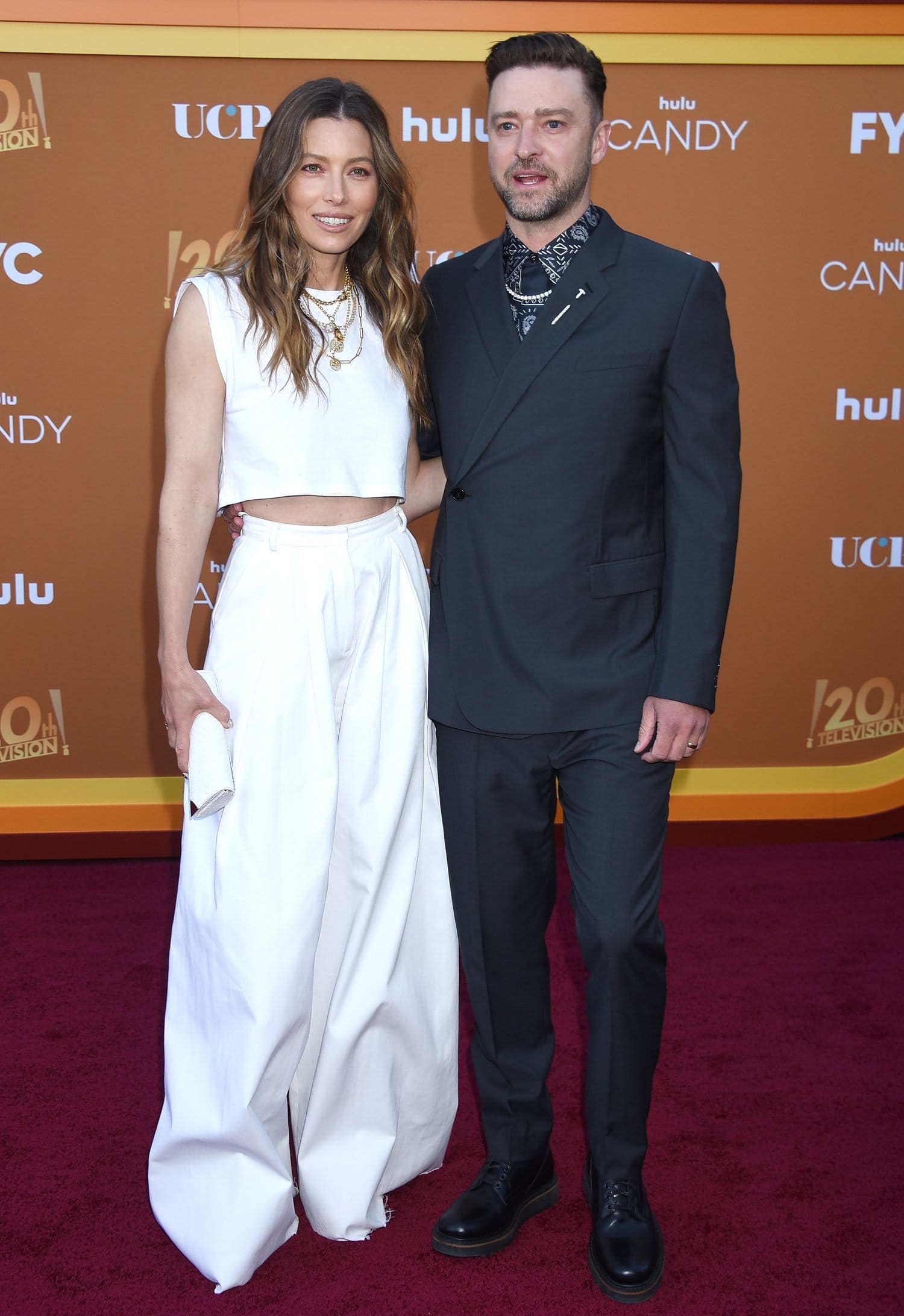 Jessica Biel in a crop top and wide-leg pants from the Giambattista Valli Spring 2022 collection and her husband Justin Timberlake in a Dior Homme ensemble (Credit: MEGA / WENN)
She paired these striking trousers with a simple white crop top and finished off her look with a Tyler Ellis white clutch and a string of gold necklaces by FoundRae.
She kept her make-up natural and styled her long dark brown hair with bronze tips, in those signature Jessica Biel soft waves.
Jessica's Incredible Candy Transformation
Jessica's portrayal of Candy Montgomery is incredible with her transformation leaving her completely unrecognizable.
Every shred of glamor and natural elegance we are used to associating with Jessica vanished, only to be replaced with those tight 80s curls, large reading glasses, and conservative outfits.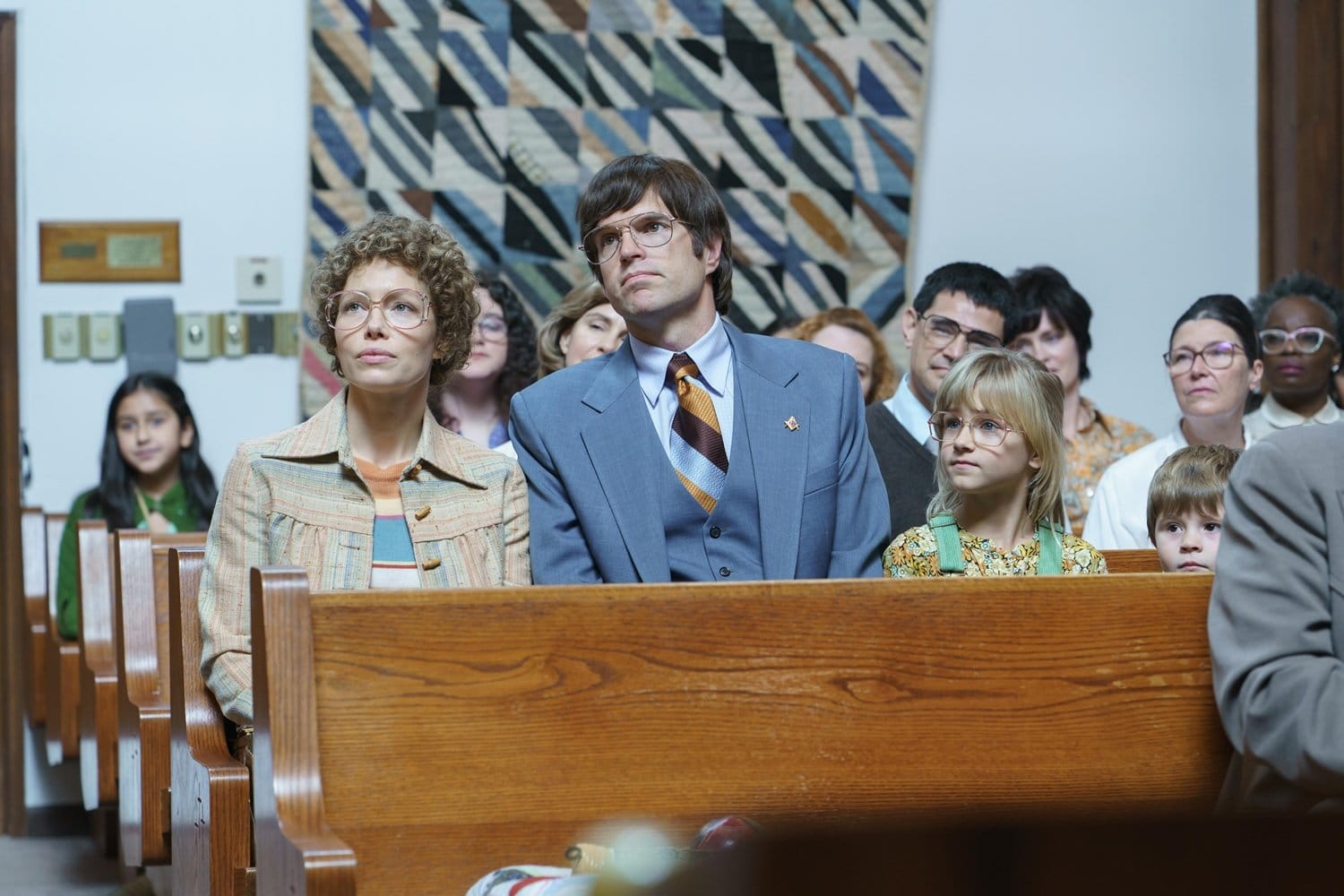 Jessica Biel as the real-life Candy Montgomery, Timothy Simons as Pat Montgomery, Aven Lotz as Becky Montgomery, and Dash McCloud as Jason Montgomery in the American crime drama streaming television miniseries Candy (Credit: Hulu)
"I just find the ability to transform in that way — like really utilizing costumes and the makeup department and hair department to be such an important part of the process," Jessica Biel told Extra in an April 2022 interview.
"It's so fun when you don't recognize yourself, and I really didn't every morning [of filming]."
Hulu's new crime drama is based on the real-life story of Candy Montgomery and is centered around the events of Betty Gore's brutal murder in 1980.
Candy Montgomery, played by Jessica Biel, was never convicted of the murder of her friend, Betty Gore, portrayed by Melanie Lynskey.
"I wasn't in the jury. I wasn't there. I don't know…" Biel said about the verdict. "It's fascinating. And we'll never know the answer. We'll never know the truth."
Jessica Biel plays a church-going Texan housewife accursed of murdering her neighbor, Betty Gore (Credit: Hulu)
Two police officers investigating Betty's murder are none other than Jessica's husband Justin Timberlake and Jason Ritter. For those of you who don't know, Jason is Melanie Lynskey's real-life husband.
If crime shows are your thing, you will love this 5-part series, which has everything from friendship and lies to an affair and ax-murder!!
How Justin Timberlake was Cast for Candy
According to an interview with Jessica Biel in Variety, her husband Justin Timberlake offered to act for free as sheriff deputy Steve "Diffy" Deffibaugh in Candy.
"He loved the the episodes too, and said, 'Who's playing this guy?' And I said, 'Oh, I don't know. Probably an Atlanta local. We don't really have any money left. We sort of spent it all on our main cast and this is one of our last cast members that we need to cast,'" she said.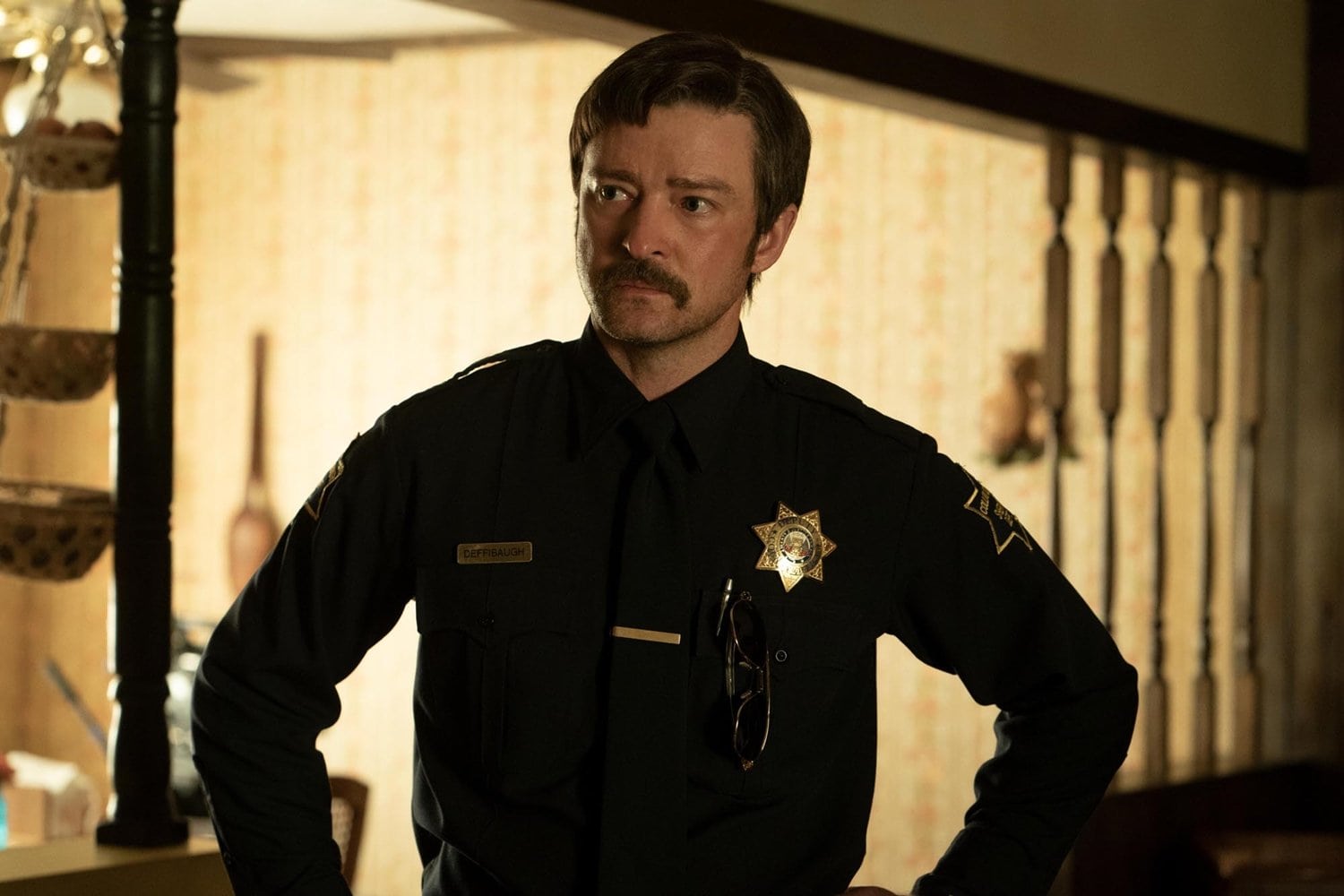 Justin Timberlake plays Deputy Steve Deffibaugh in Candy and offered to act for free (Credit: Hulu)
"He said, 'I want to do it.' And I really thought, 'OK, that's funny. I'd love for you to do this, but I know that's not really for real.' He's like, 'No, no, no. For real. I see how funny he could be, but he's the one who really sees through her story. He's this major adversary for her. From the very beginning, he doesn't believe it for one second.'"
Candy cast members Timothy Simons, Jessica Biel, Melanie Lynskey, Raúl Esparza, and Pablo Schreiber at the premiere of their Hulu crime drama streaming television miniseries (Credit: MEGA / WENN)
"All he wanted was a prosthetic belly and a wig. And he goes, 'You don't have to pay me anything. Just make sure I have my wig that I want, make sure I have a prosthetic belly,'" she said. "We're like, 'We can do that!'"
The epitome of cool at Jimmy Kimmel Live
Jessica kept with her trouser look but took it to another level when making her guest appearance on Jimmy Kimmel Live.
She always manages to make looking stylish so easy and was the epitome of cool when arriving at the studio with her flowing waves and Quay sunglasses.
During the show where she is promoting the Hulu true-crime series, she chose to wear her hair up in a ponytail – we definitely prefer the waves.
Jessica Biel, in an Alexandre Vauthier wrap-over pussy-bow top and classic straight pants from the same designer, is seen arriving at 'Jimmy Kimmel Live' Show on May 9, 2022, in Los Angeles, California (Credit: MEGA / WENN)
We love the wrap-over pussy bow top she chose from the Alexandre Vauthier Spring 2022 collection.
The silk top was a stunning shade of blue, and the wrap effect around the waist looked incredible with a pair of classic, tailored high-waisted trousers from the same collection. She showed off her feet in the perfect pair of heeled sandals with a narrow strip across the toe.
We wish her luck with her new series. To be honest – we keep having to pause just to make sure it's really Jessica!!
"I look at myself like that, I see my grandmother, I see my husband's grandmother, I see my friend's mother. I mean, it's crazy," Biel told Jimmy Kimmel of the classic wig she wore to look like ax-murderer Candy Montgomery.
The transformation is truly unbelievable, it's everything from her body language through to her look, she has truly captured Candy Montgomery on every level.