She recently made a two-day trip to Washington, DC, as part of her ongoing advocacy efforts against child abuse.
Last week, Paris Hilton visited the White House to meet with policy staff and lawmakers and discuss how they can stop the abuse of children living in congregate care facilities.
"My parents were promised that tough love would fix me and that sending me across the country was the only way," she said about her time at boarding facilities as a teenager, adding her experience at the facilities "haunts her to this day".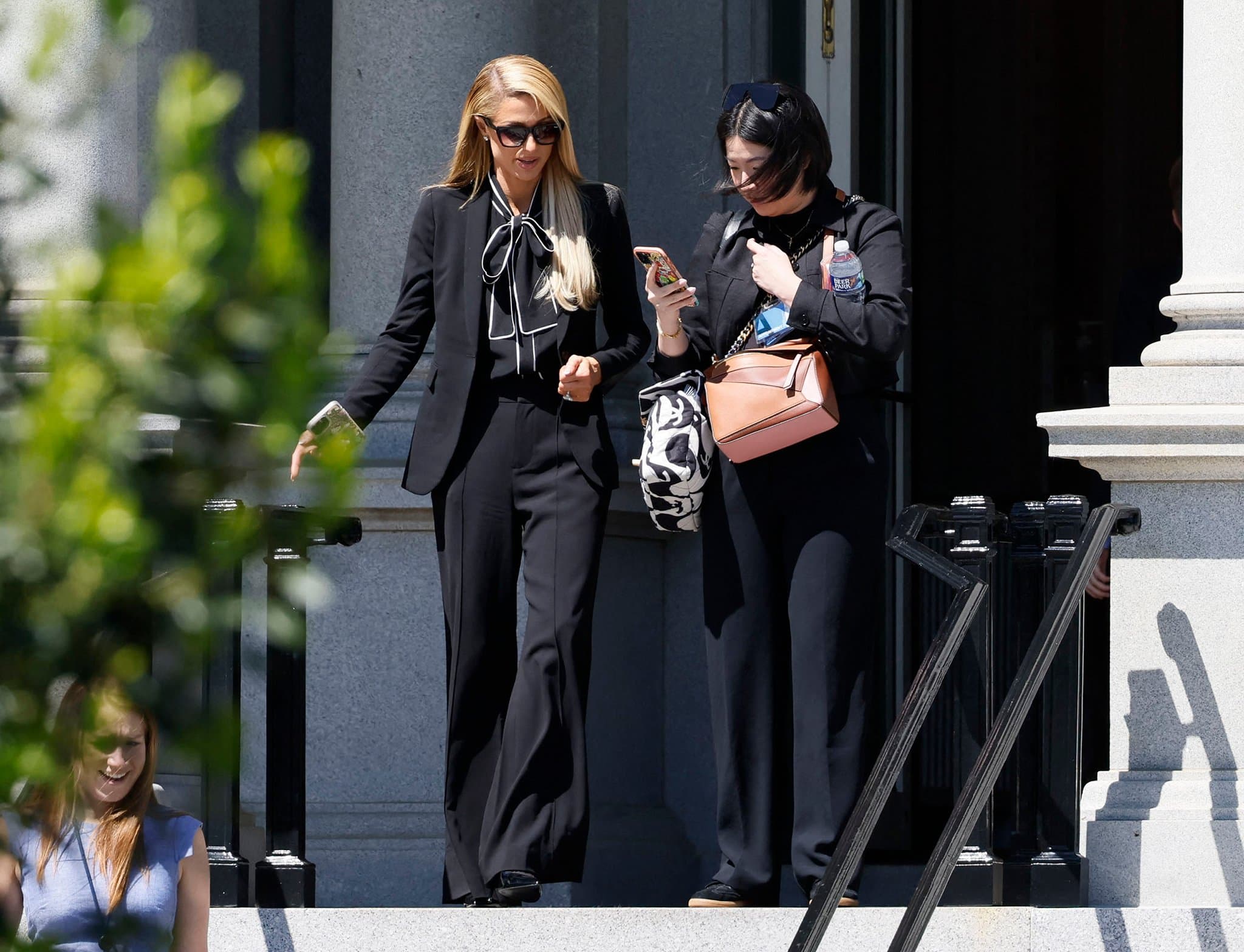 Paris Hilton visits the White House on May 10, 2022, in Washington, DC, to meet with policy staff as part of her ongoing advocacy efforts against child abuse (Credit: ABACA / INSTARimages)
The Fashion Entrepreneur of the Year took to Instagram to share a photo from the White House.
She captioned her post, "What an impactful Day 1 in #WashingtonDC. It has been so encouraging speaking with policy staff, senators & representatives in the @WhiteHouse & on #CapitolHill to advocate for vital protections for children placed in residential treatment programs. I will not stop until change is made," adding the hashtags "BreakingCodeSilence and #WeAreUnSilenced."
View this post on Instagram
In a separate post, Paris felt grateful for the White House for its dedication to fighting for everyone's rights.
"So honored to be back in Washington DC to continue my advocacy work for the institutionalized youth in America. I had such an inspiring time meeting with policy staff and walking the halls of the West Wing of the @WhiteHouse with advocates. I am so glad to see that the most powerful office in the world is dedicated to fighting for the rights of all."
View this post on Instagram
The Paris In Love star meant business in an all-black ensemble from the American fashion label Alice + Olivia.
She donned $295 "Dylan" high-waisted wide-leg pants (available at Nordstrom) with a now sold-out black silk pussy-bow blouse with contrasting trim, finished with a black blazer.
She then styled her look with diamond studs and a statement diamond ring and hid her eyes behind a set of Quay Australia sunglasses.
Creating a streamlined look, Paris slipped her big feet into a pair of classic black pumps with pointed toes and high stiletto heels.
"I wish I could tell you that what I experienced was unique or even rare – but sadly it's not," she said in a speech at the US Capitol.
"Every day in America, children in congregate care settings are being physically, emotionally, and sexually abused. Children are even dying at the hands of those responsible for their care," she added, referring to the 2020 death of Cornelius Fredericks, 16, who died at a residential facility in Michigan after he was restrained by staff.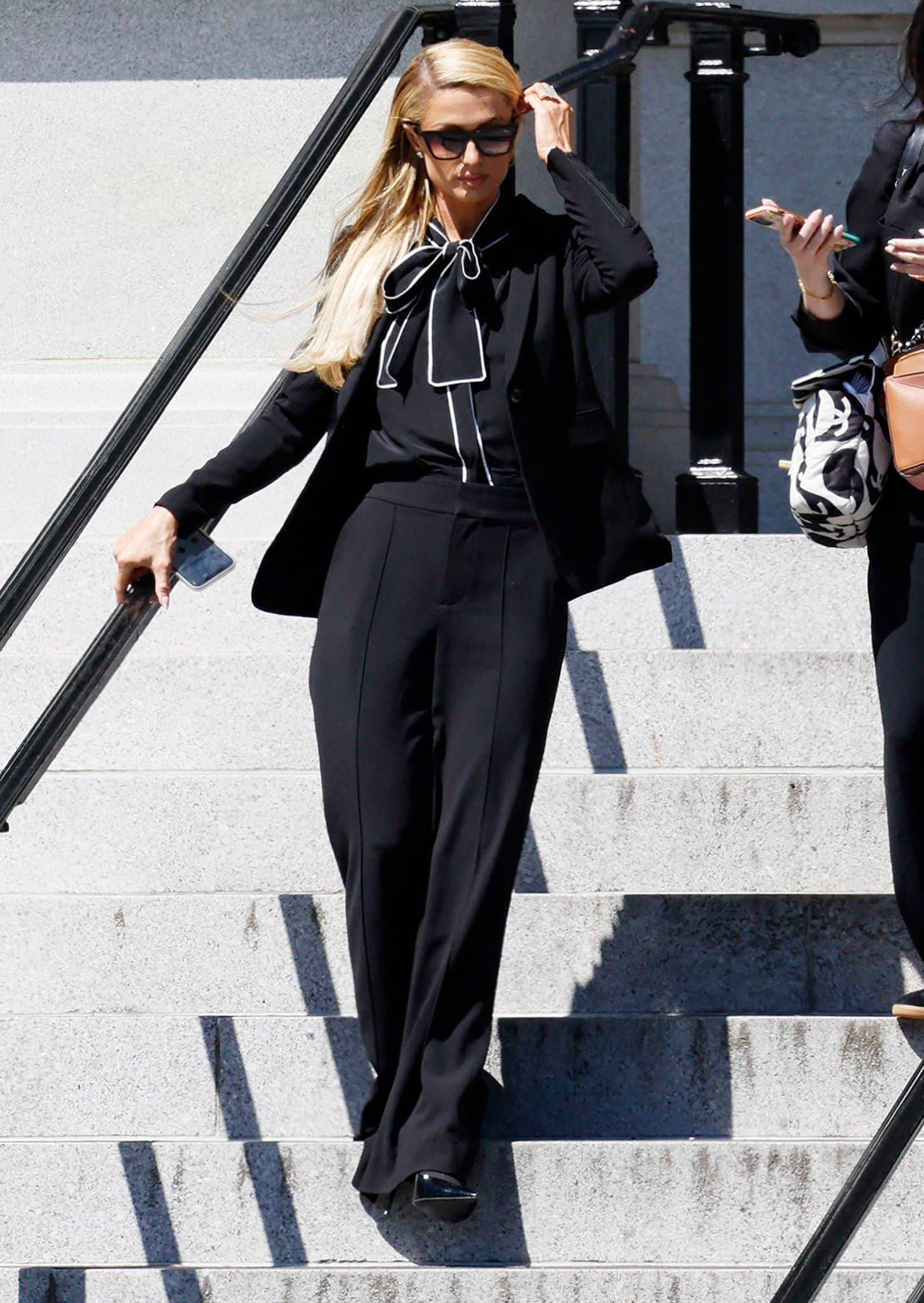 Paris Hilton means business in Alice + Olivia black pussy bow blouse and high-waist wide-leg pants (Credit: ABACA / INSTARimages)
Carter Reum's wife previously opened up about the physical and emotional abuse she experienced during her 11 months stay at the Provo Canyon School, a psychiatric youth residential treatment center for troubled teens, when she was 16.
In February 2021, Hilton testified at a Utah Senate committee hearing in support of a bill that would require the government to regulate treatment centers for troubled teens.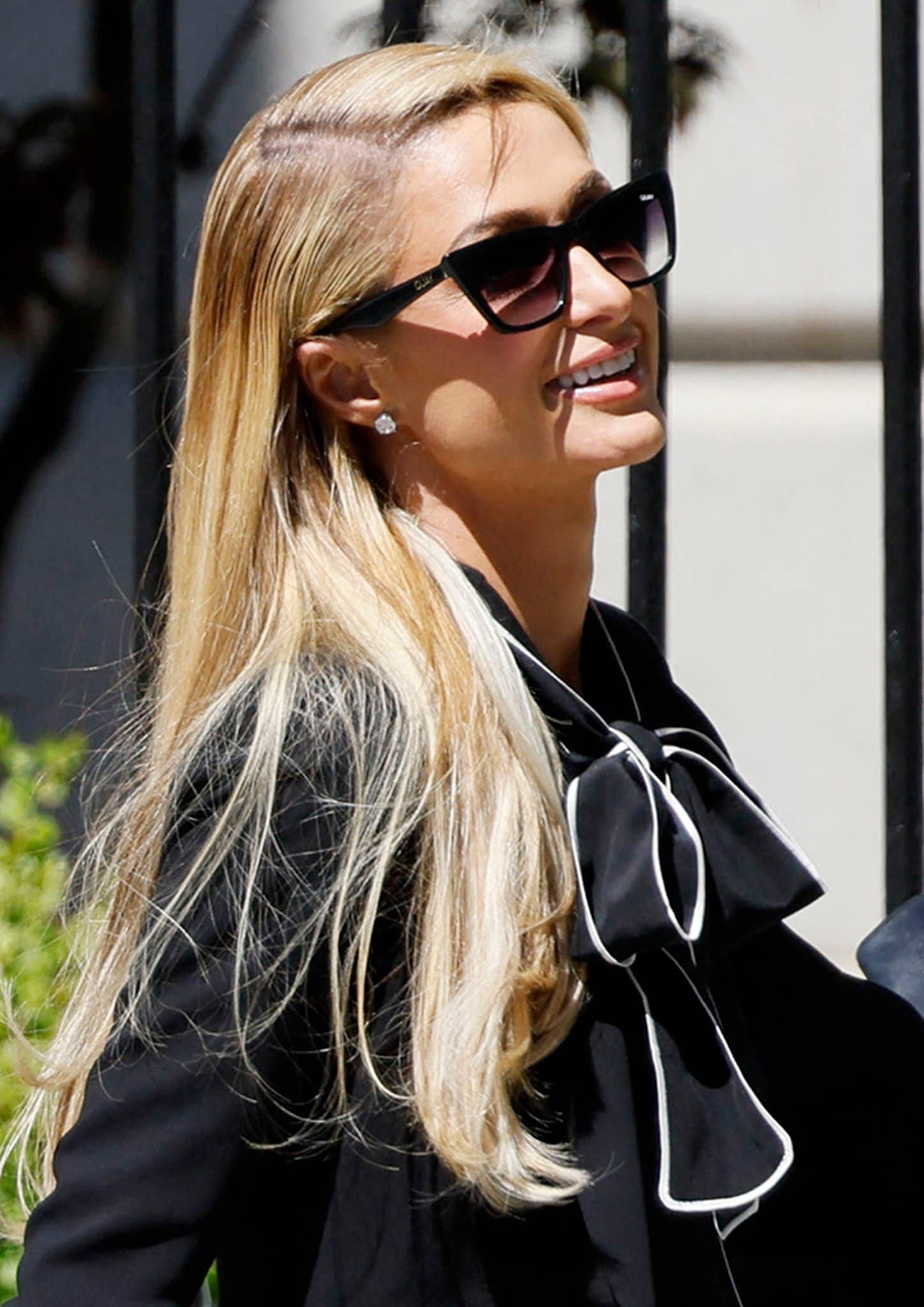 Paris Hilton styles her look with Quay Australia sunnies and diamond stud earrings (Credit: ABACA / INSTARimages)
Detailing her own experience at such facilities, the hotel heiress said she was "verbally, mentally, and physically abused on a daily basis" as a teen.
Paris claimed she was "forced to consume medication that made me feel numb and exhausted," adding that she "didn't breathe fresh air or see the sunlight for 11 months."
"One day in isolation felt like a week. That small room covered in scratch marks and smeared blood with no bathroom is one of the most vivid and traumatizing memories I've ever experienced in my entire life."
"There was zero privacy. Every time I would use the bathroom or take a shower, it was monitored. At 16 years old, as a child, I felt their piercing eyes staring at my naked body. I was just a kid and felt violated every single day," she recalled.
View this post on Instagram
Paris first addressed her traumatizing experience in her 2020 documentary This Is Paris.
Following the release of the docu, Provo Canyon School issued a statement via USA Today, saying that the school was "sold by its previous ownership in August 2020" and "therefore cannot comment on the operations or patient experience prior to that time."
"We do not condone or promote any form of abuse. Any and all alleged/suspected abuse is reported to our state regulatory authorities, law enforcement and Child Protective Services immediately as required. We are committed to providing high-quality care to youth with special, and often complex, emotional, behavioral and psychiatric needs."
View this post on Instagram
Before visiting the White House, Paris Hilton joined other stars at the 2022 Formula One Grand Prix at Miami International Autodrome.
Nicky Hilton's sister stepped into spring in a blue floral maxi dress from Alice + Olivia.
Available at Shopbop and Saks Fifth Avenue, the $595 "Rosalyn" dress features contrasting floral prints, a smocked bodice, a cleavage-baring plunging neckline, short puff sleeves, and a ruffled floor-length skirt.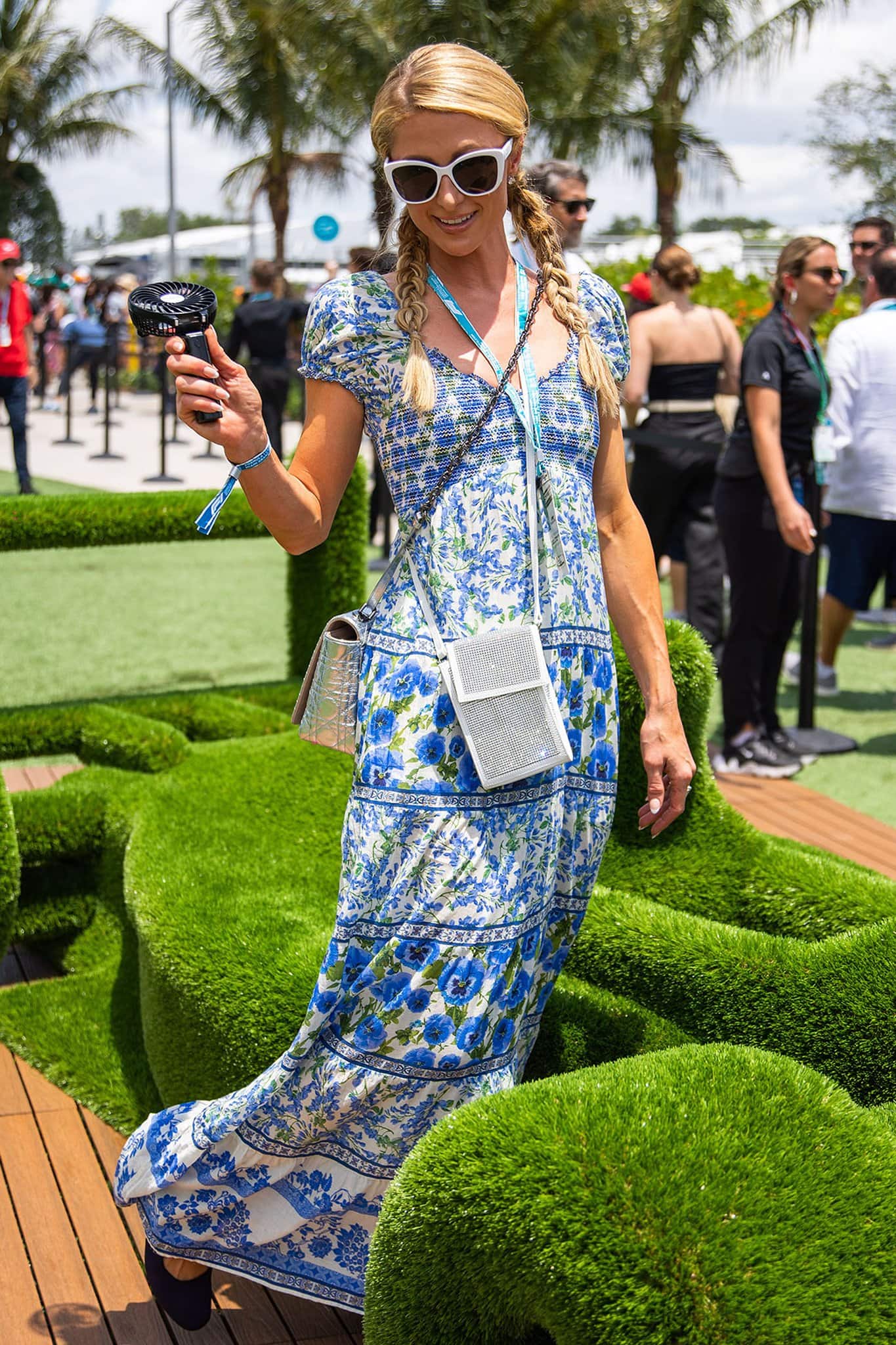 Paris Hilton's Alice + Olivia Rosalyn floral maxi dress is made of floral printed fabric with a shirred bodice and short puff-sleeves (Credit: Seth Browarnik / startraksphoto)
Paris styled her breezy outfit with a metallic silver Chanel bag and a crystal-embellished white phone case, both slung across her body.
She also sported a pair of oversized, white-framed sunglasses and tied her blonde locks in braided pigtails.
Paris Hilton styles her signature blonde hair in braided pigtails at the 2022 Formula One Grand Prix on May 8, 2022 (Credit: Seth Browarnik / startraksphoto)