Lizzo's Estimated Net Worth and Rise to Fame
Please subscribe to
our newsletter
to receive updates from Your Next Shoes. This post may contain affiliate links. Please see our
disclosure
for more details.
Lizzo is a hip-hop pop star that has made headlines consistently over the past few years thanks to her catchy songs and relatable lyrics.
Music artist Lizzo in a wedding gown at the 2017 MTV Video Music Awards at The Forum on August 27, 2017, in Inglewood, California (Credit: FayesVision / WENN)
She has won countless awards, and her music has been featured in countless movies and television shows, all while maintaining a strong public image and speaking out about body positivity and mental health.
But who is Lizzo? How did she rise to fame and just how high is her net worth in 2022?
Where Did the Name Lizzo Come From?
Though Lizzo is a catchy stage name, it comes as no surprise that Lizzo isn't actually her real name.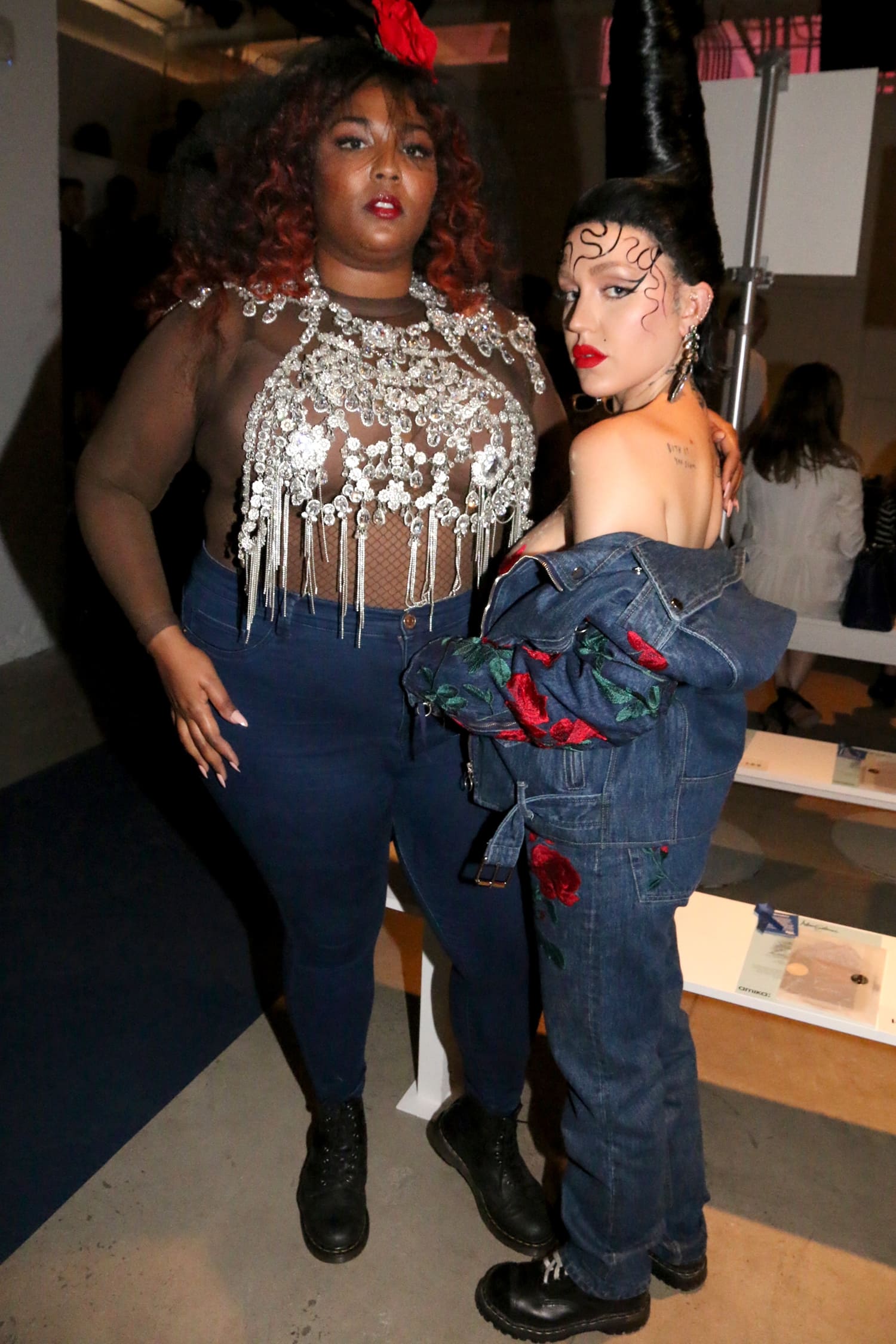 Singers Lizzo and Brooke Candy attend the Adam Selman fashion show during New York Fashion Week at Gallery 2, Skylight Clarkson Sq on September 7, 2017, in New York City (Credit: IZZY / WENN)
In fact, Lizzo's full government name is Melissa Viviane Jefferson. So how did she get Lizzo from Melissa?
When Lizzo was fourteen years old, she was in a rap group called the Cornrow Clique with two of her friends.
At the time, she wanted her stage name to be Lissa which would've just been a short version of her real name Melissa.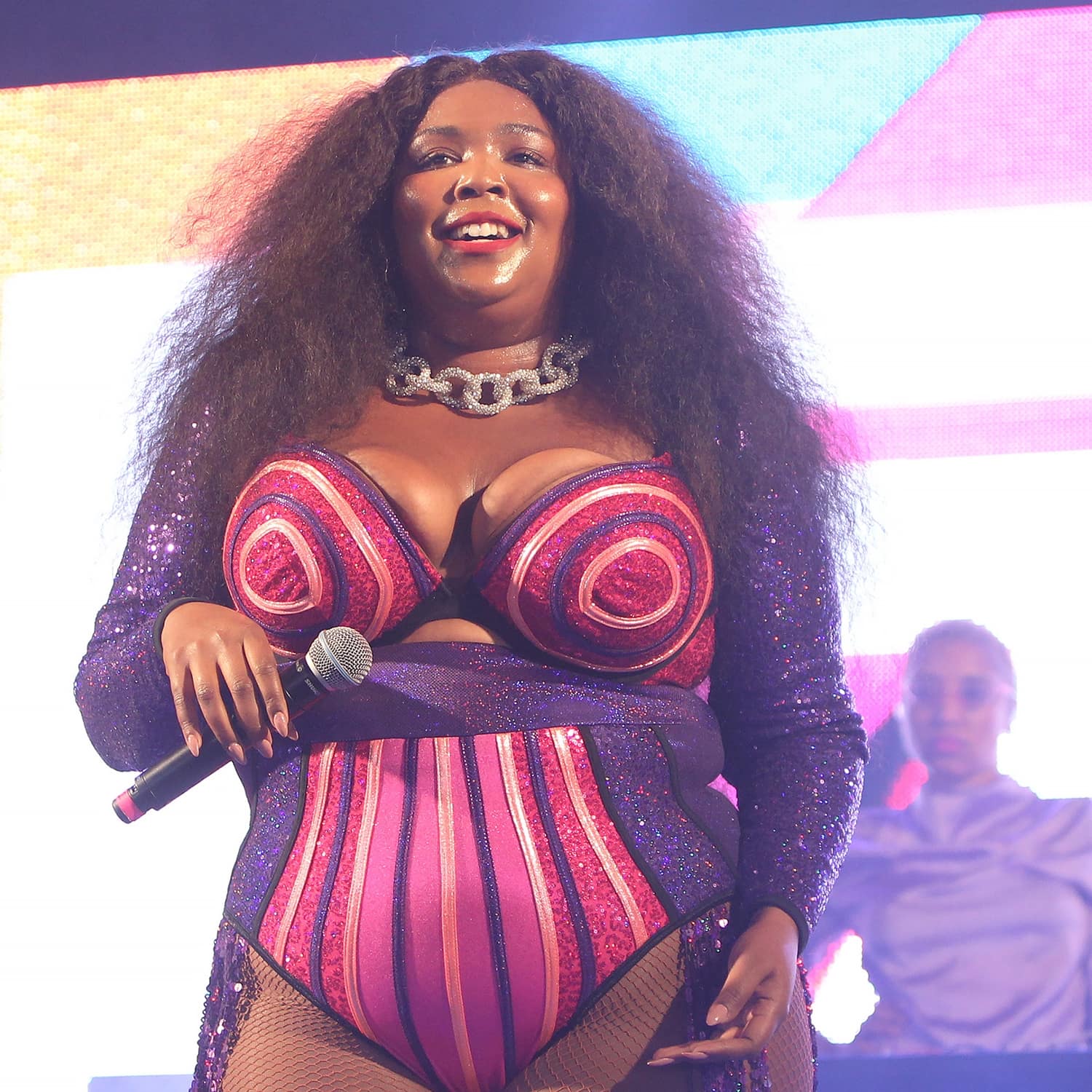 Jay-Z's song "Izzo" inspired Melissa Viviane Jefferson to change her name to Lizzo (Credit: WENN)
But around this same timeframe, Jay-Z's hit "Izzo" was extremely popular. From this, Lizzo was born.
Lizzo's Early Life and Career
Melissa Jefferson, or Lizzo, was born in Detroit, Michigan, on April 27, 1988.
She was born into an extremely religious family and credits a lot of her love of music to the gospel music that was frequently played around the house.
Lizzo is a classically trained flutist and didn't start rapping until she was in high school.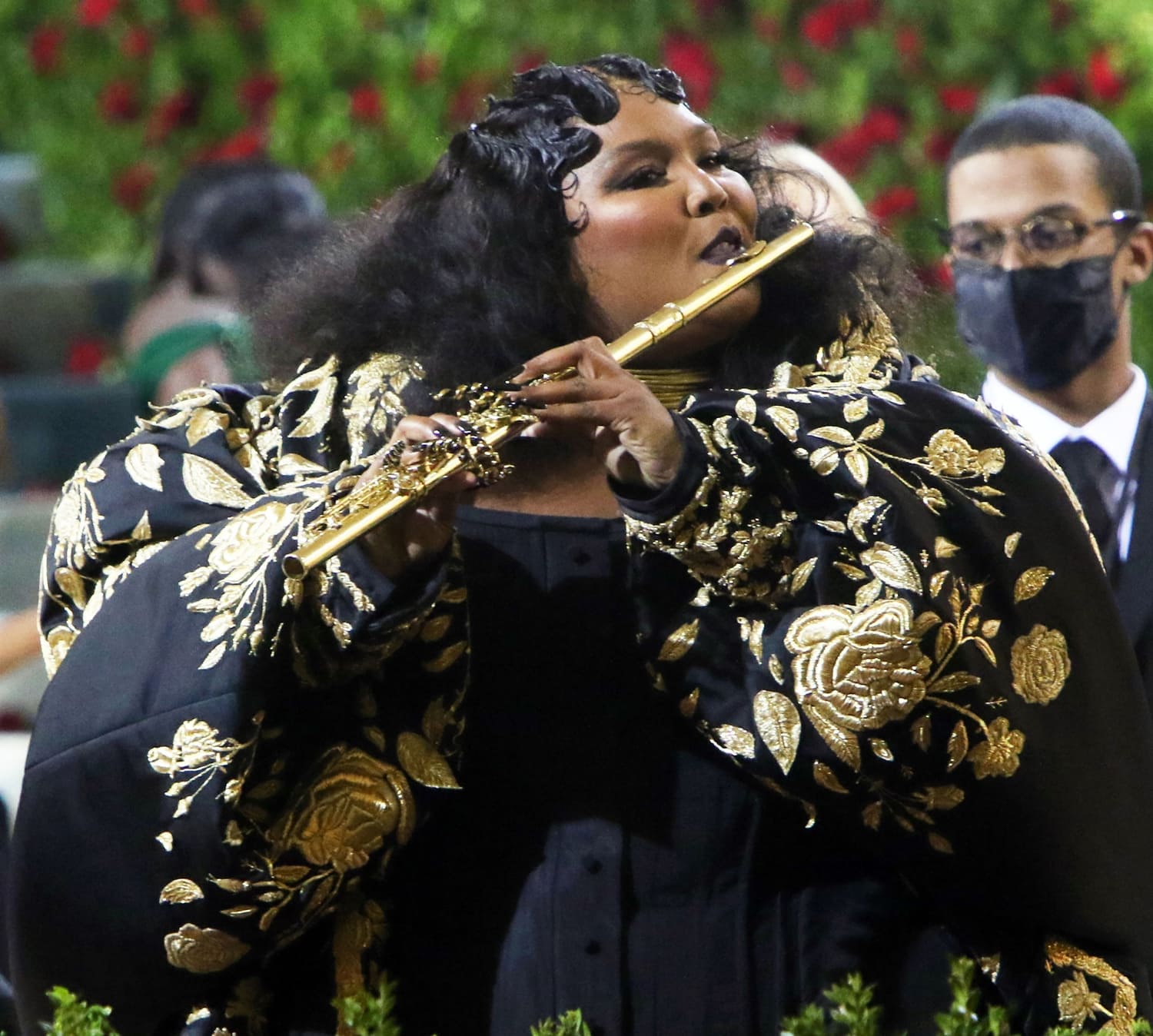 Lizzo is a classically trained flutist and started playing flute in intermediate school (Credit: Roger Wong / INSTARimages)
Her family moved to Houston Texas when she was ten and her love of music was apparent at an extremely young age.
She went to the University of Houston to continue pursuing classical music studies, but her father passed away when she was only 21 years old.
This tragedy was a turning point in the artist's life and prompted a year of living in her car while trying fearlessly to break into the music industry.
Lizzo's Lucky Break
Lizzo's single "Truth Hurts" was used in the 2019 movie Someone Great, and though the movie came out over two years after the song was released, it became practically an overnight hit!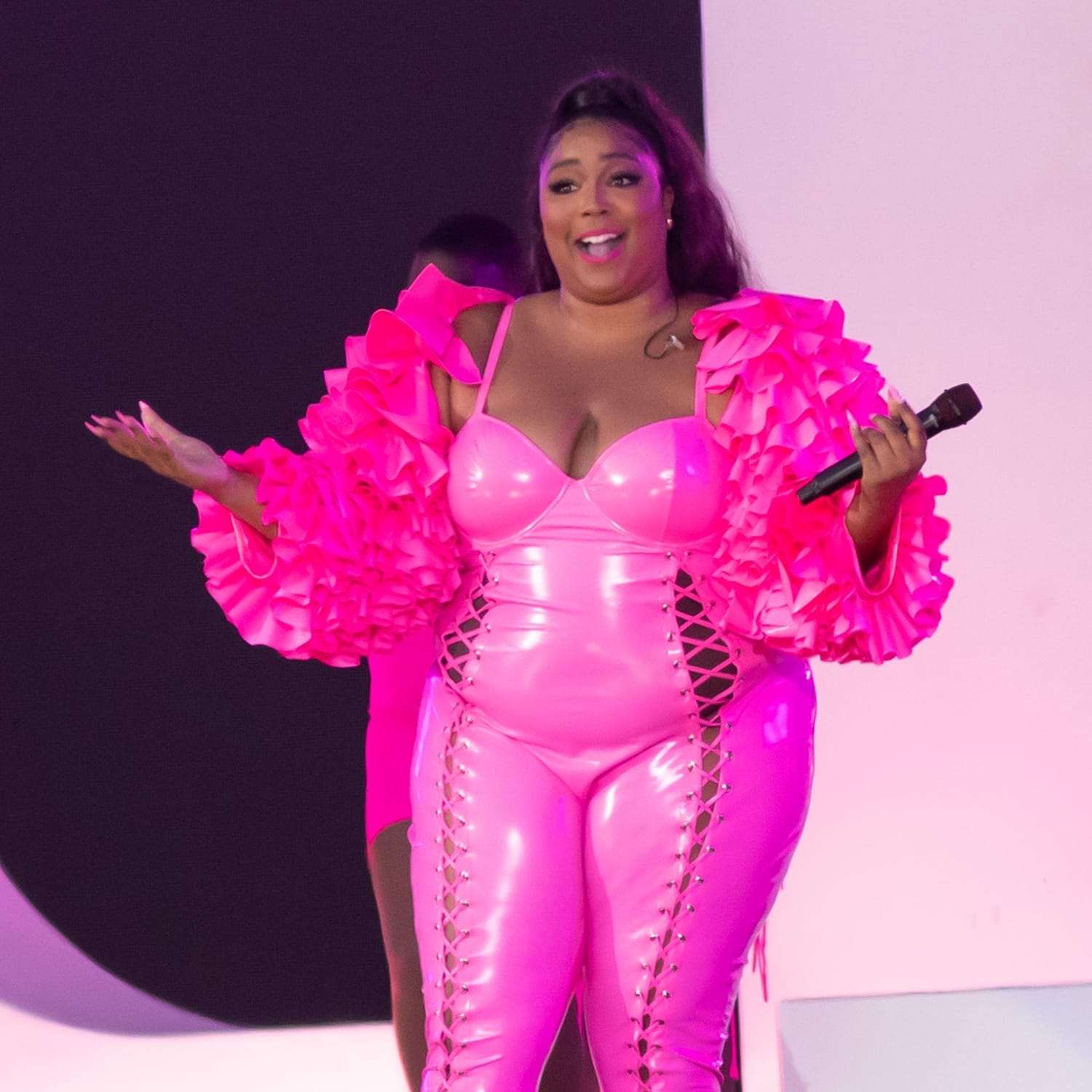 Lizzo performs in a hot pink catsuit with lace-up cutouts at 2021 Global Citizen Live: New York on September 25, 2021, in New York City (Credit: Janet Mayer / Startraksphoto)
Everyone was captivated by the fun and relatable vibe that Lizzo put out and this was truly the turning point for her career.
"Truth Hurts" went on to top the US Billboard Hot 100, which paved the way for her earlier released single "Good as Hell" to reach the top three on the Hot 100!
From here, Lizzo has gone on to be nominated for eight Grammys, winning three of them.
Lizzo, in a custom Mary Katrantzou geometric dress, posing with Anthony Anderson at the 51st NAACP Image Awards on February 22, 2020, in Pasadena, California (Credit: Sara De Boer / Startraksphoto)
She won the title of Time's "Entertainer of the Year" in 2019. She has also won two Soul Train Music Awards, a BET Award, and a Billboard Music Award.
Lizzo's Push for Inclusivity
Lizzo has inspired women all over the world to learn how to be comfortable in their own bodies.
She has been the recipient of a lot of online bullying due to body shamers which have caused her to take a hiatus from social media platforms a few times, as she has always been adamant about taking care of her mental health.
Lizzo wears a white Atelier Versace gown with Lorraine Schwartz jewelry and René Caovilla 'Cleo' sandals at the 62nd Annual GRAMMY Awards at Staples Center on January 26, 2020, in Los Angeles, California (Credit: Startraksphoto)
Despite this, Lizzo has remained a positive light for plus-size women and has paved the way for many in a world that has never been kind to women that don't fit a certain body standard.
Lizzo's Net Worth
Lizzo's current net worth is $12 million. Her biggest source of income is not surprisingly her music.
Lizzo Facts
| What is Lizzo's net worth? | She's a singer, songwriter, and rapper with an estimated net worth of $12 million. |
| --- | --- |
| Full Name: | Melissa Viviane Jefferson |
| Born: | April 27, 1988, in Detroit, the largest city in the midwestern state of Michigan. |
| Is Lizzo a vegan? | Yes, she became a vegan in the summer of 2020. |
| Did Lizzo ever work with Prince? | Yes, she collaborated with Prince for his thirty-sixth studio album Plectrumelectrum that was released on September 26, 2014. She appears on the song Boytrouble. |
| How tall is Lizzo? | She's 5′ 9″ (175 cm) tall. |
| Where did Lizzo go to high school? | She studied at Alief Elsik High School, a high school in the Alief region of Houston, Texas. |
| What ethnicity is Lizzo? | She is African-American. |
| What happened to Lizzo's dad? | Her father, Michael Jefferson, died of congestive heart failure in 2009 when Lizzo was 21 years old on a music scholarship at the University of Houston. |
What Will Lizzo Do Next?
Lizzo is an inspiration to many and is the creator of some of the catchiest songs of our generation.
She has made waves in the music industry over the last three years, who knows what she will accomplish next?
The 2023 Grammy Awards on February 5 at a multi-purpose indoor arena in Downtown Los Angeles was filled with breathtaking…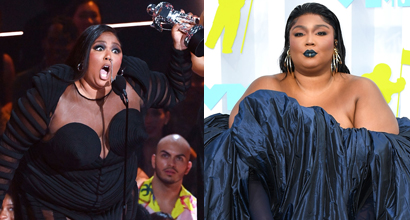 Since the beginning of her career, Lizzo has constantly been advocating for self-love and body positivity. "I think I have…
Before embarking on a North American tour in September, Lizzo delivered a show-stopping performance on the Today Show as part…
Popstar Lizzo stunned at the Met Gala, emphasizing the gilded in Gilded Glamor. Her black structured dress was covered by…
It's been a busy month for Lizzo! In addition to her new Amazon Prime reality competition series Watch Out for…
Hiking, heels, and shapewear are not 3 words we normally string together. But let's be honest, when it comes to…
Lizzo is finally back with her first new single in over two years! Following the release of her third studio…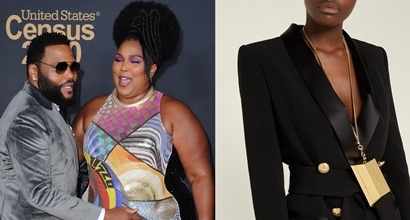 Lizzo showed off her 24kt gold-plated brass bag from Lynn Ban ($1,726 at Matches Fashion) in a striking geometric dress…
Leading the nominations at the 2020 Grammy Awards with eight nods, Lizzo kicked off the show with a tribute to…
She recently faced backlash for twerking in a revealing thong outfit at a Lakers game; but, Lizzo remained unfazed, and,…
Photographers were surprised to learn what Lizzo was carrying in the tiny Valentino purse, which, for all we know could…
Lizzo, whose real name is Melissa Viviane Jefferson, embraced her plus-size curves on the red carpet at the 2019 MTV…