Tilda Swinton's Sexy Feet and Flawless Legs in Hot High Heels
Check out the best outfits and shoes worn by Katherine Mathilda "Tilda" Swinton of Kimmerghame, an English actress born on November 5, 1960, in London, United Kingdom.
It's no secret that high heels and tight-fitting shoes can cause extreme discomfort and even lasting health issues. Foot bunions are…
A bevy of stylish beauties attended the Vogue Paris Foundation dinner during this year's Paris Haute Couture Fashion Week. A-list…
This year's Paris Haute Couture Fashion Week has surprised and delighted us all, thanks to shows from luxury labels such…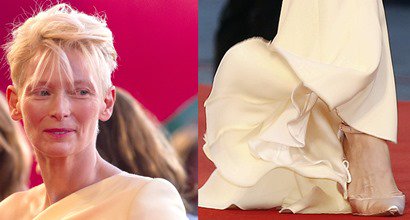 Tilda Swinton attended the premiere of her new film "A Bigger Splash" held during the 2015 Venice Film Festival at…
Nicky Hilton perked up the New York screening of Jim Jarmusch's vampiric romance film, 'Only Lovers Left Alive', which stars…
Tilda Swinton channeled her eerie doppelgänger, David Bowie, at the premiere of director Wes Anderson's latest film, The Grand Budapest Hotel,…
Runway shows are hip and happening in Paris at the moment (it's Paris Fashion Week for Spring/Summer 2014 Haute Couture!)….
Thank god it's finally September. After a largely ho-hum month of August fashion-wise, things are finally heating up! Let's start…