Out of the countless designer bags in the market, Chanel purses are still the most coveted pieces. This comes as no surprise to us because these drool-worthy arm candies definitely deserve all the spotlight.
With its luxe quilted leather, chain straps, and trademark interlocking "Cs," this high-profile bag can easily steal the hearts (and money) of many women.
Here are just some of the many celebrities who carry Chanel:
1. Kristin Cavallari's Chanel GST
Laguna Beach star Kristin Cavallari was on point with her all-black street style — sexy leather pants, a turtleneck sweater, and black pointed-toe pumps.
She carried a Chanel Grand Shopping Tote (GST), which is priced at around $2,900.
Kristin Cavallari carries a Chanel Grand Shopping Tote (GST) in Beverly Hills on November 20, 2013
2. Rachel Bilson's Chanel Boy Tote
We're always drawn to her off-duty style because she is not afraid to mix and match. We like her pairing of ankle boots with a midi skirt.
A self-confessed Chanel fangirl, Rachel Bilson tote one of the newest and most coveted totes from the brand — the Chanel Boy Tote, which retails at $3,500.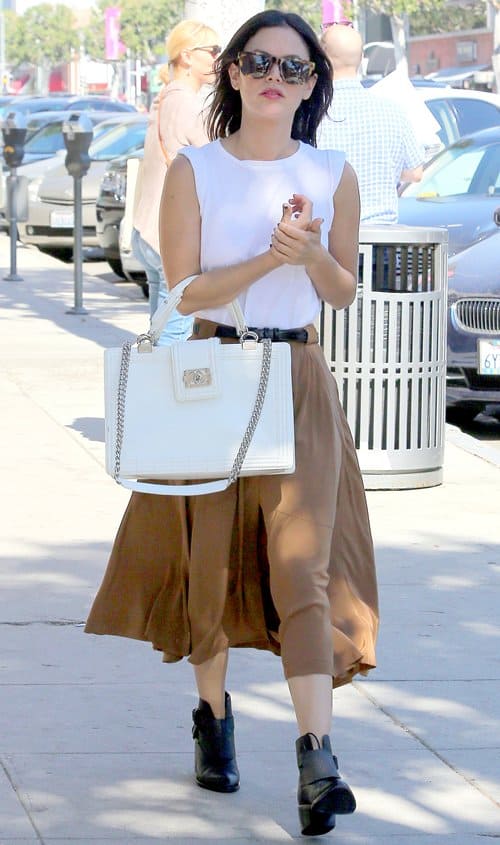 Rachel Bilson leaving Urth Cafe with a white Chanel bag in Beverly Hills on October 19, 2013
3. Ali Larter's Black Chanel Bag
Ali Larter headed out for some retail therapy in a pretty peach dress that she paired with her old but trusty Chanel tote. This purse is from the 2010 fall collection, and although it might be outdated, it still looks gorgeous.
The soft leather construction of this arm candy is also pretty unique since most Chanel bags have a boxy silhouette.
Ali Larter leaves Barneys New York with a black Chanel bag in Beverly Hills on October 25, 2013
4. Jessica Biel's Chanel Lego Clutch
If we had Jessica Biel's Chanel clutch, we would be smiling ear to ear, too! This jaw-droppingly gorgeous accessory is a special pearl-encrusted Chanel Lego clutch.
The plain versions of the coveted Lego clutch already go for around $10,000, so we can just imagine (in awe) how much this custom pearl rendition costs!
Jessica Biel shows off her Chanel Lego bag at The Museum of Modern Art Film Benefit: A Tribute to Tilda Swinton in Manhattan, New York City, on November 5, 2013
5. Courteney Cox's Chanel Executive Cerf Tote
Courteney Cox opted for a timeless-looking Chanel Executive Cerf Tote, which retails for $3,000. Without the signature quilting that we all know and love, this polished purse is simple yet luxurious.
Courteney Cox totes a black Chanel Executive Cerf Tote with silver-tone hardware leaving E Baldi restaurant in Beverly Hills on February 11, 2013
6. Goldie Hawn's Chanel Flap Bag
Goldie Hawn's classic flap bag is probably the most popular Chanel purse of all time. Priced at $4,200–$5,300 (depending on the size), this lovely purse has become a status symbol for rich women with great taste.
Goldie Hawn with a black Chanel bag at the Men's Final at the Tennis US Open in New York on September 9, 2013
So, which among these Chanel purses do you have or wish to have?
Credit: WENN / Michael Wright / Joel Ginsburg / Ivan Nikolov