Charlotte Emma Aitchison, known professionally as Charli XCX, is a 29-year-old English songwriter and singer. Her songs "Out Out," "Good Ones," "Break the Rules," "Boom Clap" and "New Shapes" are just a few of her well-known hits.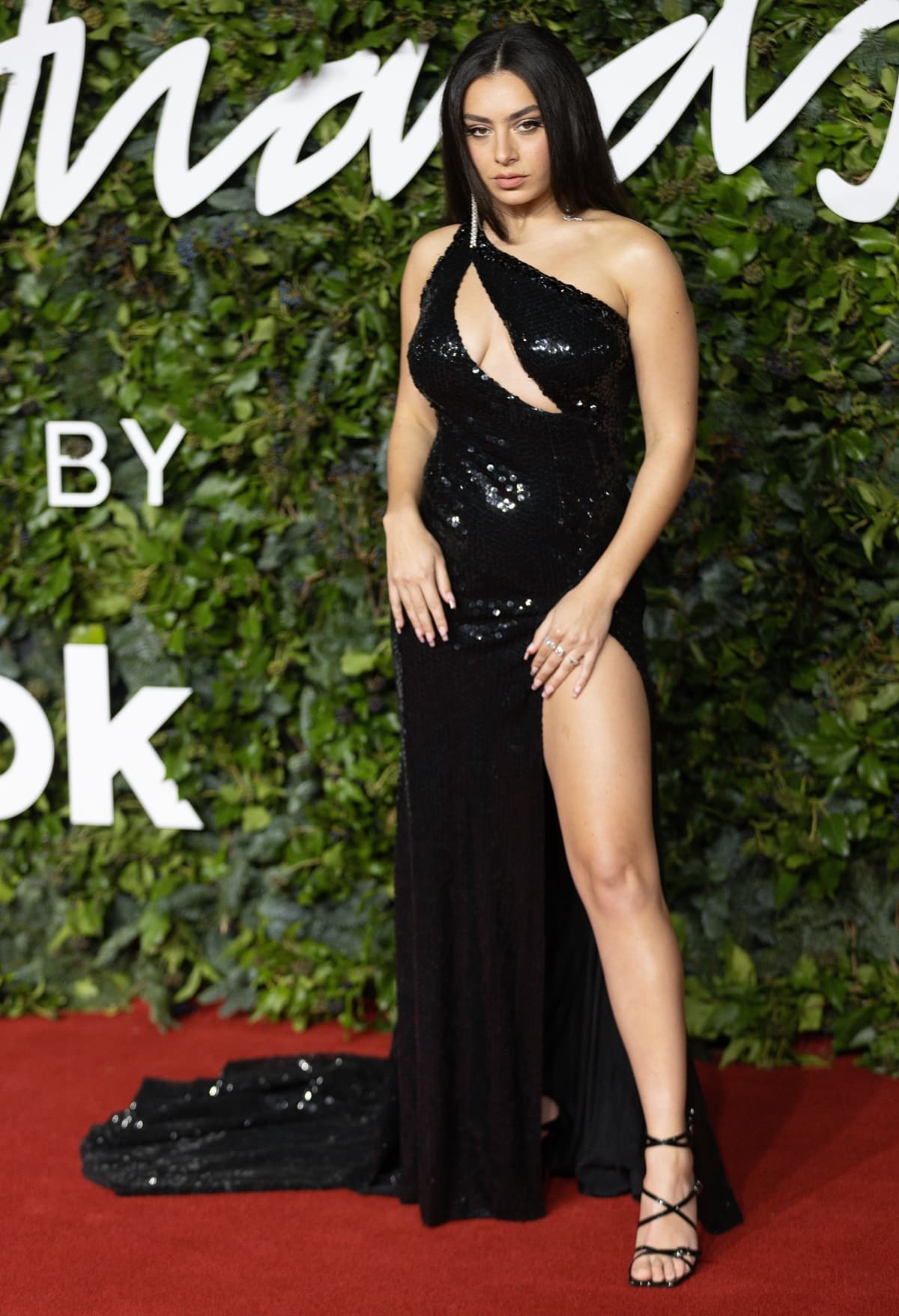 Charli XCX in a Tommy Hilfiger dress on the red carpet at The Fashion Awards 2021 on November 29, 2021, at Royal Albert Hall in London, England (Credit: Avalon / WENN)
Charli XCX wore a black sequin gown by Tommy Hilfiger to The Fashion Awards 2021 in London, England on November 29th, 2021. The dress featured a single strap on one shoulder with an angular bodice cutout, a thigh-high slit, and a short train.
Just days after suffering a major wardrobe malfunction, the musician paired the black dress with strappy sandals, long sparkling earrings, silver rings, and straight long hair.
We thought Charli XCX looked fantastic in her gown from the popular American fashion designer Tommy Hilfiger, and her simple makeup and hair brought the entire look together.
Charli XCX regrets writing the 2014 song "Break the Rules" (Credit: MEGA / WENN)
Number five on Cosmpolitan's list of the best songs of 2014, "Break the Rules" was released on August 19, 2014, as the second single from Charli XCX's second studio album, Sucker (2014).
"The song is inspired by a lot of the things I was listening to whilst in Sweden at the end of last year. I spent about a month making a punk record and covering songs by Swedish punk bands like Portrait of a Death Rapper and stuff. This song was written when I came out of the other side of that punk phase and translated it into something more pop. Obviously, it's about not giving a fuck," she told Buzzfeed at the time of its release.
Charli XCX styled her dress with long sparkling earrings (Credit: MEGA / WENN)
3 years later, she told Q magazine that she actually hates the song. "I made some rash decisions with Sucker, like the song 'Break The Rules,'" she revealed and added that she "fucked herself" by making it the second single for her album Sucker.
"That was so bad. I hate it. I wrote it at a writing camp for other artists with Benny Blanco and Stargate, and I was like, 'Whoever sings this song is an idiot.'"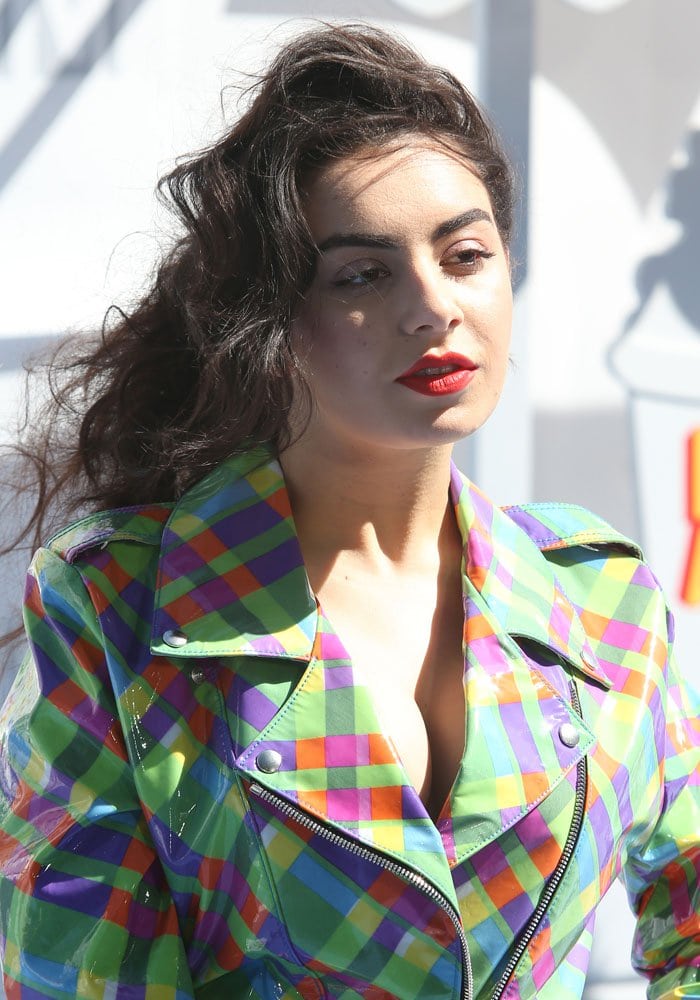 Charli XCX in a colorful patent trench coat by the crazy Jeremy Scott (Credit: WENN)
In April 2015, Charli XCX brought the house down with her Lady Gaga-esque props and energy when she performed her song "Famous" at the 2015 MTV Movie Awards.
However, her performance on the red carpet was not quite as stellar. Charli XCX landed herself on numerous worst-dressed lists, and that includes ours.
Charli XCX paired her cream lace-up Vivienne Westwood platform boots with a plaid raincoat (Credit: Brian To / WENN)
The then 22-year-old singer showed up at the Nokia theater in a fun patent trench coat by the crazy Jeremy Scott, which she probably would have been able to pull off quite easily if it weren't for her horrendous choice of footwear.
Charli XCX wearing sky-high stripper booties (Credit: SIPA / WENN)
We love the iconic British fashion designer but the last thing one would do is to pair a suggestive trench dress with sky-high stripper booties.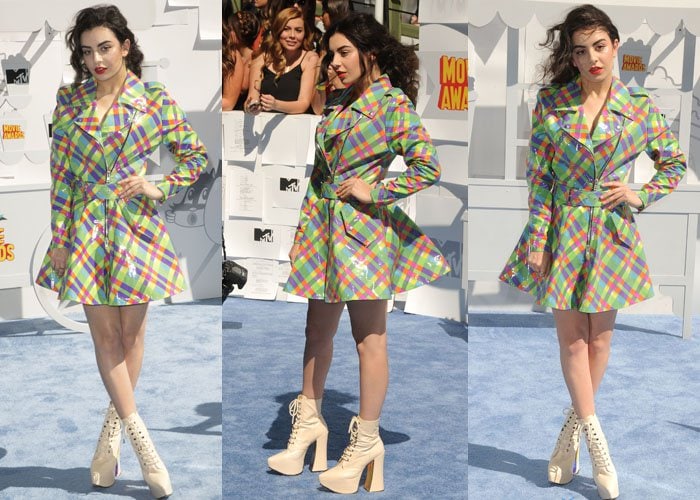 Charli XCX flaunts her legs in a rainbow-hued design Jeremy Scott Fall 2015 plastic raincoat (Credit: Brian To / WENN)
Also, neons and nudes? They're definitely not our favorite combination.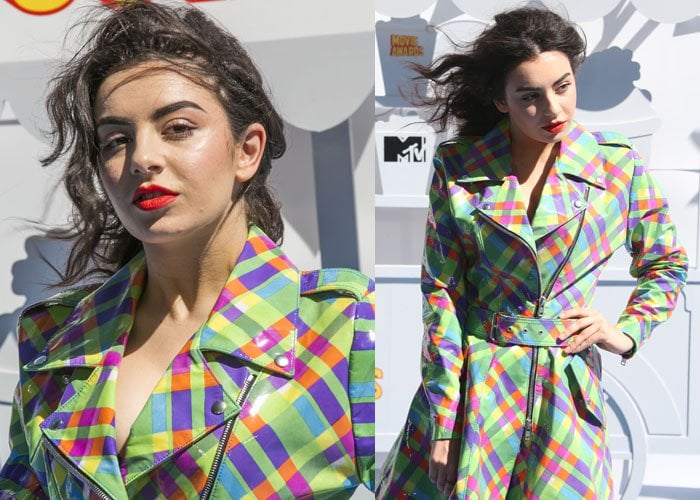 Charli XCX with black wavy hair and red lips (Credit: WENN)
Do you like how she styled her plaid raincoat with Vivienne Westwood stripper booties?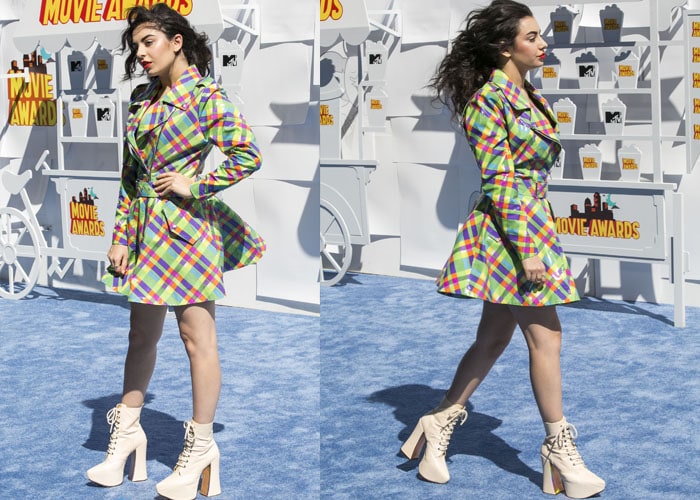 Charli XCX at the 2015 MTV Movie Awards at Nokia Theatre, Los Angeles on April 12, 2015 (Credit: WENN / Brian To)
If you're a fan of chunky footwear, you can check out the black and red versions of this unique Vivienne Westwood creation. A friendly warning, however: wear them at your own risk. Don't say we didn't warn you.
Vivienne Westwood Gold Label Boots, $1,200