Nobody has mastered gothic glamour quite like Rooney Mara. On Wednesday, the 36-year-old actress stuck to her signature gothic look at the world premiere of her upcoming neo-noir psychological thriller film Nightmare Alley.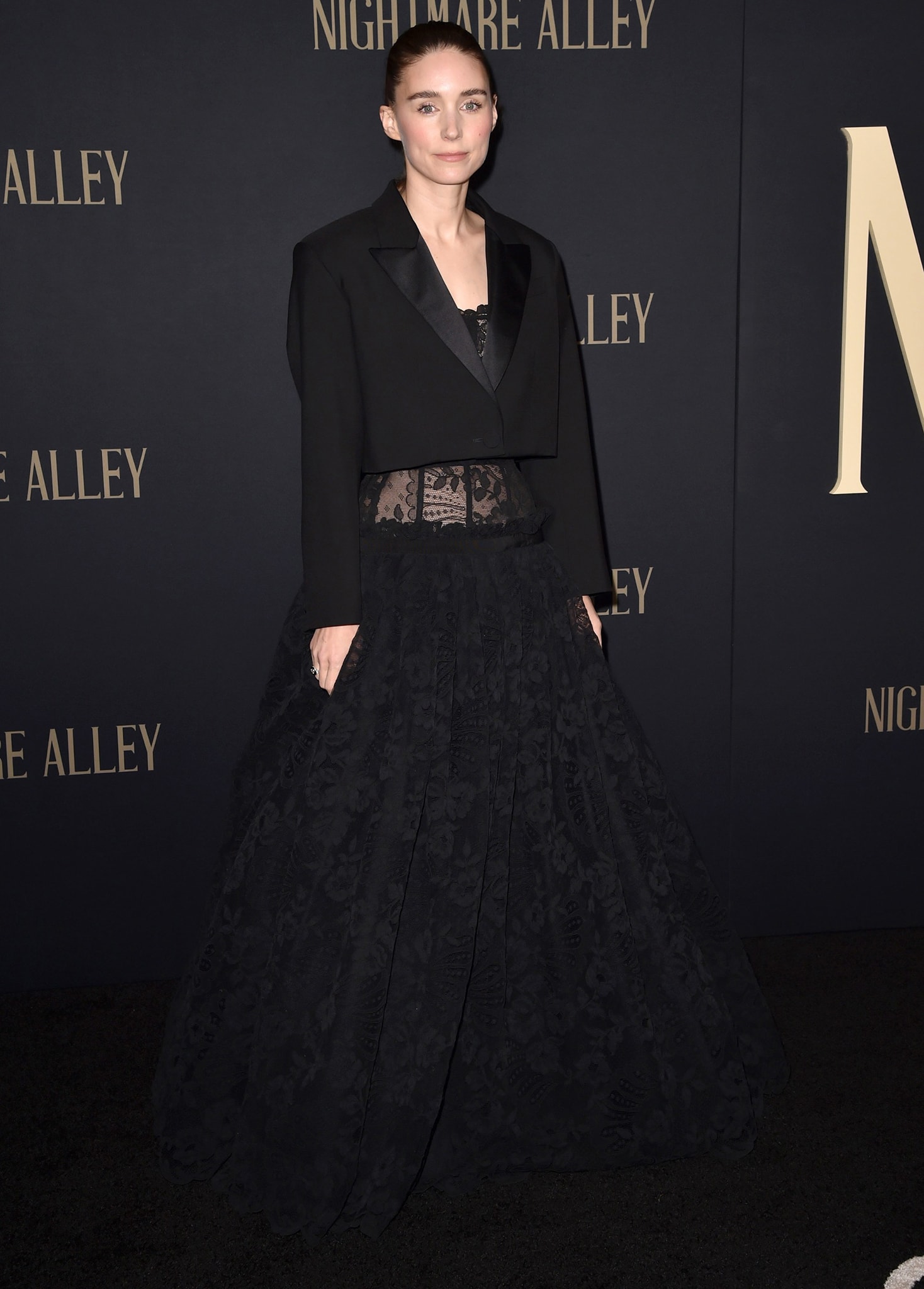 Rooney Mara in a custom Alexander McQueen black lace gown at the Nightmare Alley world premiere held at Alice Tully Hall in New York City on December 1, 2021 (Credit: Avalon / WENN)
Looking radiant in an all-black ensemble, the Tanner Hall actress wore a bespoke Alexander McQueen floral lace gown, featuring a sheer bustier bodice that flows into a full skirt.
Adding modern flair to the look was her Alexander McQueen cropped tailored jacket, which you can get for $2,282 at Farfetch.
Photographer Greg Williams captured Rooney without the single-breasted blazer backstage, showing the actress' gown in its full glory.
View this post on Instagram
The Social Network star skipped wearing any jewelry, except for the hexagonal portrait diamond engagement ring from her fiancé Joaquin Phoenix.
Highlighting her natural beauty, Rooney pulled her tresses back into a neat bun and wore minimal makeup with pink blush, coral lipstick, and mascara.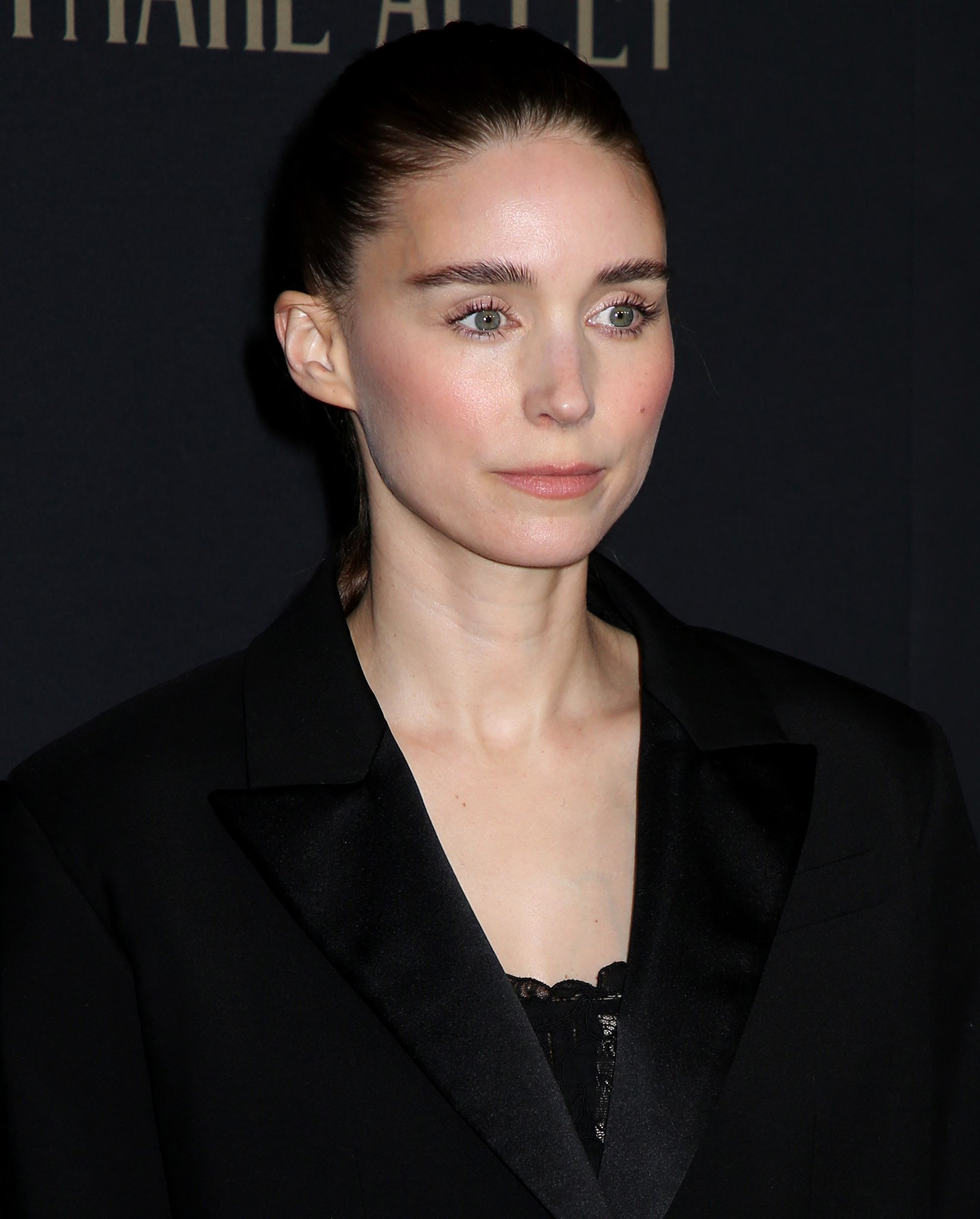 Rooney Mara wears a neat bun with brushed-up brows, coral pink lipstick, blush, and mascara (Credit: Mega / WENN)
Later, the actress was seen posing alongside her co-star Bradley Cooper, who was dapper in a fitted black suit with a white dress shirt and a black tie.
Rooney Mara and Bradley Cooper pose together at the premiere of their movie Nightmare Alley (Credit: Mega / WENN)
Based on the 1946 novel of the same name, Nightmare Alley follows Stan Carlisle (played by Bradley Cooper), an ambitious carny with a talent for manipulating people, as he teams up with a devious psychiatrist Dr. Lilith Ritter (Cate Blanchett) to swindle the rich.
Rooney stars as Molly, a young carnival worker who becomes Stan's girlfriend in the movie.
Helmed by Academy Award-winning director Guillermo del Toro, the neo-noir psychological thriller will be theatrically released on December 17.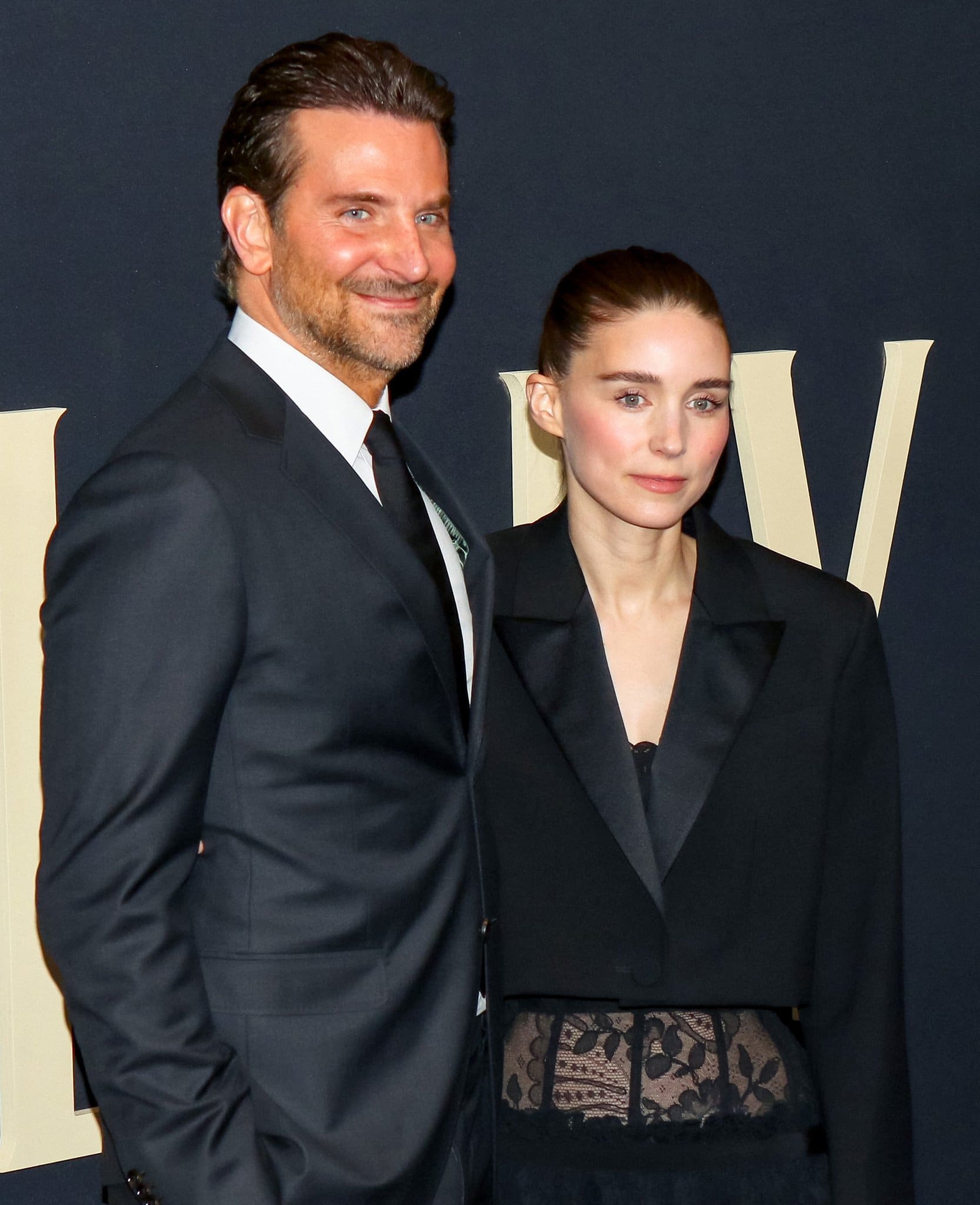 Bradley Cooper looks dashing in a black suit with a white dress shirt and a slim black tie (Credit: Mega / WENN)
Last week, Rooney Mara made a solo appearance at the 2021 Gotham Awards held at Cipriani Wall Street.
She opted for her usual red-carpet style, channeling her inner goth in a Givenchy Haute Couture black gown. It was actually a recycled look as she wore the exact same dress to the Pan world premiere in 2015.
Rooney Mara at the 2021 Gotham Awards at Cipriani Wall Street in New York City on November 29, 2021 (Credit: Mega / WENN)
The stunning black dress is made of black tulle and features tiered ruffles from the bodice down to the ankle-length skirt. It also has frilly sleeves and is embroidered with black crystal beads, creating a sparkling look.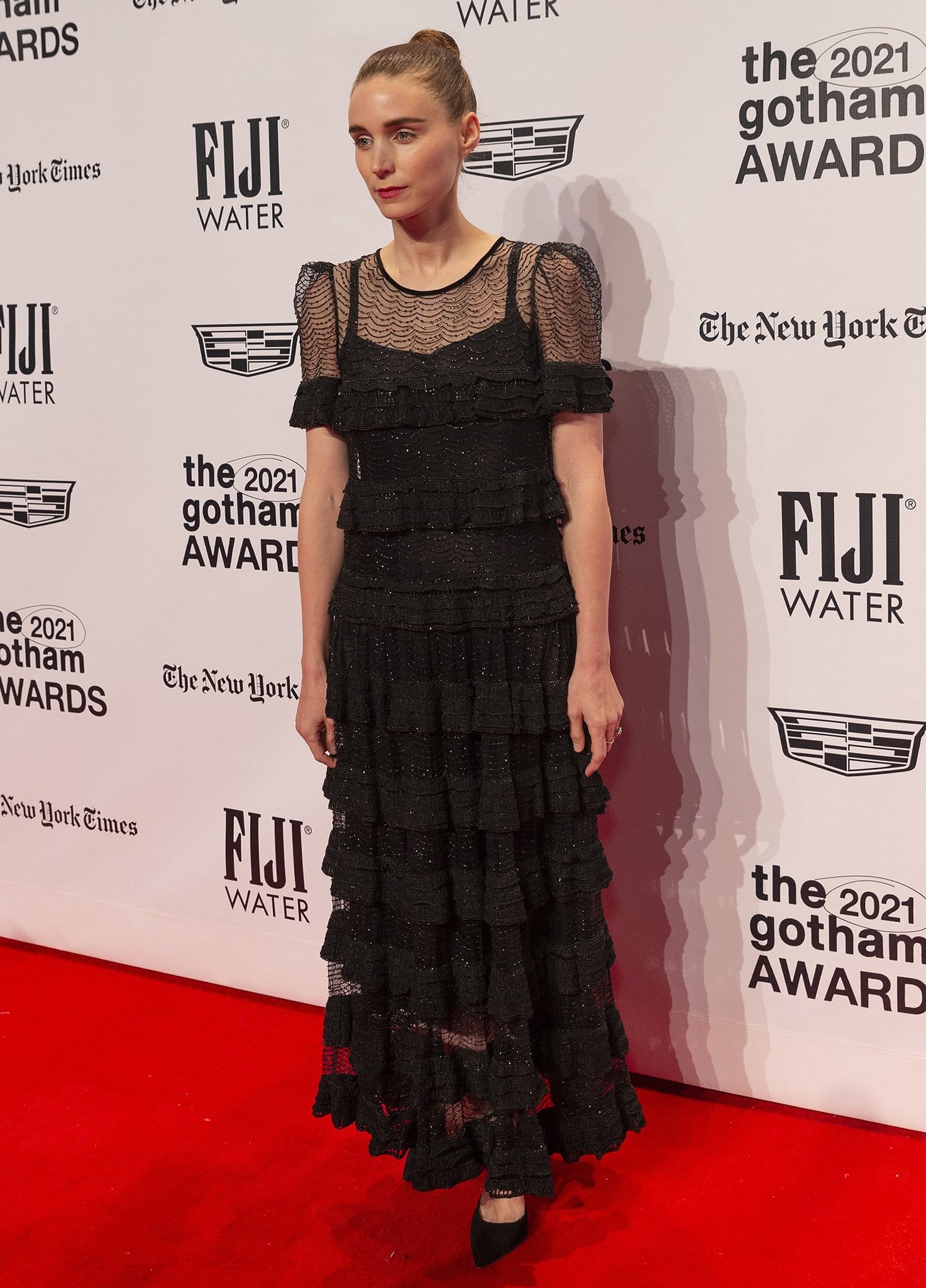 Rooney Mara wears a recycled Givenchy Haute Couture black lace gown (Credit: Mega / WENN)
Not a fan of elaborate accessories, Rooney styled her outfit with just a couple of rings and a pair of black pointed-toe pumps.
She then pulled her tresses back into a tight bun and completed her look with a swipe of red lipstick.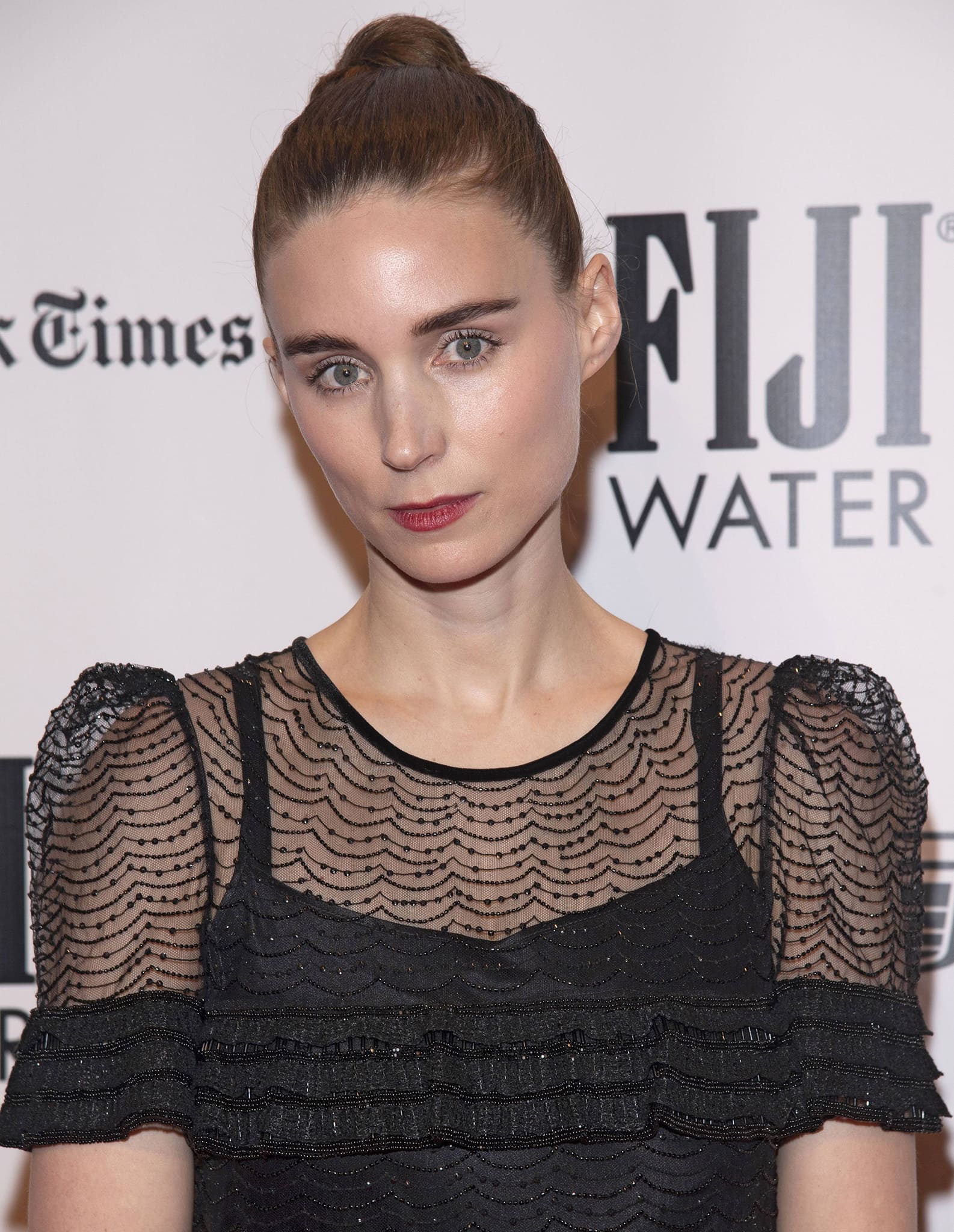 Rooney Mara wears a tight bun and highlights her features with mascara, blush, and red lipstick (Credit: Mega / WENN)