Rooney Mara gained recognition for a supporting role as Mark Zuckerberg's girlfriend Erica Albright in David Fincher's biographical drama The Social Network that premiered on September 24, 2010. Jesse Eisenberg starred as Facebook founder Mark Zuckerberg.
Confirmed for the cast in October 2009, Rooney Mara was 24-years-old when principal photography began the same month in Cambridge, Massachusetts. Born on April 17, 1985, in Bedford, NY, she turned 25 on April 17, 2010.
Erica Albright is just a fictional character. It is not the name of a person that Mark Zuckerberg dated in real life.
Rooney Mara was 24-years-old when filming The Social Network as Erica Albright
Born on October 5, 1983, in Queens, New York, Jesse Adam Eisenberg turned 26 on October 5, 2009, just around the time filming started in Massachusetts.
"The whole framing of the movie is I'm with this girl (who doesn't exist in real life) … who dumps me … which has happened in real life, a lot," Mark Zuckerberg said in October 2010 to laughter from the audience at Stanford University in California.
"And basically the framing is that the whole reason for making Facebook is because I wanted to get girls, or wanted to get into clubs," he added about the breakup scene in the film starring Rooney Mara and Jesse Eisenberg.
"They [the film's creators] just can't wrap their head around the idea that someone might build something because they like building things. It's interesting the stuff that they focused on getting right – like every single shirt and fleece they had in that movie is actually a shirt or fleece that I own," he said.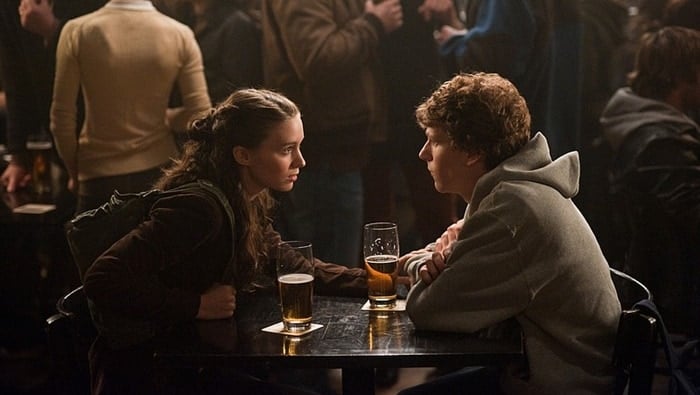 Rooney Mara was 24 and Jesse Eisenberg 26 while filming The Social Network
His co-star Justin Timberlake (Sean Parker) was 28, Andrew Garfield (Eduardo Saverin) was 26, and screenwriter Aaron Sorkin was 48 when the movie was filmed.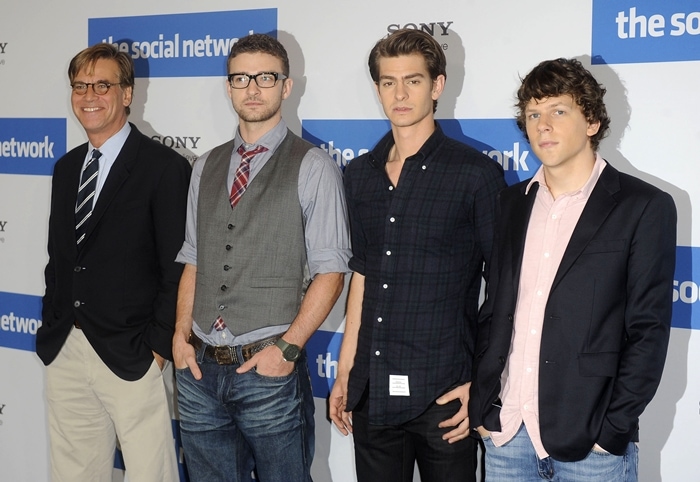 American screenwriter Aaron Sorkin, Justin Timberlake, Andrew Garfield, and Jesse Eisenberg attend a photocall to promote the film 'The Social Network' at Hotel Adlon on October 5, 2010, in Berlin, Germany
It's a little known fact that Rooney Mara's great grandfather, Tim Mara, is the founder of the New York Giants. Rooney is so lowkey she doesn't have a single social media account — anywhere.
Rooney Mara side parts her hair at the BAFTA Los Angeles Awards Season Tea held January 9, 2016, at Four Seasons, Los Angeles
So, when a girl who doesn't even need to work for a living hops between two events in the same outfit, it causes a bit of a stir.
Rooney Mara wears a black-and-white dress from Proenza Schouler on the red carpet
In January 2016, Rooney was photographed at the 2016 Film Independent Filmmaker Grant and Spirit Award Nominees Brunch, and later on at the BAFTA Los Angeles Awards Season Tea.
Rooney Mara's feet in black suede Nicholas Kirkwood wedges
The Girl With The Dragon Tattoo actress powered through her day in a custom-made Proenza Schouler off-shoulder bow dress, which she paired with her Nicholas Kirkwood "Lizy" wedges (which also she wore on the red carpet some months before).
OK, so you don't exactly qualify as a recessionista when you can afford a custom-made Proenza Schouler, but in extravagant Hollywood, this counts for little.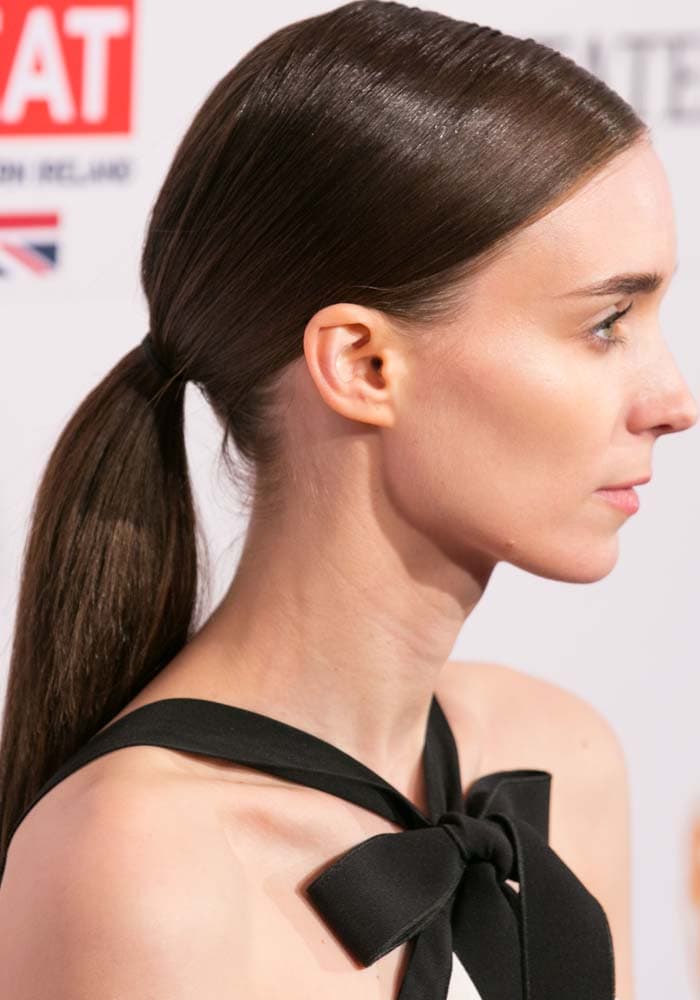 Rooney Mara wears her hair back in a simple ponytail
While we're on the topic of recessionistas, the Nicholas Kirkwood "Lizy" wedges are crazy discounted right now at Farfetch and Net-A-Porter.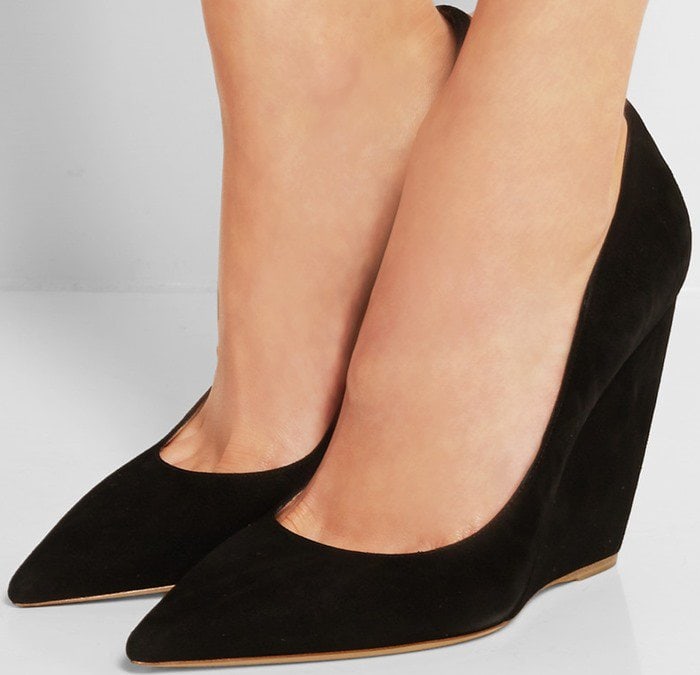 This sophisticated black pair is cut low at the front to elongate your legs and has a cushioned insole for long-lasting comfort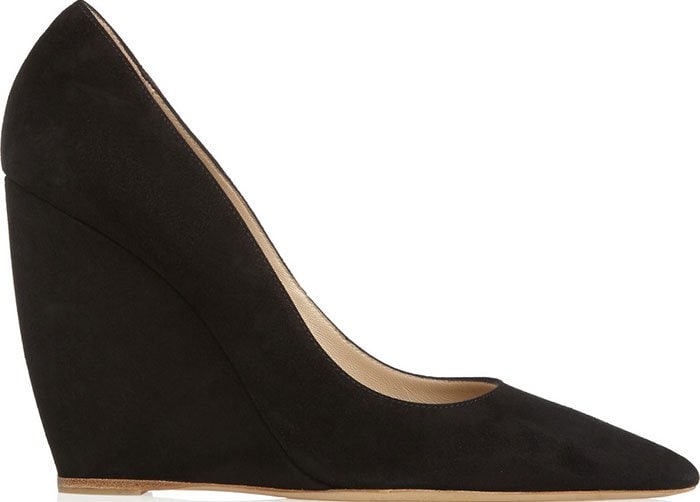 Nicholas Kirkwood "Lizy" Suede Wedge Pump in Black Suede, $745
Nicholas Kirkwood's burgundy patent-leather 'Lizy' pumps have been faultlessly handcrafted in Italy with a stable wedge heel
Nicholas Kirkwood "Lizy" Patent Wedge Pump, $745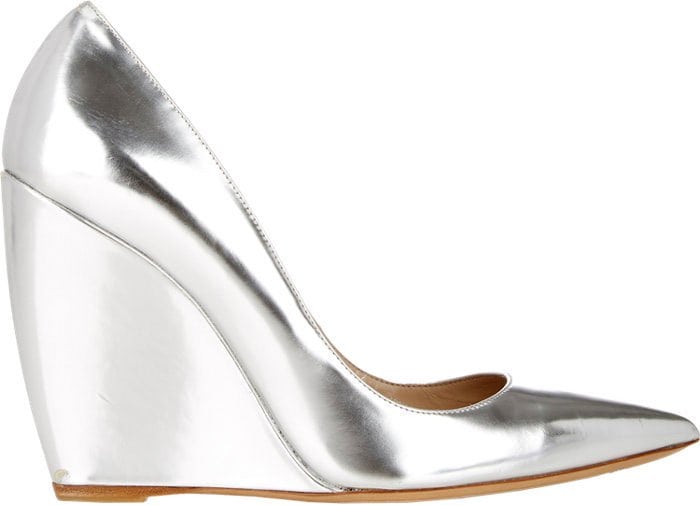 Nicholas Kirkwood "Lizy" Suede Wedge Pump in Silver, $890.57
Credit: Brian To / WENN