Whenever we feature expensive designer shoes, we usually get comments like, "at that price, those shoes better make me breakfast," "those shoes better have a phone built into them," or "those shoes better clean my house."
Well, believe it or not, the following shoes do just that, and most of them aren't ridiculously priced either.
If you're the type of shopper who loves getting more bang for your buck, you'll love that these shoes also double as something useful. If you know more shoe hacks that we should know about, please leave a comment below!
1. Bottle Opener Heel, $7.74 at Amazon
Men had this first in the form of a sandal with a bottle opener on the sole, but this stiletto heel is not only sexier but also much more hygienic, don't you think?
Ellie Shoes "672-Juliet" Platform Sandals with Bottle Opener Heels, $108.90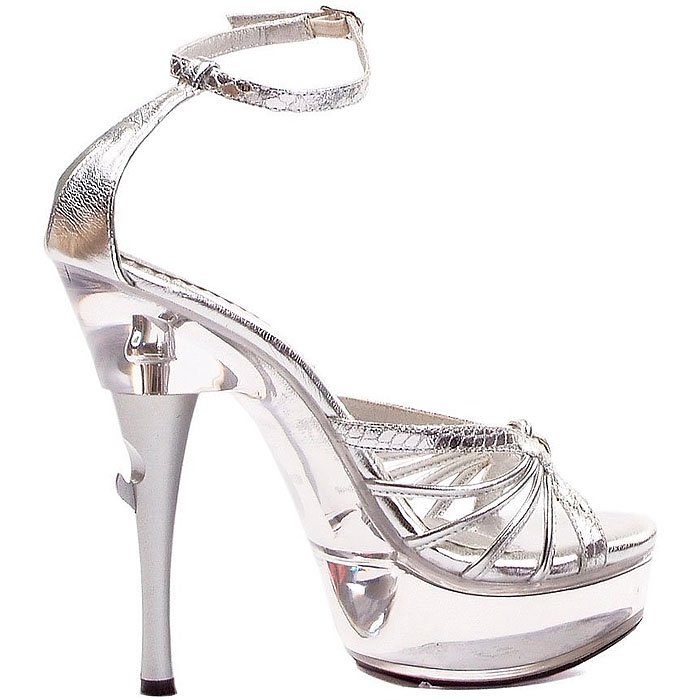 Ellie Shoes "672-Rhonda" Platform Sandals with Bottle Opener Heels, $86.41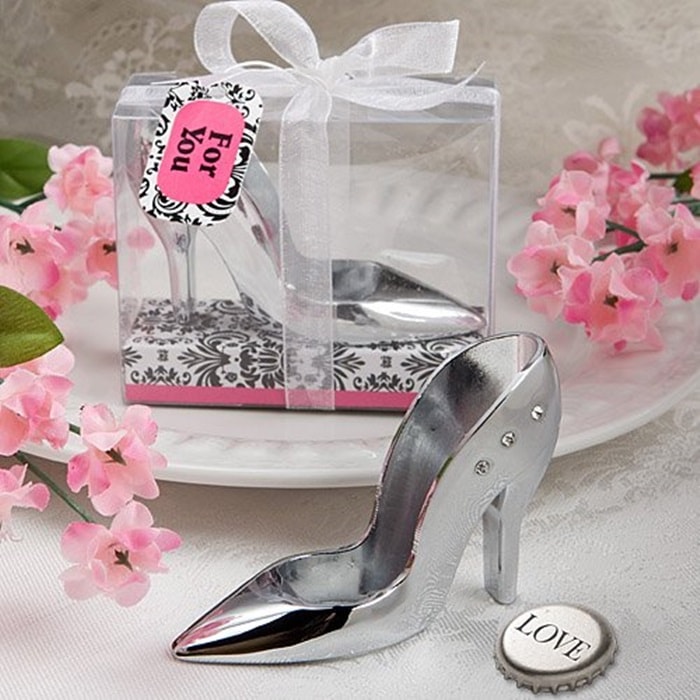 High Heel Shoe Design Bottle Openers, $5.95
2. Sandals With Built-In Flask
Reef's "Dram" sandals (available at Amazon) have an encapsulated canteen with a screw cap in the heel that can hold up to 3 ounces of liquid. These are best for beach parties but the worst for airports.
Reef "Dram" Sandals and Reef "Fanning" Sandals, $16.99 – $109.13
3. Drinking Glass
Watch Rihanna demonstrate how to sexily drink out of a red-bottomed stiletto pump.
4. Shoes With Secret Compartment
Say bye-bye to clutches: Double Agent Shoes by Bellona Fashions make use of all that space inside wedge heels by turning it into a secret compartment where you can stash your cash, cards, keys, or a small bottle of alcohol.
Double Agent Shoes by Bellona Fashions "The Elegant One" Wedges, $275
5. Aquarium or Fish Tank Shoes
Urban myth has it that real, live fish were put in the clear platforms and heels of disco shoes back in the '70s. Animal activists supposedly put a stop to the cruel trend.
True or not, the legend persists in the form of these clear platform sandals with now, thankfully, fake fish. How do you feel about fish shoes?
Ellie Shoes "601-Goldie" Goldfish Platform Sandals, $60.54
6. Tip Jar Heels
Taylor Momsen first introduced us to these stripper heels with built-in tip slots.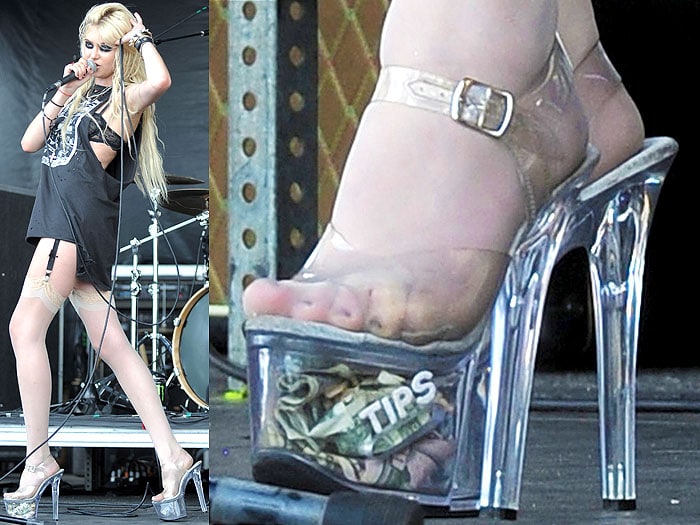 Taylor Momsen performing with her band, Pretty Reckless, in Pleaser "Tip Jar" heels during the Vans Warped Tour at the Cruzan Amphitheatre in Palm Beach, Florida, on July 24, 2010
7. Weapon Shoes
Chanel's gun heels and the news reported by ABC News that a professor was stabbed to death with a stiletto heel give a whole new meaning to the term "killer heels."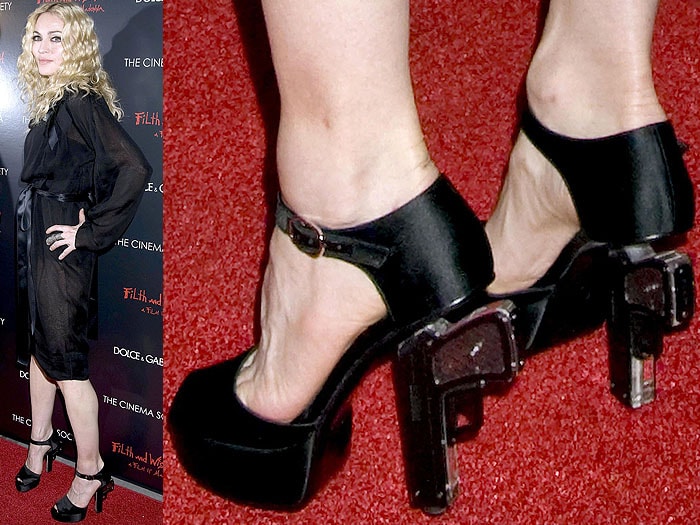 Madonna in Chanel sandals with heels shaped like guns at the screening of 'Filth and Wisdom' hosted by The Cinema Society and Dolce & Gabbana at the Landmark Sunshine Theater in New York City on October 13, 2008
8. Candy Holder Shoes
You can put the candy inside the shoes, but why do that when you can stick them on the outside of your shoes for easier access?
Internet personality La Coacha at Perez Hilton's "Carn-Evil" Theatrical Freak and Funk 32nd birthday party at Paramount Studios in Los Angeles, California, on March 27, 2010
9. Flower Pot Pumps
See more beautiful shots of shoes used as plant containers at The Spruce.
Pink patent pointy-toe pumps used as plant holders, shot by Kerry Michaels
10. Soles With Engraved Maps
Never ruin your shoes and never get lost: these waterproof shoe covers that protect shoes from getting scuffed, dirtied, and damaged by the rain also have a map of New York, Paris, or Yokohama engraved on the soles.
Cool idea, but imagine the awkward position you have to twist your body into just to look at the bottom of your shoes for directions.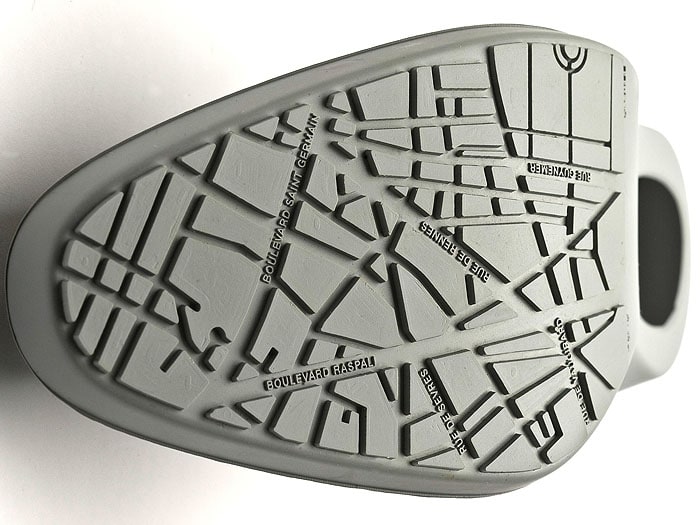 The "City Slipper" shoe protectors with map soles by Swims

11. Broom and Dustpan
These broom-and-dustpan slippers are one of those weird Japanese inventions that may not be so weird if you think about the minimal effort you have to put into using them to sweep your floors.
12. Abacus Heels
Take a calculated fashion risk with these abacus heels.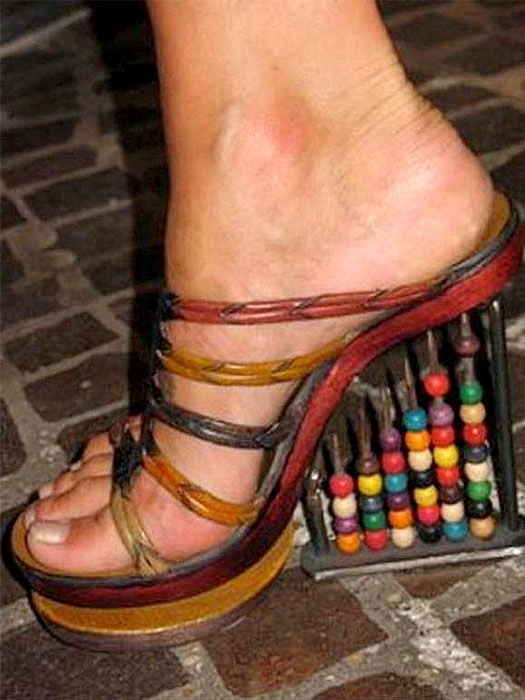 Abacus heels photo from Weird Existence
Abacus stripper heels for entertaining a baby photo from Yahoo! Shine
13. iPhone Holder Shoes
Okay, so these shoes are just iPhone holders, but they did come out of a 3D printer, which makes them a lot cooler in our book.
"iPhone Mashup Shoes": 3D-printed shoes with built-in iPhone cases by Alan Nguyen
14. Flippers
As if walking on the beach in flippers wasn't hard enough, these ones come with high heels that are sure to sink in the sand.
15. Emergency Food Supply: Edible Shoes
Short of making you a sandwich, these shoes made out of bread double as a quick meal, a tasty snack, or an on-the-go soup bowl.
Made by a Lithuanian design firm, R&E Praspaliauskas, they come in different styles, including baguette brogues, cob clogs, and bloomer boots.
Bread shoes by Lithuanian design firm R&E Praspaliauskas
16. Flashlight or Light Bulb
Pack these flashlight or light bulb heels along with the bread shoes in your emergency kit, and you're ready for the apocalypse.
Models' LED-tipped shoes lighting up like flashlights at the Chanel Fall 2011 fashion presentation held during Paris Fashion Week in Paris, France, on July 5, 2011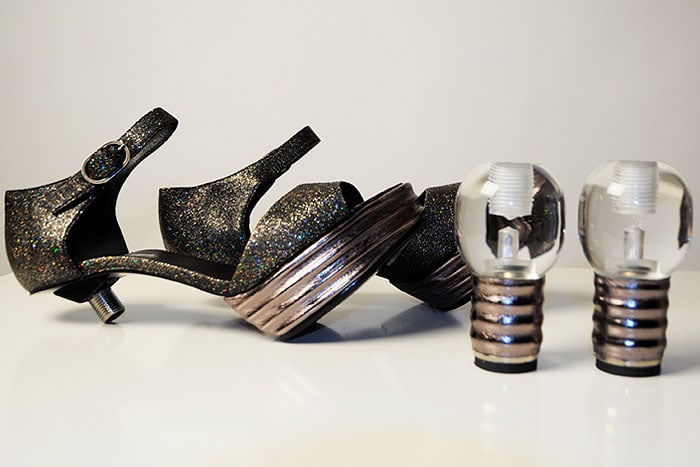 Chanel platform sandals with light bulbs for heels from the label's pre-fall 2008 collection (image from Fashioning Tech and Style Pantry)
17. Pants Substitute
Shoes can now double as pants if you ask Willow Smith and Tamara Mellon.
Willow Smith in Daryl van Wouw's Converse Extension 1 Project Sneaker Pants at Nickelodeon's 23rd Annual Kids' Choice Awards held at UCLA's Pauley Pavilion in Los Angeles, California, on March 27, 2010
Tamara Mellon "Sweet Revenge" Leather Legging Boots
18. Handmade 'The Cleaning Lady' Heels, $75 at Etsy
Who said you can't clean the floor in high heels? This conversation piece is fashioned from various cleaning products, sponges, fabrics, beads. acrylic, and rhinestones.
Credit: Jeff Daly / Rachel Worth / DADADA studios / Adriana M. Barraza / WENN