Remember China Chow? My husband used to have a really huge crush on her back when we were still in college (oops, there goes my age). Anyway, the British actress was actually sighted late last month, when she attended the 2nd Annual Capsule Collection launch for Vogue Eyewear held in New York City.
She was fabulously decked in checks and I love how she pulled it off really nicely. China wore a checkered black and white sheer blouse paired with black trousers and pumps, and capped off her look with an equally checkered black and white oversized clutch: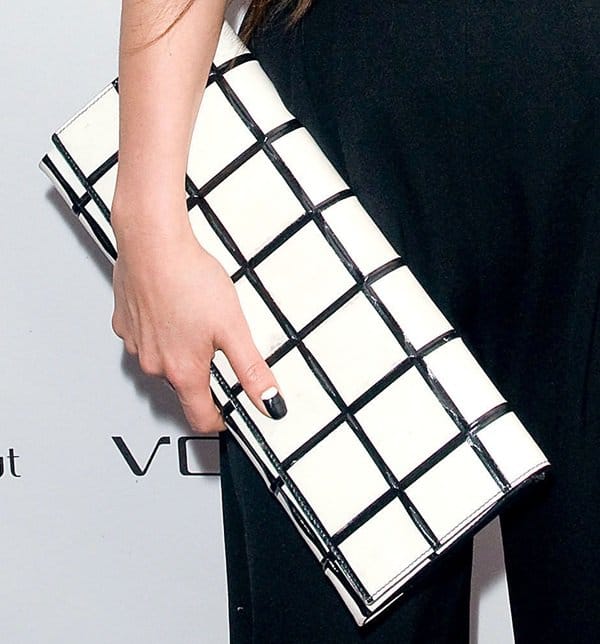 China Chow at the launch of the 2nd Annual Capsule Collection for Vogue Eyewear at the Sunglass Hut flagship store in New York City on September 27, 2011
What do you think of China's style? Cute, right?
It's very simple, but with a bold statement. For the most part, it's the clutch that's really doing all the talking. I love how striking it looks; black-white is always the best combination – it's classic, timeless, and infinitely stunning.  Unfortunately, I could not find a similar clutch online so if you want to copy the look she put together here, you can do so by settling for this silver and beige checkered clutch from Pilar Abril instead. Pair it with a checkered or sheer button down, black trousers, some pumps, and you're all set!
Clutch: Pilar Abril Petunia, $58 / Checkered Top: RVCA Down the Line, $39 / Pants: Not Your Daughters Jeans Janet Tab Welt Ankle Trouser, $90 / Sheer Top: Type Z Nasha, $53
Credit: Ivan Nikolov/WENN