We all love to follow up on celebrity gossip, including the social media drags. That's what our celebrities are there for, entertainment.
For the past few years, there has been an unresolved feud between a favorite KUWTK reality star, Kim Kardashian, and Chloe Moretz. The longevity of this beef has sparked up many side talks as to what really happened.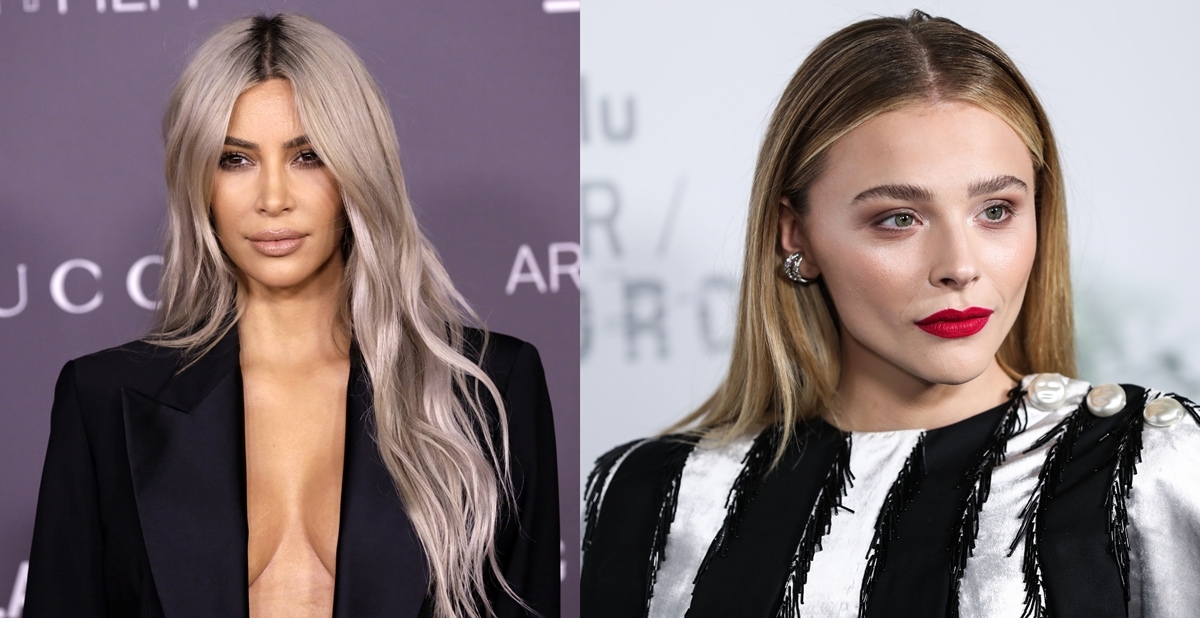 Chloe Moretz and Kim Kardashian have been feuding since 2016 (Credit: Avalon / WENN / Brian To)
Kim Kardashian, a media personality, model, and businesswoman, has been known to enjoy sharing photos exposing more than enough skin. While many of her fans may find this sexy and adorable, lots of other celebrities have had negative responses to this.
The hot celebrity who is famous for her TV reality program, Keeping Up With The Kardashians, seems to find everything pretty spicy. Everything is content to her.
She has not only had it with Moretz but also with the likes of Wendy Williams, Taylor Swift, and of course, Bette Midler. Although many of these stars seem to show concern about how much Kim gets to flaunt her nudes across socials. Kim would rather tag them as haters pretending to be better off than them.
Wendy Williams started feuding with Kim Kardashian after Kim's infamous marriage to Kris Humphries in 2011 (Credit: Avalon / WENN)
Chloe Moretz, on the other hand, is a 24 years old American actress that began her career as a child. The youngster always seemed to have some tweets for our spicy lady.
She has never sounded pleased at the attitude of our popular Kardashian. Her post has always allegedly sent the wrong signals to Kim and her fans, who are always ready for a response.
How Did This Feud Begin?
It all began when Kim Kardashian posted one of her nude photos on Twitter. This happened in March 2016. In her post, she captioned, "When you're like I have nothing to wear," and ended it with a "LOL," which signified a joke.
View this post on Instagram
Oh well, our stunning young Moretz didn't find such a post funny. She went on to drop a reply on Kim's post, "I truly hope you realize how important setting goals are for young women, teaching them that we have so much more to offer than just our bodies."
Oh my! Kim's fans made sure to attack as her response sounded like it was to slut shame their queen. Moretz further explained what she meant during an interview with Elle Magazine. To her, people were quick to frown upon and react to her comment without looking into the bigger picture of what she was trying to say.

Chloë Grace Moretz's tweet that started her feud with Kim Kardashian (Credit: Twitter)
"I think a lot of things can be misconstrued in a lot of ways. I think if people open their minds more," she argued, "and they try to look deeper into something than just something that is a very big, hot, fiery button to hide behind … I think if people looked into something bigger that I was trying to speak upon, they wouldn't be so easy to fire back silly, miscellaneous things."
View this post on Instagram
Trust our Kim star to have a response for all her haters without fear. She clapped back, reminding Moretz of how she posed for a nude Nylon magazine photo in 2015. Kim tweeted, "your nylon cover is so cute, boo." The internet indeed never forgets.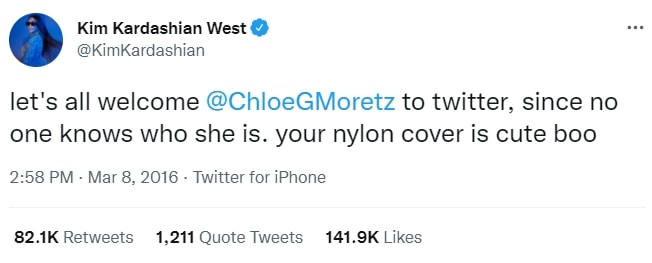 Kim Kardashian makes fun of Chloë Grace Moretz and claims no one knows who she is (Credit: Twitter)
What Happened Next? Moretz Supported Taylor Swift
A rift between Taylor and Kim's husband, Kanye West, about unpleasant lyrics Kanye claimed was approved by Swift, sprung up another feud. Kim quickly supported Kanye with an uploaded video of Swift talking to Kanye on the phone.
Moretz got involved in it all with her tweet. "Everyone in this industry needs to get their heads out of a hole and look around to realize what is actually happening in the real world. Stop wasting your voice on something so petulant and unimportant."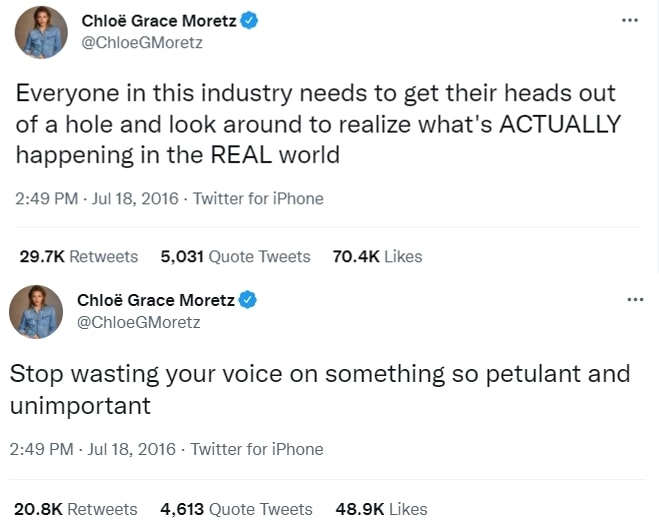 Chloë Grace Moretz slammed Kim Kardashian on Twitter and supported Taylor Swift (Credit: Twitter)
Kim once again sent back a tweet after reading Moretz's tweet aloud to her family. She posted a photo showing off the backside of a lady she speculated to be Moretz and wrote, "is this the a*h*le you're referring to?" She went further to tweet with a photo of Moretz in a bikini. Moretz, however, called her "sad."
The reality star who seems to thrive on social media drama added all her haters to the Valentine celebration list and announced the KKW perfume she sent across to them. To her, everyone deserves a Valentine's gift, be it a lover or hater.
This came out to the public as a signal that the star is ready for all her haters and their Twitter fight is far from being over.
In 2018, Moretz opened up about how she never actually received the gift. According to her, her PR person sent a video saying, "They sent this, so we just kept it." That was how the issue was swept under the carpet.
Bette Midler has mocked Kim Kardashian's marriage track record and nude photos (Credit: Avalon / WENN)
It has been a while already, and we do not know for sure if this feud between the stars is over or not. We may just have to wait and see. Kim seems to be one of those stars on the black list of many other people including celebrities.
Nobody seems to see her nude pictures online as a big deal anymore, as everyone has seen enough and gotten used to it.
According to Bette Midler, "If Kim wants us to see a part of her we have never seen, she's gonna have to swallow the camera." As usual, Kim gave a hit back about how Midler is still up checking out nude posts at the time of the night when she should be asleep.
Kim Kardashian requested Bette Midler to send her nudes (Credit: Twitter)
Kim has explained how she loves her body and would always flaunt it as a way to show her confidence. She's not new to the hate and doesn't seem to be moved by whatever they have to say. She's always ready to serve it to them as hot as they want.
In early 2016, the then 19-year-old was one of the first to comment on Kim Kardashian's nude selfie, but she decided to stay mum about one of the controversial reality star's other topless posts.
We're talking about the picture of Kim and supporter Emily Ratajkowski — the two got together to take a topless mirror selfie together.
Both were clothing-free above-the-waist with their middle fingers prominently up in the air. Kim shared the pic on her Instagram, but it failed to drum up the same level of drama that her first nude selfie did.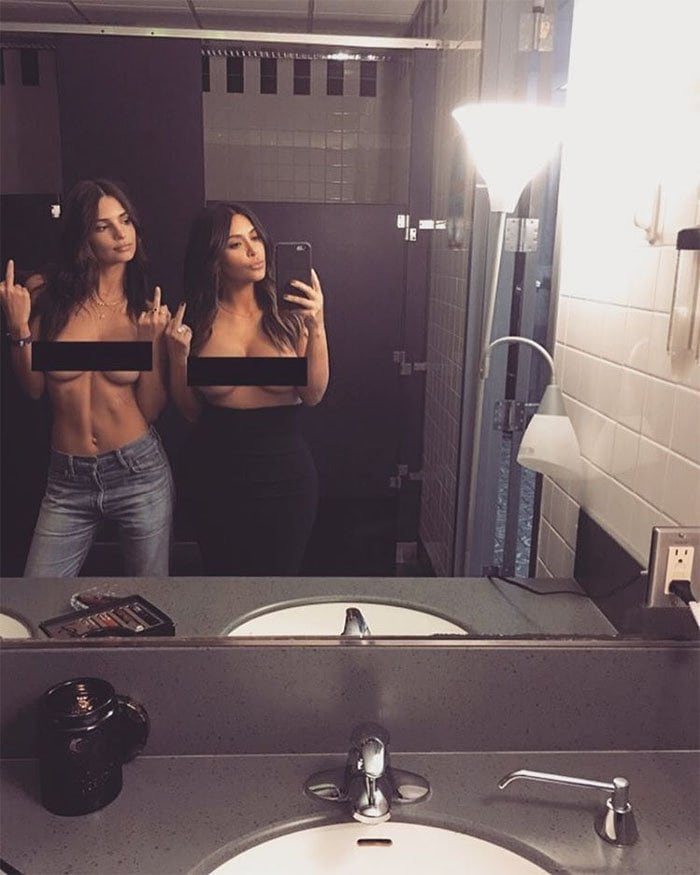 Via Kim Kardashian's Instagram captioned: "When we're like…we both have nothing to wear LOL @emrata" — posted March 31, 2016 (Credit: Kim Kardashian's Instagram)
It seemed Chloe had better things to do than to comment on Kim's publicity stunts — like enjoying a meal with a good friend at ll Pastaio in Beverly Hills.
Chloe Moretz wears her hair down for lunch at ll Pastaio on April 4, 2016, in Beverly Hills, California (Credit: Winston Burris / WENN)
The "Carrie" star dressed down in a printed bomber jacket, gray tank top, and black skinny jeans for her lunch at the pricey restaurant, and let her star power do all the talking.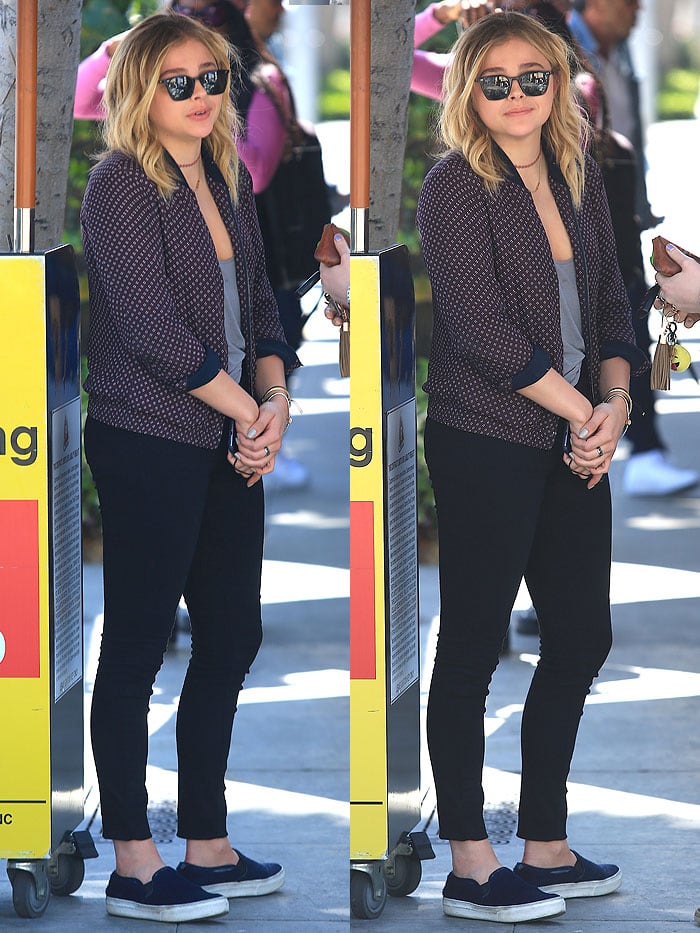 Chloe Moretz wears a bomber jacket and skinny jeans while out for lunch in Beverly Hills (Credit: Winston Burris / WENN)
She didn't seem to care that she had bedhead hair and no makeup on.
Chloe Moretz carries her phone and hides her eyes behind sunglasses at ll Pastaio (Credit: Winston Burris / WENN)
Fresh-faced Chloe can get away with going super-casual at ll Pastaio.
She also can get away with wearing beat-up and worn-in shoes, because those are actually Celine slip-on sneakers that go for up to $1,000!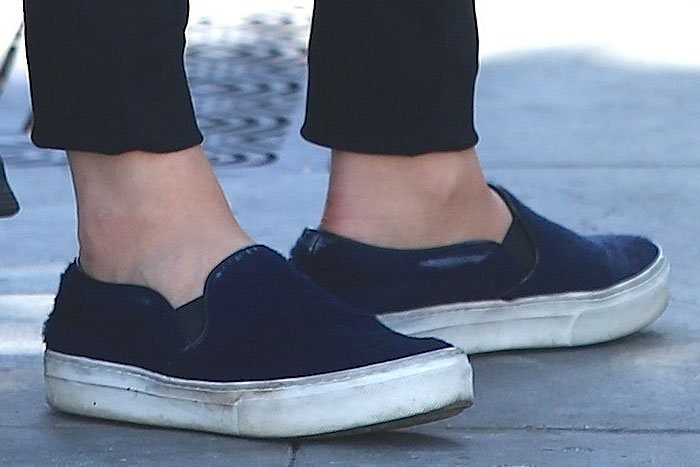 Chloe Moretz's beat-up Celine blue pony hair slip-on sneakers (Credit: Winston Burris / WENN)
Get the look for less with our finds from Keds and Kenneth Cole that you can find at Zappos.
Blue Keds "Double Decker" Slip-On Sneakers, $90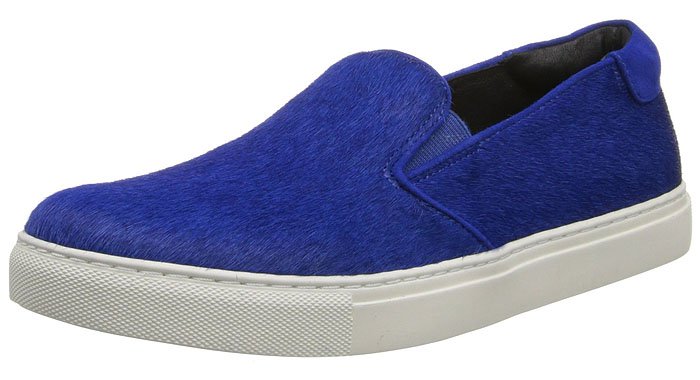 Blue Kenneth Cole "King" Haircalf Sneakers, $49.99 to $92.65