Chloe Moretz hasn't really been really outspoken about feminism, but this 18-year-old is slowly but surely coming into her own.
Chloë Moretz wears her blonde hair down at the 24th annual Women in Entertainment Breakfast hosted by The Hollywood Reporter at Milk Studios, Los Angeles on December 9, 2015
If being included The Hollywood Reporter's list of the 100 most powerful women in entertainment isn't a testament to that, then we don't know what is.
Chloe poses at the Women in Entertainment breakfast in a ruffled pink Gucci top
Trevor Duke Moretz's younger sister arrived at the prestigious breakfast in a romantic pale pink ruffled Gucci top that featured a black-tie accent, which she paired with black pants.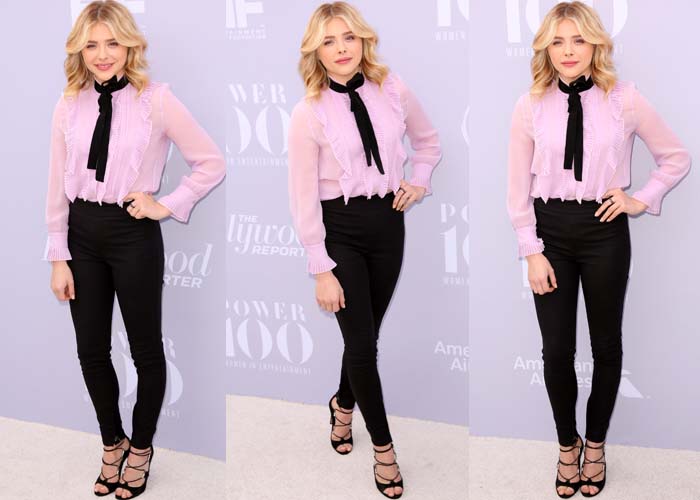 Chloe Moretz wears a Gucci top with black pants
The young actress paired her look with the lace-up "Legwrap" heels from Stuart Weitzman.
Chloe Moretz's feet in Stuart Weitzman heels
The 5th Wave star seems to have ushered in an early trend of femme neckties on the red carpet.
Chloe uploaded a video of Barbara Streisand, who was the key speaker for that morning's event, mentioning that more women needed to be elected into office.
"Saying everything we believe in," she captioned it.
View this post on Instagram
Get Chloë's lace-up ankle wrap heels from Stuart Weitzman by clicking your way over to Nordstrom and Farfetch.
Stuart Weitzman Legwrap Sandals, $240 – $498
Stuart Weitzman Legwrap Lace-Up Sandal in Fawn, $498
Credit: Brian To / WENN