Chloë Grace Moretz has four older brothers, two of whom are gay. She was in middle school when her brothers Trevor and Colin came out.
"At 11, you're incredibly observant and realizing what society is, and who you are, and people are kissing boys or girls for the first time, and you're really starting to understand what sexuality is," she told Nylon magazine.
"And to see my brothers struggle with the anxiety of having to come out was awful."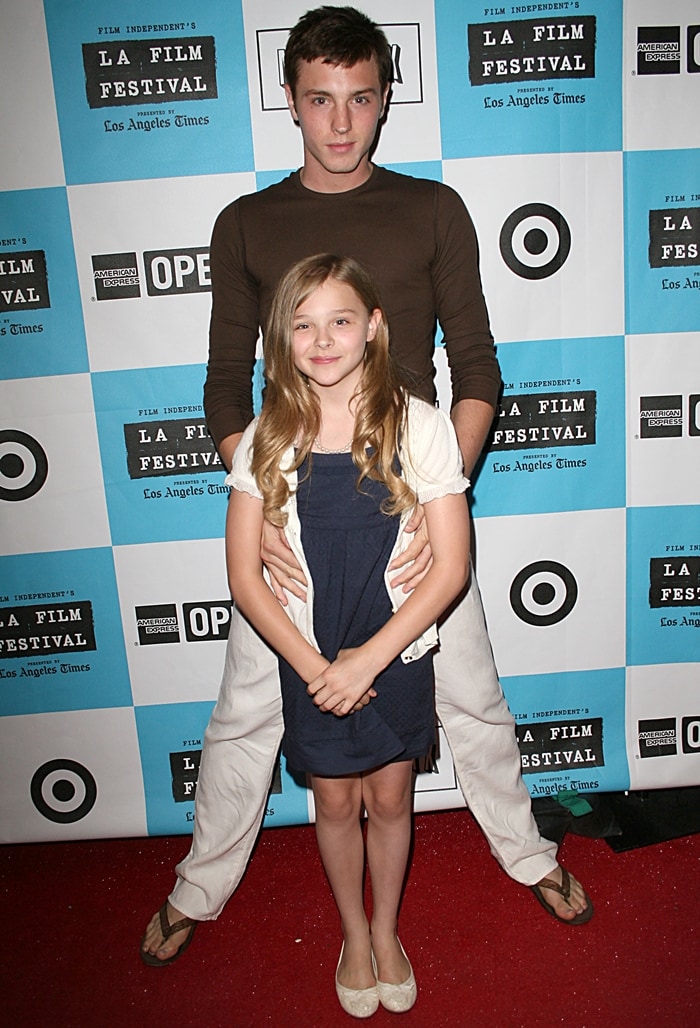 Actress Chloe Grace Moretz and her gay older brother Trevor Duke attend the 2008 Los Angeles Film Festival screening of "The Poker House" held at the Majestic Crest Theatre on June 25, 2008, in Los Angeles, California
"The problem is we live in a society where we have to say the words, 'I'm coming out.'"
"No one should care what your sexual orientation is, what color your skin is, or if you're a man or a woman," Moretz continued.
"People would call them the f-word, and I would get so angry. It was really hard to see my brothers be hated on or bullied, so I stood up for them."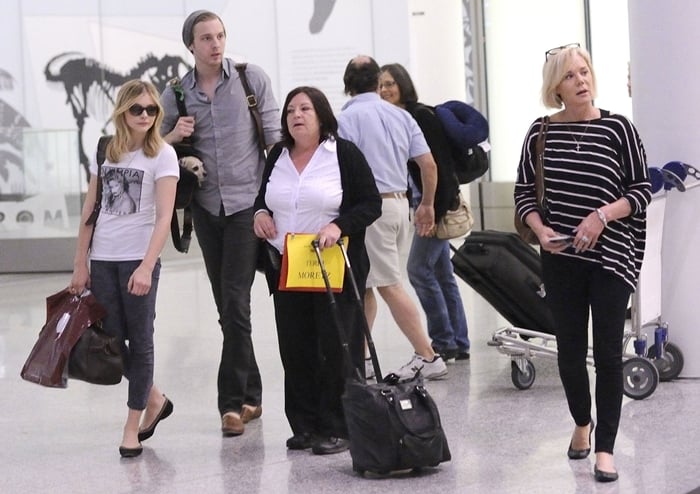 Chloë Grace Moretz with her mother Teri Duke and her brother Trevor Duke at Toronto Pearson International Airport in Toronto, Canada, on May 29, 2015
"We shouldn't be using these terms to create more labels and segregate us further apart than we already are. At a young age, I was motivated to fight for gay rights, women's rights, minority rights – all human rights."
Best known for The 5th Wave (2016), Youth in Revolt (2009), and Kick-Ass 2 (2013), Trevor Duke-Moretz moved to New York City in 2002 with his mom and younger sister. He was accepted into the Professional Performing Arts School, which inspired Chloe to become an actress.
"My brother Trevor went to the Professional Performing Arts School in New York. I was five or six at the time, and I would hear him practicing his monologues over and over, and I would recite them to my friends and family. I begged my mom to take me to auditions, and my brother was like, 'If you're going to do this, let me show you what I know.' I started getting booked, and eventually, he became my full-time acting coach. He travels everywhere with me," she said in an InStyle interview.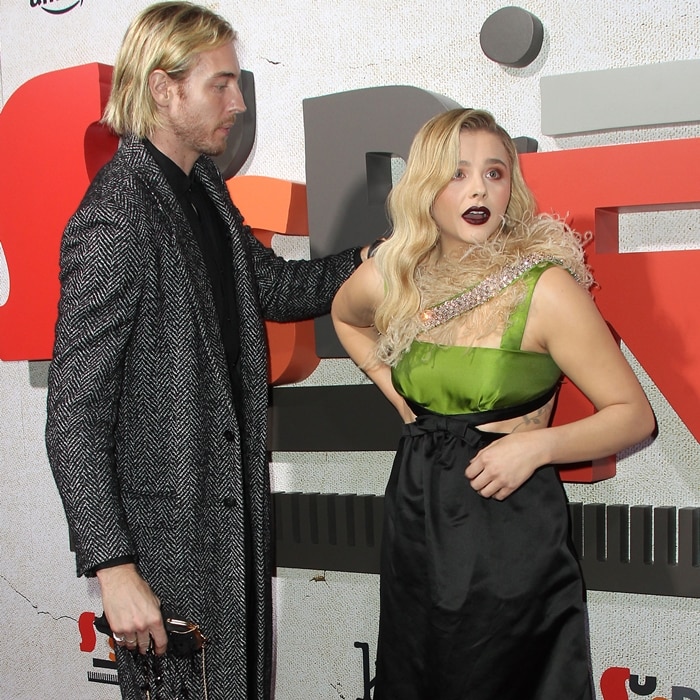 Chloe Grace Moretz and her brother Trevor Duke attend the premiere of Amazon Studios "Suspiria" at ArcLight Cinerama Dome on October 24, 2018, in Hollywood, California
In December 2015, Chloe Grace Moretz showed a hint of skin at Z100's Jingle Ball 2015 held at Madison Square Garden in New York City.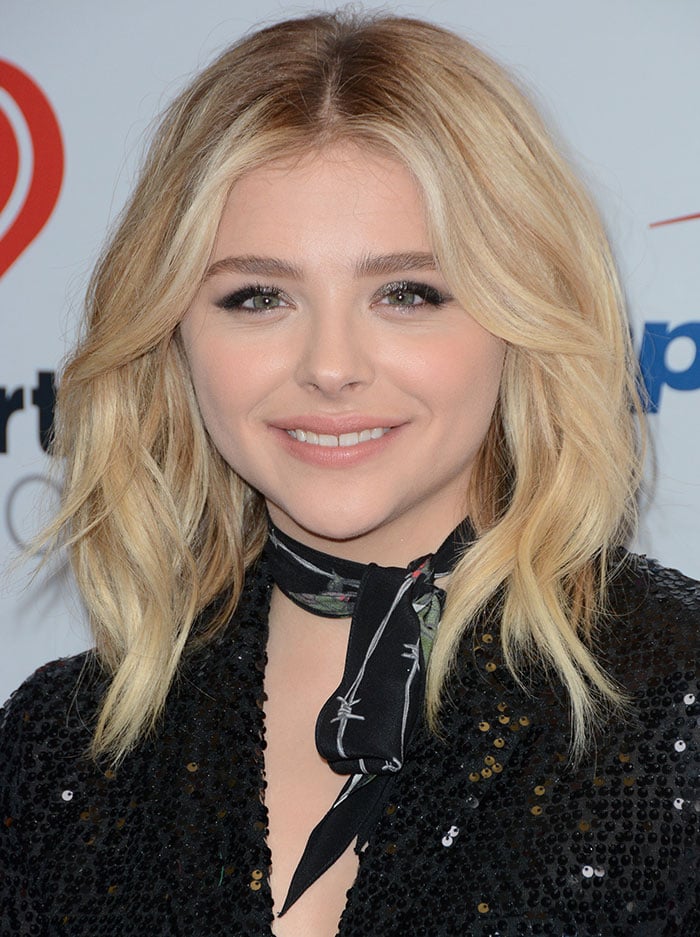 Chloe Grace Moretz wears her blonde hair down at Z100's Jingle Ball 2015 – Z100 & Coca-Cola All Access Lounge at Hammerstein Ballroom on December 11, 2015, in New York City
The then 18-year-old actress didn't seem to wear anything underneath her chic sequined blazer — with a white flower brooch — by Victoria Beckham.
Chloe Grace Moretz wears a Victoria Beckham blazer on the red carpet
She tucked the sparkling garment into a pair of black cigarette trousers, also from Posh Spice's eponymous label.
Chloe Grace Moretz flashes a hint of cleavage in a low-cut blazer paired with a neckerchief
Chloe embraced the neckerchief trend with a Rockins "Roses" bandana, which gave her all-black ensemble a hint of Western vibe. Everything else was kept simple.
The possible The Little Mermaid actress wore her blonde locks down in loose waves and sported soft makeup with pink lipstick and shimmering eyeshadow.
Chloe Grace Moretz wears a sparkling blazer and black cigarette pants on the red carpet
The "Kick-Ass" star rounded out her look with a sexy but edgy pair of Jimmy Choo "Hoops" pumps, which revealed her bandaged foot.
These leather pumps feature delicate laces that intertwine across the arches and wrap around the ankles. They also have pointed toes and 4.25-inch lacquered heels to complete.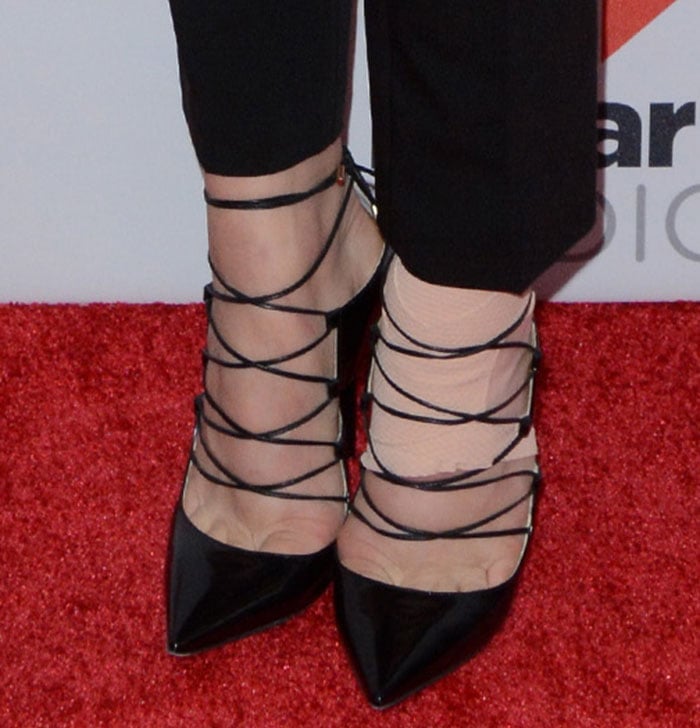 Chloe Grace Moretz's feet in Jimmy Choo pumps
These Jimmy Choo pumps can be purchased in black, red, and nude color versions at Farfetch and Mytheresa.
Jimmy Choo Hoops Lace-Up Leather Pumps, $950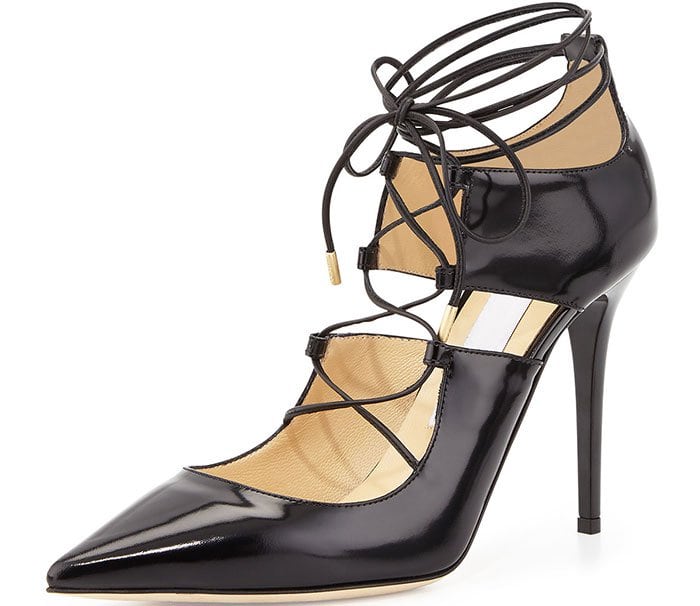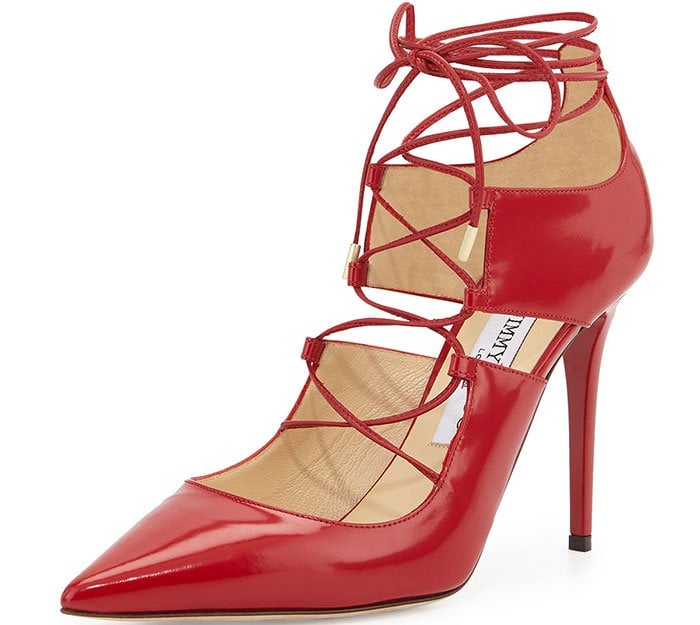 Credit: Ivan Nikolov / Macguyver / Dennis Van Tine / Future Image / 
WENN / FayesVision / Adriana M. Barraza