Our featured blogger today is one of Chictopia's Style Icons. Yep, she's a an inspiration to many in the blogland and once you meet her and read her blog, you'd be quick to understand why.
Meet Chloe Ting, an actuarial analyst (yes, that's a serious day job she's got right there) who doubles as a fashion savvy blogger of "Chloe's Addiction", a diary of her daily outfits, musings, and then some. You would think that because she's an analyst, she'd be all stuffy and prim. But no, outside the four walls of her office, this stylish female is completely the opposite. Her take on fashion is fresh, fun, fabulous, diverse, and completely her own.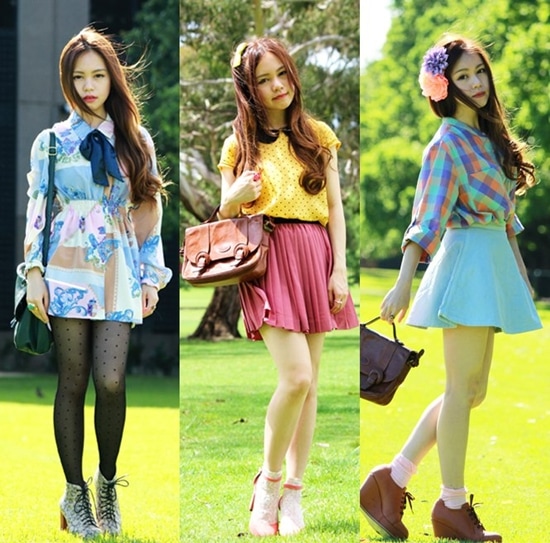 Chloe Ting of Chloe's Addiction and her many stylish looks
Chloe was sweet enough to answer our 5 questions for this session and below is the result of that quick Q&A:
1. Can you tell us a little about your blog and its focus?
I started off posting outfit photos in Chictopia middle this year when I finished my studies and had a lot of free time. I didn't expect to have good responses on my style, but started gaining a following and eventually created a blog as it was essential to claim a 'Style Icon' status in Chictopia. My blog's main content would be my pictures of outfits I put together, and I try to share bits and pieces of other things that make me smile like food, travel or photos of my favorite muses.
2. What kind of shoes do you like and do you have a favorite pair in your closet?
Shoes are one of my guilty pleasures in life, I just wont have enough of them! Of all my footwear, I love my boots the most, and my favorite ones at the moment are my 'Tardy' platform boots from Jeffrey Campbell.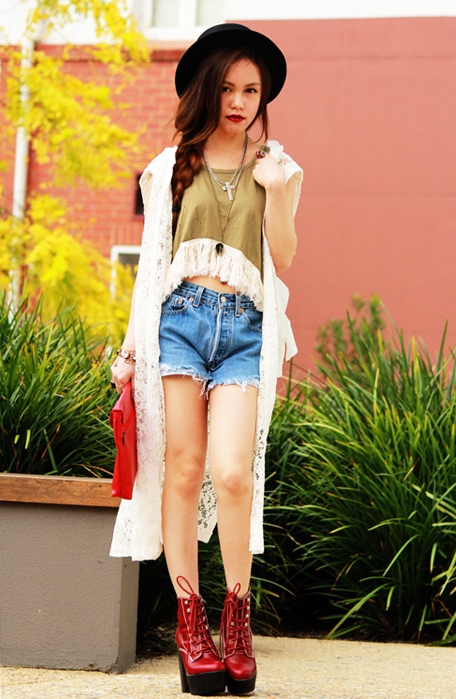 Chloe in her Jeffrey Campbell 'Tardy' platform boots
Jeffrey Campbell 'Tardy' Boots in Red, $196
3. What shoes are you planning to buy next?
I find myself constantly browsing online stores and often have a couple of pairs of shoes waiting in my shopping cart hoping I come back after sleeping on it. For the moment, I love Cuffed by Jeffrey Campbell, but I look forward to getting a pair of Alexander Wang or Burberry Prorsum shoes.
Jeffrey Campbell Cuffed in Black, $175
You mentioned in your blog that you work as an actuarial analyst, do you get to wear any kind of shoes in your job? Or is there a dress code you have to follow? If there's a dress code, does it make you feel bad that you can't express yourself through fashion at work?
Unfortunately for me, there is a dress code while working in a white-collar environment, so I don't get to wear just about any pair of shoes I want. It isn't such a bad thing however, as I normally have a different set of outfits and shoes for work, and it at least increases the diversity on my shoe rack 🙂
5. When it comes to buying shoes, do you have any particular advice to our readers?
When your buying online, always look out for coupons or even think of what upcoming holidays are closing in. The worst that could happen is if you buy a shoe and then shortly after it goes on sale and you could have had a massive saving. Sizing is often a problem as well for people buying online, so what I normally do is to work out how comfortable sizes are of a brand at a local store, and buy it online if I'm going to end up saving heaps more.