Chrissy Teigen is easily one of the funniest gals on social media. She's full of quirky quips and witty comebacks, and we can see why John Legend fell in love with her. We're also glad to see that the model hasn't given up her sense of humor since giving birth to daughter Luna, and we're loving the new combination of sass and motherhood she's giving off.
The "Lip Sync Battle" host was spotted bonding with her daughter over lunch at Il Pastaio in Los Angeles.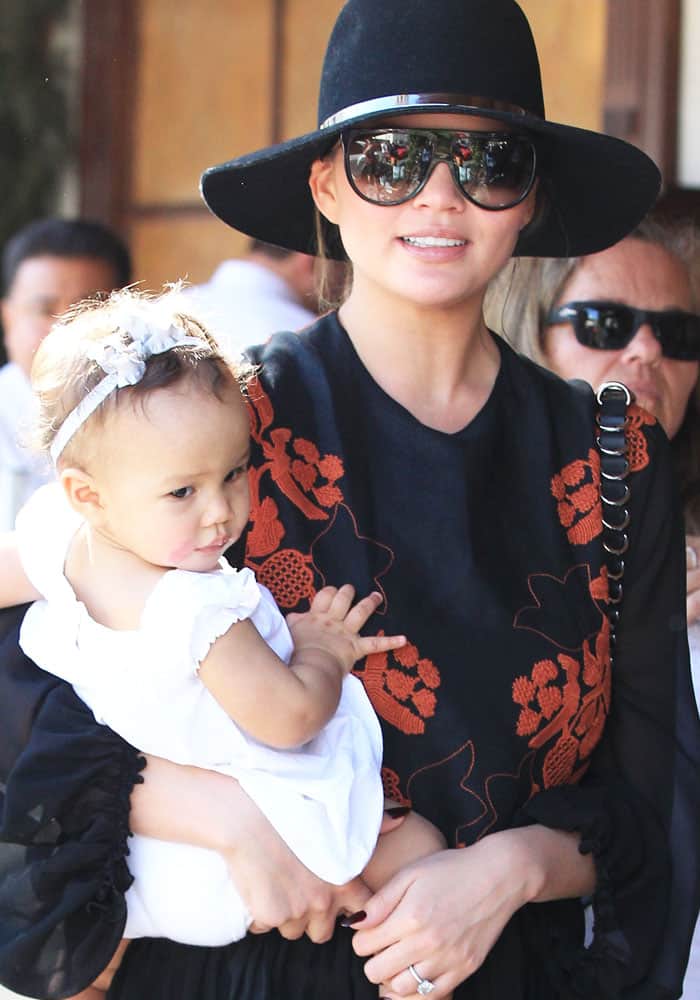 Chrissy Teigen takes her daughter Luna to Il Pastaio in Los Angeles for lunch on March 3, 2017.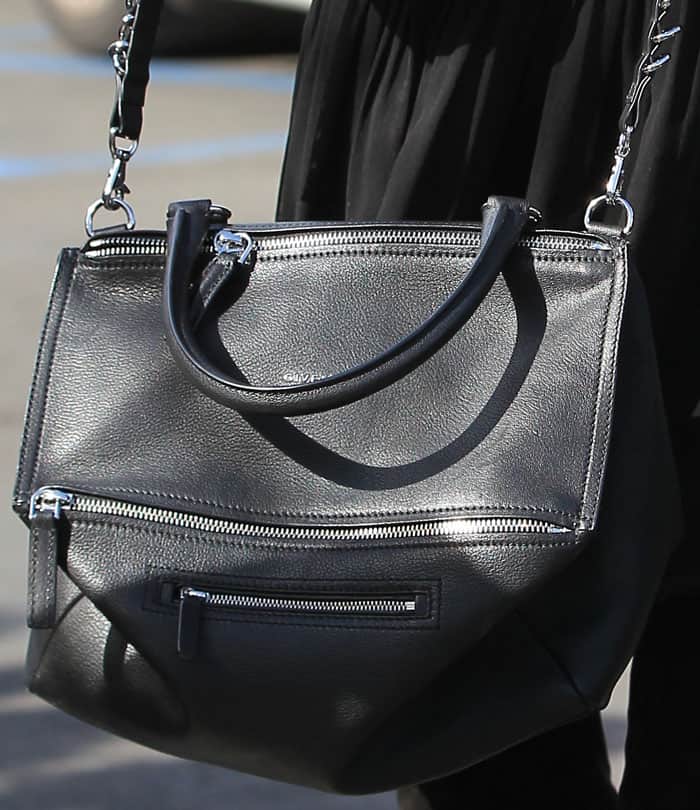 Chrissy Teigen uses the stylish Givenchy "Pandora" tote as her diaper bag.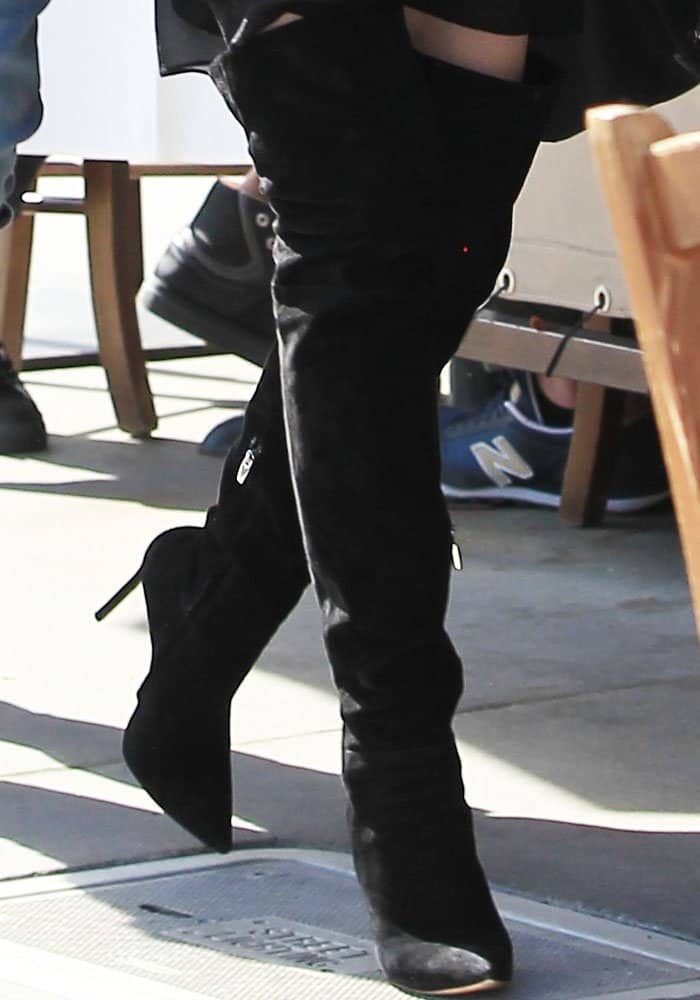 Not over boots yet: Chrissy welcomes spring in a pair of Gianvito Rossi "Dree" thigh high boots.
Chrissy was one stylish mom in her all-black outfit, which included an embroidered linen and silk-chiffon mini dress by Chloé. The "Sports Illustrated" cover girl was clearly not feeling spring quite yet, considering she covered up her bare legs in a pair of Gianvito Rossi "Dree" thigh high boots.
In true celebrity style, Chrissy went incognito with a pair of oversized sunglasses coupled with the Janessa Leone "Stephen" fedora in black. She finished off her look with the gorgeous Givenchy "Pandora" medium satchel, used as her diaper bag.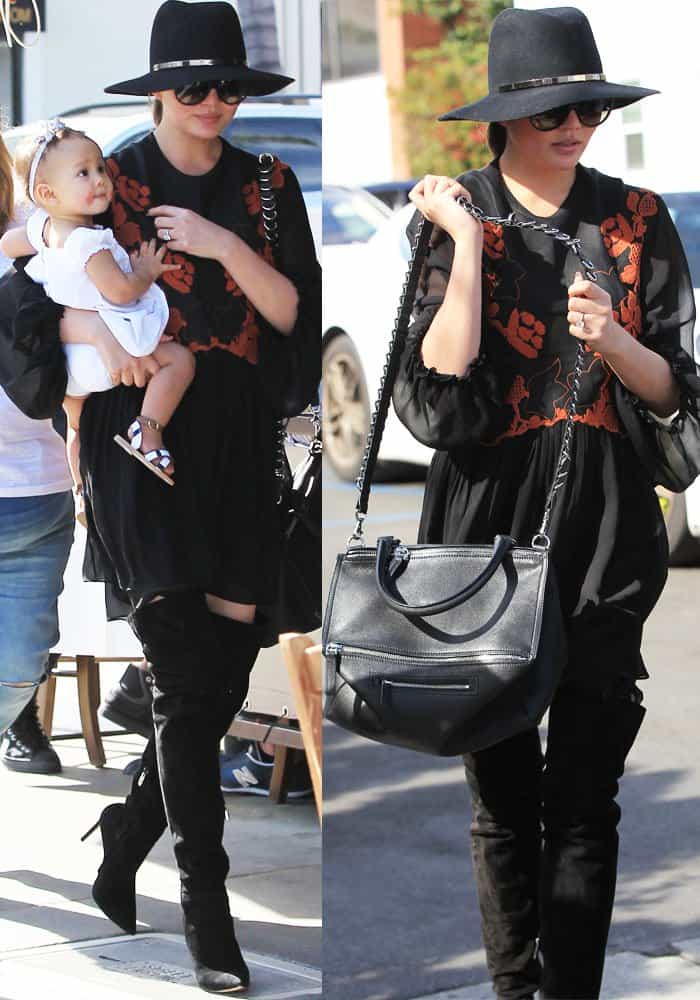 Chrissy wasn't quite spring ready yet in her Chloé outfit.
We were paying more attention to Chrissy's boots, than anything else, but John did accompany the mother-daughter duo on their trip. The family-of-three also made aquarium and farm visits in addition to their lunch trip. John made sure to document the adorable mother-daughter duo as they spent an afternoon together.
Chrissy's daughter Luna seemed to enjoy herself. The adorable little girl was first seen sleeping during the aquarium visit, but woke up later on and was spotted curiously interacting with a bird.
Shop Chrissy's Gianvito Rossi "Dree" boots at Barneys New York and Farfetch.
Gianvito Rossi "Dree" Thigh High Boots, $1,217 – $1,995 at Barneys New York and Farfetch
Credit: Forty Seven / WENN