Claws actress Karrueche Tran may be stunning, famous, and rich, but she isn't immune from the same awkward experiences that the rest of us often encounter.
Just months before being cast as former stripper Virginia Loc in TNT's comedy-drama television series, the then 27-year-old American actress and model graced the red carpet at the Stella McCartney Autumn 2016 Collection Event held at Amoeba Music Hollywood in Los Angeles.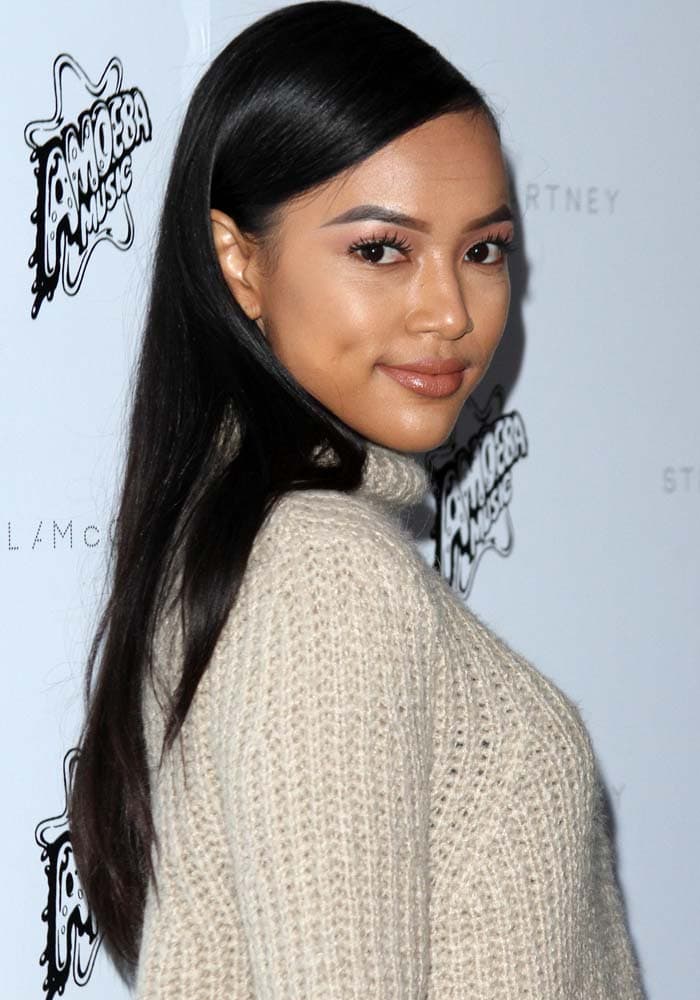 Karrueche Tran wears her dark hair down at Stella McCartney Autumn 2016 Presentation at Amoeba Music on January 12, 2016, in Los Angeles, California
In August 2016, it was announced that Karrueche would star opposite Niecy Nash in TNT's Claws pilot. Premiering on TNT on June 11, 2017, the series has been renewed several times. The fourth and final season is currently in development.
"We literally looked at hundreds and hundreds of young women for that part," executive producer Janine Sherman Barrois told Complex in June 2018 about the casting for Virginia Loc.
Claws actress Karrueche Tran posing with politician Kamala Harris and television writer Janine Sherman Barrois
"Virginia was going to be the kind of Millennial, in-your-face beautiful woman in the salon that the other women look back and see their youth and they see how they were in their 20s," adding that Karrueche Tran's audition "broke our hearts because she brought a layer to it that wasn't one note."
Karrueche Tran as Virginia Loc in the American comedy-drama television series Claws
"She turned it on its head and you got that feeling that these women are busting her out, but she still yearns for their validation," Sherman Barrois revealed.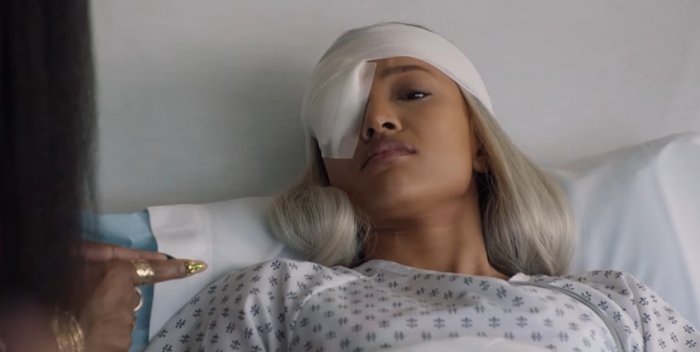 A failed assassination attempt causes Karrueche Tran's character Virginia Loc to lose an eye
"She's not just giving it in-your-face I'm young, I'm hot blah blah blah. She's saying, I want what you guys have. She did it with looks and she did it with eyes."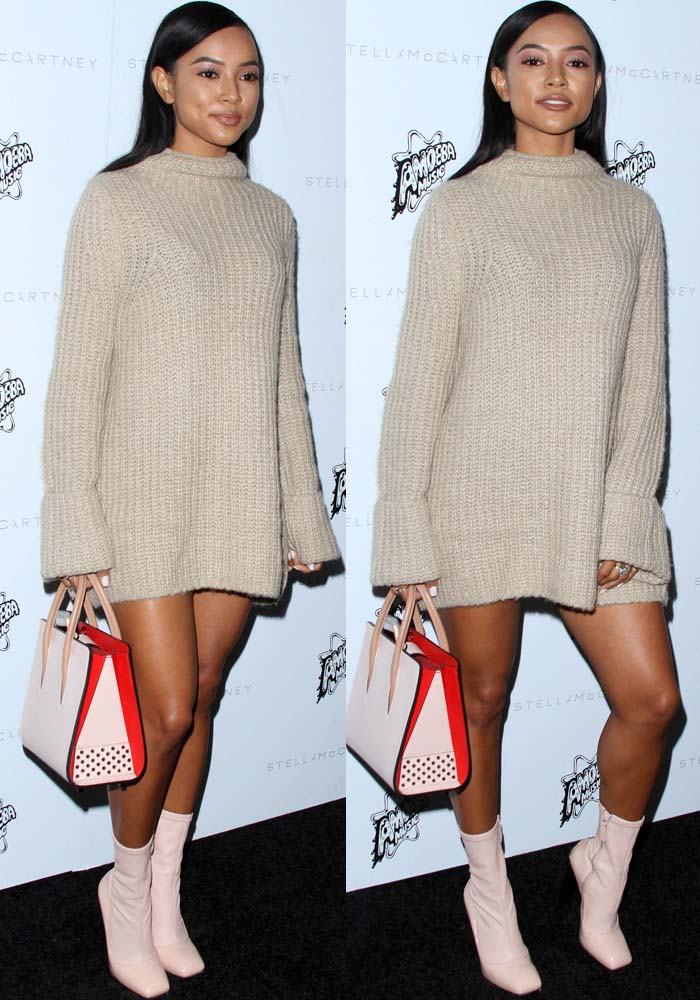 Karrueche Tran wears a pale pink Topshop dress with matching Alexander McQueen boots
The multi-ethnic actress gamely posed for the cameras in an adorable $80 knit sweater dress by Topshop, which she beautifully dressed up with her favorite plexi pump-style boots from Alexander McQueen.
Karrueche Tran wears a pair of pale pink Alexander McQueen boots
She completed her ensemble with a matching pale pink "Paloma" tote from Christian Louboutin.
Karrueche Tran shows off her eye makeup as she blows a kiss
Karrueche posted a collage of her hilarious goodbye kiss moment with BFF Christina Milian, who was pictured clutching a wad of dollar bills. Something's going down — it looks like the girls have gone wild.
Karrueche has been obsessed with her Alexander McQueen boots, and with her on-point styling, we're starting to obsess over them as well.
Grab a pair in nude or black at Nordstrom or Ssense.
Alexander McQueen Plexi Pump-style Boots, $517.65 – $1,785
Alexander McQueen Plexi Pump-style Boots, $1,785
Credit: Adriana M. Barraza / FayesVision / WENN