We have covered a number of commercials that most of the internet seems to hate, but in a surprising turn of events, people don't seem to mind the Caesars Sportsbook and Casino commercial that aired during the NFL Super Bowl, entitled "Our Cleo Has Arrived!" which you can watch on iSpot.
The commercial follows 56-year-old actor and comedian J. B. Smoove (Curb Your Enthusiasm) as Caesar, who gripes that he doesn't care about an upcoming award show, only that he misses "his Cleo" and hasn't seen her in a week.
Luckily, Cleo finally makes an appearance. Strutting down the hallway while wearing a long, gold cloak, a matching gilded dress that plunges nearly to her navel, and sparkling six-inch golden heels, we immediately recognize this figure as Cleopatra.
However, underneath thick Egyptian-inspired eye makeup and a heavy bob, some viewers were slow to realize that Cleo is played by none other than Miss Halle Berry!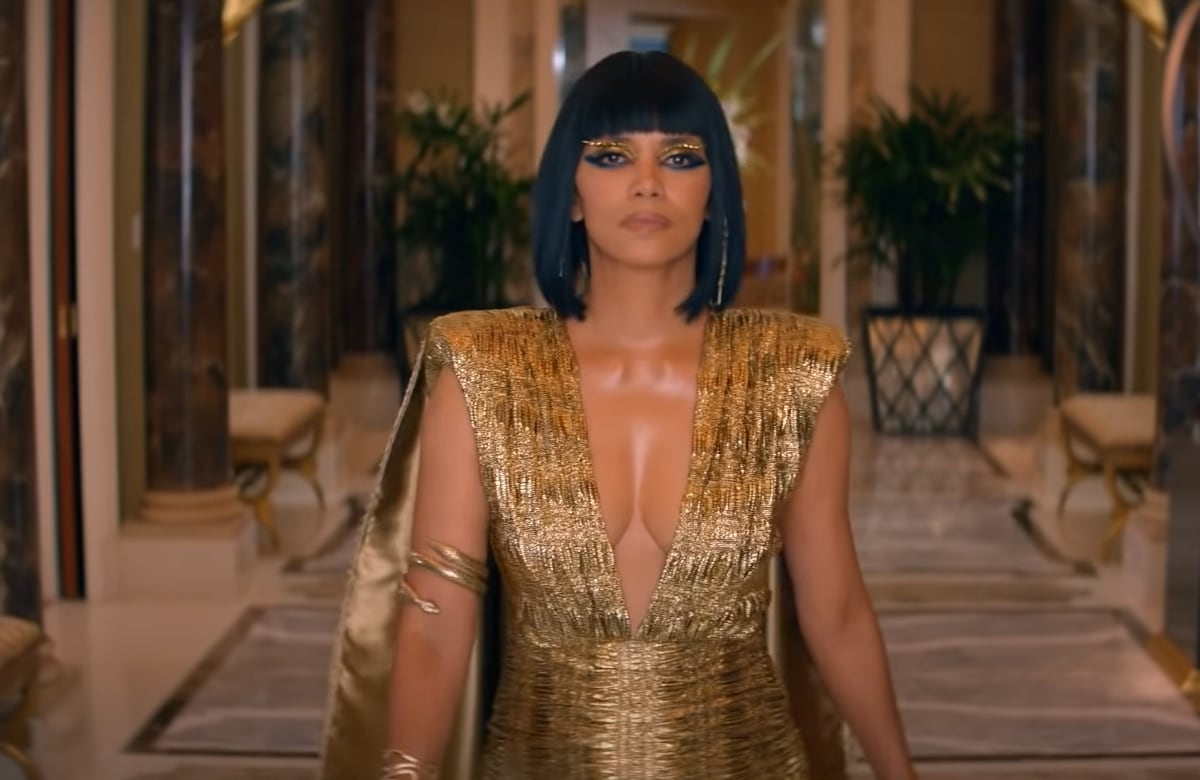 Halle Berry as Cleopatra in the Caesars Sportsbook's NFL Super Bowl commercial (Credit: YouTube)
The 55-year-old actress is known well for her roles in the X-Men series, as well as Catwoman, The Call, and Perfect Stranger, and her many successful roles, as well as gorgeous appearance, have made Halle Berry instantly recognizable at all times… but not in this commercial!
In fact, many viewers didn't recognize Halle Berry at all.
One Twitter user was absolutely shocked, asking, "WHAT DO YOU MEAN CLEOPATRA IS HALLE BERRY???"
"I thought it was Lesley Ann Brandt, but [I] guess [Caesars Sportsbook and Casino wins] a lot of money so could afford Halle," another Reddit user agreed.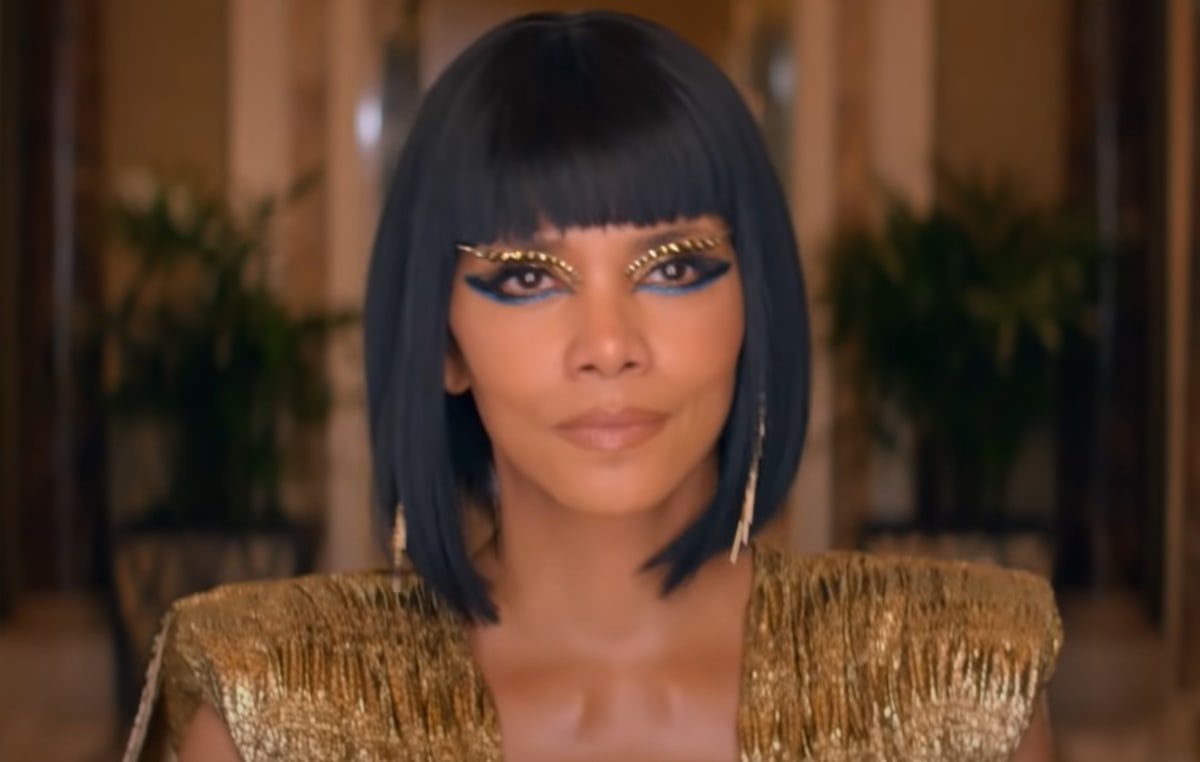 Many fans couldn't recognize Halle Berry as the ancient Egyptian queen Cleopatra (Credit: YouTube)
These comments make sense, considering that Caesars Entertainment, Inc. reported $2.7 billion in net revenues in 2021 alone. It is unknown how much the company paid Halle Berry to appear in their NFL Super Bowl commercial, but considering the actress' high-profile star power, we can bet it was a solid chunk of change!
In the commercial, Halle Berry absolutely stuns as the powerful Egyptian queen, perfectly playing the role of a chagrined lover as she guides J. B. Smoove's bumbling Caesar through the events of the evening.
Though many viewers weren't able to immediately recognize Halle Berry as the glittering Egyptian queen, most people (ourselves included) were able to agree on one thing: Halle Berry looks darn good.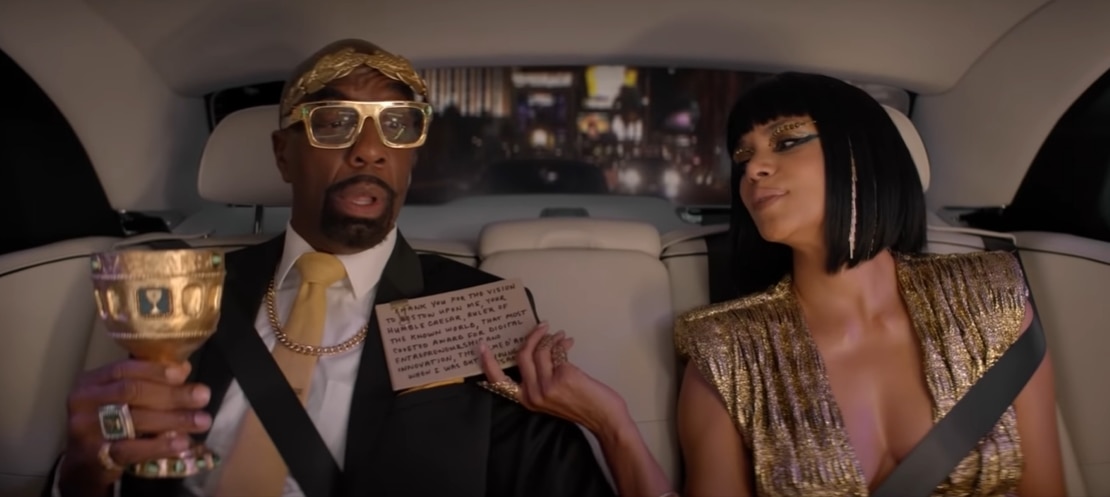 Comedian J.B. Smoove and Academy Award-winning actress Halle Berry star in commercials for Caesars Sportsbook (Credit: YouTube)
"The commercials are absolutely terrible, but I'm not mad at Halle Berry dressed up as Cleopatra," one Reddit user posts.
One cheeky Tweeter writes, "Halle Berry looks better than canceled student loans in these ads with the Cleopatra Hair."
This isn't the only commercial Halle Berry and J. B. Smoove have teamed up together in, as they have appeared in a number of ads for Caesars Sportsbook and Casino where they reprise their roles.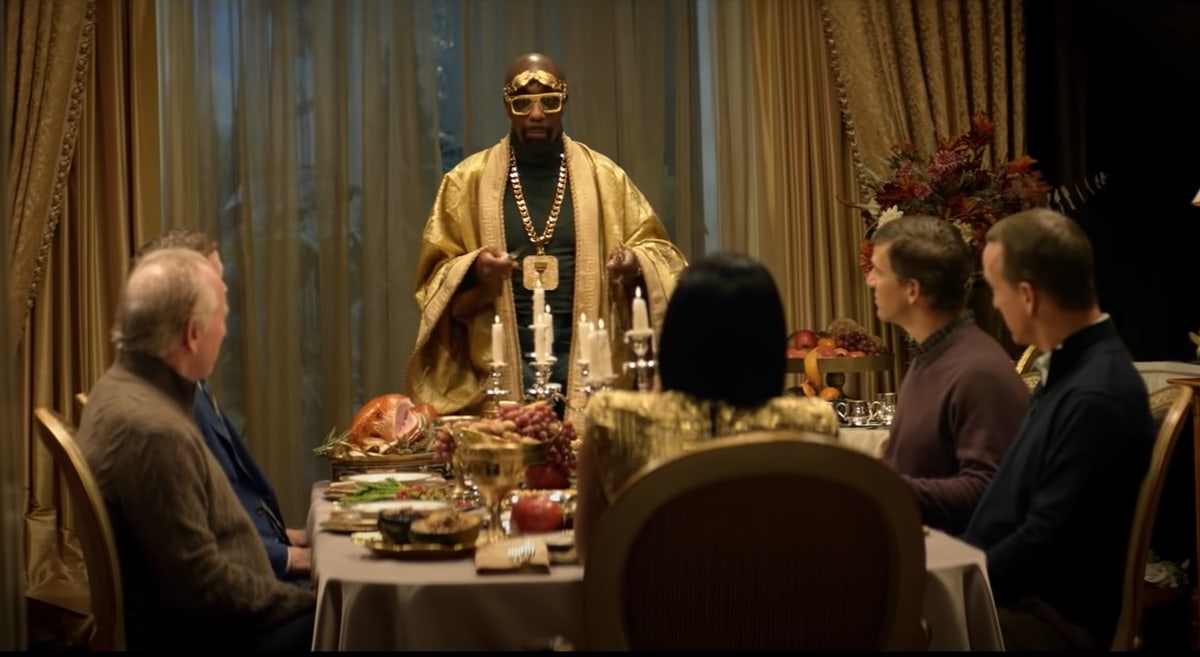 Dad Archie Manning and sons Peyton, Cooper, and Eli are guests at a turkey dinner hosted by Julius Caesar (J.B. Smoove) and Cleopatra (Halle Berry) (Credit: YouTube)
Another commercial, entitled "Thanksgiving with Caesar and Cleo," also features Eli and Peyton Manning as houseguests to the pair's ridiculously lavish Thanksgiving dinner.
Considering how fantastic Halle Berry looks as the gorgeous and perpetually perturbed Cleopatra in these commercials, we really only have one question, which this Twitter user sums up perfectly: "Why hasn't Halle Berry been cast to play Cleopatra in a feature film yet?"
C'mon, Hollywood! The people have spoken!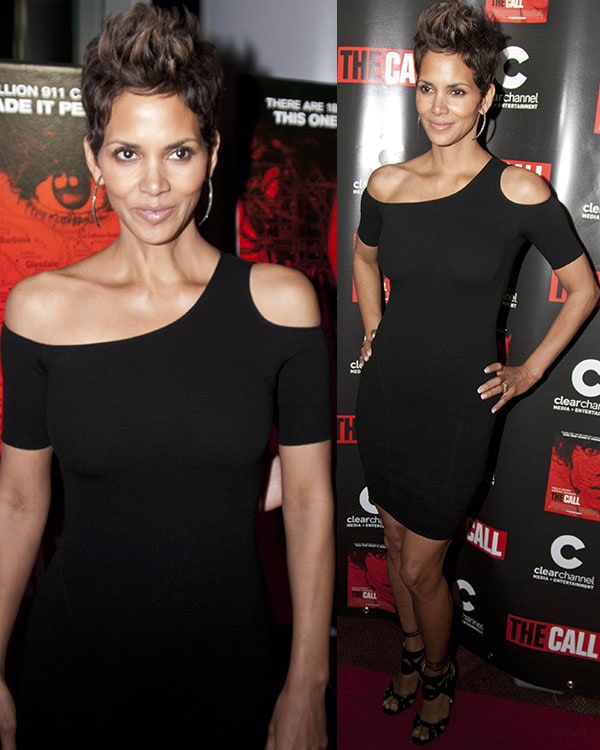 Halle Berry in a sexy little black dress at the Chicago screening of The Call held at the Showplace Icon Theater, February 28, 2013 (Credit: C.M. Wiggins / WENN)
In February 2013, Halle Berry sported her classic red carpet look at the Chicago screening of her 2013 American psychological crime thriller film The Call.
The then-46-year-old actress wore a little black dress by Helmut Lang, which features short sleeves, an asymmetrical neckline, and a one-shoulder style with a cutout.
She finished her look with a pair of black sandals — the "Uma" from Brian Atwood.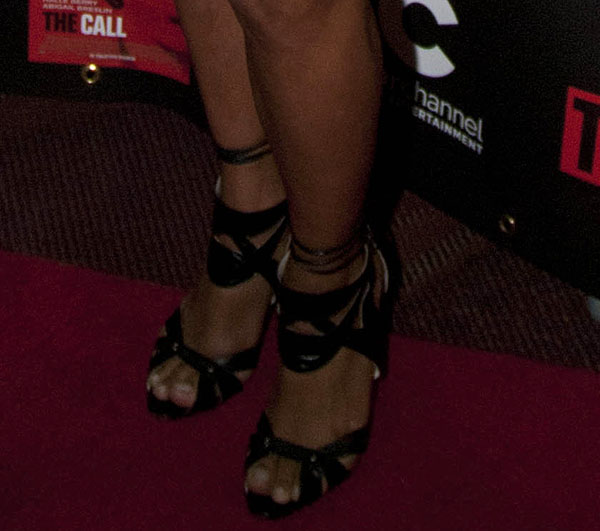 Halle Berry's hot feet in Brian Atwood Uma sandals (Credit: C.M. Wiggins / WENN)
The Uma sandals by Brian Atwood are undoubtedly sexy!
Modern cutouts and on-trend wrap-around laces make these heels edgy and, at the same time, perfect for all occasions. Completing the design is the 4-inch covered heel for added height.
These heels are from the designer's Spring 2013 collection and are also available in purple/green snakeskin.
Brian Atwood Uma Leather Ankle-Cuff Platform Sandals, $895
Brian Atwood Uma Sandals in Snakeskin, $1,150