As someone who grew up listening to Hole and Nirvana songs, I am beyond psyched that Courtney Love Cobain herself sent us a message through Twitter.
Her tweet? "Bollywoods! In blue! Must have". How cool is it that she shares our love for one of our current major shoe obsessions?
Courtney Love Cobain is a fan of Christian Louboutin Bollywoody
We first got a glimpse of Christian Louboutin's Indian inspiration for Spring/Summer 2012 on Beyonce, right when she debuted her post-baby body.
Basketball Wives' Evelyn Lozada was the one who first wore the actual Christian Louboutin 'Bollywoody' pumps (well, outside of a photoshoot anyways), when she launched her very own "Non Muthafu*kin Factor" milkshake at Millions of Milkshakes in LA.
Evelyn L. had the hot pink suede ones and many of you have also declared love for that color. But I think I might have to go with Courtney Love on this one and say the blues are the prettiest — although the taupe is calling out very loudly to me too.
What about you, which color of the 'Bollywoody' is your favorite? You can shop for Christian Louboutin shoes at Neiman Marcus and Nordstrom:
Turquoise Christian Louboutin 'Bollywoody' Suede Peep-Toe Pump, $2,795.00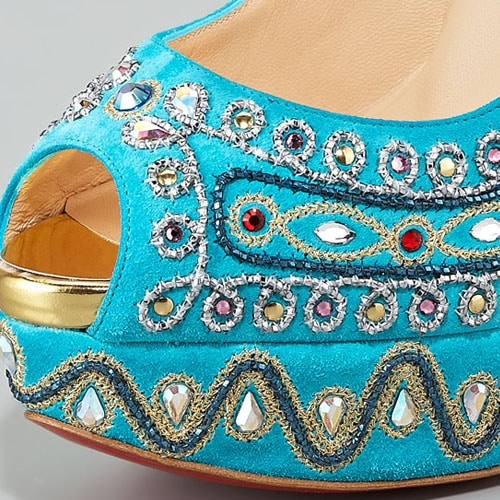 Hot Pink Christian Louboutin 'Bollywoody' Suede Peep-Toe Pump, $2,795.00
Taupe Christian Louboutin 'Bollywoody' Suede Peep-Toe Pump, $2,795.00