Chrissy Teigen was all smiles while out with her husband John Legend and their children, Luna and Miles, last week, just days after issuing a public apology for the cyberbullying scandal. 10 years earlier, she reportedly sent direct messages to teenaged Courtney Stodden asking her to commit suicide.
Looking fresh and summery in matching floral ensembles, the cookware entrepreneur and her husband took their kids out for lunch at Soho House in West Hollywood.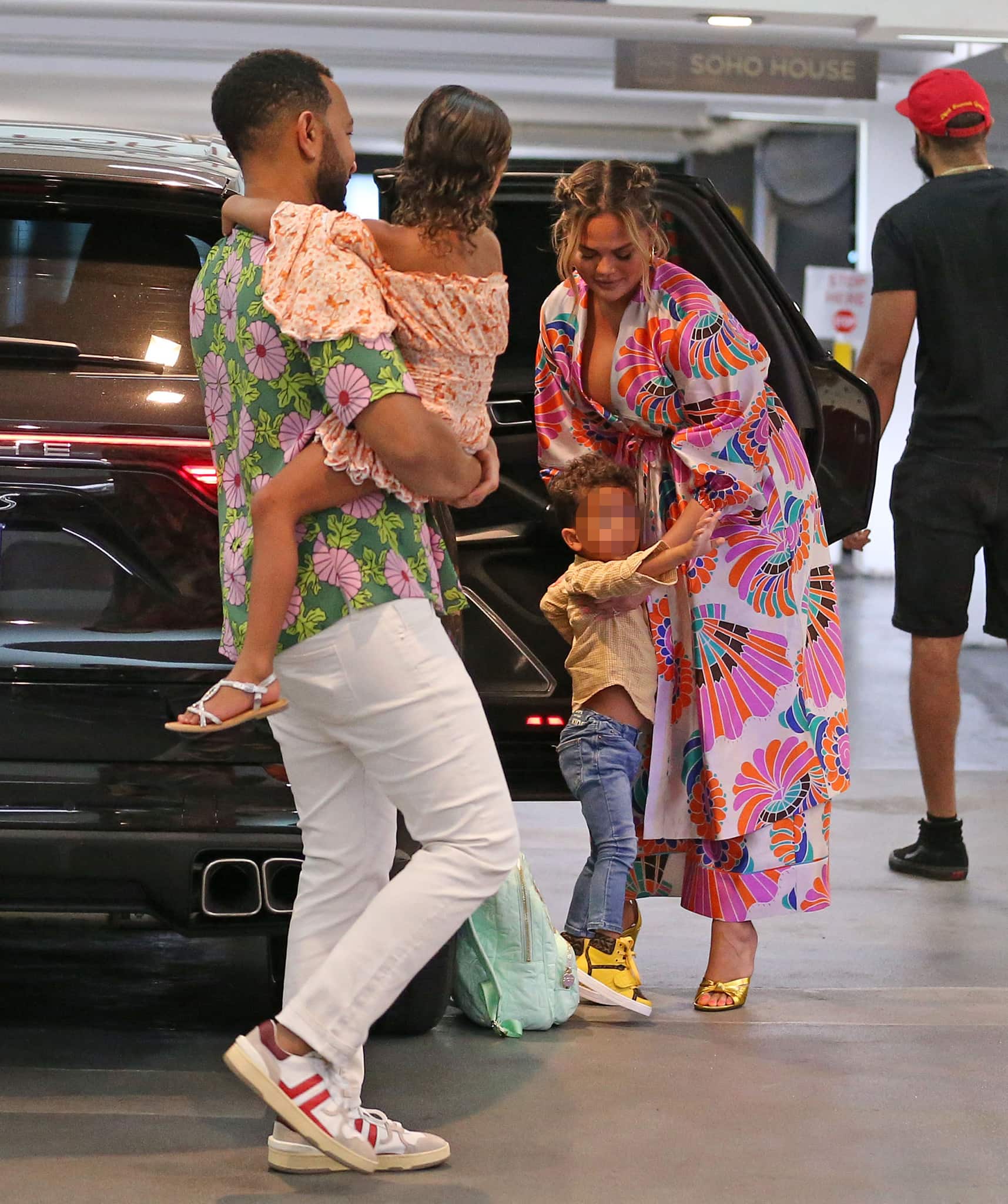 Chrissy Teigen and John Legend take their kids, Lune and Miles, to lunch at Soho House in West Hollywood on June 26, 2021 (Credit: Mega / WENN)
The 42-year-old EGOT winner opted for a green Hawaiian shirt with pink flowers paired with white pants and sneakers. He carried their five-year-old daughter, who looked pretty in her whimsical peach floral dress, matching headband, and flat sandals.
Their three-year-old son, on the other hand, couldn't let go of his mom's arm while dressed in a yellow shirt, blue jeans, and yellow hi-top sneakers.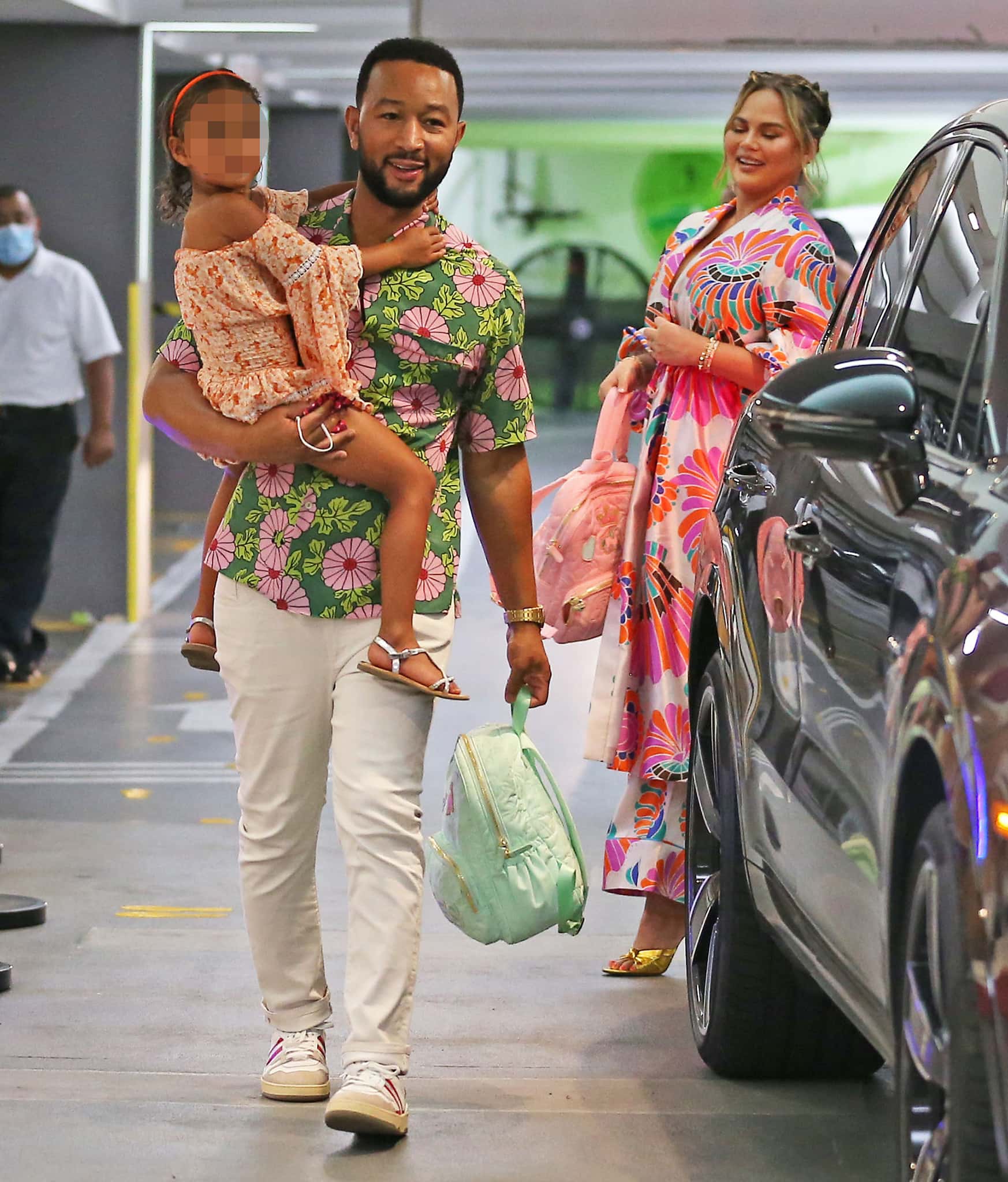 John Legend wears a green Hawaiian shirt as he carries daughter Luna (Credit: Mega / WENN)
Never one to shy away from bold prints, the 35-year-old model made a statement in her signature silky robe dress that features an abstract pattern in multiple colors.
It has loose, long sleeves, a plunging neckline, and a cinched waist that helped highlight her figure. Underneath the midi number, Chrissy wore a pair of wide-leg pants in matching printed design.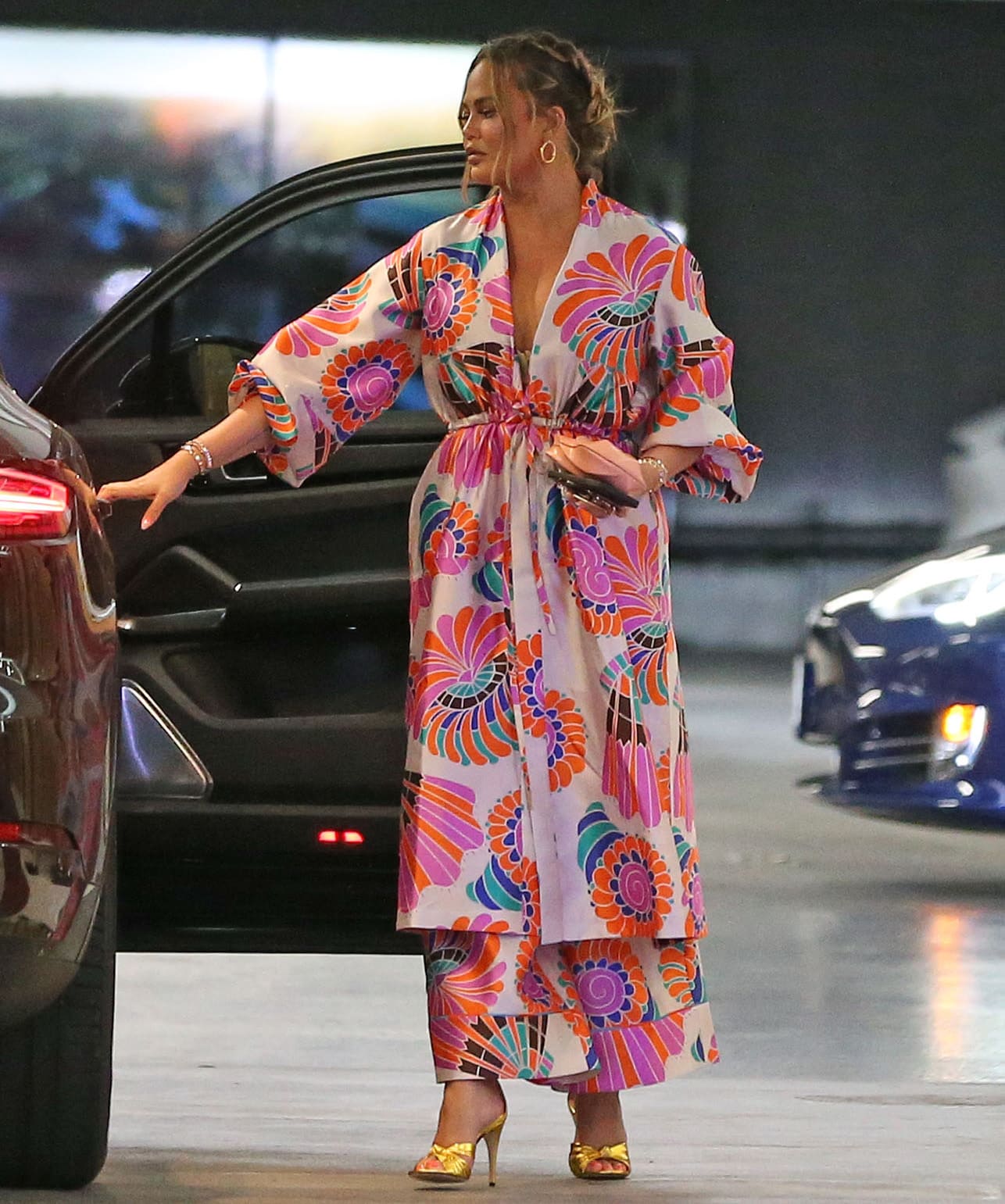 Chrissy Teigen opts for her signature printed silky robe with matching wide-leg pants for the family lunch (Credit: Mega / WENN)
The wealthy television personality elevated her relaxed yet fab outfit with gold hoop earrings and sparkling stacked bracelets on both wrists.
She looked beautiful with her tresses styled in a braided updo with wavy tendrils framing her glowing face.
Chrissy Teigen looks fresh and chic with her braided updo and neutral makeup (Credit: Mega / WENN)
Carrying a pastel pink Bottega Veneta clutch in one hand, Chrissy completed her lunch look with a pair of Gucci "Crawford" sandals in metallic gold leather.
This trendy summer style features a strappy knot detail on the toe strap, a delicate buckled ankle strap, an open toe, and a 4-inch heel.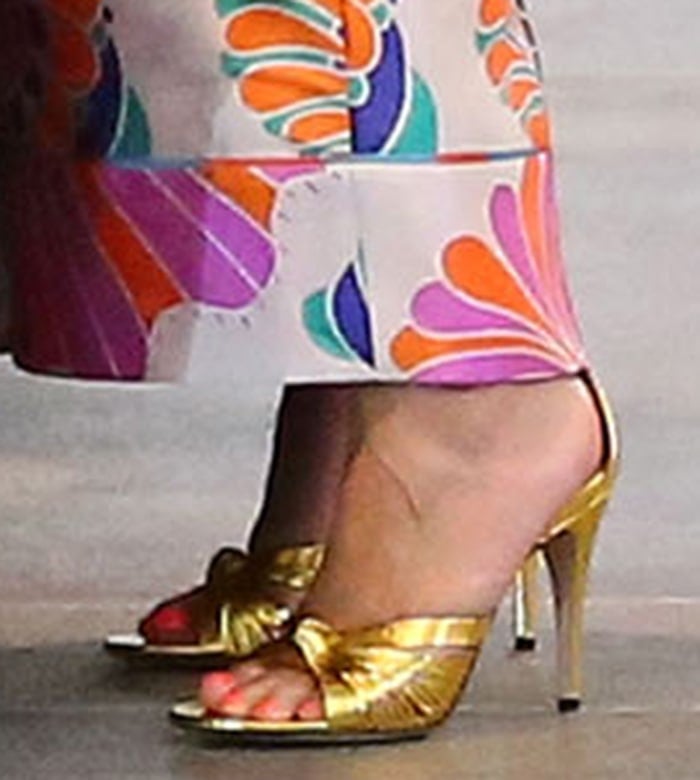 Chrissy Teigen completes her relaxed yet glamorous ensemble with gold Gucci Crawford knotted sandals (Credit: Mega / WENN)
Chrissy Teigen's Cyber-Bullying Scandal
Known for being an open book to her millions of followers on social media, the "Queen of Twitter" faced backlash after past bullying-related tweets aimed at multiple stars resurfaced online.
One of these stars was Courtney Stodden, who was only a teenager when Chrissy bullied her in 2011. Around that time, Courtney received criticisms for marrying actor Doug Hutchison, who was 34 years her senior. She was only 16 and Doug was 50 when they married.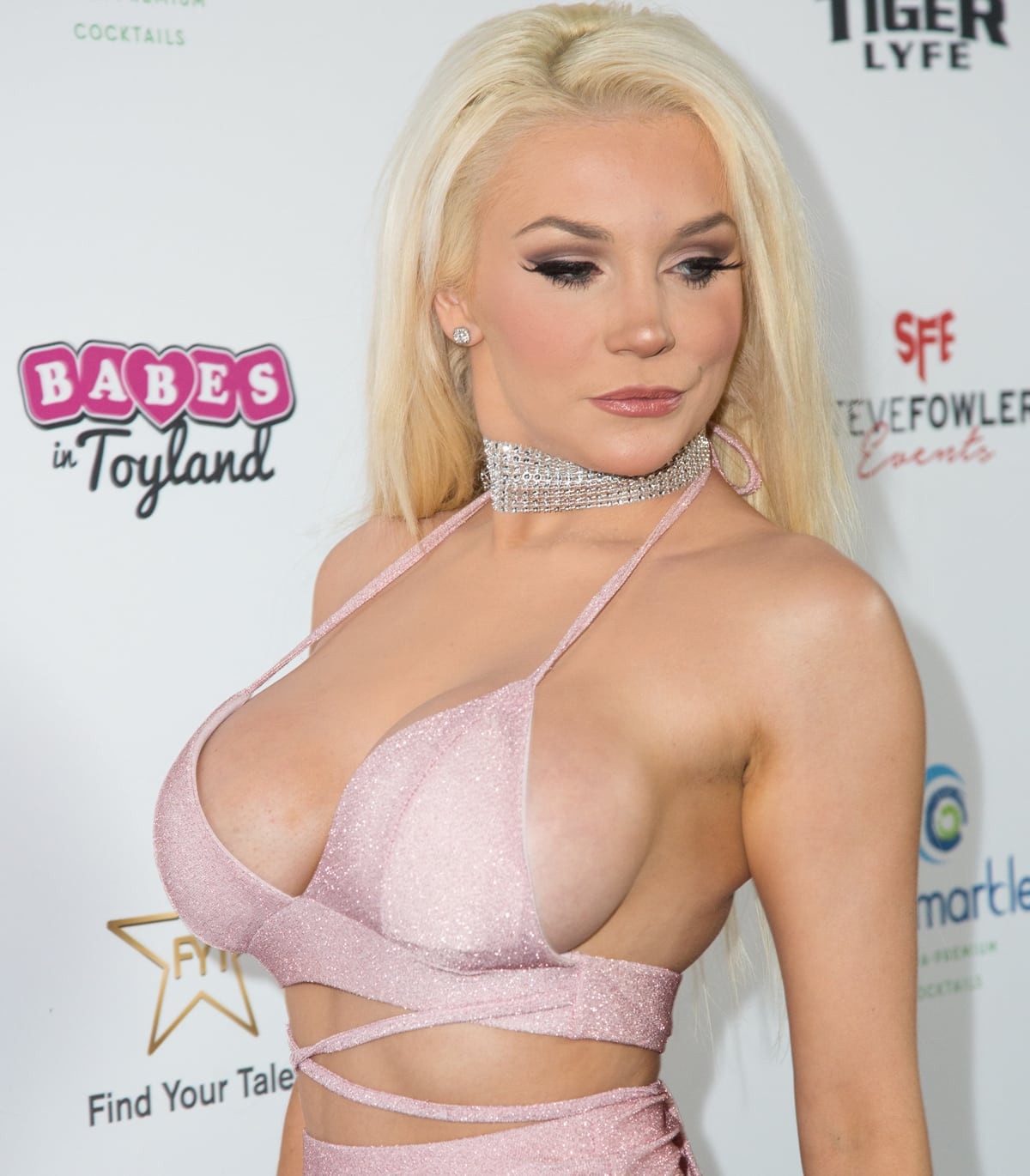 Chrissy Teigen has issued a public apology for telling Courtney Stodden to kill herself (Credit: Sheri Determan / WENN)
Courtney opened up about how Chrissy bullied her in an interview with Daily Beast. Born on August 29, 1994, in Tacoma, Washington, Courtney Alexis Stodden celebrated her 17th birthday on August 29, 2011.
"She wouldn't just publicly tweet about wanting me to take 'a dirt nap' but would privately DM me and tell me to kill myself. Things like, 'I can't wait for you to die.'"
"And not only her, but Joy Behar had a field day with calling me a "slut." Courtney Love told me I was a "whore." People came out of the woodwork to beat up on a kid because she was in a situation that she shouldn't have been in. There were a lot of celebrities acting like playground bullies. Some of the worst treatment I got was from women, and we're not going to get anywhere if we keep holding each other back."
Chrissy Teigen has issued a public apology to Courtney Stodden for cyberbullying in 2011 (Credit: Chrissy Teigen's Twitter)
Chrissy apologized to Courtney in May and mentioned she tried to connect with her. Courtney later said she accepted her apology but denied that Chrissy reached out. TMZ has published some of Teigen's public tweets that seem to confirm Stodden's accusations.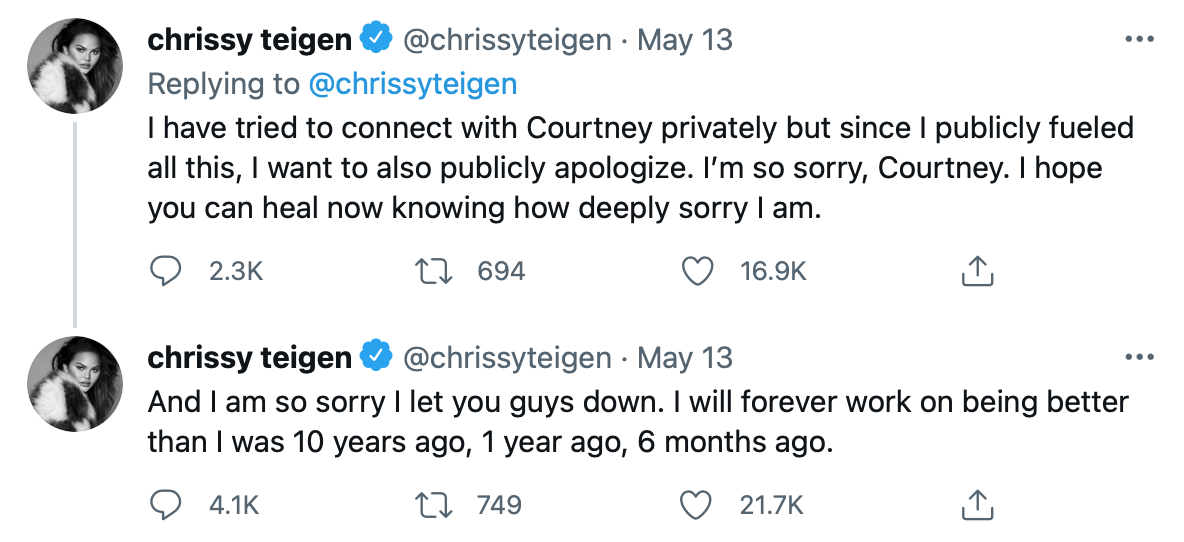 Chrissy Teigen tweets her apology to Courtney Stodden for past bullying issue (Credit: Chrissy Teigen's Twitter)
A month later, Chrissy posted a lengthy apology letter to the people she hurt in the past. Describing herself as a troll, the model said she regretted the "awful tweets" she said and added that she's "no longer the person who wrote those horrible things."
View this post on Instagram