Hailing from Miami, Florida, DaniLeigh has been a name buzzing in the music scene for quite some time.
This multi-talented artist, known for her rapping, singing, and songwriting skills, has been quietly grinding, and now, it's safe to say that her perseverance is bearing fruit.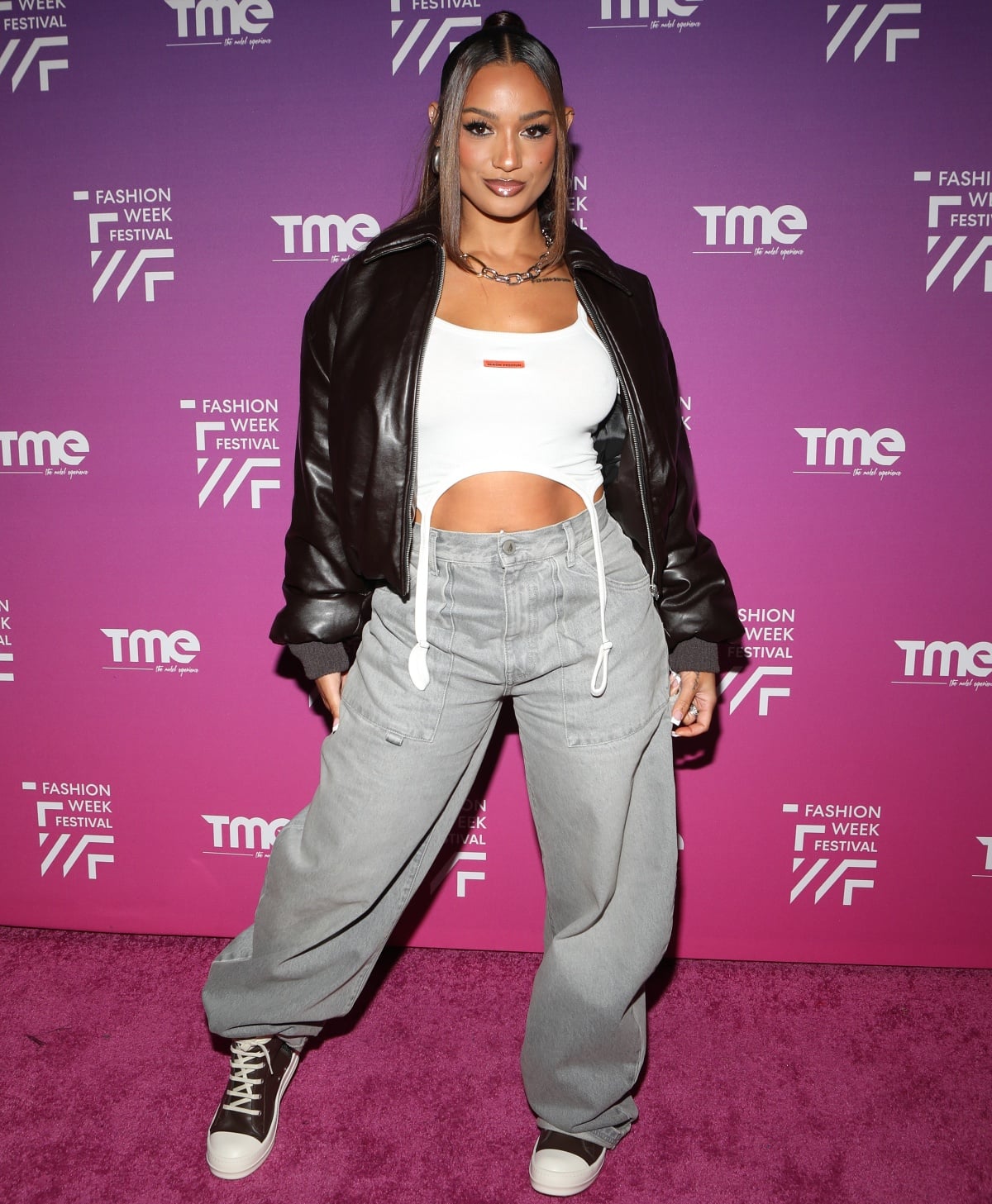 DaniLeigh is a multi-talented artist whose name has been buzzing in the music industry for quite some time (Credit: Udo Salters / Startraksphoto)
Let's delve into the life of DaniLeigh, sharing not only her height but also uncovering the remarkable journey that has led her to the cusp of superstardom.
So, if you're curious about this rising star and how she's making waves in the music industry, keep reading – you're in for a treat!
How DaniLeigh Started Her Journey to Stardom
A multi-talented American artist, Danielle Leigh Curiel, professionally known as DaniLeigh, was born on December 20, 1994 in Miami, Florida.
The 28-year-old hails from a Hispanic ethnicity, with her parents, Vicky Curiel and Vladimir Curiel, originally from the Dominican Republic.
DaniLeigh's family is deeply involved in the music industry, with her older brother pursuing a career as a rapper under the name Brandon Bills.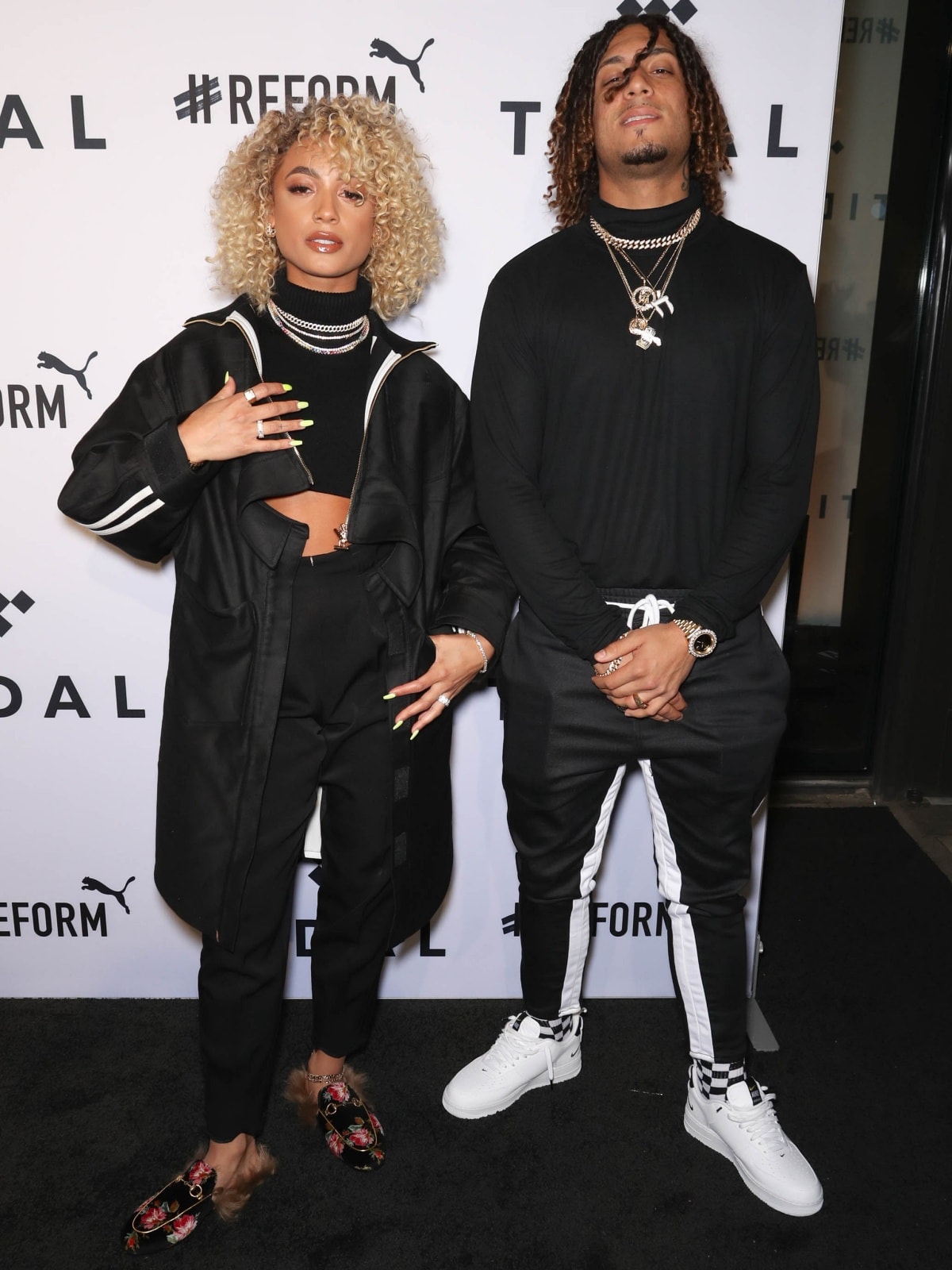 DaniLeigh with Brandon Bills at TIDAL's annual charity event, TIDAL X Brooklyn, in New York on October 23, 2018 (Credit: JOHN NACION / Startraksphoto)
Her passion for music emerged during her youth, with Missy Elliott, Aaliyah, Drake, and Rihanna serving as her musical inspirations.
She started dancing at the young age of 12 and ventured into singing at 14, initially keeping her singing talents hidden due to shyness.
It wasn't until she received positive feedback that she gained the confidence to share her vocal talents. She made her debut on YouTube by posting covers of famous songs like Musiq Soulchild's "So Beautiful."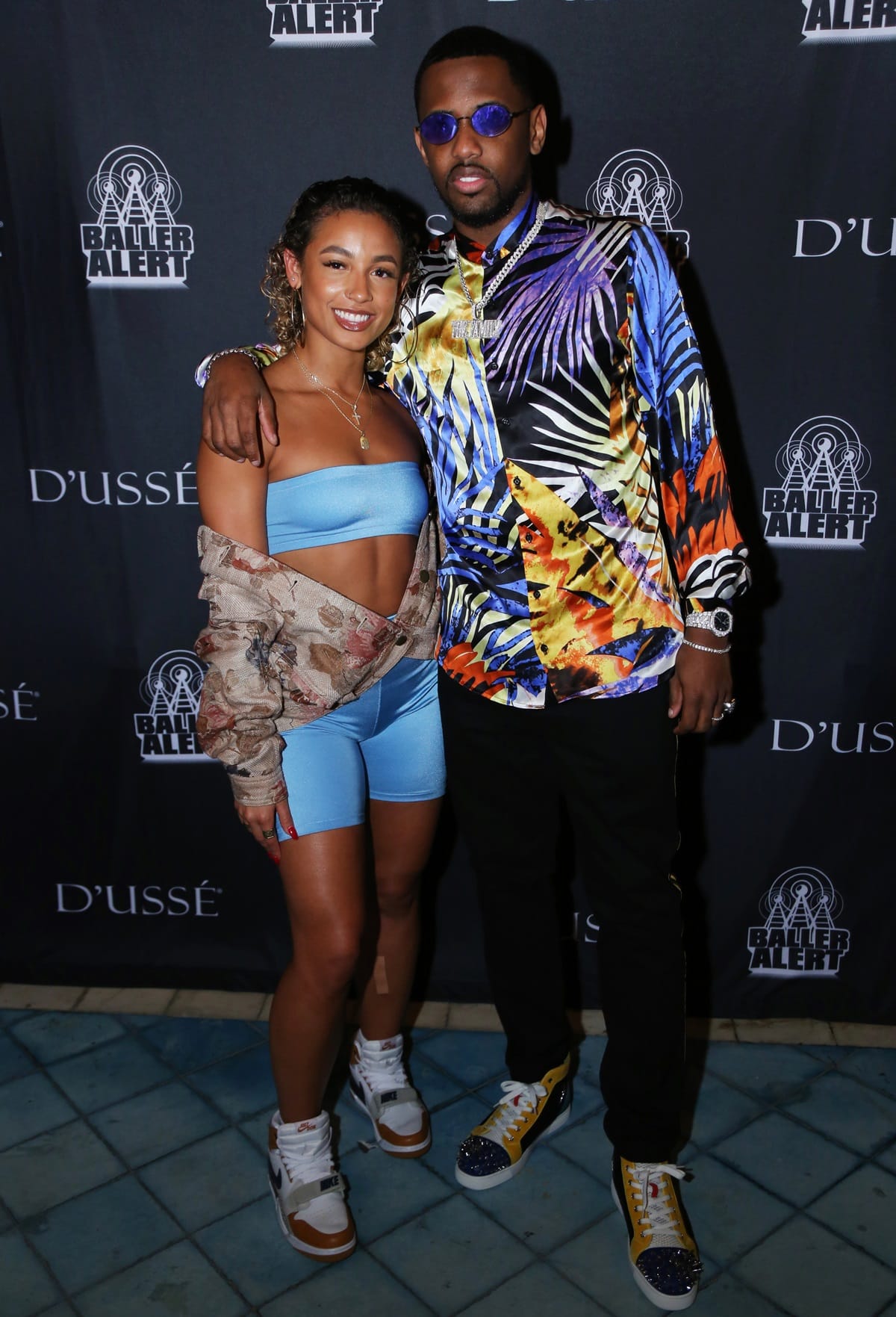 Fabolous stands notably taller at 5 feet 11 inches (180.3 cm) compared to DaniLeigh, who is 5 feet 4 inches (162.6 cm), and they were both present at the opening of the new Generator Hotel in Miami Beach on October 5, 2018 (Credit: Seth Browarnik / Startraksphoto)
Her career took a significant turn when she relocated to Los Angeles at age 16. There, she established connections and began her journey to stardom as a backup dancer for renowned artists like Pharrell Williams, Daddy Yankee, and Nelly Furtado.
She showcased her choreography skills in various music videos and live performances. Additionally, DaniLeigh formed the pop duo Curly Fryz alongside her sister.
During a virtual interview with BET Origins, DaniLeigh revealed, "My mom was a street dancer in New York City like she's my inspiration…and then my dad, his sisters, used to sing in church, and his dad's name is Beethoven. They definitely were super musical. It's definitely in our blood; even with us growing up, there would always be music in the house. I swear I probably wouldn't be doing what I'm doing if it wasn't for my parents."
Is DaniLeigh Tall or Short?
DaniLeigh, the American singer, rapper, and dancer, has a height of 5 feet and 4 inches (162.6 cm), which aligns closely with the average height for women in the United States.
In addition to her normal height, DaniLeigh wears a shoe size of 7 US, which is a common and typical shoe size for adult women in the United States.
DaniLeigh has an average height of 5 feet and 4 inches, and she usually wears heels to give a stylish boost to her frame (Credit: BauerGriffin / INSTARimages)
How DaniLeigh Danced Her Way to the Top
At just 18 years old, DaniLeigh received an opportunity that would change her life forever when Prince asked her to direct the music video for his single "Breakfast Can Wait."
In an interview with Rollingout Magazine in February 2019, DaniLeigh recalled the moment, saying, "I don't know exactly how [Prince] found me. He never told me where, but I was consistently dancing in the game for different artists. And one day, I just got an email saying, 'Prince, the artist, wants you to submit a choreography video for his new video.' I was like, 'Oh, my God. What? OK!' I did a little submission with me dancing, and he was like, 'OK, write a treatment, and I'm going to give you a budget for you to direct this video.'"
Not only did she direct the video, but she also starred in it, bringing her creative vision to life. This remarkable debut showcased her talent and determination, earning Prince's mentorship until his passing in 2016.
DaniLeigh had the great opportunity to work with Prince on the music video for his single "Breakfast Can Wait," where she had full creative control (Credit: JOHN NACION / Startraksphoto / Cover Images)
Reflecting on this unique collaboration, DaniLeigh shared, "It was dope, and it was scary. I was definitely scared, but he was really cool. Every idea I would give to him, he loved it. I think he just wanted me to be me and do me, and I was like, 'OK, let's do it.' … It's helped me because I feel like, throughout my career, I didn't have much confidence in my own voice because I feel like I didn't have the craziest vocal range like Beyoncé. I was like, 'Damn, I don't know if I could do this.' I think having that confirmation from Prince, a legend, it definitely gives me an 'OK, like you're supposed to be doing this. You're unique. Do it.'"
Following her collaboration with Prince, DaniLeigh released her first single, "D.O.S.E," in 2015. However, it was her 2017 hit single "Play" that propelled her to success. "Play" served as an empowering anthem for women and Latinos, featuring Mexican-American rapper Kap G.
DaniLeigh's empowering anthem "Play" in 2017 was what propelled her to success (Credit: Seth Browarnik / Startraksphoto)
Her career continued to ascend when she signed with Def Jam Records in 2017. This partnership led to the release of mixtapes and singles, marking a significant chapter in her musical journey.
She dropped her first EP, "Summer with Friends," that same year, followed by "The Plan" in 2018, featuring collaborations with rappers like YG, Lil Yachty, Lil Baby, and YBN Nahmir.
DaniLeigh also contributed to Megan Thee Stallion's "Hot Girl Summer" music video and choreographed for DaBaby's "BOP on Broadway" in late 2019.
Throughout her music career, DaniLeigh incorporated elements of hip-hop and Latin music into her predominantly R&B style. Her hit singles, including "Lil Bebe," featuring Atlanta rapper Lil Baby, and "Easy," continued to make waves in the music industry.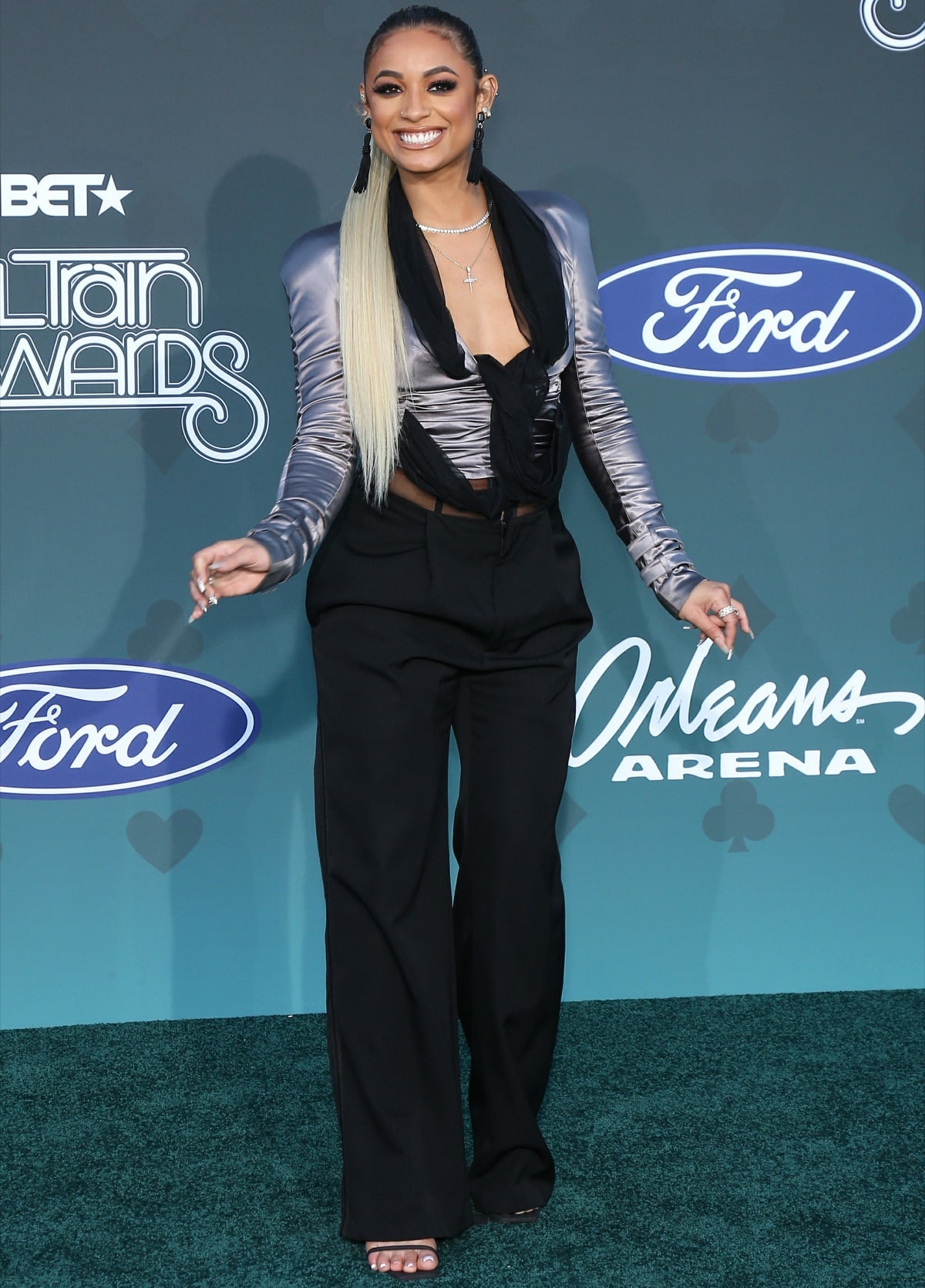 DaniLeigh continues to make waves in the music industry, working with prominent names in the scene and showcasing her many talents (Credit: Startraksphoto)
In addition to her music endeavors, DaniLeigh maintained her role as a dancer and choreographer, working alongside notable artists like Chris Brown and Janet Jackson.
Despite her success, DaniLeigh faced criticism for a social media post promoting colorism with her song "Yellow Bone." She addressed the issue with an apology in January 2021.
Why DaniLeigh Chose to Pursue a Music Career
DaniLeigh had a promising offer on the table – a chance to tour with the pop sensation Meghan Trainor. Yet, she had grander aspirations. Turning down Meghan's invitation, she opted to meet with record label executives instead, determined to share her voice with the world.
In her own words, DaniLeigh explained her transformative journey, saying, "I started being more free, more confident. I started writing and then transitioned to [singing]. I wanted to stop dancing, but that was paying my bills. I really wanted to be an artist. I felt like I could be an artist and hold my own. I was like, 'OK, I need to go ahead and make this transition.' No one was really respecting me as an artist because I was dancing behind artists. So, they were like, 'You ain't really an artist.'"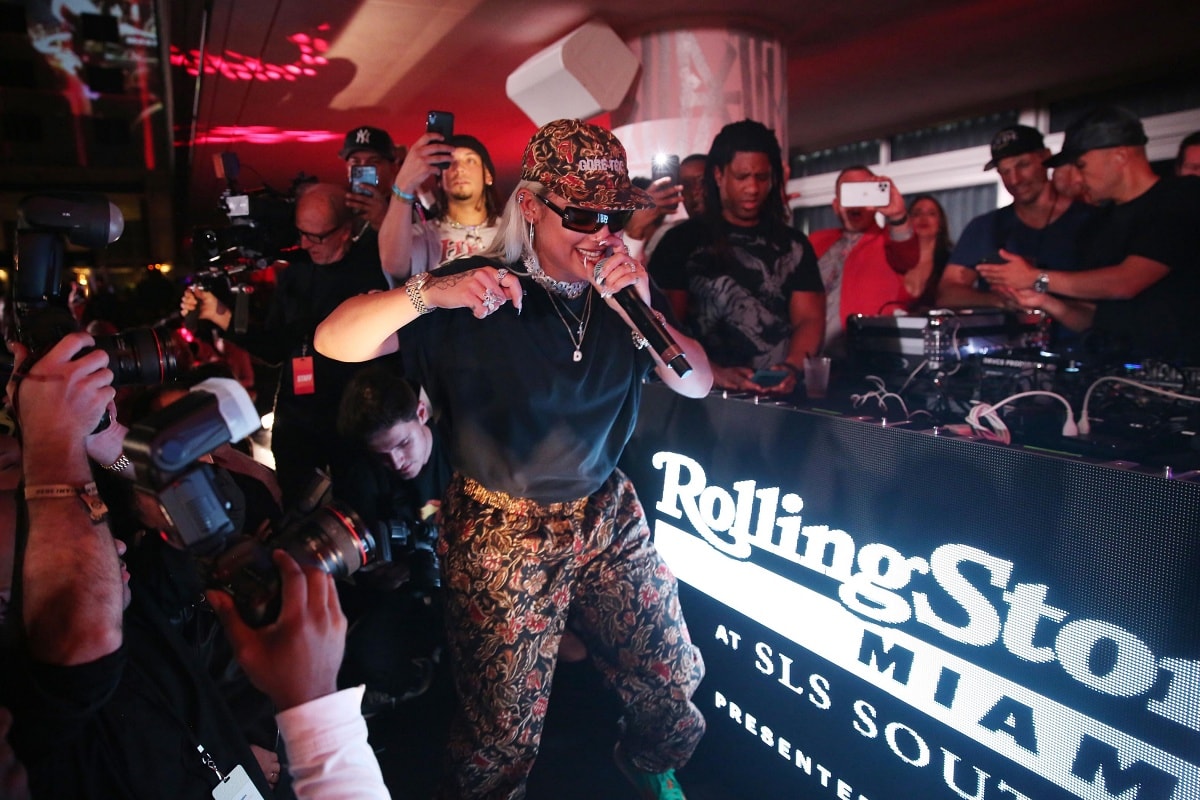 DaniLeigh performing during Rolling Stone LIVE Miami at SLS South Beach in Miami, Florida on February 1, 2020 (Credit: Seth Browarnik / Startraksphoto)
With the release of her hit single "Lil Bebe" in October 2018, DaniLeigh silenced her skeptics. The song soared up the Billboard charts, and its music video garnered over 20 million views on YouTube in just four months.
Speaking about the song's success, DaniLeigh revealed, "It's crazy the way it happened. I actually recorded 'Lil Bebe' back in 2017. And when I first did the song, I saved the file under 'Lil Bebe feat. Lil Baby.' I always just wanted that, so I kind of just spoke that into existence."
November 2018 saw the release of her debut album, "The Plan," a genre-blending exploration of R&B, trap, and pop. Through this album, DaniLeigh shared the ups and downs of navigating life and love as a young adult.
Just like what she expressed in her debut album, "The Plan," DaniLeigh has goals in life that she strives to achieve and different problems that she has to deal with before becoming a fully realized person and serve as an inspiration to many (Credit: AJM / PA Images / INSTARimages)
With a clear-cut plan for success, she strived to be an inspiration and a boss in the music world, saying, "I feel like I have a plan in life, and I wanted to put everything that I had into that album. And I feel that it explains the different tribulations with love, different tribulations with money, different tribulations with focus. I feel like I have a plan. At the end of the day, it's to take care of my family, it's to be an inspiration in this world, to be successful, to be a boss. So, I put all of that in my music, and I feel like it just overall explained the album, The Plan."
DaniLeigh offered advice to those aspiring to make it in the music industry: "It takes hard work. You have to work to get to where you want to get to. It's about living life and being happy. Make sure you're doing what you love for real. … Don't ever let anything change your character and just do you."
When Did Danileigh Have a Baby?
The exciting news of DaniLeigh's pregnancy became public knowledge when she proudly displayed her growing baby bump on social media on July 16, 2021.
Danileigh became a mom at the age of 26. She gave birth to her daughter, Velour, on August 11, 2021. The father of Danileigh's daughter, Velour, is rapper DaBaby. https://t.co/PTH1fOfmfb

— Your Next Shoes (@yournextshoes) September 28, 2023
Taking to Twitter, she shared a series of photos showcasing her baby bump against the backdrop of a stunning waterfall.
Her caption beautifully expressed her emotions: "As you grow, so does my love, discipline, and focus."
The eagerly awaited moment arrived on August 11, 2021, when DaniLeigh gave birth to her precious little one.
Who Is the Baby Daddy of Danileigh?
DaniLeigh is a proud mother to her daughter named Velour, and the father of her child is 31-year-old American rapper DaBaby.
Their journey together had its ups and downs. The announcement of DaniLeigh's pregnancy came following a period of reconciliation with DaBaby.
The two artists had collaborated previously when DaniLeigh choreographed DaBaby's music video for "BOP on Broadway" at the end of 2019. This professional connection soon transitioned into a personal one, with DaBaby featuring on DaniLeigh's single "Levi High."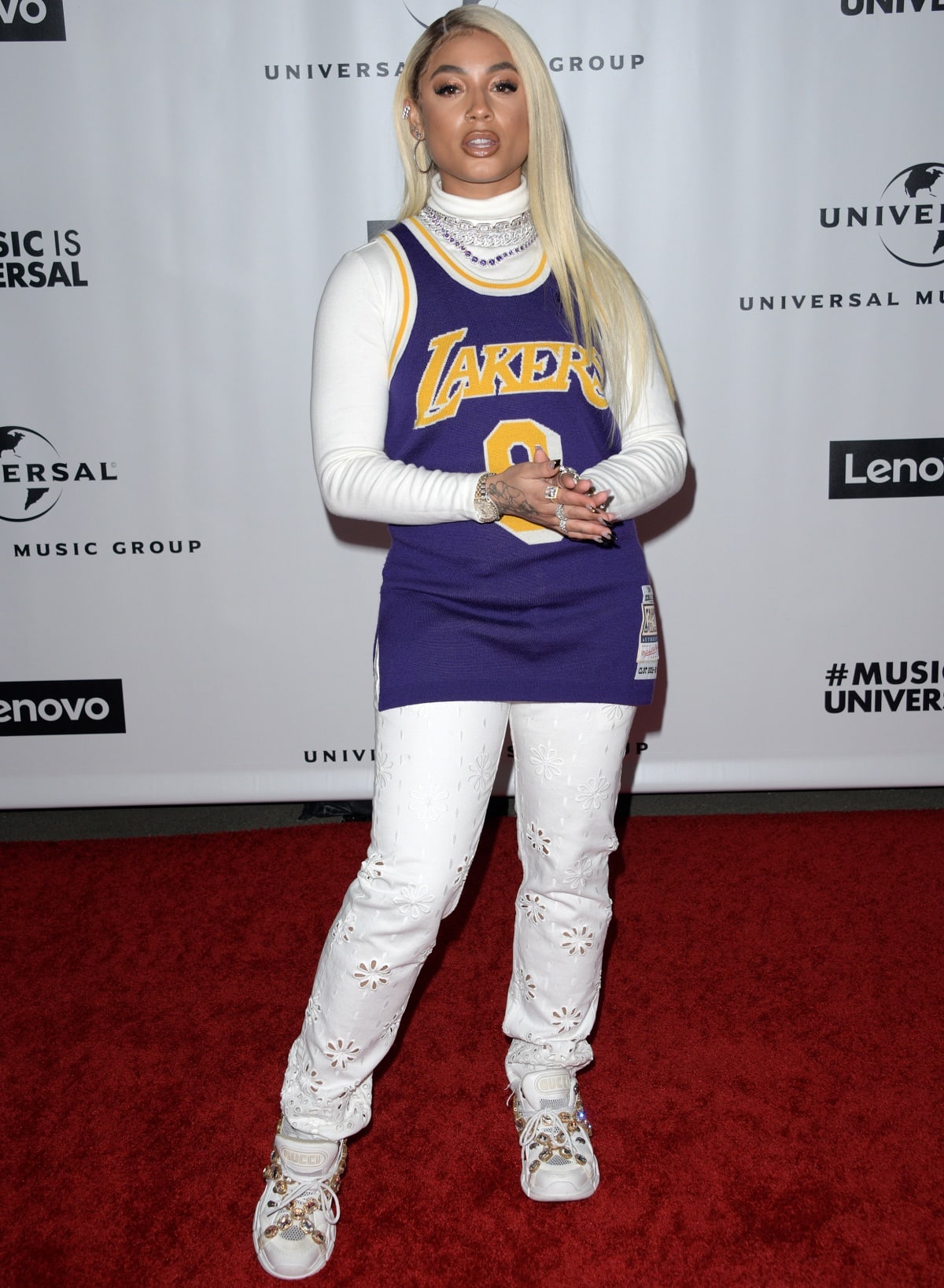 DaniLeigh is a proud mother to daughter Velour with ex-partner DaBaby (Credit: Faye's Vision / Cover Images)
Throughout the year, rumors about their relationship status swirled. They were frequently spotted together during quarantine, and DaBaby even included explicit references to her in his music. Despite the public's curiosity, the couple remained tight-lipped about their relationship.
In September 2020, reports surfaced that they had called off their romance. By December of that same year, their relationship appeared to be back on track. However, the couple broke up in 2021 after only a few months of getting back together.