When it comes to stealing the spotlight at the most glamorous gatherings in the fashion world, Cara Delevingne consistently commands attention.
At Emporio Armani's Spring/Summer 2024 show during Milan Fashion Week, the 31-year-old British model and actress displayed her unmatched style that captivated the audience.
Known for her impeccable fashion sense, Cara graced the runway in a chic black jumpsuit, effortlessly making a statement amidst a sea of pastels and vibrant hues. Her all-black, perfectly tailored ensemble accentuated her model physique and exuded an irresistible allure.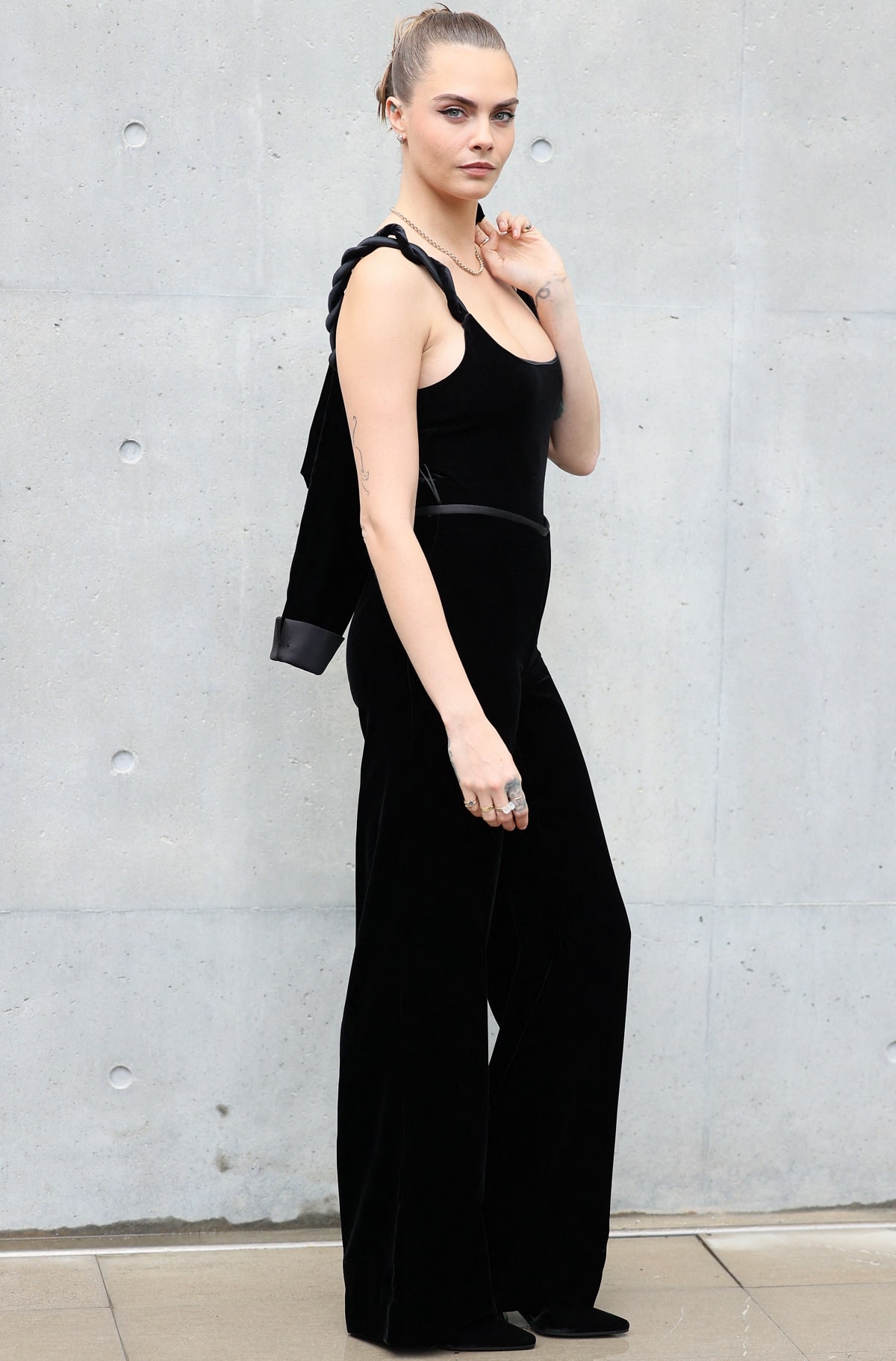 Cara Delevingne showing off her impeccable style with an edgy all-black ensemble that flaunted her enviable physique at the Emporio Armani Spring/Summer 2024 runway show during Milan Fashion Week in Milan, Italy on September 21, 2023 (Credit: Abaca Press / INSTARimages)
The plunging neckline of her outfit added a touch of mystique, offering a tantalizing glimpse of her sophisticated flair, while the flared trousers elegantly highlighted her statuesque frame.
But it wasn't just the jumpsuit that stole the show; the Only Murders in the Building star casually draped a matching jacket over her shoulder, infusing her look with nonchalant charm.
Her choice of gold jewelry, from dainty earrings to an array of rings adorning her fingers and a delicate necklace gracing her neckline, further accentuated her star quality.
Cara's iconic features shone elegantly as she gathered her blonde locks into a polished updo, letting her natural beauty radiate.
Cara Delevingne's beauty look consisted of a sleek updo, minimal makeup, and an assortment of jewels for added sparkle (Credit: Abaca Press / INSTARimages)
She completed the ensemble and slipped into a pair of black pointed shoes, subtly boosting her impressive stature.
Cara Delevingne is no stranger to Milan Fashion Week's spotlight. Just a day prior, she graced the front row at Fendi's Spring/Summer 2024 show, joining forces with luminaries like Naomi Campbell, Demi Moore, and Suki Waterhouse.
For this occasion, she sported a taupe top featuring a mock neck and an alluring open back that twisted uniquely, perfectly encapsulating her sophisticated yet edgy fashion sense.
Cara Delevingne gracing the Fendi Spring/Summer 2024 runway show with her stunning presence during Milan Fashion Week in Milan, Italy on September 20, 2023 (Credit: Abaca Press / INSTARimages)
Complementing the top, Cara added a darker gray skirt that elegantly cascaded to the floor, boasting a shimmery finish and a zipper opening along the back.
She completed the look with a white mini purse and subtle stud earrings to accentuate her outfit.
Cara donned black leather boots with a rounded toe and metallic gold heels that featured a round base, adding glamour to her neutral ensemble.
Cara Delevingne wearing a taupe top and styling her hair in a side-swept bob (Credit: Abaca Press / INSTARimages)
As if that wasn't enough, Cara Delevingne recently made waves at the Ralph Lauren Spring/Summer 2024 runway show held at the Brooklyn Navy Yard in New York City, where she rubbed shoulders with A-list stars like Jennifer Lopez and Gabrielle Union.
For this event, Cara chose to impress again, donning a sheer, black blouse partially unfastened towards the top, infusing her look with a sultry edge.
She paired the blouse with fitted black pants and draped a black leather-tasseled jacket over her shoulder, finishing the ensemble with a stylish black hat.
Cara opted for minimal accessories, allowing the ensemble to take center stage, with only a chunky ring adorning her left hand. She slipped into heeled, knee-high boots to complete the look, harmonizing perfectly with her all-black outfit.
View this post on Instagram
Taking to Instagram, Cara shared a glimpse of her Ralph Lauren front-row experience, captioning the post with a simple cowboy and cowgirl fashion emoji while tagging the American fashion designer's account.