The runway at Gucci's Spring/Summer 2024 fashion show during Milan Fashion Week wasn't just about cutting-edge clothing – it was also the stage for a surprising and stylish pairing.
This event marked the debut collection for the Italian fashion house's new Creative Director, Sabato De Sarno, promising an unforgettable spectacle.
The front row was a star-studded affair, with notable attendees including Julia Roberts, Troye Sivan, Emma Roberts, Julia Garner, Jessica Chastain, Ryan Gosling, and Jodie Turner-Smith.
In a stunning fashion debut, Hollywood's dynamic duo of the moment, Kendall Jenner and Bad Bunny, strutted their stuff in perfectly synchronized style.
The 27-year-old wealthy supermodel graced the Friday afternoon event with her signature elegance, donning a chic khaki Gucci trenchcoat dress showcasing her long and slender legs.
Kendall Jenner looking effortlessly chic in a khaki Gucci trenchcoat dress at the Gucci Spring/Summer 2024 runway show during Milan Fashion Week in Milan, Italy on September 22, 2023 (Credit: IPA / INSTARimages)
Kendall's impeccably tailored ensemble was a mini version of the luxury designer clothing brand's Gabardine trench coat embellished with custom white and neutral hardware.
A cinched belted waist accentuated her enviable silhouette, featuring squared-off shoulders and exquisite pocket detailing.
The Keeping Up With the Kardashian star wore trendy black 90s-inspired sunglasses and minimalistic jewelry to complement her outfit. She carried a striking red leather Gucci Jackie 1961 mini shoulder bag to round out her look.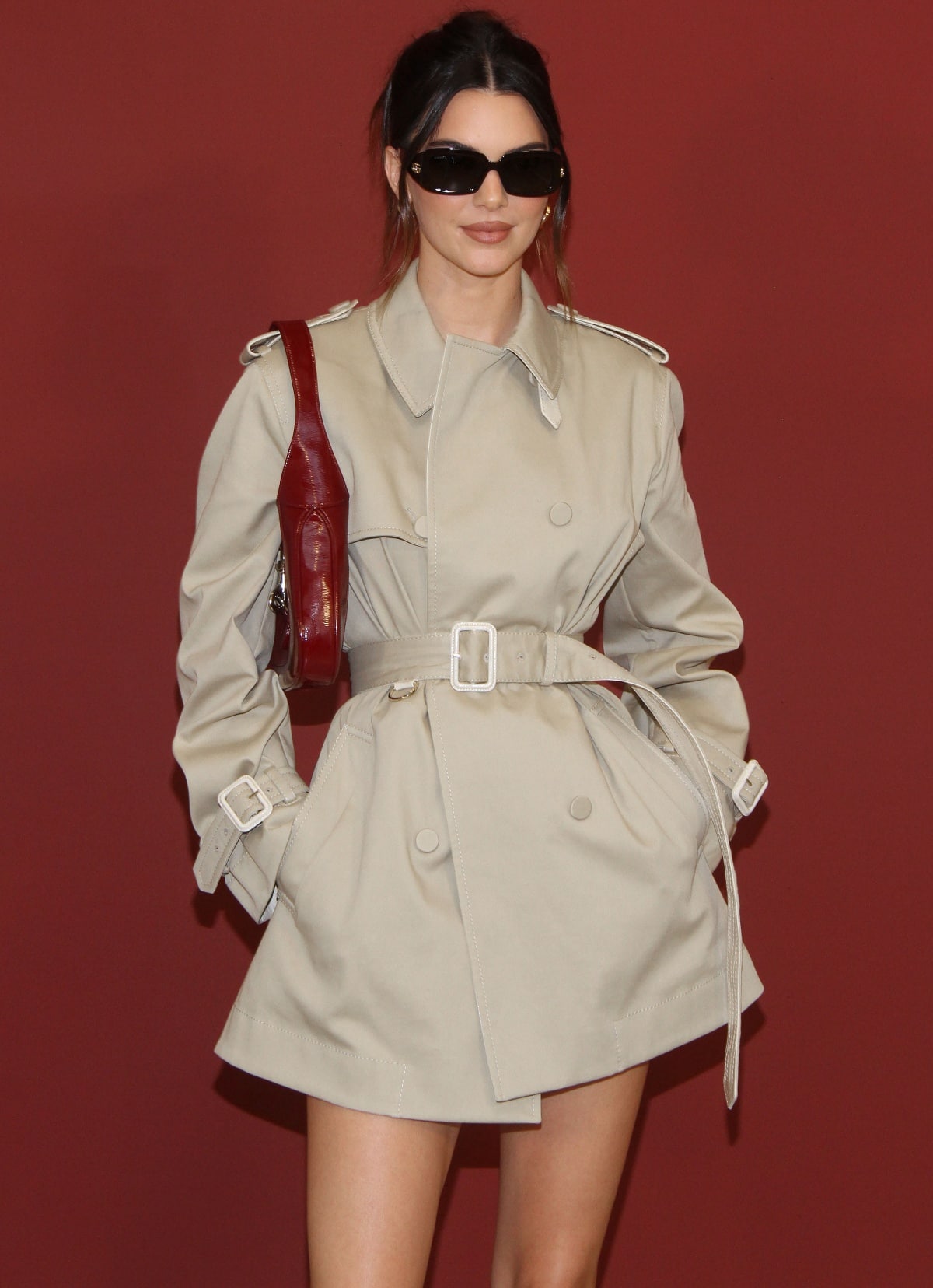 Kendall Jenner accessorizing with 90s-inspired black sunglasses and a red leather Gucci Jackie 1961 mini shoulder bag (Credit: IPA / INSTARimages)
Her hair was elegantly swept up, with delicate tendrils framing her face – a perfect match for her soft, glamorous makeup.
Adding a subtle height boost, she effortlessly ruled the runway in coordinating dark red slingback kitten heels. Her footwear featured glossy, patent leather uppers seamlessly transitioning into triangular pointed toes, secured by slender but sturdy straps wrapped around Kendall's heels.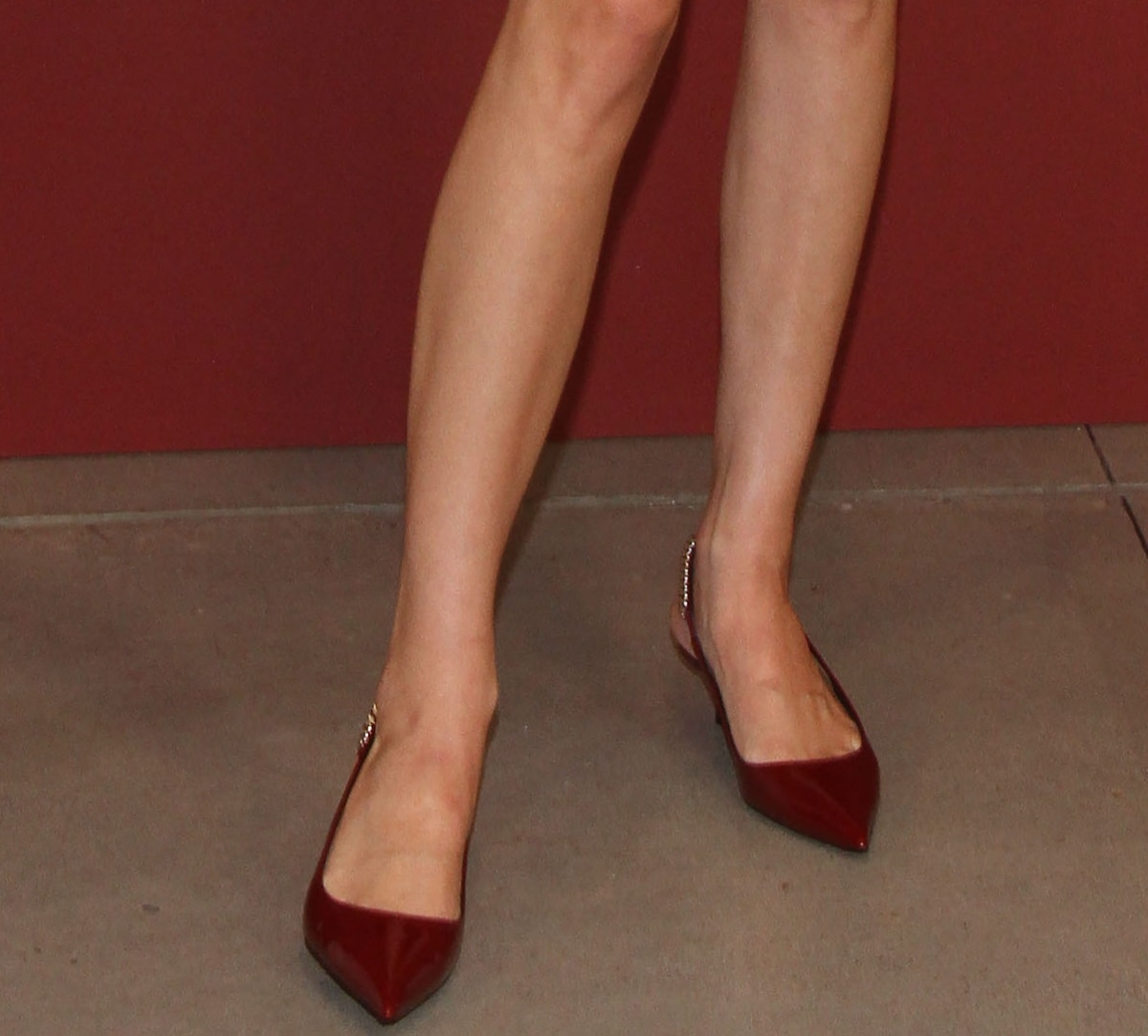 Kendall Jenner wearing dark red slingback kitten heels from Gucci (Credit: IPA / INSTARimages)
While Kendall Jenner commanded the spotlight, Bad Bunny, whose real name is Benito Antonio Martinez Ocasio, embraced a minimalist aesthetic, expertly balancing casual cool with high-fashion charm.
The 29-year-old Puerto Rican rapper and singer-songwriter made a sleek and understated entrance, opting for a crisp white collared button-down shirt paired with classic blue straight-leg jeans.
He perfectly coordinated with his rumored girlfriend, topping his ensemble with a beige beanie and carrying his black Gucci Jackie 1961 mini shoulder bag.
Bad Bunny in a casual-cool ensemble with a crisp white button-down shirt and classic blue straight-leg jeans (Credit: IPA / INSTARimages)
Adding the final touches to his ensemble, Bad Bunny chose a pair of polished black dress shoes and donned effortlessly stylish, jet-black sunglasses.
Although Kendall and Bad Bunny were not photographed together at the arrivals, they were spotted side by side during the event, sharing a seat with the iconic Vogue figure, Anna Wintour.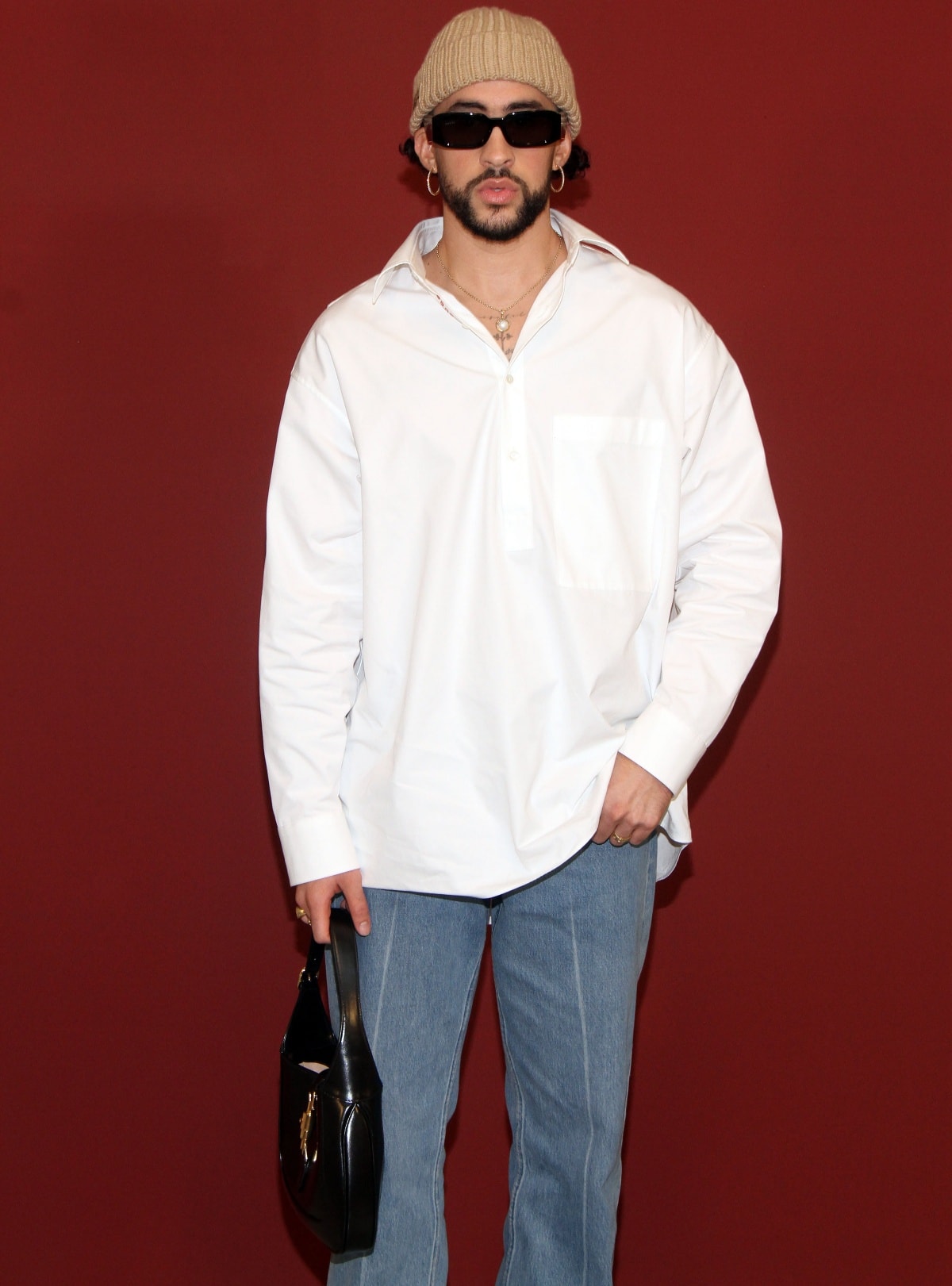 Bad Bunny accessorizing with a beige beanie, dark sunglasses, and a black Gucci Jackie 1961 mini shoulder bag (Credit: IPA / INSTARimages)
This power couple initially sparked romance rumors following a cozy dinner in Los Angeles back in February. Sources revealed that their love story blossomed through mutual connections, and since then, they've been sighted together at various events.
Despite their numerous public appearances, the pair remains tight-lipped about their romantic relationship.
In a September 2023 interview with Vanity Fair for the magazine's October issue, Bad Bunny emphasized his desire to keep his personal life private, stating, "I'm not really interested in clarifying anything because I have no commitment to clarify anything to anyone. They don't know how you feel, they don't know how you live, they don't know anything, and I really don't want them to know."