Kim Kardashian, the ever-supportive mom of four, knows how to make an entrance, and her latest outing to watch her seven-year-old son, Saint, play basketball was no exception.
The 42-year-old wealthy reality star, known for her fashion-forward choices, stepped out in Los Angeles on Friday night, capturing all the attention as she arrived at the gymnasium.
In a delightful departure from her usual glamourous attire, Kim opted for a casual yet chic ensemble that tastefully accentuated her famous curves. She elegantly embraced a monochromatic tan palette, subtly revealing glimpses of her toned midriff.
Kim Kardashian with son Saint West stepping out in Los Angeles, California on September 22, 2023 (Credit: BauerGriffin / INSTARimages)
The American Horror Story actress' outfit showcased her impeccable fashion taste, wearing a SKIMS new vintage racer cropped tank top in stone, accentuating her slim figure.
Kim paired it with high-waisted outdoor jersey sweatpants from her shapewear and clothing brand, also in stone, featuring a practical drawstring closure.
Adding a striking element to her outfit, she carried a Christian Dior mink eel distressed saddle bag from John Galliano's Fall 2004 collection. With its coordinating tan hue, silver hardware, and fur trim, this luxurious accessory added a touch of glamour to her laid-back look.
The Kardashians star's fashion statement didn't stop at her bag; she also sported reflective silver sunglasses, exuding a touch of Y2K nostalgia.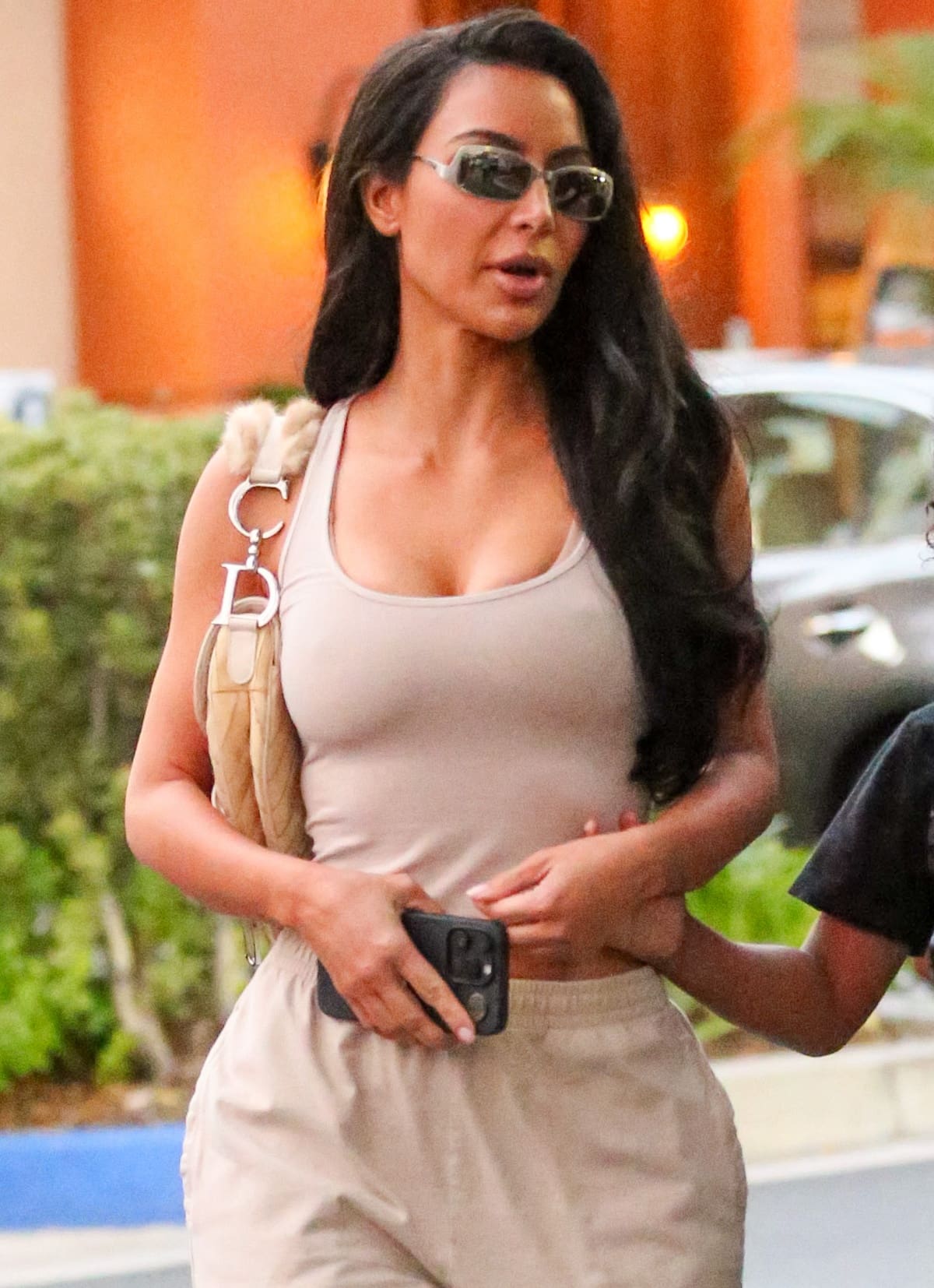 Kim Kardashian in a monochromatic ensemble that featured a SKIMS cropped tank top and high-waisted jersey sweatpants, styled with a Christian Dior by John Galliano Fall 2004 saddle bag and reflective sunglasses (Credit: BauerGriffin / INSTARimages)
Her long, lustrous brunette locks cascaded gracefully, styled with a deep side part, complementing the overall aesthetic.
Keeping it simple and stylish, Kim completed her look with a pair of Yeezy "Bone" slides, a product from her former husband Kanye West's brand.
Kim Kardashian wearing Yeezy "Bone" slides, and Saint West wearing a basketball jersey, black shorts, white socks, and white Nike sneakers (Credit: BauerGriffin / INSTARimages)
Although her trouser hems may have slightly overshadowed her footwear, they gave her ensemble a breezy and comfortable finish, ensuring a non-slip experience with their ribbed tread.
As for young Saint, he proudly displayed his charming curly locks while donning a basketball jersey, black shorts, knee-high white socks, and a stylish pair of Nike sneakers.
A closer look at Kim Kardashian's Yeezy slides and Saint West's Nike sneakers (Credit: BauerGriffin / INSTARimages)
Following the exciting basketball game, Kim didn't stop making headlines, treating her 364 million Instagram followers to a captivating carousel of images.
The aspiring full-time attorney appeared jaw-dropping in a tiny pink Chanel bikini adorned with the iconic interlocking Cs logo in a lighter shade of pink.
With her raven locks elegantly pulled into a sleek single braid, she embraced the Barbie-core trend, adorning herself in a matching pink cover-up and toting an adorable pink Chanel bag.
https://www.instagram.com/p/Cxiu1bcxuzW/
She sported rose-tinted sunglasses, a pale pink manicure, a pedicure, and layered cross necklaces to complete this attention-grabbing ensemble.
Two snapshots showcased her barefoot on the tennis court, her gleaming, oiled physique radiating perfection.
Even 42-year-old tennis legend Serena Williams couldn't resist joining the fun, playfully commenting on Kim's tennis court photos.
In the comment section, Serena wrote, "Literally not how you hold a racquet. Clearly I have to give you lessons lol," accompanied by two heart-eye emojis.