Kim Kardashian stars in the latest swim campaign for one of Time magazine's most influential companies, SKIMS.
She splashed on a generous amount of baby oil and rested atop half-naked male models in the photoshoot captured by renowned photographer Steven Klein.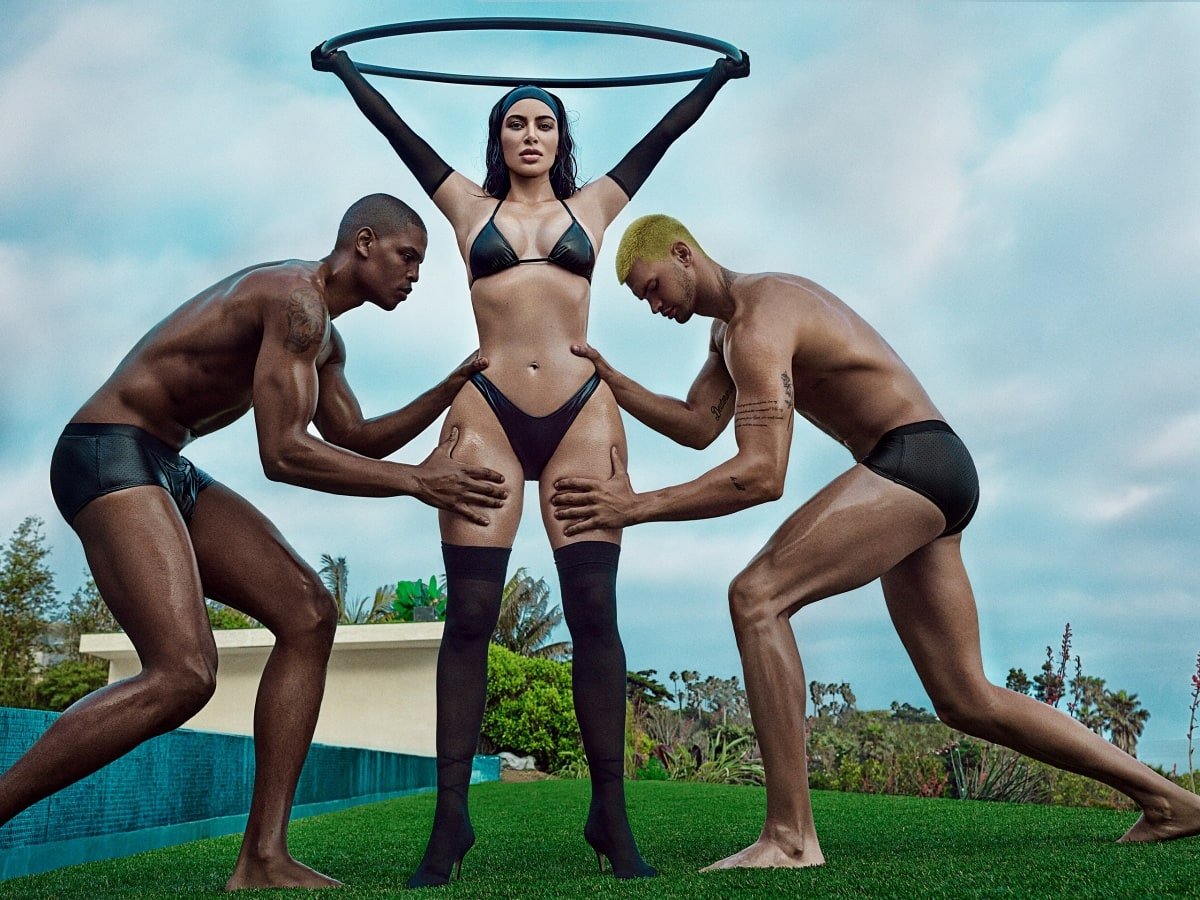 Kim Kardashian posing in a bikini with opera gloves, knee-high tights, and pointy-toe heels (Credit: Steven Klein for SKIMS)
In the photos, the SKIMS co-founder showcased the Faux Leather Swim and Rubberized Scuba Swim collections, which feature bikinis, one-piece suits, and cover-ups.
The 42-year-old business mogul and a few models were clad in all-black ensembles as they showed off the pieces in the brand's latest swim line. Knee-high boots and spiky heels elevated the swimwear to new heights, while opera gloves added a touch of edgy glamour.
In a press release, the American Horror Story actress talked about enlisting the help of Steven Klein. "Steven and I have collaborated on so many iconic images over the years, and I'm grateful that we once again have partnered on Skims for the new swim campaign."
Kim Kardashian surrounded by models in all-black ensembles from the new swimwear line (Credit: Steven Klein for SKIMS)
The Kardashians star continued, "His creative touch and vision for this collection are exactly what make him the incredible photographer he is today."
Meanwhile, Steven Klein sang Kim Kardashian's praises in the same press release. "Icons exert a magnetic pull that allows the viewer to superimpose a dream reality, a kind of hyper-existence," Klein remarked. "Icons are symbols, the alphabet of desire. Kim speaks this language. Our work together has been an exploration of the power of the image, the beauty of experimentation/the alchemical process of icon."
The collection drops "soon," but people are already having a field day in the comments section.
Kim Kardashian resting atop a male model while clad in a zip-front bikini with opera gloves, knee-high boots, and oversized sunglasses (Credit: Steven Klein for SKIMS)
One person called the collection "perfect for deep sea rescue missions," while another sarcastically remarked that it "looks like really practical beachwear for most of us….!!!"
Someone said that it's "kinda cringy," while another wondered if they're "promoting the oil or the swimwear?"
Whatever you may think about Kim Kardashian and Steven Klein's visual narrative for SKIMS' new swim campaign, you can't deny that the images are a great conversation starter.
Kim Kardashian's latest swimwear drop for her brand SKIMS takes a different approach compared to the vibrant and tropical bikinis often seen on celebrities during summer vacations.

Instead, Kim's new releases, the Rubberized Scuba Swim and Faux Leather Swim collections, exude a… https://t.co/L0DOkaR8ja

— Your Next Shoes (@yournextshoes) June 29, 2023