Kim Kardashian is having a busy 2023 so far.
Her SKIMS brand has been named by Time magazine as one of the most influential companies of 2022, and she continues to juggle businesses and motherhood and being a reality TV star on top of it all.
The 42-year-old business mogul seems to be dipping her toes in many waters these days, as she was just announced as part of the cast of American Horror Story's 12th season.
She confirmed the casting announcement with a post on Instagram of a video with eerie piano music playing in the background, the word DELICATE flashing on the screen, and the names of Kim Kardashian and co-star Emma Roberts.
View this post on Instagram
In a statement to THR, American Horror Story co-creator Ryan Murphy said, "Kim is among the biggest and brightest television stars in the world and we are thrilled to welcome her to the AHS family."
He continued, "Emma and I are excited about collaborating with this true force in the culture. Halley Feiffer has written a fun, stylish and ultimately terrifying role especially for Kim, and this season is ambitious and unlike anything we have ever done."
As reported by THR, Ryan Murphy and Kim Kardashian are friends, and the former was said to have been "impressed" with the pop culture icon's hosting stint on Saturday Night Live in 2021.
Kim Kardashian wearing a grey Alaia silk and cashmere dress with a high neck, a ribbed design, and a wraparound tie detail at the bottom while out and about in New York City on April 26, 2023 (Credit: Roger Wong / INSTARimages)
Although everyone has been keeping mum about Kardashian's and Roberts' roles, the title Delicate alludes to Danielle Valentine's upcoming novel Delicate Condition, on which the new season of American Horror Story is partly based.
According to The Hollywood Reporter, "the novel is described as a gripping thriller about a woman who becomes convinced that a sinister figure is going to great lengths to make sure her pregnancy never happens."
The 12th season of American Horror Story is expected to premiere in the summer, but Kim Kardashian is already getting slammed for her casting in the show.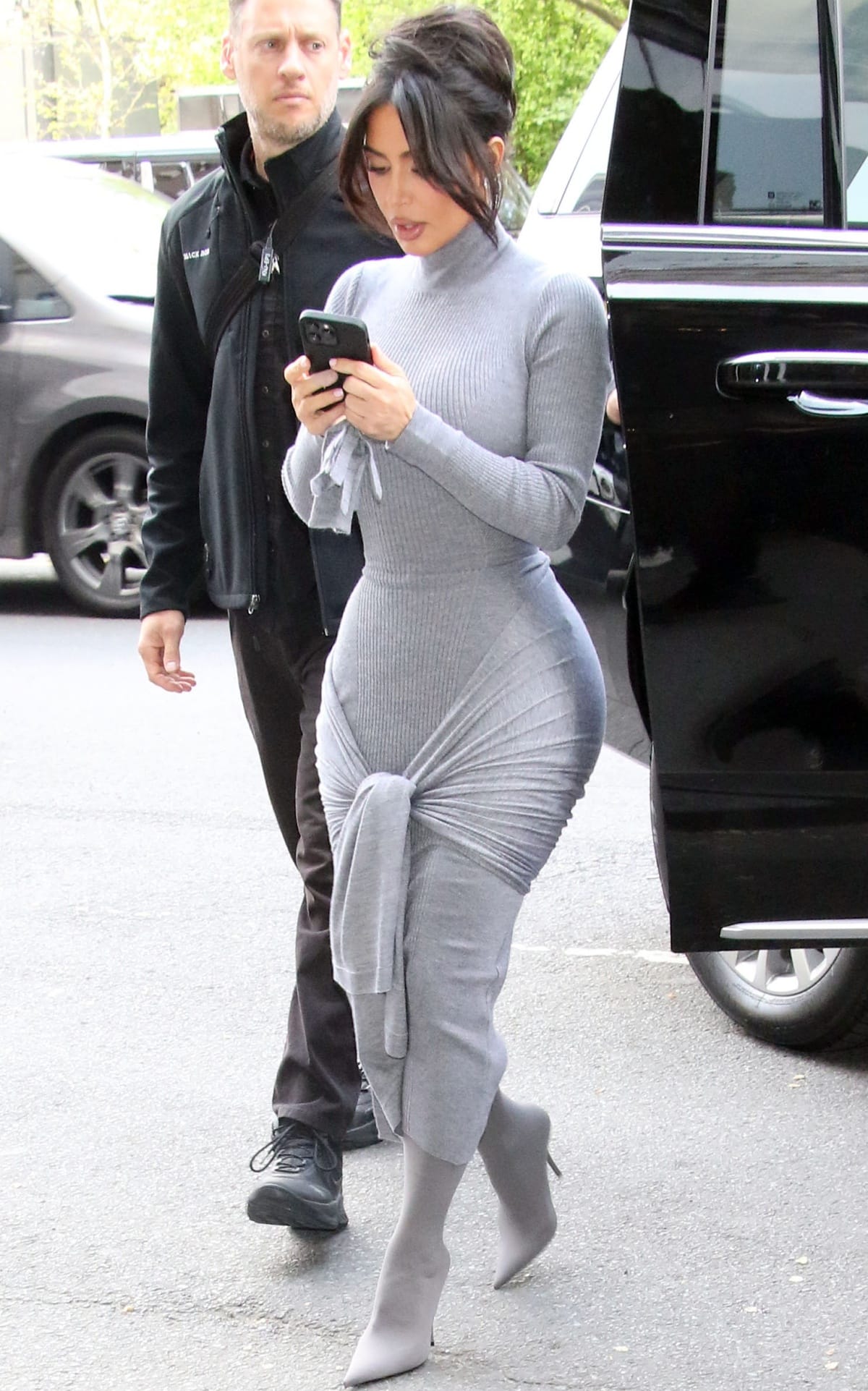 Kim Kardashian wearing a pair of Balenciaga Knife over-the-knee boots in a matching grey shade (Credit: Roger Wong / INSTARimages)
On an episode of Watch What Happens Live with Andy Cohen, three-time Tony Award winner Patti Lupone, who previously starred on American Horror Story: Coven and AHS: NYC, said she gave a damn about Kim Kardashian's casting. She went on to say that she didn't like it and that the role should go to an actual actor instead.
"Excuse me, excuse me, Kim," Lupone said, addressing Kim Kardashian directly. "What are you doing with your life?"
Sharon Stone, a 65-year-old Hollywood icon, also chimed in with her agreement to Lupone's statement in the comments section on Instagram:
"Well… you know… acting It may not be brain surgery but We do treasure our art. We studied, we suffered, we do suffer for it. Ten thousand hours; it's a thing," she wrote under a post shared by Access Hollywood, as reported by Fox News.
On a cheery note, the SKIMS founder seemed to have confirmed her attendance at this year's Met Gala with an Instagram post.
She shared several photos from her recent trip to Paris, including those with Karl Lagerfeld's beloved cat Choupette.
In the caption, she wrote, "Had a date with @choupetteofficiel in Paris. We then spent some time at @karllagerfeld's office to get a little inspiration for the Met." Kim Kardashian is seen wearing a black belted iridescent patent coat from Karl Lagerfeld in the photos.
View this post on Instagram
This year's Met Gala theme is "Karl Lagerfeld: A Line of Beauty," in honor of the late great designer.
We can't wait to see what Kim Kardashian and the rest of the attendees have in store for us at the Met Gala this year!