Diane Kruger made a stylish appearance at the first-ever SS23 fashion show by COS Atelier at the Hotel D'Evreux in Paris.
She showcased a fashion-forward ensemble, combining an oversized cream-colored suit jacket with structural shoulders and a boxy silhouette worn over a sleek white slip dress.
Adding a vibrant touch, she draped a thin bright orange balaclava over her head. Also known as a balaclava helmet, ski mask, or shiesty, the balaclava is a cloth headgear designed to expose only part of the face, usually the eyes and mouth.
Diane Kruger made a bold fashion statement with a deep orange balaclava, which added an edgy element to her ensemble at the COS Atelier SS23 show at Hotel D'Evreux on April 26, 2023, in Paris, France (Credit: Abaca Press / INSTARimages)
Depending on the style and how it is worn, only the eyes, mouth, nose, or just the front of the face, are unprotected. Versions with enough of a whole face opening may be rolled into a hat to cover the crown of the head or folded down as a collar around the neck.
Accompanying her outfit was a quilted tan mid-sized Chanel quilted flap bag with gold chain straps, pointed pumps, and chunky gold rings.
Kruger's blond tresses were neatly tucked under the scarf, completing her chic look. Her makeup was kept classic, allowing her outfit to take center stage.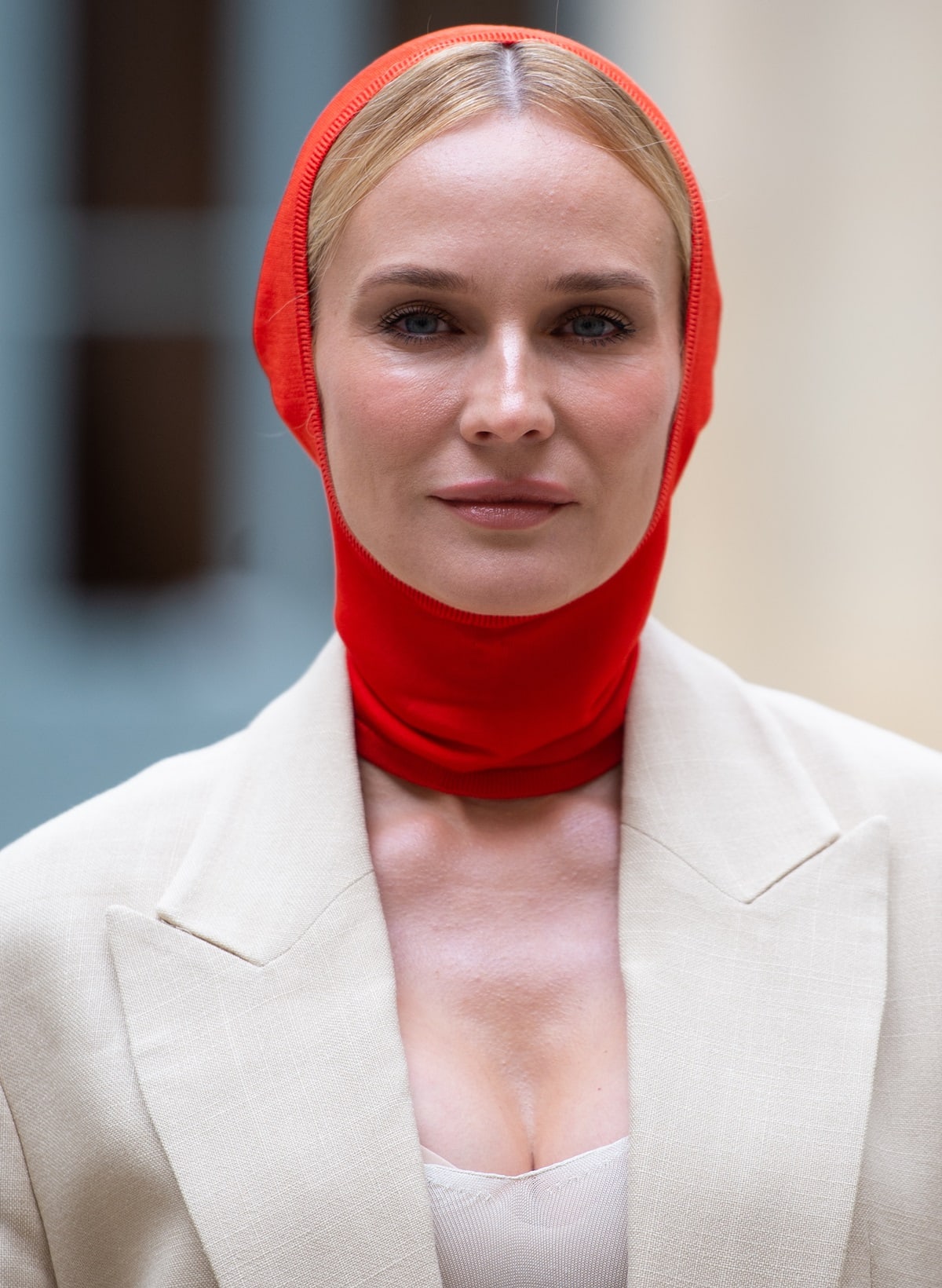 In a fashion-forward statement, Diane Kruger boldly dons a neon red balaclava paired with an oversized long beige blazer jacket (Credit: Abaca Press / INSTARimages)
As the weather begins to cool down, the balaclava is expected to take center stage this autumn, serving not only as a warm and cozy head accessory but also as a practical solution for those dreaded bad hair days.
Its versatility and functionality make it a standout trend to watch, ensuring comfort and style as the seasons change. Bold colors and fun prints are favored to modernize a classic look, as demonstrated by Kruger's fashion-forward style.
Diane Kruger in a Vera Wang Spring 2018 ensemble at the premiere of "Aus dem Nichts" (In the Fade) held at the Cinemaxx Hamburg in Hamburg, Germany, on November 21, 2017 (Credit: Becher / Schultz-Coulon / WENN)
In November 2017, Diane Kruger returned to her home country of Germany for the premiere of her 2017 German drama film In the Fade (German: Aus dem Nichts) in Hamburg.
As Diane won the Best Actress award at the 70th annual Cannes Film Festival for the movie, she made sure to sparkle and stand out for the occasion.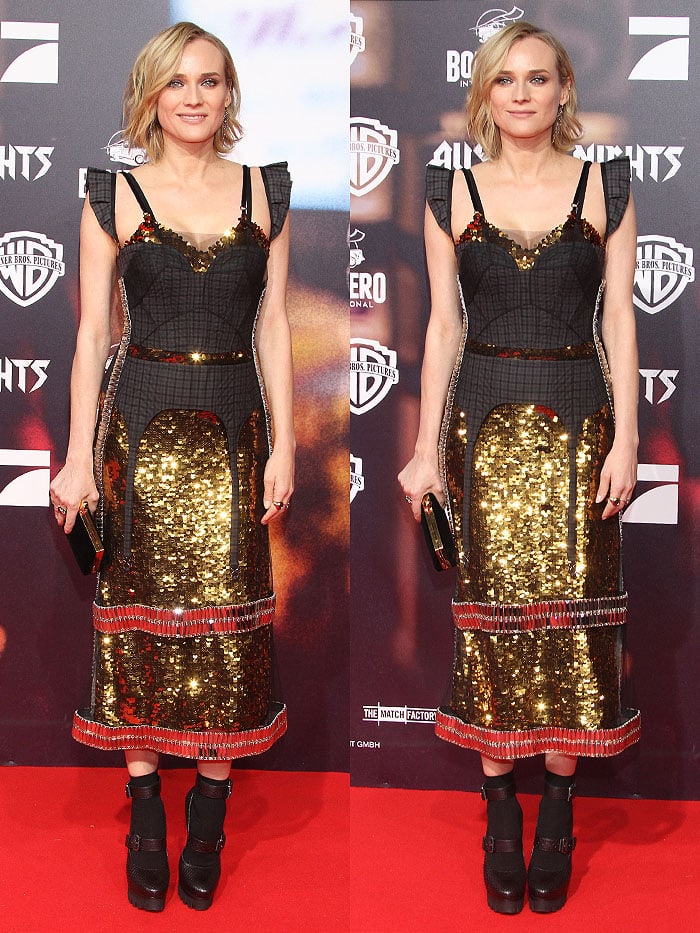 Diane Kruger's captivating dress is a seamless fusion of elements, starting with a checkered fabric and evolving into a magnificent celebration of sequins, bugle beads, bra straps, and frilled sleeves (Credit: Becher / Schultz-Coulon / WENN)
At 41, the actress chose to wear a gorgeous Vera Wang Spring 2018 dress. The design featured a gray checkered fabric on the bodice, creating a sophisticated contrast.
However, as the dress descends to the skirt, it transforms into a lively spectacle adorned with shimmering silver beads and glittering gold sequins.
Diane Kruger and Fatih Akin have collaborated on two projects, the 2017 film In the Fade and the upcoming miniseries Marlene (Credit: Becher / Schultz-Coulon / WENN)
Garter straps, sheer overlays, and sparkly beads already sound like a lot, but the "Inglourious Basterds" star further pushed the fashion envelope and accessorized with black socks and chunky, double-buckled, lug-sole platform pumps.
The result was an exciting mix of edgy and girly, a look we've come to love and expect from Diane Kruger.
Diane Kruger's double-buckled, snake-embossed, lug-sole platform pumps (Credit: Becher / Schultz-Coulon / WENN)
Can you help us ID Diane Kruger's double-buckled, snake-embossed, lug-sole platform pumps?
We think they might also be from Vera Wang, as the designer has chunky and heavy shoe styles like the ones below from Amazon.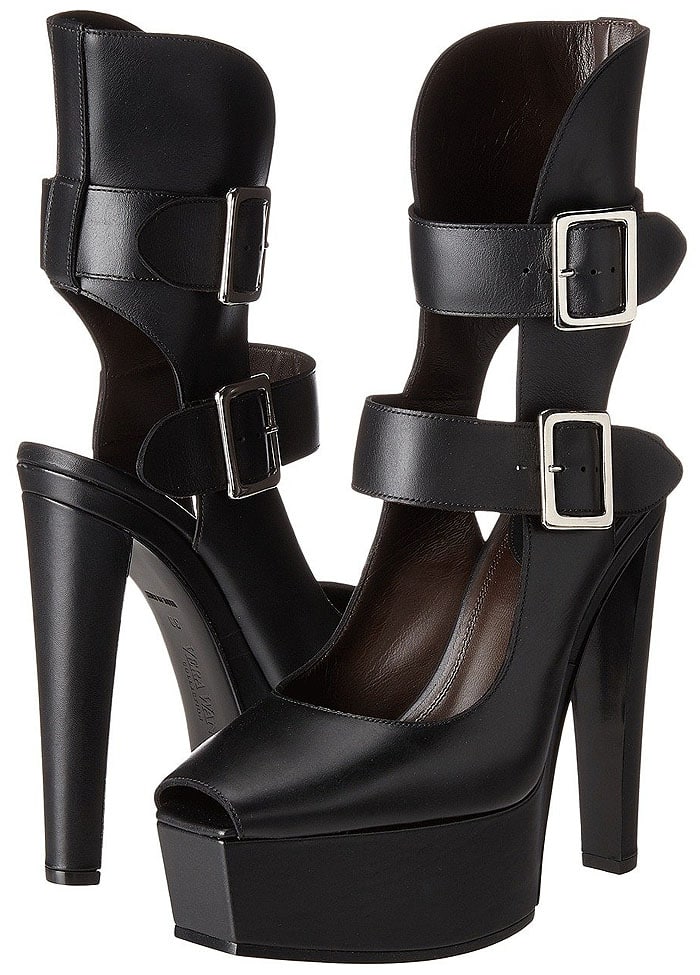 Vera Wang Double-Buckled Peep-Toe Platform Pumps, $1,495